Interview:
Swim Deep: Scream if you wanna go faster
Once "stoned" escapists, Swim Deep have entered another dimension. But how many bunsen burners exploded to make it happen? The five mad scientists tell all.
First-to-second album transformations tend to stick in the memory. The Horrors ditched the eyeliner for krautrock and turned into giants with 2009's 'Primary Colours'. Radiohead could tell you a thing or two about change. The Swim Deep of early 2011 - B-town boys with their hearts in the ocean - wouldn't know what to make of this.
These guys didn't seem the most likely of bands to switch everything up. Settled into a hyped-up scene, they rode the wave of escapism for two successful years, picking up thousands of die-hard fans in the process. That wasn't enough. Together, they decided to dive headfirst into berserk synth solos, drum-and-bass breakdowns and shrill screams.
Different in personnel (they've since added keyboardist James Balmont as a full-time member), they've in turn gone from "hazy" pop customers to an unrecognisable outfit. At the start of the year, frontman Austin Williams told DIY: "We're shaving our heads and going to war with this record." And new LP 'Mothers' proves he wasn't just spouting big claims. "There's something in that quote," says Williams, several months on. "It feels like we genuinely are going to war with this record. There's tons of people who don't know what to think of us yet. Tons of people who still haven't made their minds up yet. People who hate us, people who maybe love us a bit too much."
Williams is at the forefront of this transformation. The second he starts speaking about how different a band Swim Deep are now, he'll get carried away, unable to look back. He says the group are "leaping off a cliff" with this release ("arms open, necks wide") and his eyes light up whenever new material is mentioned. "There was this idea that we wanted to make a modern day 'Screamadelica', something that pushed the boundaries of electronic music and rock 'n roll," he says, not understating things in the slightest. "The spirit's still alive, you just have to rekindle it in some way. It'll always be there bubbling away. You have to give it some life for people to get warm off it. Or whatever."
'Mothers' is a monster of an album. From the get-go, it sets out to achieve everything at once. It wants to inspire a new "summer of love" and an entire generation. It aims to convert cynics and keep current fans on board. There's this steadfast belief that they've made an album that can do more than get itself stocked in record shops. "This sense of expression comes from turmoil," begins Williams. "There's clubs shutting down, and you get people who want to open their own raves in new places that aren't gated or watched on. People want to do something free again and be free again. That need for pure happiness comes from it being taken away from you. I think the same thing is going to happen," he says, and flickering behind the eyes is a belief that 'Mothers' could offset that change.
It's a big claim, and it's one that might get Swim Deep laughed out of town. But how many other bands can you find sticking their colours to the mast with so much bombast and unhinged confidence?
This sudden jolt in another direction could easily put the fear in fans who've grown accustomed to the dreamy escapism and pop-rooted songwriting found in first work 'Where the Heaven Are We'. The record label had every right to call security when they heard the new LP, too. Instead, Williams insists, they were more than receptive. "It's quite brave. I'm sure they'll learn their lesson.
"It feels like we genuinely are going to war with this record."
— Austin Williams
Together they admit that most people will hear things differently, but Williams says there's a "Swim Deep spirit" shared between both 'Mothers' and their debut. "That album was such a captured moment of our youth - a naive diary entry of us being stoned teenagers and looking out of the world," says the frontman.
Newest recruit Balmont backs things up by describing a "feeling that we could do anything" - "We wanted to do something different, not like how other bands sounded. I think it made it less stressful for us."
"I'd kind of disagree slightly," says Williams. "I thought we were just making music that sounded like Swim Deep. It was never a conscious effort to try and not sound like anyone - I've never really subscribed to that. It just sounds like Swim Deep to us, but to everyone else it sounds different. I asked for advice off a few close friends before that have known the band since day one. They said 'Just keep that Swim Deep spirit there. As long as you keep that, you can't do any wrong.'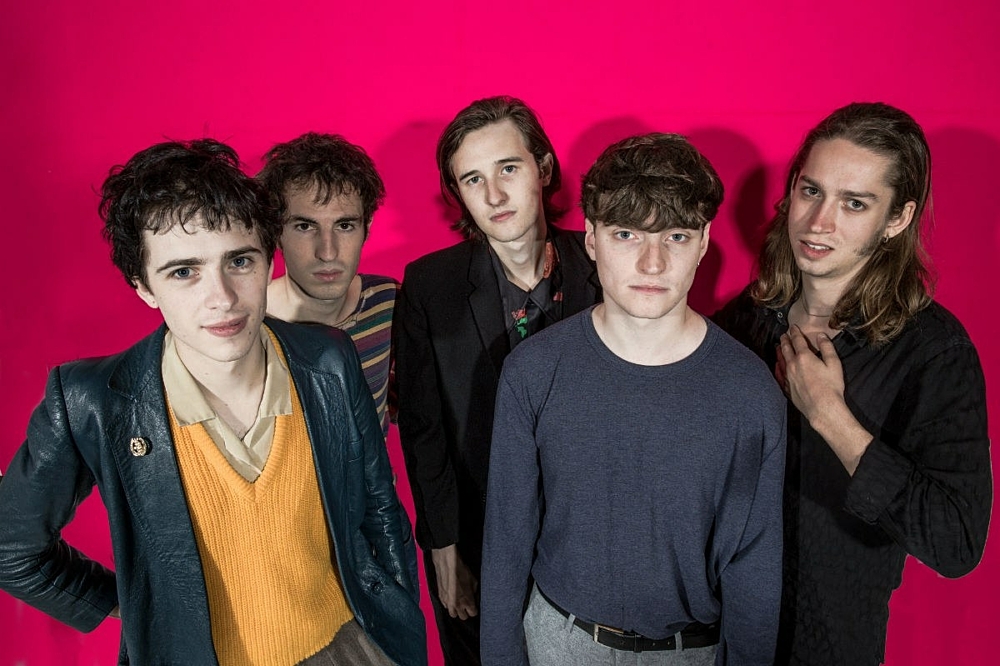 Between albums, James Balmont gradually integrated himself into the band. He admits that "there was no way I wanted to just be a live member," and across tours he'd find himself presenting new ideas between soundchecks. "It's very much like - whoever wants to join can. Music's not a selfish thing," claims Williams. Shortly after Balmont officially became a member, he and Williams began to bounce ideas off each other, forming a songwriting partnership that appeared to consist of one egging the other on to try something even more outlandish than the last idea. Both members are the most vocal about Swim Deep's great second chapter, although they're prone to the odd disagreement.
"You can't put yourself in a corner and make the same music all the time," claims Balmont.
"You can if you want, you fascist," replies Williams. "We could make the same album as the first one next time."
As a full outfit, the whole band seem settled into their new skin, even though they're more than aware of 'Mothers'' giant leap of faith. "I feel so much older than I did back then," says bassist Cavan McCarthy, describing the days when they'd record in drummer Zachary Robinson's shed. "It feels like a lifetime ago."
"I know what you mean," says Williams. "That just happens. Every three years you get a turnaround. It was a very fast and blurry period of our lives. We came out of Zach's shed with songs and the label wanted to put an album together. From then it's like Tokyo, playing a shit show. These kids still figuring out what they're doing. Now we feel like we've settled - we can actually be good musicians. We can make something out of this bond we have."
Would Swim Deep have said yes to the hype and the record deal if they had another roll of the dice? "There's tons of answers to that question," declares Williams. "It's life - you make decisions and you do it. We wouldn't have this album if we didn't do that. And I probably wouldn't be living in London, I probably wouldn't know these people. So there's no way I could regret anything like that. Everything is possible."
It's worth noting that some ideas didn't stick, with 'Mothers'. "Tons" were left in the studio, claims guitarist Tom Higgins. This album could be weirder and more extreme. Still, we're left with the game show glitz of 'Namaste'. "I thought I was ripping off Aretha Franklin with that one, but it turns out I was ripping off The Spice Girls," jokes Williams. Then there's 'Fueiho Boogie', a nine-minute juggernaut that could easily be the product of Bez, The Prodigy and Damon Albarn brainstorming in a studio. "We still laugh now when thinking about that one," says Williams. "The break bit at the end - it was like, 'Should we do this?'" goes Balmont. "Fucking yes. Obviously. We were literally bouncing off the walls doing it. Making stuff up as we went along," Williams beams. Nothing is sacred from the first LP - everything is there to be shaken up and spat out in a completely new direction.
"We've still got the badges from the first album - we still wear them proud. But there's more to see and there's more to do," the frontman says, like an explorer who's only just set off on his journey. "It's set a good precedent - because I guarantee the third album will sound nothing like this one. Maybe people should get used to it."
Photos: Emma Swann. Swim Deep's new album 'Mothers' is out 25th September via RCA / Chess Club. Taken from the September 2015 issue of DIY, out now.

Get your copy of the latest issue