Interview:
Supermarket sweep - Shopping: "It's all quite tongue-in-cheek."
This do-it-yourself trio would rather have a dance-off than a cutting political debate, but they mix the best of both worlds.
Billy Easter, bassist from London's DIY upstarts Shopping, has a confession to make. "I actually really dislike shopping nowadays. Unless it's cool clothes from charity shops." Her bandmate, drummer Andrew Milk, jumps in taunting her. "She likes stories. She likes wearing stories. Old clothes."
Talking to Shopping you immediately get a sense of them being a fun gang. They start and finish each other's sentences, teasing and egging each other on. And being a tight gang, Shopping are a very democratic sound unit. Going back to the start, Andrew recalls how their name was chosen. "I was listening to the band called Pink Section and they have a song called 'Shopping', which I really liked. Succinct and nice for a band name. I mentioned it to Rachel [Aggs[ and then we told Billy, who instantly loved it because it made her think of that Pet Shop Boys song called 'Shopping." At this point Billy takes over, "…which is one of my favourite songs!" All agreed, and Shopping was born.
The band are on the way to Bristol, nearing the end of their UK tour. A six week action-packed North American tour lies ahead. Shopping's fast and furious rise started just over two years ago. he first, self-released LP 'Consumer Complaints' took the London punk scene by storm, with aftershocks radiating far beyond the capital. Immediately after the debut release, Shopping went back to writing. With only enough songs for the first record, they had to write new numbers; so the latest album 'Why Choose' was born out of "an intensive writing period." There was no recourse to excess material and no unreleased back catalogue shelved for a rainy day.
Teaming up with FatCat for the second release may seem like a shrewd career move but according to Andrew, they "weren't drawing up a business plan and thinking what we're going to do next." The very notion of a plan sends Billy and Rachel into a laughing fit. "If we had released that record on our own label that also would have been fine. The opportunity with FatCat came along, we discussed it and decided that it would be quite good to be able to do that." Andrew pauses and then adds happily: "We don't have a strategy for anything really. We just like floating around."
With an anti-consumerist DIY punk slant of the ironic name and their early 80s post-punk musical core, it is easy to think that Shopping might be harbouring political agendas to boot. But their motivation turns out to be less revolutionary. "It's really not that serious or intentional," remarks Rachel, with a hint of laughter in her voice. "When we started the band there was nothing about politics, nothing about 80s post punk. None of that. The only thing we wanted was to put in a lot of effort into the band: playing as much as we can, releasing as much as we can as soon as we could," recalls Andrew brimming with pride: "That was the only thing we spoke about when we formed Shopping. I think we're doing all right on that mission statement."
The latest Shopping creation is another evocation of angular guitar, forceful baselines and that distinct "disco-not-disco" drumming, familiar to the fans of 'Consumer Complaints'. With no overriding idea or concept, the second release simply followed the formula of the debut album, only this time they wanted to make everything bigger. All three agree that a transition from self-releasing to the new label was very smooth and a big relief. In fact, Andrew admits that FatCat's ethos feels comfortably similar to the ideas behind their own label, Milk. It's only a matter of size. "They're running the label in a way that we hope to run ours if we were a bit bigger."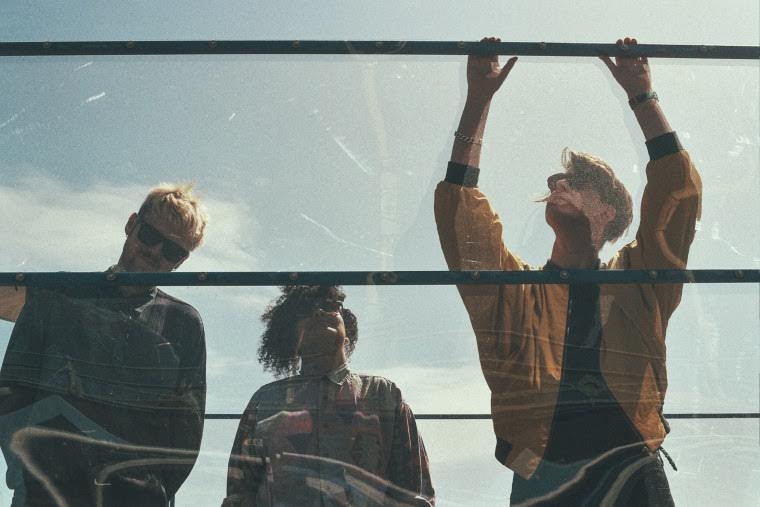 It's impossible to entirely divorce what Shopping do and how they do it from an ideological stance, associated with commodification of counter culture, the idea of art as a consumer product. Distancing themselves from the arena of politics is perhaps more to do with not wishing to appear preachy, rather than lack of awareness. "We are anti-establishment and anti-consumerist but we're all aware that we're heavily immersed in that world because it's impossible not to be." explains Billy. "Ultimately, we're trying to deal with frustrations, guilt and other stuff that arises from being stuck in a system you don't necessarily agree with." She carries on, all of a sudden sounding quite serious. "We're not trying to be clever. Personally, I don't know a huge amount about politics. I'm not an anarchist. I just like expressing how it feels to be me. And that tends to come out in stress and frustration, but also just wanting to dance and have a really good time. And at times that can feel wild and anti-establishment, but it's all quite tongue-in-cheek as well."
But perhaps it's their commitment to the DIY scene that gives Shopping their political edge. All members of the gang work at Power Lunches, one of London's most innovative creative hubs, and the story of their first release is a textbook example of DIY ethos in action. So what makes a healthy 'scene'? Pausing to think, Rachel answers pensively. "I think it's a sense of community, with people helping each other out. And also spaces that are non-commercial." Recalling their own journey, Billy continues: "We got lots of people we knew to help us. People who were also trying to establish ourselves within the music industry. To avoid succumbing to the already well-established companies in the music industry, we got a friend to record us, another friend to do our press. All giving each other a bit of a leg up and supporting each other."
"But right now we're too in the middle of it to see," says Andrew. It's not about concepts and statements. Playing the music they like, being heard and having fun is all that matters. And if dancing can be a form of protest, this Shopping crew are the agitators of radical dissent.
Shopping's 'Why Choose' album is out now on FatCat.

Get your copy of the latest issue