Interview:
The Dead Weather: "It wouldn't work if you replaced one of the four of us with anybody else"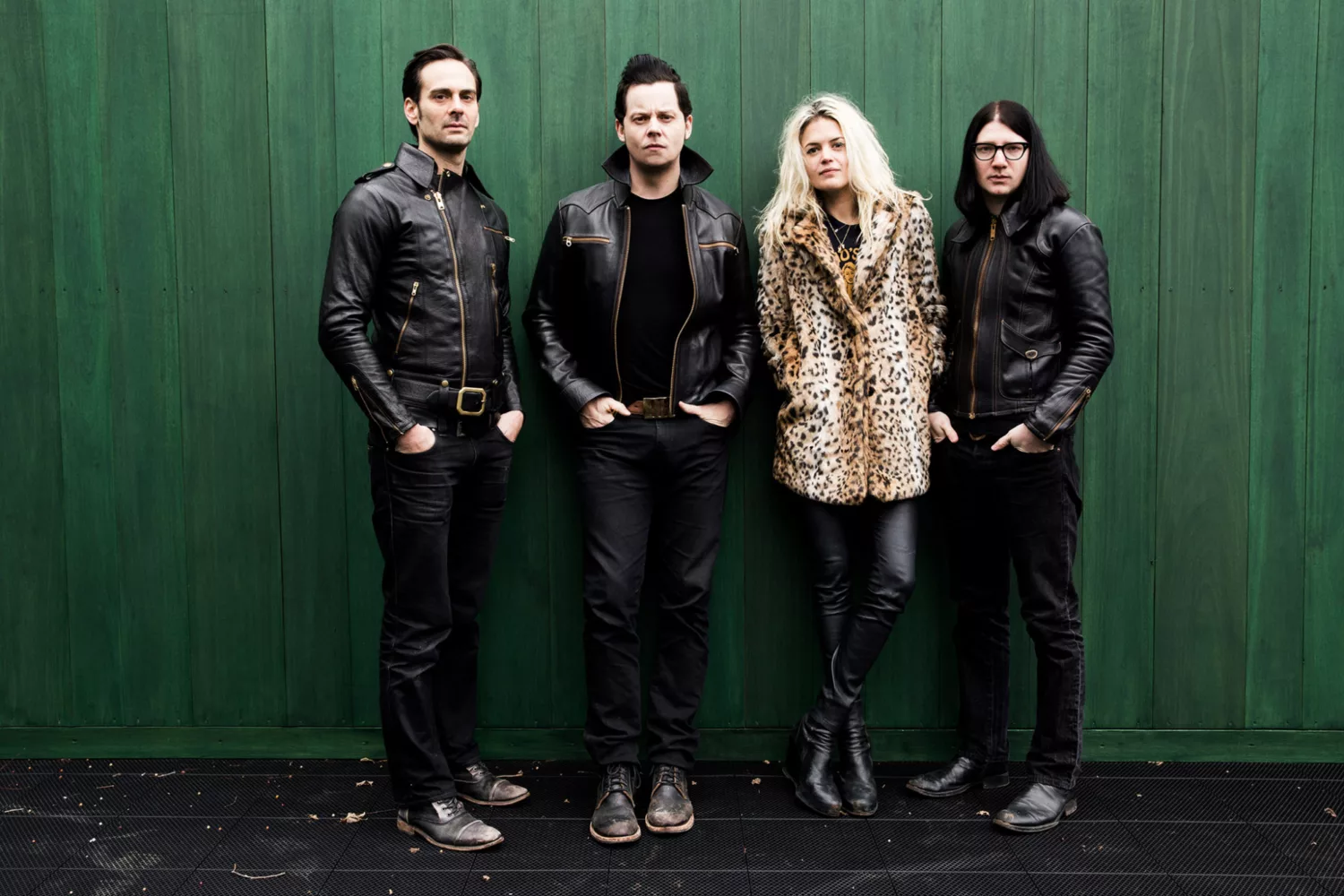 The Dead Weather are a supergroup like no other. "It's difficult to explain why this works so well," says Alison Mosshart.
It's been five years since the release of The Dead Weather's second album, 'Sea of Cowards'. In the meantime Jack White has started a solo career – releasing both 2012 debut 'Blunderbuss' and last year's 'Lazaretto' - Dean Fertita has become a fully-fledged member of Queens of the Stone Age as opposed to just live, Jack Lawrence has joined up with Dallas Green for both live and recorded City and Colour duties, and Alison Mosshart's The Kills released 2011 album, 'Blood Pressures'. And that's before even touching on tours. So if The Dead Weather were a supergroup back in 2009 when they formed – what are they now?
Busy, is the answer. So busy their initial plans for LP three – to record songs as they went along, releasing a series of 7"s to eventually become the full-length album – had to be partially shelved. So 'Dodge and Burn' features four songs from those initial plans in 2013 – 'Open Up', 'Rough Detective', 'Buzzkill(er)' and 'Too Bad' – plus eight from, well, any point since, really.
"It's kind of a magic trick," is Alison's somewhat understated summing up of just how they manage fitting in recording sessions in among the hectic schedules of at least four not inconsiderably-sized acts. "When we all knew we were gonna be in town for two or three days we'd just decide that we were gonna go in to the studio together. It happened over the course of two years, but yeah, it's not easy to find the time."
Of course The Dead Weather are in one hell of a sweet spot – they're incredibly speedy. "The first songs we ever did," she recalls, "we wrote and recorded four in one day". They have the luxury of, thanks to the not-so-small matter of their label boss sitting behind the drum kit and producer's desk, being able to work at their own pace – however fast that may be.
"The pressure is different," she says. "There's not a record deadline. We're not acting like a traditional put out a record, tour it, do all this press, do all these things… we're doing it in the only way we can, like this, when we can do it we'll do it, and when we can't do it, it's no big deal.
"It's definitely an interesting situation, and one which makes it so much fun and such a pleasure to do. We really can make this music because we love making music, we really can put this record out because we really want people to hear it, and with all good intentions behind it. Not to say there's not good intentions behind other things, but I think it's different when you have a 'main job' that you've always got to do, and this is... it's different. But the record holds up. It might be a side-project in the fact that everybody is in pretty successful bands, but it doesn't feel like a side-project when we're doing it. It feels like a band."
A band who – in Alison's own words - "wouldn't work if you replaced one of the four of us with anybody else."
"There's something difficult to explain about whatever energy it is that makes this work so well," she says. "All of us have worked with tons of people before, but you don't always get that sort of wild, unhinged creativity and the freedom to just express and and express and play and there's just no fear. When you find a special combination of people, you just roll with it. It's nothing you can go out and find, it just has to fall in your lap."
A small insight in to The Dead Weather's (speedy) writing process comes courtesy of the sprawling, theatrical, album closer and Alison solo write, 'Impossible Winner'. "I'd had that song, I'd say four or five months or something," she explains, "it wasn't a song that I thought was a Kills track, or a Dead Weather track or anything, it was just one of those little songs in my head, and Dean caught me playing it one day. He walked in to the studio while I was playing it on an acoustic guitar and he really liked it so sat down at the piano and started playing along with me, and then LJ ['Little' Jack Lawrence] walked in and he started playing it with me and then Jack walked in and he started playing it, and suddenly we'd recorded it and it was a Dead Weather song.
"That's how it works, really, all four of us will be in the same room, somebody will have a riff, or something, and everybody just starts playing off whatever someone's playing. I've got a notebook and a microphone and a pen and I'm just scrambling to keep up with those guys! To write lyrics at the same time, it's really really challenging and really exciting."
An adrenaline rush? "It's a total adrenaline rush, yeah. It's really addictive, it would be great if we could do it all the time, we'd have about a billion records given the chance, we work so fast. But it's really fun, it's a totally bonkers way of working. Sometimes it's more about the process, you know, than the outcome. It's a really wild form of art, which I love."
"It would be great if we could do it all the time, we'd have about a billion records given the chance
— Alison Mosshart
As if the whole touring and recording thing wasn't enough, this summer saw a New York gallery host Alison's first art exhibition, 'Fire Power'. "I do that really fast as well," she says, laughing. "That's always been my crash-and-burn freedom where I don't have to over-think anything, and I've been lucky enough in the past couple of years that people want to see that work."
"I'm not great at coming off tour," she admits. "I only need one 12-hour sleep and I'm alright again, ready to go. There's a speed at which you live when you're on tour, and it's really really hard, mentally, to go from that to basically a standstill. So it feels great to go in to the studio, you're still going, you're right in the middle of that music brain you've got going on, and the worst thing to do is turn that off. You're in the thick of it, so it [working] doesn't feel like a drag. It's certainly not the worst thing to come home and do."
Laughing, she adds: "I'm the luckiest person in the world that this is my JOB, I fucking lucked out because I really love it and I don't want to do anything else!"
The Dead Weather's new album 'Dodge and Burn' is out now via Third Man Records. Taken from the October 2015 issue of DIY, out now.

Get your copy of the latest issue