Cover Feature:
Hinds: Our Shit, Our Rules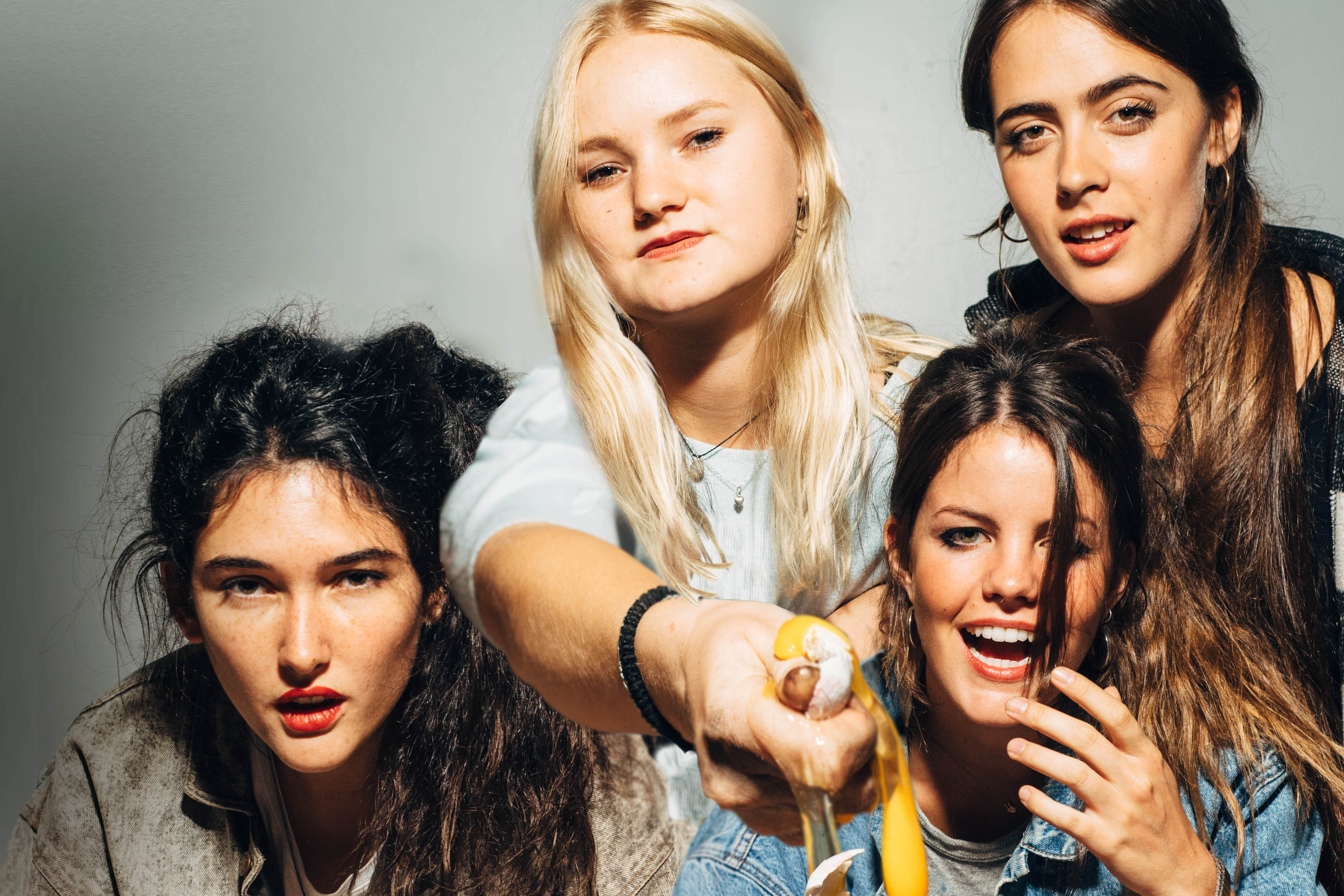 "Spanish bands stay in Spain," people told Hinds. That didn't stop them. Breaking out of Madrid, the band give the middle finger to interference with 'Leave Me Alone'.
"Today," frowns Carlotta Cosials, rifling through a tattered notebook of draft lyrics and vague doodles for merch designs, "we have done 88 gigs. Including last year, gig number one hundred is happening now," she finalises. After a week apart at home in Madrid, a newly reunited Hinds have assembled for cervezas in a downtown bar, and, with debut album 'Leave Me Alone' waiting for deployment in January, they're all in particularly reflective moods.

Who can blame them, really? Little over a year ago, Hinds - then called Deers - were nervously waiting backstage at London's Sebright Arms. Back then, you could count their total live appearances easily with one hand. "For real, that was our fourth gig, ever!" exclaims Carlotta, "and we weren't musicians before." Growing up in Madrid, listening to The Black Lips, and making yearly pilgrimages to watch bands like The Strokes pass through Benicàssim, Carlotta and her friend Ana García Perrote started Hinds on a whim after mucking about with a couple of guitars on holiday. Bands in Madrid stayed in Madrid; that's what they'd learned.

Suddenly, though, joined by new recruits Ade Martín and Ámber Grimbergen, Hinds found themselves playing sweaty, low-ceilinged shows to rammed-full rooms across the channel, and touring the States with Glass Animals. The suggestion that Hinds jumped straight into the deep end - without a single look back - is no exaggeration. For a lot of new bands, the immense pressure could have been overwhelming. Hinds, though, have a single motto that they've stuck by. Nuestras mierdas, nuestras reglas. Our shit, our rules.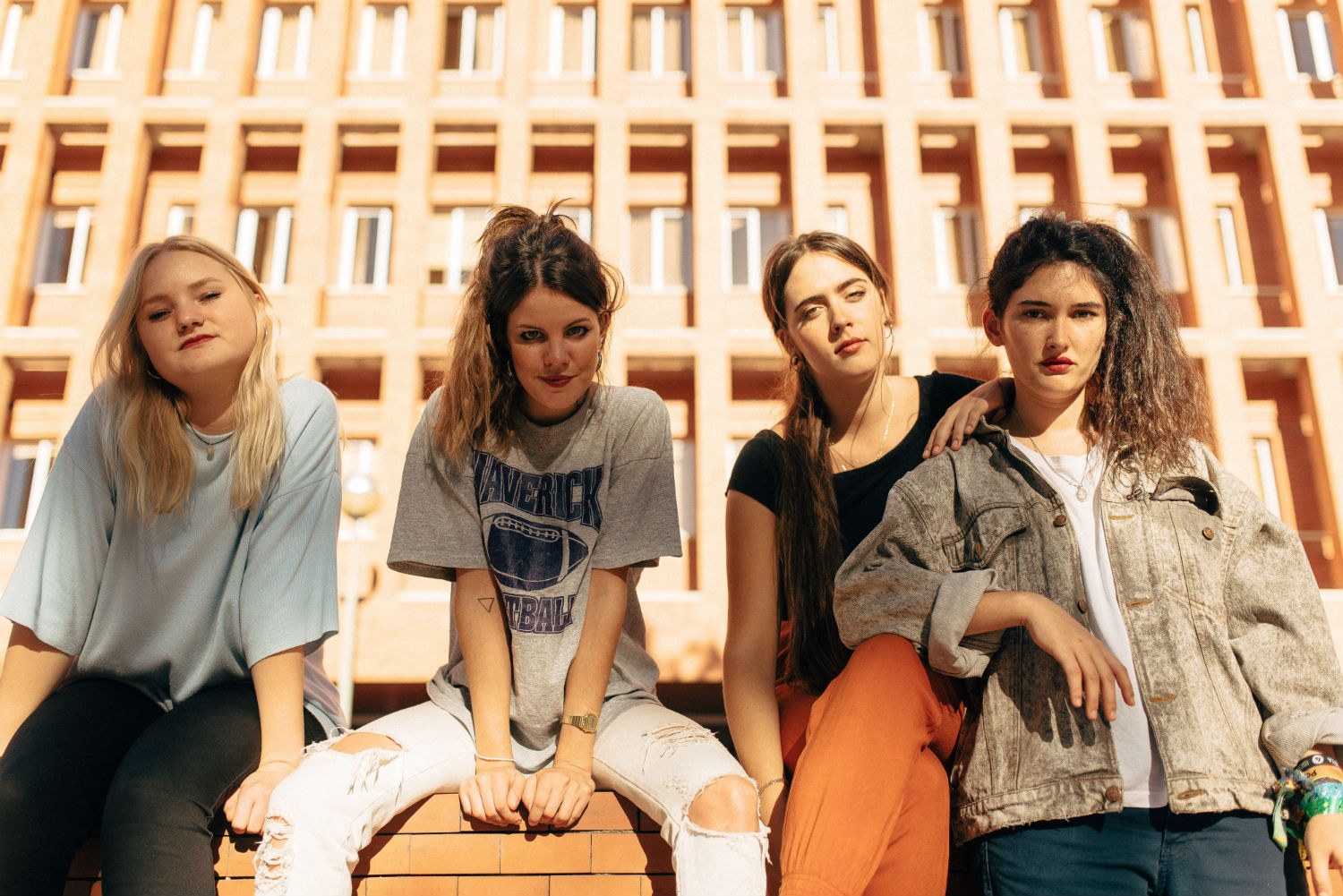 "Who are we telling to leave us alone? Everyone."
— Carlotta Cosials
Whether they're harnessing their innate talent for prompting stage invasions wherever they go, mounting full-scale missions to befriend musical hero Mac DeMarco, or sticking firmly to their analogue guns in the studio, Hinds have lived by that mantra from the beginning. Typically, they've just released a rather brazenly titled new release, 'Very Best of Hinds So Far'. "It's funny. People just laugh a little bit because it sounds like a joke," cackles Carlotta, "but it's actually real."

"Lots of fans are so sad because they don't have [early physical singles] 'Barn' or 'Demo'," adds Ana, "so we did it for them." Basic principles of supply and demand aside, though, Hinds do admit that releasing a Greatest Hits collection - before their debut is even out - is something of a ballsy move. It comes hand in hand with a certain amount of self-belief. That confidence, it turns out, has been there from the beginning. "I have an old CD in my car, actually, with mobile recordings, called 'The Very Best of Deers.'" Carlotta remembers, suddenly. "Retro," she quips.

Hinds do to-the-point titles very well, it turns out. Their debut full-length 'Leave Me Alone' extends a purposefully deployed middle finger in the direction of any aspiring meddlers. "Who are we telling to leave us alone?" asks Carlotta. "Everyone. So many people." "Everyone," adds Ade, "but us."

"You need the explanation behind," clarifies Carlotta, hastily. "We are very open to everyone. We don't just go around Madrid just saying 'fuck you!' But if you ask us why it's 'Leave Me Alone', that's the answer. We talk a lot with everyone, and we get a lot of opinions. 'You can't do a song like that,' or 'you can't do these things in your life'. It's just like, ok, leave me alone," she says, pausing for a sip of beer. "I'm going to do whatever I want. At least I'm doing what I want. I'm not going to regret it."

"What people don't like about us, maybe we do," chimes in Ana. "We're not going to change that, to make people love us or something. I think as we had just started, people thought that we needed their opinions."

"There were so many opinions," picks up Carlotta. "It's so difficult to stay in the real. It's difficult to stay loyal." Ade, characteristically, has a blunt summary at the ready. "There were so many opinions about everything. 'Leave Me Alone'," she laughs.
"We're not going to change that, to make people love us."
— Ana García Perrote
When Hinds last met DIY, they were far less jubilant. Back from two weeks of recording in the southern Spanish city of Cádiz, they returned frustrated with the results, and chomping at the bit to get back in the studio. "So many hours, so many Coca-Colas and breadsticks," says Ana, looking back at the following discussions before the band went back to re-record. "We'd really thought about it, and it only took two days," she says. "We had time," agrees Carlotta.

Their persistence has paid off. Now, Hinds are left with an album that perfectly captures the energy and excitement of starting out, the beaming, ramshackle nature of their notorious live shows. With just a handful of previous singles in the mix, 'Leave Me Alone' is far more keenly occupied with bringing Hinds' raucous gigs into focus. In particular, Hinds grab hold of the out-of-control live monster 'Fat Calmed Kiddos', and yank it onto the wax, crashing jarring vocal takes over the top of each other, atop a sidling, plunking Ade Martín bass-line special.

"We looked at small things that are disturbing," grins Carlotta, describing the process of finding lyrics for 'Fat Calmed Kiddos'. Before, after all, it was a frenzied 40 second outburst of incomprehensible yelps. "Fat... calmed... kiddos," she announces, with relish. "Fat calmed kiddos just touching your pillow. Ergh. It's just disturbing."

"They can be so creepy!" shudders Ade. "We love kids in that way," laughs Carlotta.

Finding a suitable container for Hinds' pressure-bottled live energy, the band agree unanimously, was the biggest challenge on 'Leave Me Alone'. Happy to rip up their own rulebook, it led them to reconsider the whole way they approached song-writing. "We usually take months to finish songs," says Ana. "We took a long time to write," adds Carlotta, "thinking about the shows and stuff, and then we were in a real hurry. We started to write just what we were thinking about in the moment."

"Is this an album of the moment we're having right now?" Carlotta wonders. "I think so. It's even old now for us. I'd even change more things now. We're learning all the time. We are such babies in music, so we learn every day."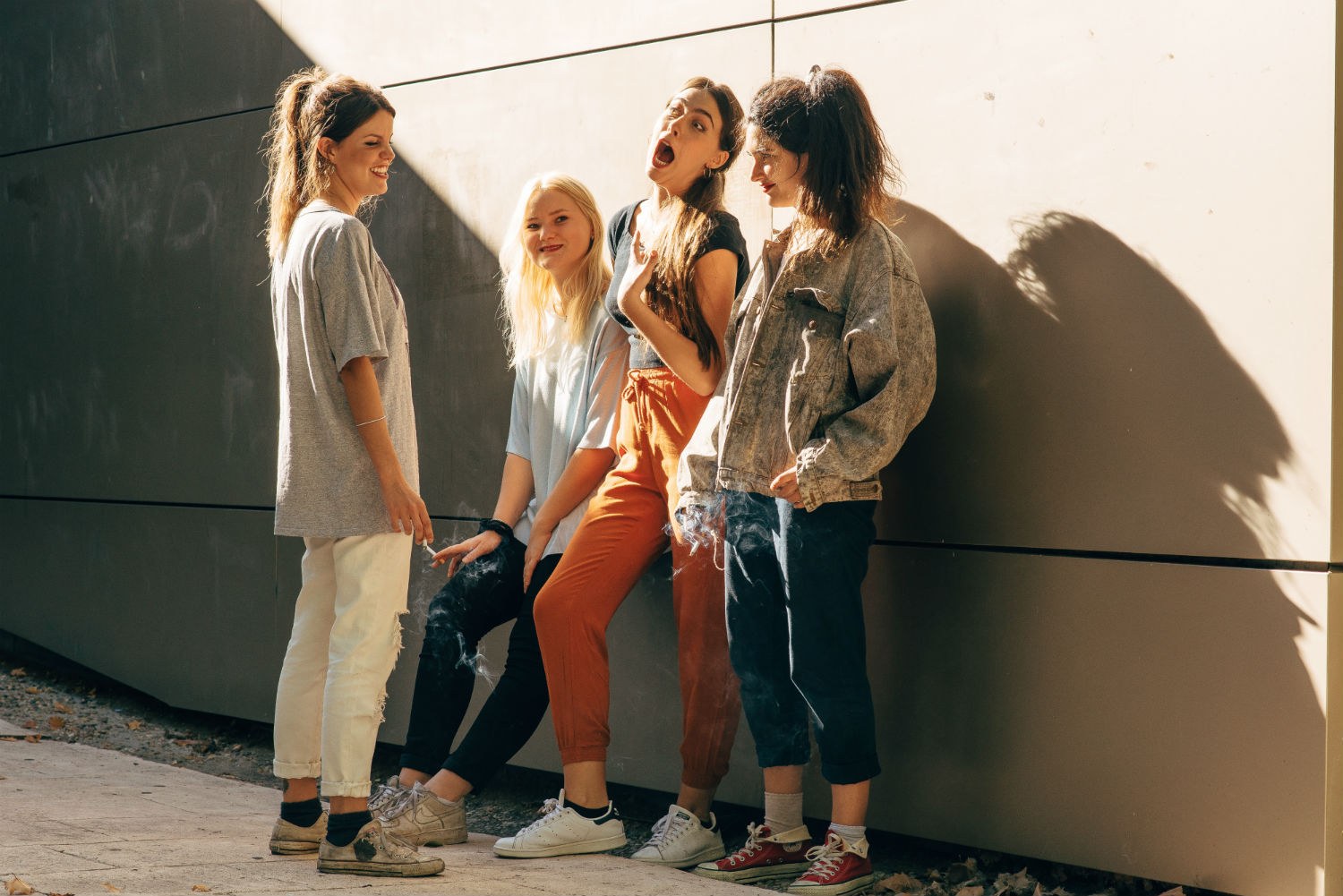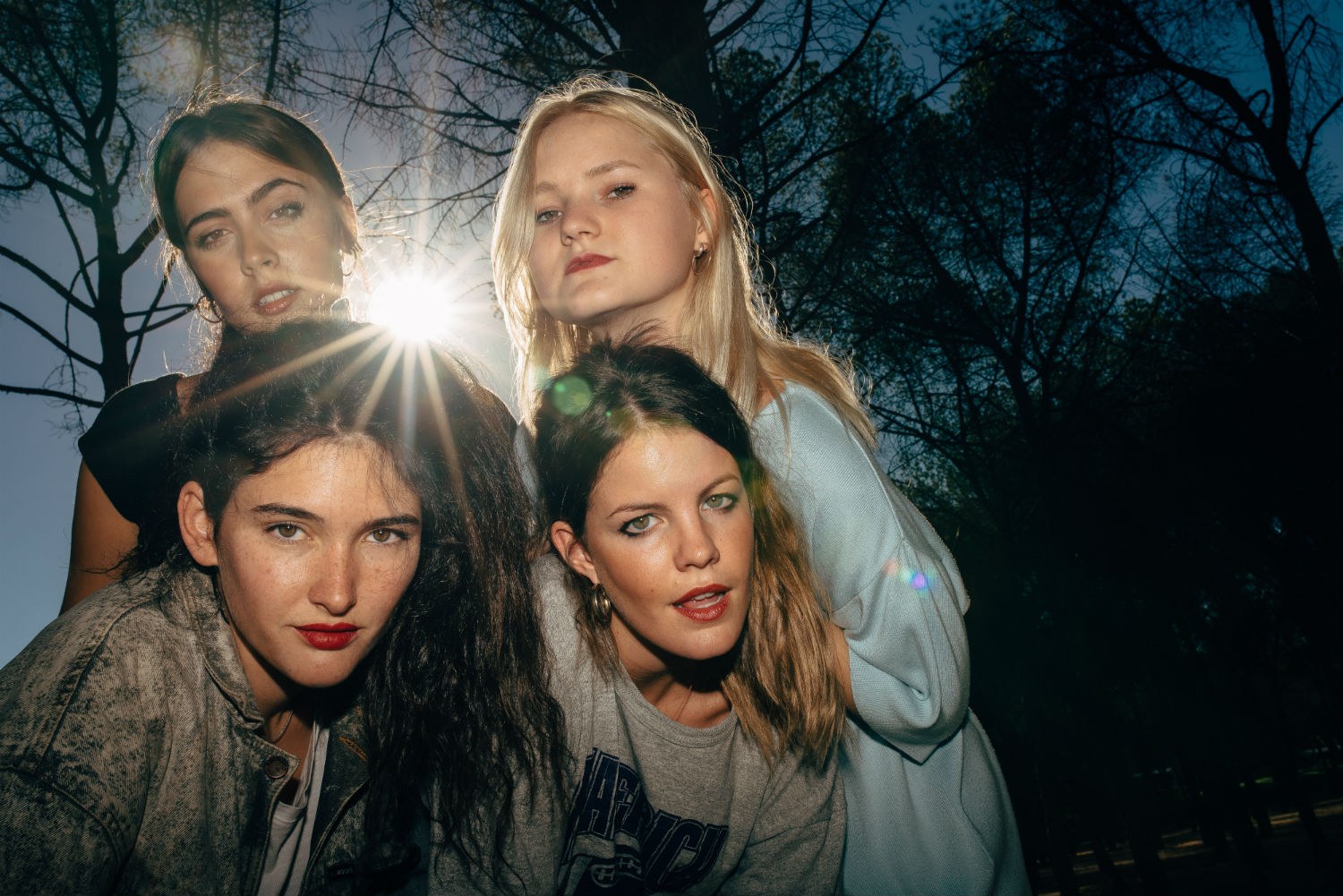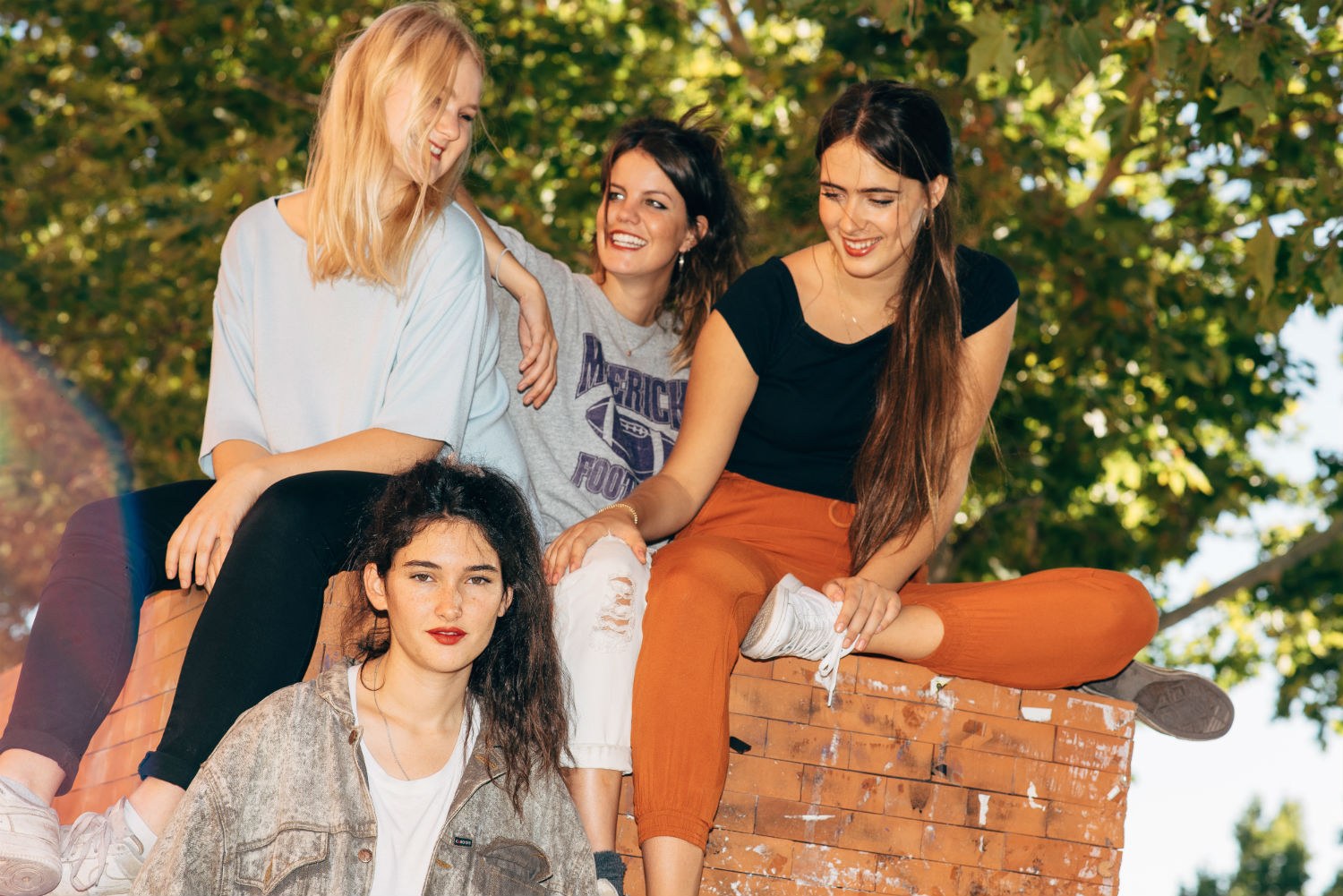 "I'm going to do whatever I want. I'm not going to regret it."
— Carlotta Cosials
Writing from a spontaneous place has produced a surprisingly sad album. With love songs, falling-out-of-love songs, unreturned calls, drunken miscommunications, and those unsettling 'Fat Calmed Kiddos' hovering at every turn, belting choruses like "I am not always gonna be around" - from early single 'Bamboo' - take on new nuance in a different context.

"I remember once we started thinking about this," starts Ana, "and we thought, we want our songs to work when they're played at 7am at an after-party - because of what it means to you, not because it's a party song. We tried to write it about our experiences," she goes on, "but not so specific, so everyone can understand it in their own way. Extrapolate. Make it their own. That's when you love something. I really like when that happens to me."

"In fact the song we hate the most right now is 'San Diego'," states an upfront Carlotta, "and it is the most party one. We hate it so much, I hate it!" Considering they started as the unofficial band de la fiesta, Hinds sure have changed their tune.

Ordering in another round of cervezas, and looking back over a flurried year, Glastonbury Festival was the biggest stand-out moment for Hinds. It hasn't got anything to do with late night doobies in the Healing Field, or stumbling across a man dressed as a crab on stilts, either. Hinds' attachment to the whole thing is particularly patriotic.

"You really can't imagine how big it is," starts Carlotta, to the other's amusement. "You are English," she laughs. "No, seriously. We are the only Spanish band, ever, in the history of Glastonbury, that has played on one of the main stages," she explains, visibly stunned from the whole experience of playing The John Peel Stage. "It's one of those moments."

"You don't think about it. You think that music in Spain stays in Spain," Carlotta goes on, "because that's what we've learned, forever." Bands, she reckons, are taken far more seriously in the UK, where Hinds have been well and truly taken under wing. "We still have these comments here," she says. "We had the guitars in a Spanish airport, and we got 'ay, you have a little band!' You guys take culture so much more seriously than us in Spain," she claims.

"We have good paintings," protests Ade. A fair point.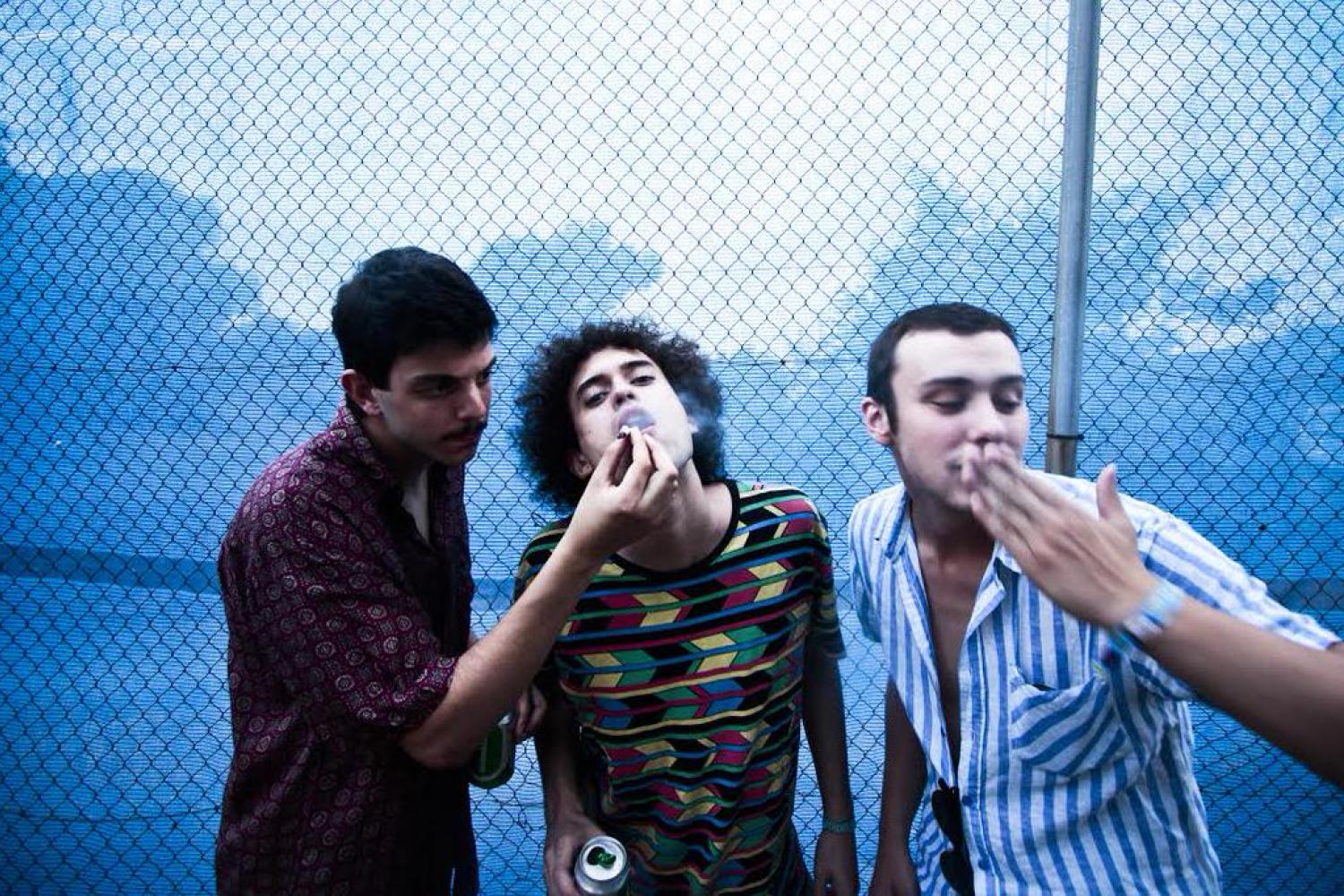 Hinds are spearheading a new wave of Madridians breaking the "Spanish bands stay in Spain" rule for good. Helping to lead the charge, here are some other Madrid bands to get acquainted with.
As well as sharing animal-based band names, The Parrots have other close ties with Hinds. Singer Diego García has produced for the band from the very beginning, and the two bands have united forces for everything from split singles on Burger Records, to joint videos. With a similarly rag-tag approach to guitar music, and a love of all things fuzzy and garage rock, The Parrots are closely behind Hinds when it comes to leading the Spanish pack.
Los Nastys
They might have a song called 'Madrid Es Un Cementerio' (Madrid is a graveyard) but this chaotic rabble are actually helping to prove the opposite. Bratty, poster-peeling, blast-this-at-full-volume-in-your-bedroom punk, with a hint of The Sonics turned Español, this self-confessed nasty bunch are Madrid's snarliest new prospect.
Lois
Take a Fisher Price 'My First Keyboard,' and whack it a few times with a spoon to make sure you've messed up the speakers good and proper. Superglue down the demo button, find a surfer-rock melody, and drop it into a vat of golden syrup. It'll sound a bit like Madrid's Lois. Oddly romantic, and charged with a deep, booming croon, he just signed to Hinds' European label Ground Control.
Photos: Mike Massaro / DIY. Hinds' debut album 'Leave Me Alone' will be released in January 2016 via Mom + Pop / Lucky Number. Taken from the November 2015 issue of DIY, out now.