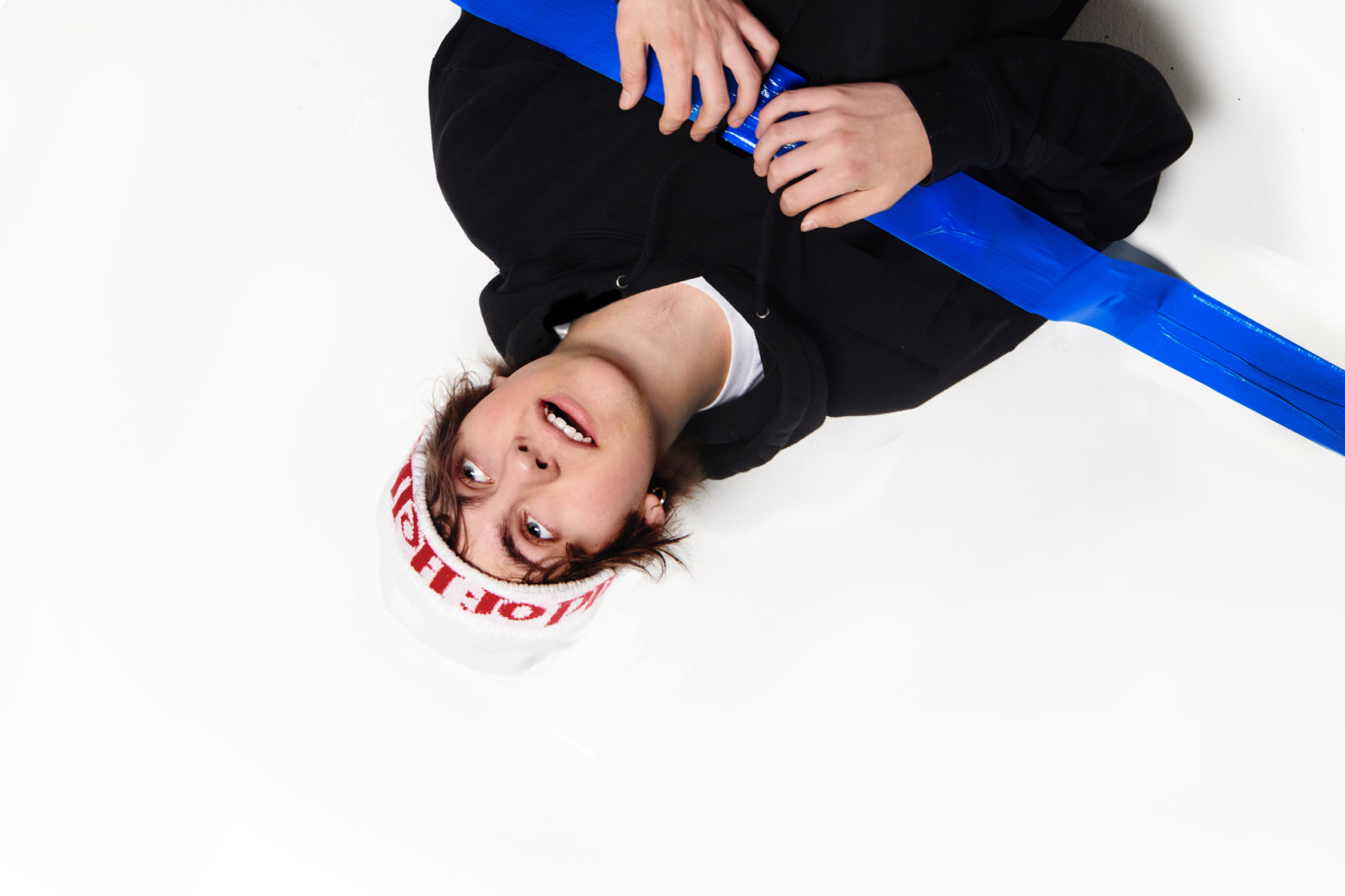 Nobody can stop Rat Boy in his tracks
Damon Albarn's making him cups of tea. Shamir's inviting him round to house parties. And thousands of fans are losing their minds at his gigs. We've seen nothing yet from Rat Boy.
The momentum behind Rat Boy is unstoppable. This self-professed piece of "scum" is on the edge of everyone's lips. Stage invasions are his forte, and he'll convert a hundred new fans in the space of one frenzied show. His tweets get more obscene, his songs more obnoxious. Nobody can shut him up, and he's the poster-boy for frenzied gigs.
From a distance, it's bizarre that this has happened so quickly. It was only this time last year that he released his debut mixtape, a melting pot of voice memos and razor-sharp garage punk threatening to boil over. There's a debut album on the way, and he's playing to thousands on the regular. Few sprints to the top come quicker.
But a few hours spent with Jordan Cardy reveal him to be one of a kind. He's the very definition of restless. There's always a new idea propping up in his head. Midway through a photoshoot he'll ask if he can draw something on a wall, just for the hell of it. He's a mind-boggling machine, and actually a lot more polite than his middle finger social media game might suggest.
It's always been like this. Before Rat Boy took over, Jordan relentlessly messaged music to complete strangers, until he won over a new fan or - and this was the more regular consequence - got blocked. "Whoever liked a Mac DeMarco track on Soundcloud - I'd DM them all," he remembers. He'd do the same on Twitter, and the powers that be would crack down on his "too many messages" tactic. "I was just guessing what to do, sending it to loads of blogs, people my age who could write about it."
He only stopped the self-promotion frenzy this summer. By that point, the sample-centric, signature sound he sports was well in the spotlight. Now he finds himself in 13 Studios, belonging to Damon Albarn. "He offered me a cup of tea, and I thought that was pretty cool," he remembers, shunning any potential dream collaboration. There are countless threads running through Rat Boy's chaotic noise, but his combination of whacked out art and storytelling screams of Gorillaz. It must have been a dream come true, and he's not taking his new studio home for granted. "Most of the time I sleep on the floor," he says. "Record all day, sleep at night - that's what I do. It gets a bit weird at four in the morning there, or forgetting when the time is. I remember being in the studio for twenty-hour hours and as soon as I left, I felt ill - so I had to go back! There's so many different instruments to try out. I love it there."
There's a sense that the speed with which Rat Boy's progressing has a lot to do with his heritage. Jordan recites a story of when he first decided to get into production. Nobody was giving him advice, and the only instrument he had was an electric guitar his dad's friend lent him. "I didn't know how to produce, or what software to use," he says. He tried out everything, eventually realising like most bedroom-pop diehards that Garageband was the answer. He got a job, saved up as much as he could, and bought a second hand iMac. "When it arrived, it didn't work. The guy gave no refunds," he remembers, like it was yesterday.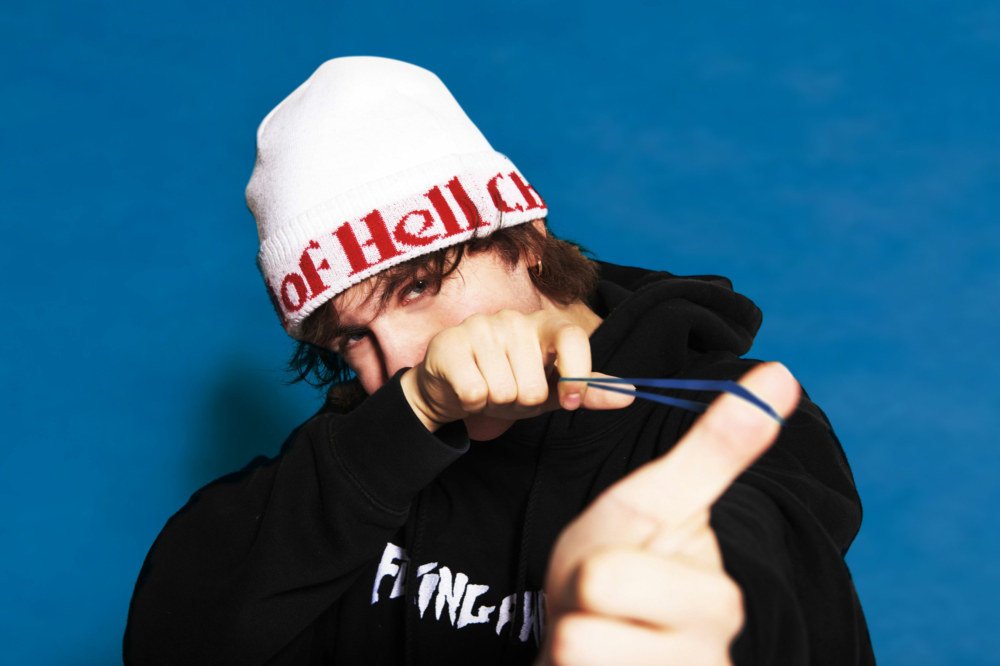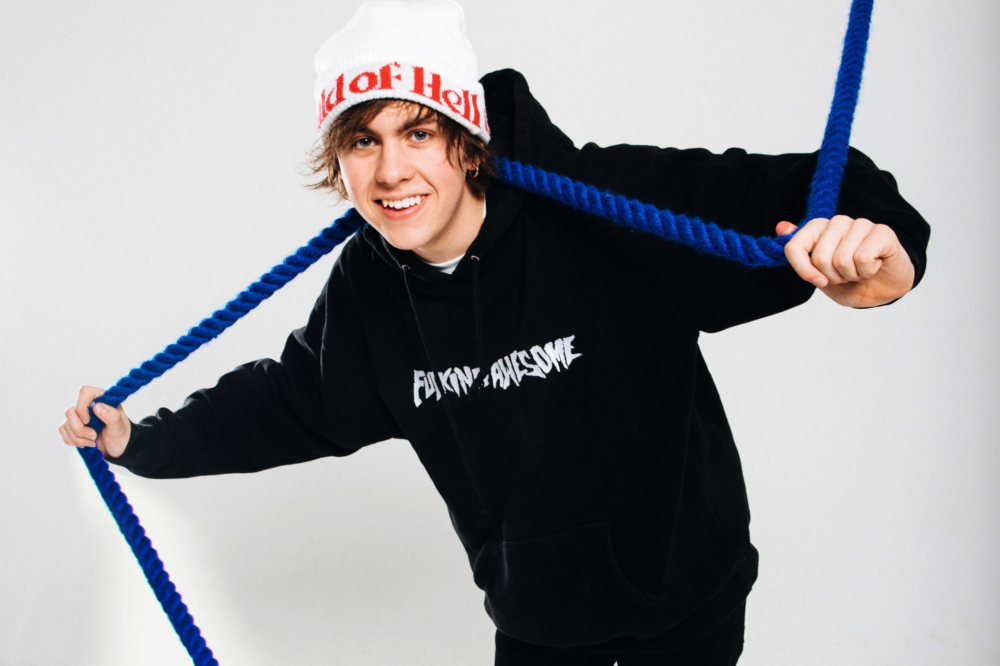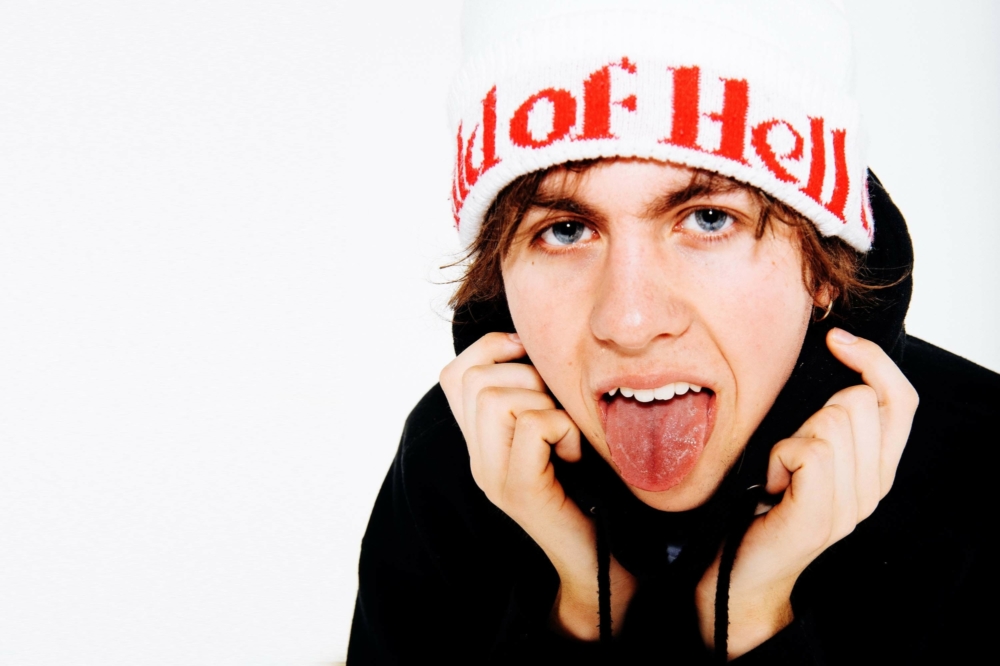 "
You don't wanna go around saying 'I'm working class,' because I just want people to listen to my music
— Rat Boy
Rat Boy's early mantra was the lyric "young, dumb, living off mum," and he's since penned autobiographical singles 'Sign On' and 'Fake ID', tales about being broke, bored, without much of a cause. Jordan gets coy when asked about his background, but it's clear he's not a rich kid latching onto fictional tales. He says he thinks he's "working class", but "you don't wanna go around saying 'I'm working class,' because I just want people to listen to my music." Most of the time, Jordan uses Twitter to post dodgy Periscope videos or pre-gig pep talks to fans, but he once had an argument online when someone accused him of having everything handed on a plate. "That really fucked me off," he says bluntly. "That pissed me off - I don't know why people think that. It's not like the record deal was given to me for no reason. My brother went into meltdown when someone wrote that online. He was so angry. And he works proper hard, left home when he was sixteen."

He's swapped broken computers for plush studios, but not much else has changed. He hangs out in Essex as much as possible ("I just go out and see my friends, stay out all night with my mates") and his mum barely sees him because he'll always be off skating somewhere. His dream is to one day own a "massive warehouse," a hangout space for anyone with an invite. "It'd be a music studio, art studio, and there'd be skate stuff everywhere. My mates would mess around, we'd make videos all the time," he lists off. "I'd call it Scum Studios." Lovely.

Instead of going to shows every night and religiously obsessing over his favourite bands, he'd scour YouTube for inspiration. "I've probably been to less than ten gigs that aren't mine," he admits, and if that's the case, he likely has a skewed impression of the average night out. Rat Boy shows are the liveliest, most hedonistic scrums imaginable. They've been that way from day one, but as each gig passes, there seems to be an unwritten code amongst fans to make the next one even more insane. "I've always wanted that, but I didn't expect it to happen," he says. "You know when you watch Rhythm Factory videos and seeing how mental the shows used to get? You don't really see it happening so much these days." But if anyone's bringing it back, it's him, and as more chaos ensues, this teenager is getting better at playing the role of mediator. "It's not like people go too far, but you do start worrying about them. You don't want anyone to actually damage themselves."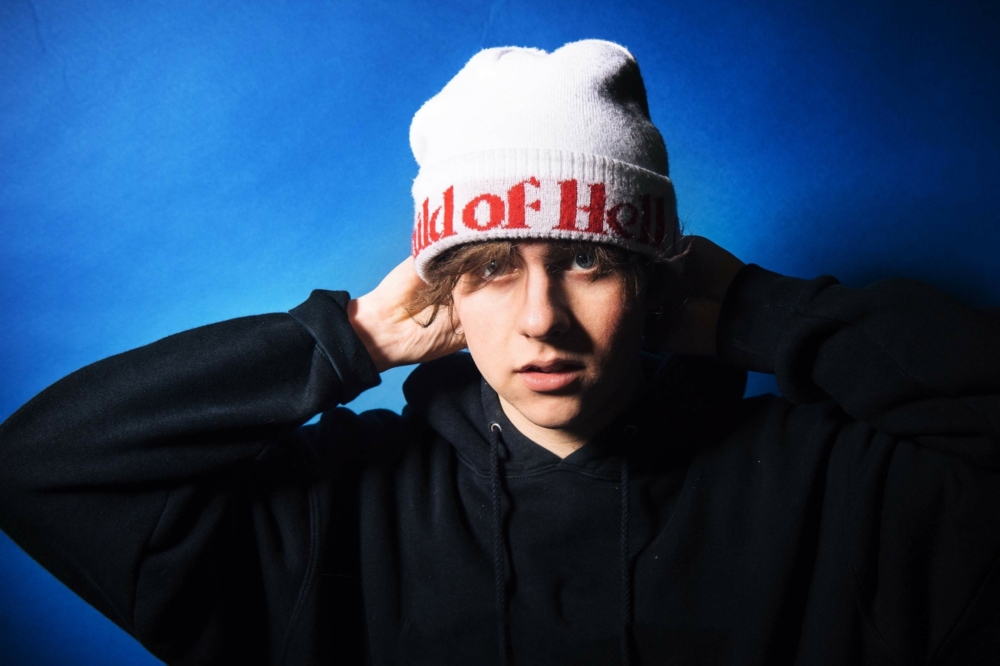 "
I enjoy the energy of the shows. It's just not fun paying for new equipment.
— Rat Boy
Just a year's worth of gigs to his name, and Rat Boy has his fair share of bizarre experiences. He remembers being "pulled down the staircase by my neck" after a festival slot went too far. A fan once broke their ankle at a show, "and that was at some industry gig, not even a proper one." And he's recently had to deal with the pitfalls of broken gear, after crowd melees go too far. "We can have stage invasions every night, but we just need back-up equipment," he jokes. "I enjoy the energy of the shows. It's just not fun paying for new equipment."

His first twelve months have felt like a stampede, and Jordan is collecting new anecdotes every day. Like the time he was too scared to talk to Yannis Philippakis from Foals. Or when musical hero Carl Barat from The Libertines said "'I've heard good stuff about you!'" and left him speechless. The 1975's Matt Healy called him recently to give an introduction before they toured together. Jordan was on the toilet. "We carried on chatting though. He's proper nice." And on a rare visit to the States, he ended up partying at Shamir's house before skating with the band he manages, Joy Again. The guy never sits still.

Beyond the celeb tales, security scuffles and free cups of tea from Damon, Rat Boy is getting ever-closer to achieving everything he set out to when he first cobbled together pennies for a broken computer. "I was just freaking out. It's weird that people know I exist. I've met a lot of my heroes…" he starts. "But it's the process of making things that I really like - making art, making music, skate videos. It's cool to be in creative control of everything. That's what I'm into." The rate he's going, he'll have that fantasy warehouse and a few albums under his belt in no time. Hell knows what kind of anecdotes he'll have by the end of 2016.


ON A LEASH
Rat Boy's Twitter game might seem unhinged, but Jordan's trying to keep watch on his bandmates.
"I don't really read what people write about me, it's just when someone tags you in it, and you see it. I ignore it. It's more like my brother or someone in the band who'll be watching, and they're all really mouthy. I'm like, 'Delete what you wrote! I can't be bothered'," he says, and he's always on the lookout for trouble to quash. "I feel like I have to kind of check what they're writing!" he claims, of his bandmates.
DEBUT DAYS
Putting the finishing touches to his debut album, Rat Boy's already thinking about a second LP.
"I'm excited to finish this one, so I can get that sorted and do the whole process again, bringing in stuff that I've learnt," he beams. His first work - due out in April - is set to document the baby steps. "I think it's about growing up, because that's how I wrote it. Two years' worth of writing. And my style has changed since the first mixtape. Not loads, but it's cool to have the songs I had two years ago and the ones I have now. Hearing the old vocal takes, I sound so much younger. It's cool to keep all of that together."