Interview:
Scream if you wanna go faster: Eat Fast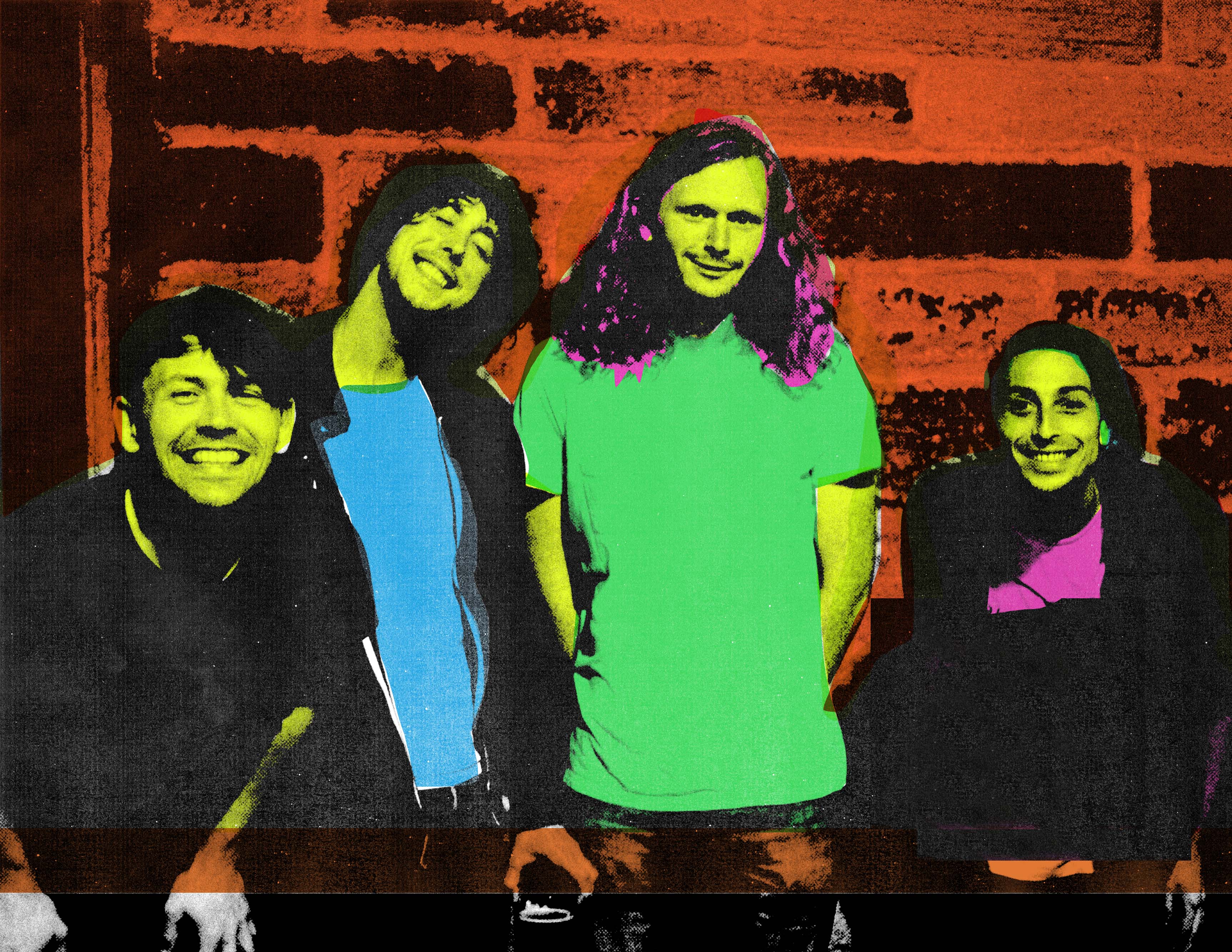 Loud, in-your-face, ready for anything - we meet Newcastle's best new band.
After one listen to the scuzzed-up chaos captured within 'Stammer', it's hard to imagine that Eat Fast's journey could ever have begun with an abandoned PhD in contemporary poetry. Yet, for the North East quartet, that's exactly what kickstarted it all.
"I moved back down from Edinburgh, where I was studying for my PhD, but it didn't really work out," begins the band's Adam Pearson, whose move back home from the University of St. Andrews provided the catalyst for Eat Fast's birth. "After I finished my first chapter, I realised I just wanted to start writing new songs again."
Originally just a way to scratch Pearson's creative itch, it was only when he met bassist Mark Brown and drummer James King that things came to life. "I just wanted to keep it as a recording project," he explains, "but then I met Brownie and Kingy - because I wanted to record the songs properly - and they persuaded me to try it as a live thing. It's totally grown from there."
For a sound that's so visceral and bursting with adrenaline, the idea of it remaining as a solo recording project borders on irresponsible. "That's what we thought," chips in Mark, gesturing to his bandmate. "That's why we sort of forced you to do it!" With the line-up completed by guitarist John Edgar, who also moved back from Edinburgh, there were now no excuses. "Yeah, there was a full commitment from everyone," confirms Adam, "and I think that's what made us think we could give it a proper go."
It's not just their music that the quartet have found themselves committing to so strongly: the area they come from is sewn into the fabric of their songs. With track titles like 'Byker Drone' and 'Fenham Dreadlock', Eat Fast are more than prepared to fly the colours for their home. "Yeah, I missed it so much when I was away," admits Adam, agreeing that there's something about growing up in the North East that always draws you home. "Before I moved away, I lived in Byker for four or five years, and a lot of the songs are about then and me looking back to then."
As for the songs themselves, the four they released as part of May's 'Fenham Dread(lock)' EP aren't the only weapons in their arsenal. There's already a sixteen-track LP prepped, and – unsurprisingly – they're writing even more. "All the songs have been demoed, because I did them all in my bedroom, but now we're starting to think that maybe we should re-record," Adam says, his mind ticking through the possibilities. "But, yeah, all of those tracks for the first LP are done, and the second one is kinda half done as well…" If any band have an insatiable appetite right now, it's Eat Fast.
Eat Fast play the DIY All-Dayer 2016 with Prides, Will Joseph Cook and Trudy & the Romance. It's a 14+ gig at London's Boston Music Room on 2nd October. Tickets are on sale now.
Taken from the September 2016 issue of DIY, out now. Subscribe below.
WE'VE GOT A FAVOUR TO ASK
We're often asked about you, our readers. So we'd really appreciate it if you'd offer up a bit of information about you, and your music-loving habits by filling in our 2019 readers' survey.
Click here to reach the 2019 DIY readers' survey.
(Don't worry, none of what we're asking for is personally identifiable - and no questions are compulsory.)