Deep cuts:
A delve into Dirty Projectors' discography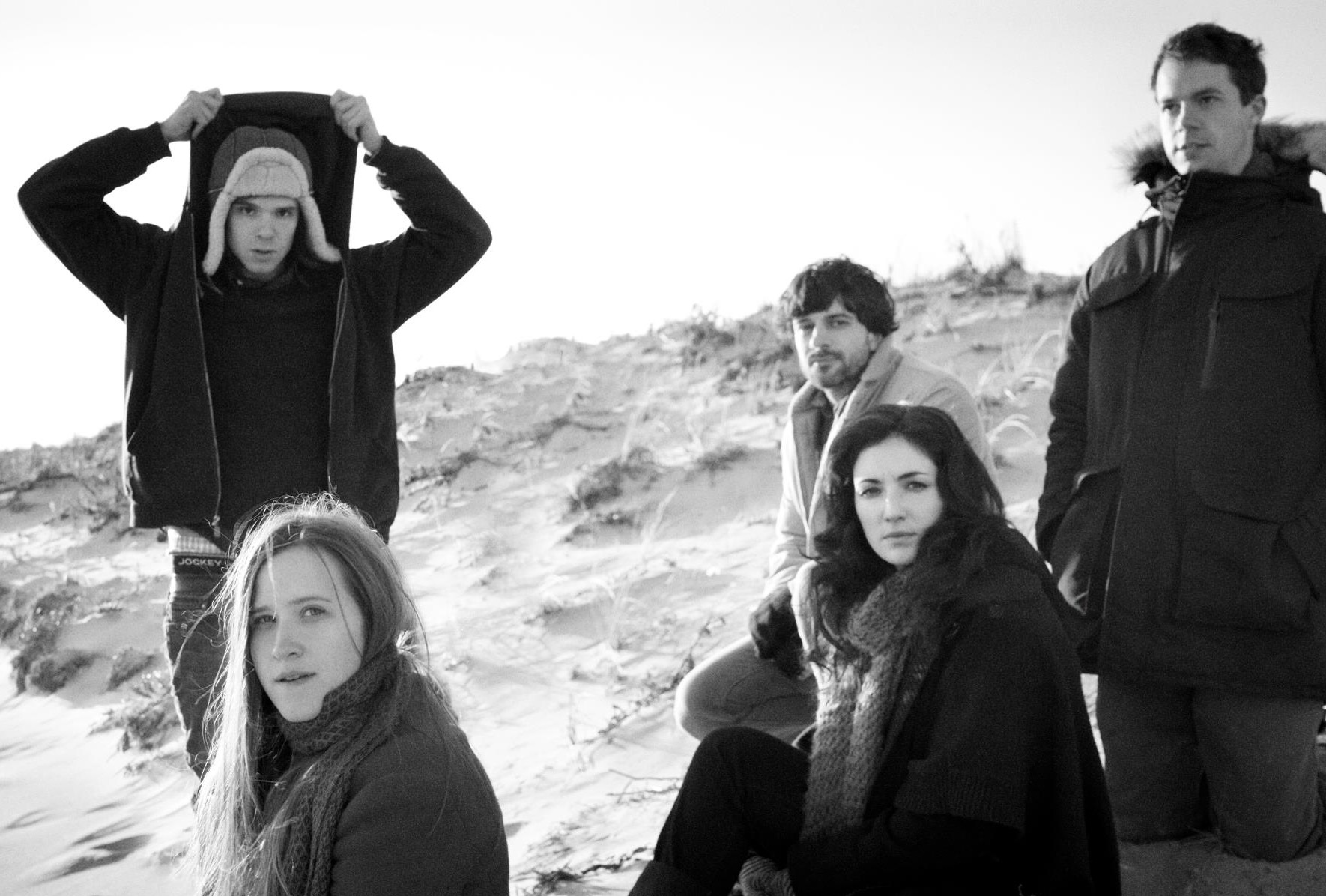 As the sneaky New Yorkers start to tease new music, we've taken a trip down memory lane.
Dirty Projectors fans of the world rejoice: Dave Longstreth and his crew of musical weirdos have finally started teasing new music. Aside from Dave helping out Kanye, Rihanna and some bloke called Paul with their song 'Four Five Seconds' last year, since the release of their previous album 'Swing Lo Magellan,' the New Yorkers have been relatively quiet.
It's all change now. Sharing two cryptic clips in one day, Dirty Projectors have put out a glitched up reworking of 'Swing Lo Magellan' track 'Impregnable Question', plus the mysterious caption 'What We Imagined And What We Became'. Good grief.
Their 2009 album 'Bitte Orca' was arguably a pivotal moment for Dirty Projectors, taking their wildly experimental wares to brand new shores and acclaim, and paving the way for 'Swing Lo Magellan' (their most accessible work to date). 'Bitte Orca' - German for 'Please Killer Whale,' natch - may be a common jumping off point, but Dave and co. been making weirdness weirder since 2002, and there's an almost overwhelming sea of music to get lost in.
While we all impatiently shuffle about in our seats, clammy with anticipation for new Dirty Projectors material, here's something to ease the waiting game. We've picked out six of the band's weirdest and most wonderful moments from the last fourteen years, from dream collaborations, to mega-rare early albums.
Dirty Projectors & Björk - On and Ever Upwards
Five years ago, at a bit of a loose end, Dirty Projectors gave their pal Björk a ring - as you do - and asked her if she fancied joining them for a new project called 'Mount Wittenberg Orca'. After performing the entire suite together in Manhattan, the two of them released the whale-inspired composition as an EP, and donated all the profits to help with the protection of marine areas.
Taking its name from a Californian hiking spot, and characterised by dense, complex vocal harmonies, 'On and Ever Upwards' sees Björk singing of home, belonging and daytime swims, with jazz-nodding melody patterns, and nimble fret-dashes. Meanwhile, Dirty Projectors use their formidable lungs to full capacity, serving as majority of her backing band.
Back in 2007, Dave Longstreth was busy overseeing Dirty Projectors' transformation into a fully fledged band, and naturally their first collective undertaking was 'Rise Above' - a re-imagining of Black Flag's very noisy hardcore record 'Damaged'. There was one major catch. Longstreth hadn't listened to the bloody thing in fifteen years.
The looming gaps in his memory wind up being 'Rise Above''s triumph, and the whole point of the undertaking. Dirty Projectors' own take on 'Thirsty and Miserable' picks up on the same vague trail of the fire-blazing original, twisting snarled anger into delicately plucked melody, and winding up with a far more melancholy reinterpretation. To paraphrase Morecambe and Wise, Longstreth's singing (nearly) all the right verses, just not necessarily in the right order. To be frank, it doesn't sound a jot like Black Flag either, but that's sort of the point…
Here Comes the Summer King
Fuelled by a skatty, ramshackle groove, 'Here Comes the Summer King' trills with half-attempts at funk, a highly erratic handle on tempo, and some of Dave Longstreth's most high-reaching vocals to date. A sped-up, jauntier version of Dirty Projectors' fairly morose warble-fest 'Three Brown Finches' (from 'The Glad Fact') the reimagining appears on the 2003 compilation 'Morning Better Last!'. Gathering together highlights from the stacks of new material Longstreth made between 2001 and 2002 (about 2.5% of his total output in that short time, the prolific frontman reckons) it's a slightly strange, explorative collection that shows Dirty Projectors at their most experimental. For yet more downright bizarre forays into lift-jazz on the same record. 'My Brother Had a Birthday' is also worth a look for its sherbet-fuelled sax solo alone.
Speaking to DIY in the lead-up to releasing Dirty Projectors' last record Dave Longstreth told us that he was sat on stacks of other musical offcuts. "We'll put it out in little dribs and drabs, a bit at a time," he said. One such drib came in the shape of 'About To Die,' an EP of tracks that didn't quite make it onto 'Swing Lo Magellan'. Tempered with the same colourful orchestration, 'While You're Here' stands out as an affecting highlight.
Written for his close friend Gerard Smith - the TV On the Radio bassist who tragically passed away in 2011 - 'While You're Here' soars with both profound sadness and hopefulness; Longstreth singing of his friend "rising and shining again" and living on in the world through lasting memories and artistic creations.
Jolly Jolly Jolly Ego
Ever a fan of keeping things simple (ahem), Dirty Projectors' ringleader decided to make a "glitch opera" back in 2005. Building an entire record out of pre-recorded sounds, strung together in a tonne of different sequences, 'The Getty Address' didn't just utilise shiny modern recording techniques and studio trickery to high heaven, it exposed them, and built a whole aesthetic on stuttering electricity. 'Jolly Jolly Jolly Ego' is perhaps this album's greatest moment. Plaintive woodwind gets churned up in a sawtoothed bed of razor blades, ejected out the other side atop morosely thudding drums, and hyper-compressed, claustrophobic keys. Few artists can legitimately claim to have written a proper banger revolving around a blimmin' bassoon loop. Then again, Dave Longstreth's pretty one-off.
Way back in 2002, before Dirty Projectors even had a name, Dave recorded an album on a four-track in his dorm room at Yale. 'The Graceful Fallen Mango' was the result. Veering all over the shop, from syrupy ballads, to droning acoustic guitars struggling to be heard above the fringes of a black hole, it's as bizarre as you'd perhaps expect. 'Maggie and Me' stands out as particularly eccentric, sounding a bit like a chipper 'Blackbird'-type Beatles number if Paul McCartney was attempting to play the mandolin and harmonise while bouncing violently on a space hopper (perish the thought).
It's incredibly hard to get your mitts on a physical copy of 'The Graceful Fallen Mango' - it'll set you back at least a hundred dollars on Discogs - but you can listen to the whole record below. 'Maggie and Me' starts up at 35:09.