Interview:
Serving up an ace: Hooton Tennis Club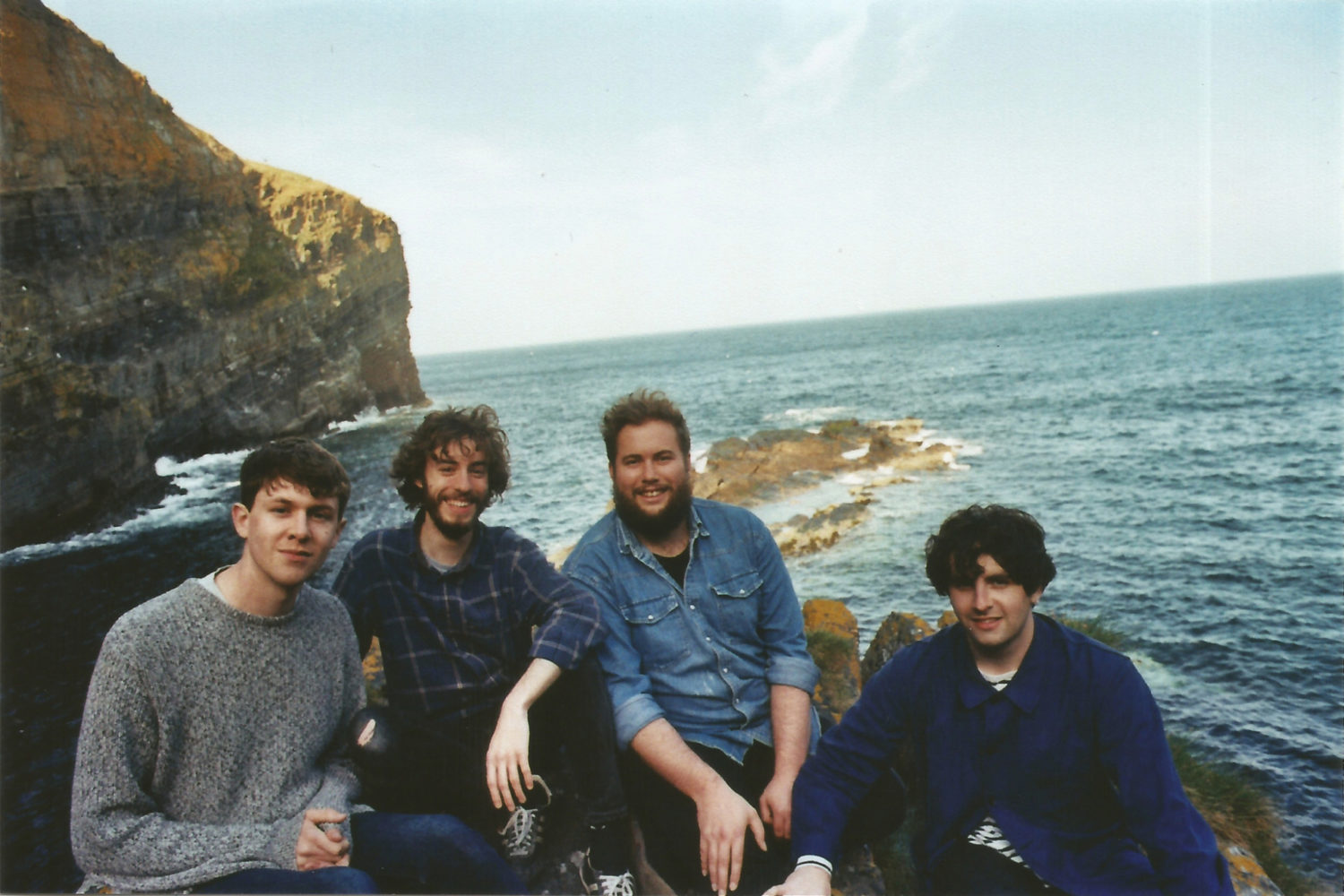 Releasing their second album in as many years, this Wirral band are shedding their slacker tag.
Hooton Tennis Club are in the middle of scrolling through Travelodge options - dubbed "the gruelling Travelodge tour" - as they chat over speakerphone from a crowded bedroom on a Monday afternoon. The Wirral four-piece, consisting of Ryan Murphy (vocals/guitar), James Madden (vocals/guitar), Callum McFadden (bass) and Harry Chalmers (drums), are signed to Heavenly Recordings, a label with acts who are notoriously prolific (they've toured with the insanely productive King Gizzard and the Lizard Wizard, for example). It looks like they're about to rise to the same ranks. 'Big Box of Chocolates' - their second album - is the work of a group of best friends who are excitedly restless, and eager to keep pushing themselves.
"I didn't think after [debut album, 'Highest Point in Clifftown'] that it felt in any way cemented," says James when considering if they felt like a "proper" band now. "This time we feel like we've gone a bit more pro. Like, we're actually using good equipment - we've purchased equipment this time and between us all we're making more of a concerted effort to sound that little bit better. I think that probably came with working with Edwyn [Collins, producer] - he sort of had a proper idea of how things should be - and it came out that little more pop."
Working with Orange Juice aficionado Edwyn couldn't have been more of a better fit for the group. Holing up in his studio for "about two or three weeks", they all had an instant chemistry that was necessary to lift them to where they wanted to be. "We wanted to come out of the sloppy slacker tag," continues James. It's a tag the band were keen to shed after finding themselves very quickly pigeonholed by the press, due to their ramshackle guitars and inquisitive, inward-looking lyrics on everyday life.
"We wanted to come out of the sloppy slacker tag."
— James Madden
"It's too easy when you're labeled a slacker band to not try very hard, and people assume you do it on purpose," Harry continues. "We always try our best when we play live, and in lots of reviews we get people say "oh it's great, they don't care, they're not trying." And we try really hard! People who call us slackers - it's just ineptitude I think. So we're going to put the effort in and see if they notice a difference."
It's a difference that's hard to ignore considering how much effort has gone into making it. Sonically, 'Big Box of Chocolates' is a massive step up - Edwyn's pristine pop touch is all over it - and there's a sense that the band are actively trying to be smarter by diversifying their sound while honing in on what makes them tick as a group. There's a slick Americana influence flowing throughout - you'd nod your head in agreement when they roll off Big Star, Lee Hazlewood and even Whitney as influences - but deep down, this is still a happy-go-lucky Northern bunch who're writing charming bittersweet songs about ex-flatmates, park benches and bad dreams. "There's not so much angst as there is existentialism and growing concerns," James explains. "The first album was very happy and centred around experience rather than feelings. That's what I kind of get from it. Things aren't as rosy as they seem."
There's more to that "big pop break" feeling than meets the eye, though - a secret weapon the band utilised that really allowed them to 'Come Undone'. "The album isn't a million miles away from the first one," acknowledges Callum. "But our engineer/mixer guy, Richard Flack - who is an all round lovely man, by the way - he's been working with Robbie Williams recently. He's been working with him for the last 20 years, so we basically have Robbie Williams in the band. Maybe he'll be on the actual album next time."
As much as they're growing up and going pro though, there's still a starry-eyed stupor and youthful energy teeming throughout the whole record. There are flicks of bicycle bells worked into the melodies as well as a bunch of field recordings of everyday mundania, including a dog's bark. "That was on the farm next door to Edwyn's studio," James chuckles. "There were three and we recorded them all before picking the best. Two of 'em were Irish wolfhounds and the other was a border collie. It was good because one of them was called Gaz, and we were all massive Supergrass fans when we were younger, so that's the one we picked."
Hooton Tennis Club's new album 'Big Box of Chocolates' is out now.

Get your copy of the latest issue