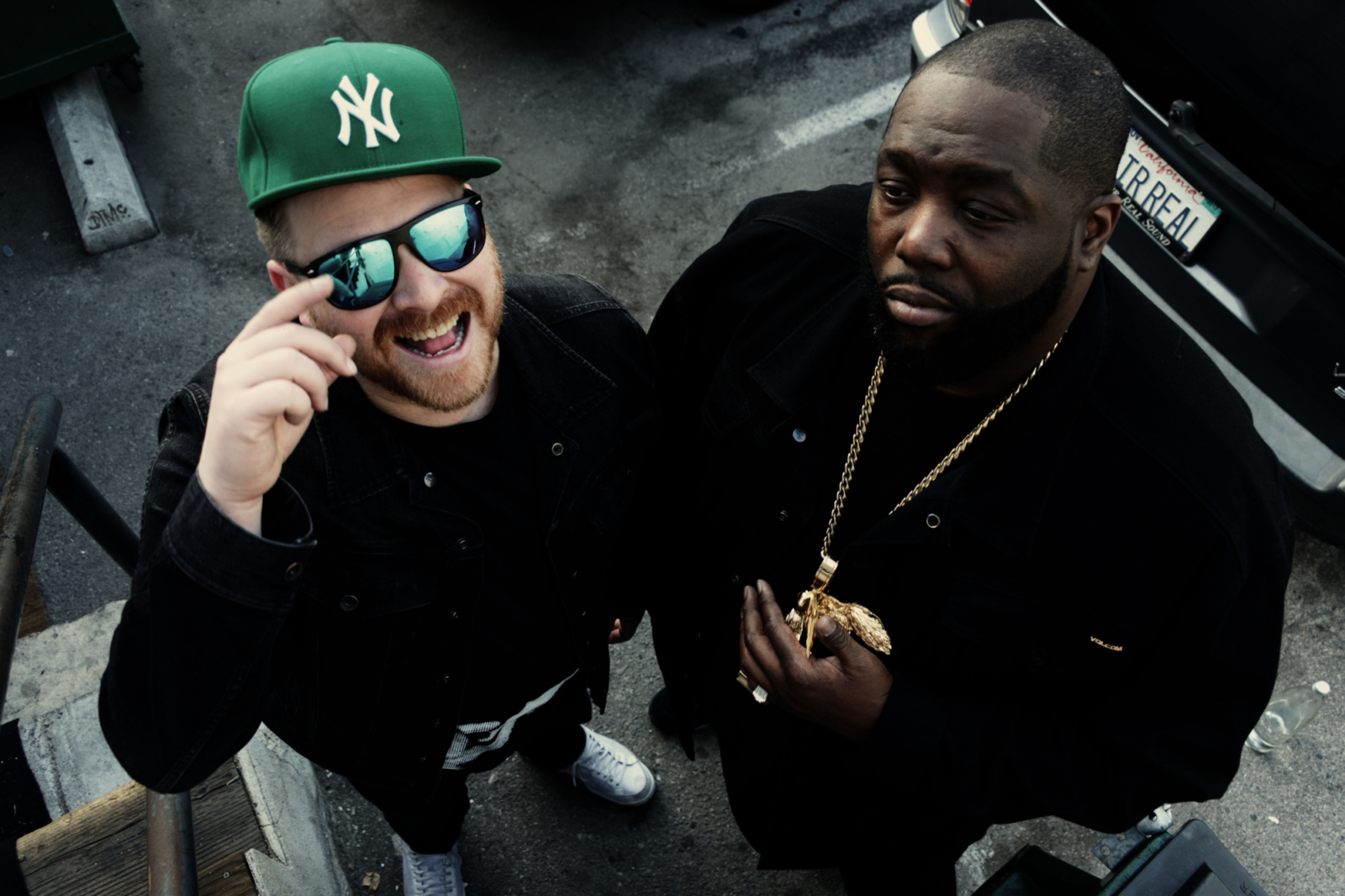 Hold up! It's Run the Jewels
Run the Jewels have already perfected the jewel heist, stealing the limelight as rap's most shining duo. 'Run the Jewels 3' sees the two best pals nabbing hearts instead…
Switch on the telly, flick through any newspaper, or take a cursory glance out of the window, and things look very, very bad. From the blind jump into idiocy that is Brexit, to the presidential election of flaxen-haired tangerine Donald Trump in the United States, a poisonous fear of difference and otherness has fuelled political catastrophes across the world. 2016 was a washout, but the real shitshow is only just kicking off. Now it's time to organise and fight back, and Run the Jewels are leading the charge.
Four years ago – back in those heady days when pig-gate was still just a hellish episode of Black Mirror - El-P and Killer Mike were both acclaimed lone rangers, stalwarts of the underground rap scene. Each boasting decade-long solo careers and well into their thirties, both members of Run the Jewels were set in their own rights, but a hunger to keep taking risks brought the two minds together. In 2013, their debut album 'Run the Jewels' was very much an experiment. Now, with three records to their name, the group is their sole focus. A super-glue strong bond, a natural artistic chemistry, and a constant drive to challenge one another has brought Run The Jewels to this point. The duo have also grown far darker, meaner, and more complex. Their third album – launching into the bleakest surroundings possible – feels more necessary than ever. While previous records flame-threw into life, in a bombastic spin of poodle-shooting, and self-aware braggadocio, 'Run the Jewels 3' feels different. The opening of the entire record begins, very tellingly, with two simple words: I hope.
"My grandmother used the word hope a lot when I was a kid," remembers Killer Mike, chatting the morning after a sold-out show in Philadelphia; the pair's first live date with 'RTJ3' deployed and out there. "She didn't use it wistfully. She would say 'oh, I try to hope you all I can'. I think she was trying to say help, but she really meant hope. 'I will pray and hope for you,' she'd say," Mike goes on. "I realised hope is a verb. It takes action."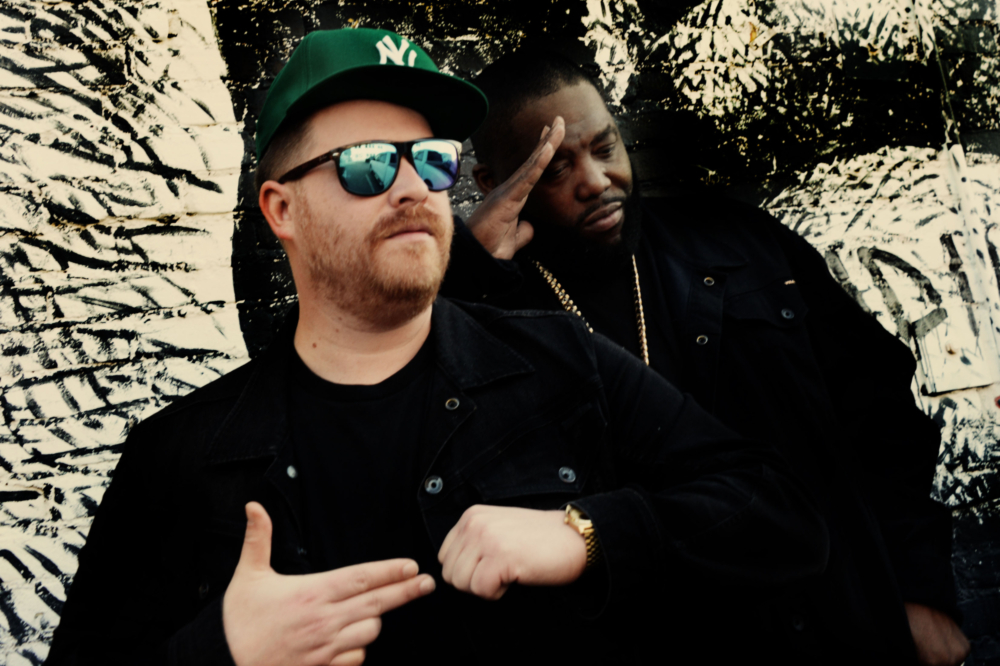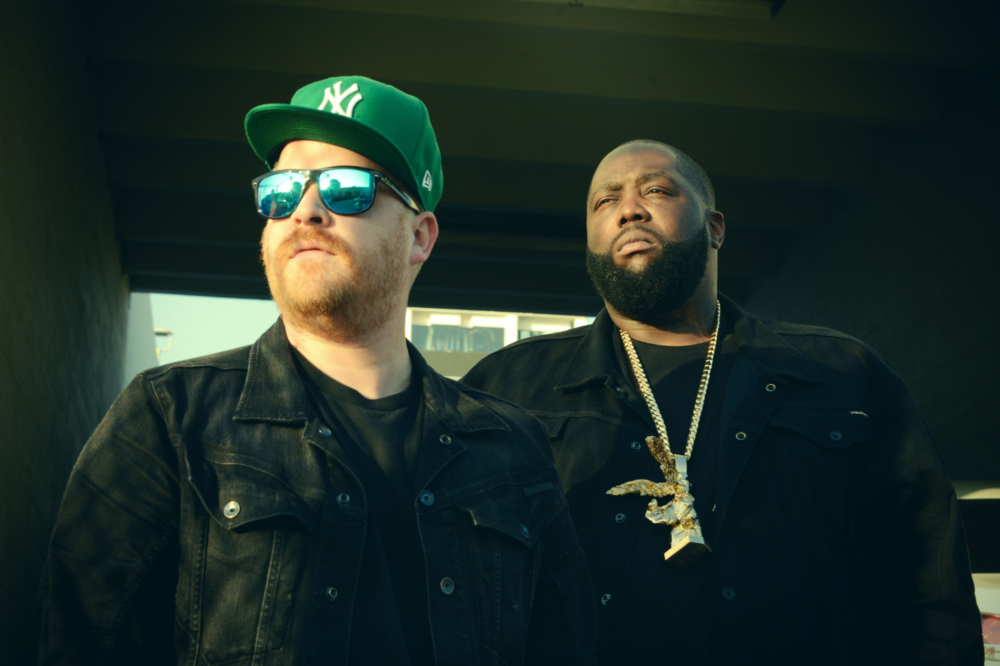 "
We never lost that need to keep pushing forward with our craft.
— El-P
Hope propels 'RTJ3', but there's no it'll-be-ok-in-the-end mentality, blinkering out the world, to be found. Quite the opposite, in fact. Run the Jewels continually confront the least pleasant aspects of life in all their grisly, uncomfortable starkness. The hope sitting at the core of this album is an active, fast-propelling call to animation. Taking stock of the distinctly desolate context surrounding the album – hardly a breeding ground for hope - El-P emits a dark chuckle. "It's not gonna be fine," he says firmly. "But these motherfuckers are in for a surprise if they think that they're gonna destroy our souls."

"I would love a kid to walk away feeling two things," he ponders. "That they know where the fuck they stand, and at the same time, that they are determined to be a badass. A middle finger in the face of a tornado of shit," El adds. "I'm not capable of giving anyone false hope, but what I can say is this. I can give you a little game, I can give you a little swagger, 'cos fuck all these motherfuckers. We already lost if it's not 'fuck you'. If it's not 'fuck you' we're already gone. That, to me, from a Brooklyn kid – fuck you is hope," he laughs.

There are 'fuck you' moments of all descriptions on 'RTJ3,' a record that takes on cash-fat bankers, the (at time of going to print) president-elect, and government corruption with viciously unforgiving wit. Typically, it's coloured by the duo's potently stoned strain of humour, a healthy smattering of dick jokes, and quick-smart lines that throw themselves headlong into the realm of all-out ridiculousness, too. "The humour and the joking and the brashness of our rap style is just as important to us as the depth of the things we can do," El-P concurs. His favourite line on the whole record, he adds, is a suitably golden piece of imagery from 'Stay Gold,' courtesy of his partner in crime. "We're the crooks, we'll run the jux and kidnap mom from jazzercise," quips Killer Mike without pause for breath, "get Stockholm syndrome when she get home, mom's like, "I like those fuckin' guys."

"Man, I just had this picture of a perfectly round nice old lady walking out of a jazzercise with us, 'cos she thinks we're interested in her pumpkin pies," Mike laughs, "man, that's kidnapping! And then we get back to the kidnapping headquarters and she makes us clean it all up, because we're dirty little boys, and she's like, you gotta learn manners."

"It's compassionate crime, y'know?," laughs El. "It's Killer Mike's school of compassionate crime."


"
No-one gets past the trap, and gets to the human, and the humanity, of being a villain or outlaw.
— Killer Mike
From their formation in 2013, Run the Jewels' evolution has been a gradual one, and deliberately so. Both El-P and Killer Mike put this down to their huge wealth of experience as artists; and their confidence when it comes to maintaining a natural pace. "That's why we're still here," states El-P boldly. "Me and Mike have an anomalous career, but for us it's not a mystery. We never lost that need to keep pushing forward with our craft, and we never felt like we were done, or like we hit any kind of peak. We still don't feel that way. It's like raising a kid," El-P goes on, swerving tact. "Every year that kid is alive, it has more to say, that kid has more ideas, and more experience. For us as artists, the reason we have managed to stay sharp is because there was never a moment in our minds where we got comfortable with what we've done. We were always dead-set on doing the next thing."

Likewise, Run the Jewels were resolute that their third album should develop unhurried. Heading to the tranquility of Upstate New York to record, the duo went a step further this time and set up their own permanent studio in the middle of nowhere - "a place where we can forever escape and have a Run the Jewels world," as El puts it. Holing up at their new HQ for a year gave them much-needed space.
"After I figure out how to get marijuana, and accept there are no strip clubs, man, I get really focused on the work," says Killer Mike of their woodland retreat. "It takes me back to my great-grandparents' farm in Alabama when I was a kid – the first three days you're there, you're like, shit, I don't have any video games. Rest of the summer, you're playing outside. In the woods it allows you to focus what you're thinking," he pauses. "And the weed supply up there is great, now, thankfully."

"Beyond that," remarks El-P, "you're basically looking at a bunch of dudes growing beards."

As well as refusing to rush the process, they also took their time when it came nailing their overarching message. "I wanted to take a long breath to make the album of our lives, because that's what we needed to do," El-P says. "Every one of these records has to be the most important we've ever done."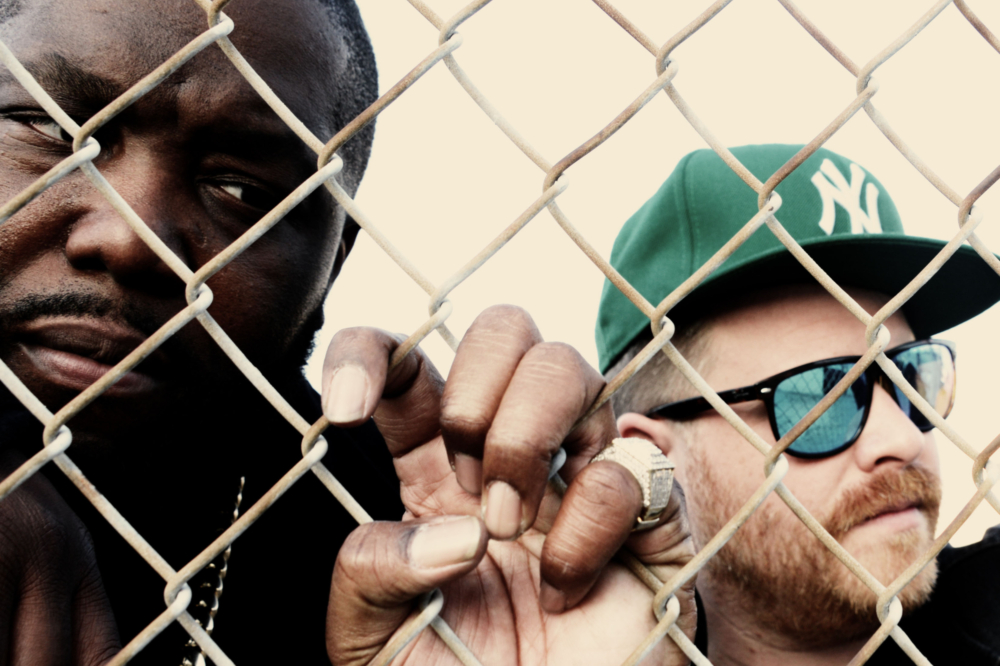 "
Hope is a verb. It takes action.
— Killer Mike
At one point, overcome by anger towards the injustices of the world outside, the album's voice became a major point of discussion, and ultimately, a pivotal moment. "At one point, we just had to sit down and figure it out, and it became a better record because of it," Mike says. "I really had to take time to think about my own anger," he admits. "I wanted ['RTJ3'] to be more of a call to organise, and a way to remain hopeful if you are out on the streets protesting – and I think we did that."

The long journey to 'RTJ3' has been peppered by healthy debate, endless creative reinvention, and a couple of tears along the way. 'Thursday in the Danger Room' – a moment that sees the duo at their deepest, and most vulnerable – was such a tough track to make, El-P in particular was hesitant to release it. It sees the two members of Run the Jewels in tandem, rapping about shared experiences of grief, sorrow, death, and forgiveness, with a forthright honesty they've never channelled before. It stands out as a turning point, too, opening the door to yet another facet of Run the Jewels.

"I was hesitant, for the first time in a long time," El-P starts. "I've gotten really comfortable in my solo music, saying things that were deeply personal. Doing it with Run the Jewels was a different story. I think to some degree, when Run the Jewels started, I was taking a bit of a vacation from myself, y'know what I mean?" El-P admits. "But, being friends with Mike, and seeing how brave Mike was being with putting his heart out there… he astonishes me sometimes with how open he can be. When he wrote what he wrote, he threw the gauntlet down, and I felt like I had to be brave."

"A lot of times, the thugs, the drug dealers, the player, the hustler, has been the only face that represented black men in rap music," Killer Mike picks up. "Its been the only face, the only mantra, of rap music. No-one gets past the trap, and gets to the human, and the humanity, of being a villain or outlaw."

"I have a once removed cousin down in Florida, a little cousin who grew up looking up to me, and they lost another cousin between my age and theirs," Mike continues. "He was murdered for a bracelet. I was thinking about my other friends that have been murdered, and him; he has a son, he left a woman behind. Nobody ever mourns these people. Nobody ever mourns my friend. That verse got it pouring out of me. I wanted people to know there was humanity behind that chain that was taken, behind the bracelet, behind the car-jacking. I want the killer to know that we have all been involved in that, we have all done what could be considered terrible things. Because seriously, I know you know my records," he says addressing his subject directly, "I know you know who I am at this point, and I want you to know you're forgiven, because I don't want your mother, or father's pain. I want you to do better with your life."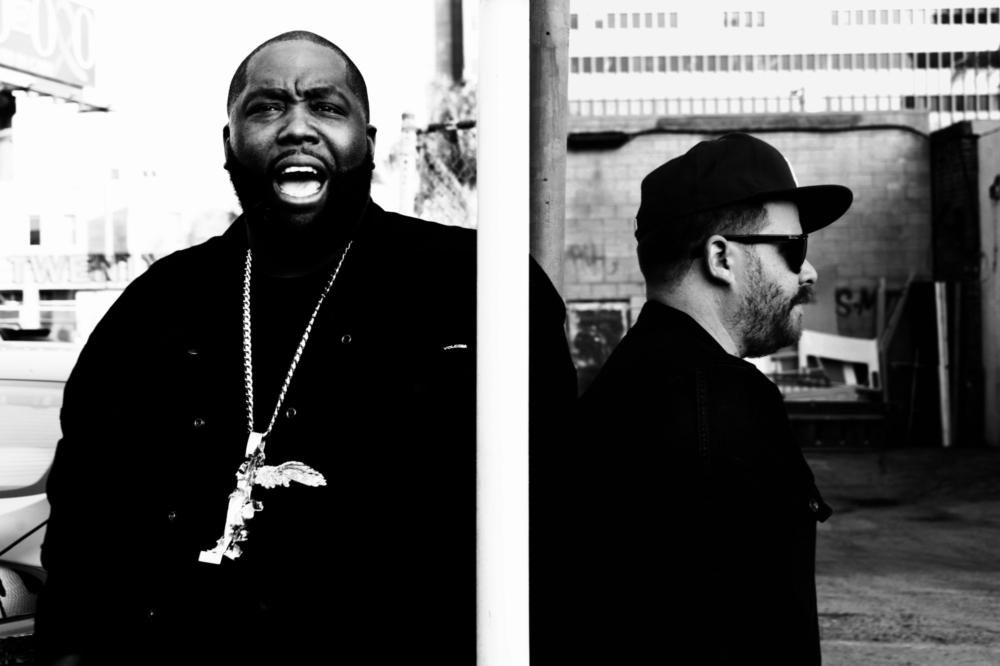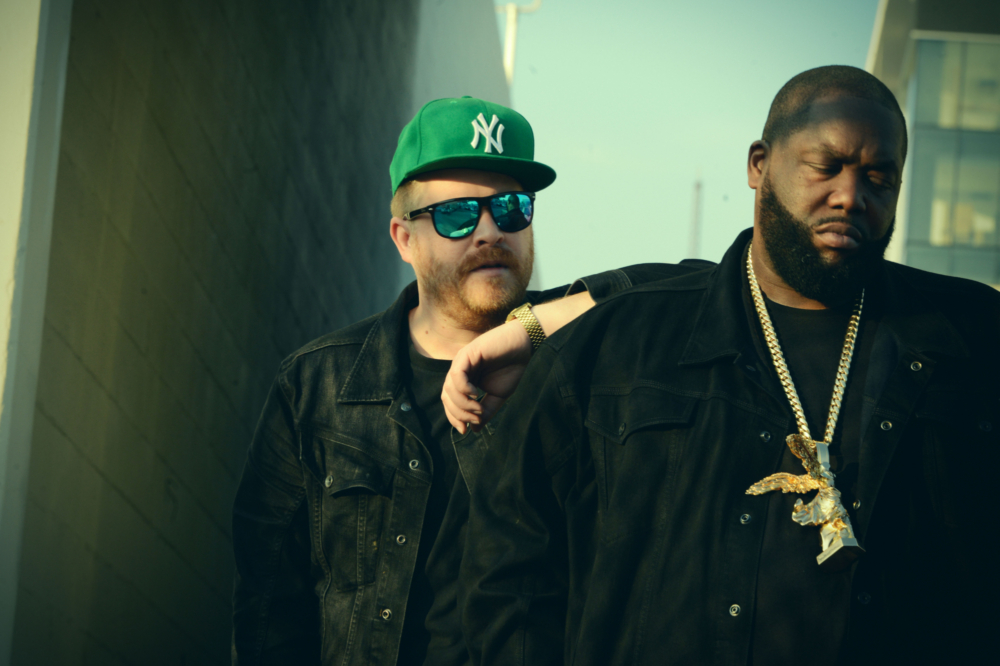 "
It'd be selfish to only make records that were angry, or depressing, or dark.
— Killer Mike
Inspired by his best friend's frankness, El-P sat down to write about a subject he hadn't revisited since the darkness and grief of his 2012 solo record 'Cancer 4 Cure'. Reframing it within the context of Run the Jewels proved challenging, but vital. "It was coming off of a friend's death, a real life-changing loss," he says. "I'm talking about something I haven't shared with anybody, and all of a sudden, I was putting it out there on record."

"What I latched onto was my friend's big heart, and how he was writing about forgiveness," El-P continues. "If Mike is outwardly forgiving, I guess I took the opportunity to be… Maybe it was a little selfish, but I wrote about being inwardly forgiving. I have walked around with a lot of guilt in the back of my head. I was ashamed of myself for having had a moment or two in the long process of my friend's deterioration – and ultimately, death – where I felt too weak. In my heart, I wished the process was over, I wished it was quicker. I felt very ashamed and embarrassed by that, and it's something I haven't really shared with anybody – but I'm sure that's a common thing in these processes for a lot of people."

"I don't cry much," El adds. "It doesn't happen to me much. This one, it did. I think that's why I was scared," he admits. "I cried listening to it back, and I think that's why I was scared originally. I stepped to Mike, like, I don't know, and I'm just glad that my friend encouraged it."

The strength of El-P and Killer Mike's friendship is a point the pair reference time and time again today, and looking back to 'Run the Jewels 3's hope-filled opening lines, their bond is also the catalyst that places this pair among some of the most important faces in music today. "Me and Mike's relationship has been nothing but hope," El-P says. Killer Mike's in agreement.

"I would like to feel like the hope that we give people is not a challenge or a dare, but a call, to say there are other like-minded people just like you, there are people your vibration resonates with," he says. "Seek them out. Our friendship, this relationship, has given me hope that it is never too late. Just keep trying at it. After seeing it come to fruition in my own life, with this, it'd be selfish not to give people hope. It'd be selfish to only make records that were angry, or depressing, or dark. It'd be a misrepresentation. These records have provided hope in my life, and I hope that's something we maintain throughout the course of this group, to constantly do badass shit."

"Run the Jewels is out of light, and there is darkness drawn in," concludes El-P. "It's me, and my friend, and we're standing next to each other, and we have each other's backs."


GET YER BALLS OUT
As per, 'Run the Jewels 3' features a fair few references to your genitals, El-P. Which line are you proudest of?
El-P: Tough question. The banana dick apeshit line [from 'Panther Like A Panther'] is pretty impressive. 'My dick got a Michelin star' ['Talk to Me'] was a pretty good one. I think there are only about three dick jokes on the record, but when we do them, we try to make them count, at the top of the art form. On the unicorn horn for a cock line [in 'Legend Has It] I love the fact my girlfriend came in and I had her do the 'stop' bit. I thought that was funnier. We're one part heart, and one part completely ridiculous asshole.
BLAZIN' SQUAD
Run The Jewels have no qualms with admitting to their recreational habits, but can they roughly estimate how much weed was consumed during the making of 'RTJ3'?
Killer Mike: Yes. You can do it like this. We average 'bout a quarter pound a week to ten days. So, that's on average about a pound a month. I'd say – give or take a pound – and we're looking at a year here, I'd say honestly no less than six pounds to record an album.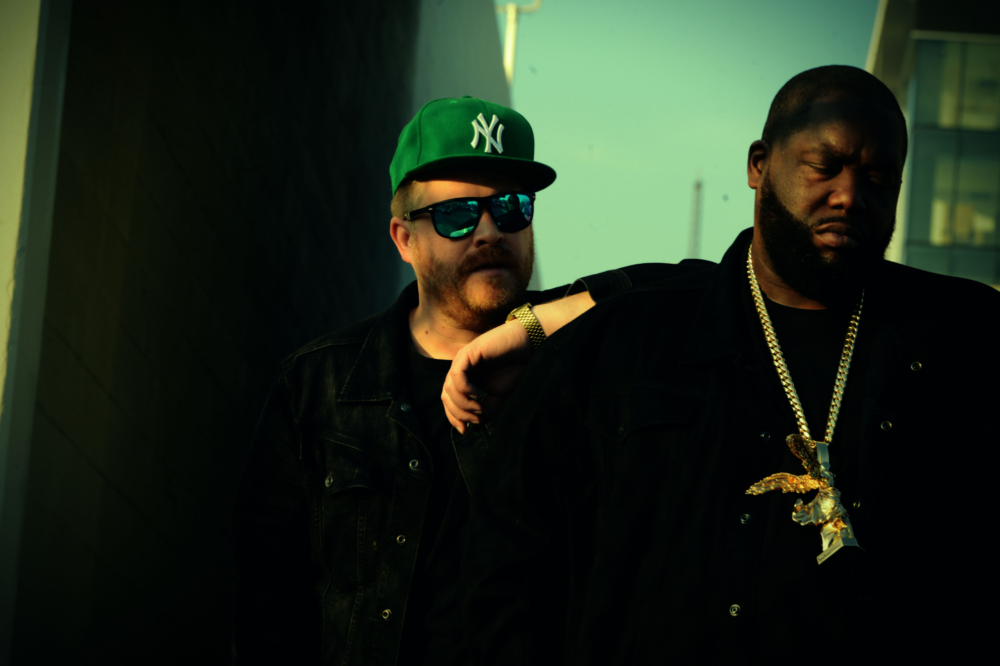 Run The Jewels' new album 'Run the Jewels 3' is out now.