Interview:
There's No Place Like Home: Vagabon
Seeking to pin down home, self-proclaimed "small fish" Lætitia Tamko's debut album is one of this year's early stand-outs.
"I kind of released it into the world and ran away to hide," Lætitia Tamko laughs, bashfully. "I'm really happy that I can finally share it with everyone, but I try not to pay too much attention to what's being said. I don't want it to colour the way that I feel about my music." With the release of her debut album, Lætitia – better known under her musical alias Vagabon – is taking the music world by storm. One listen to the record and it's instantly evident why she wants to keep that emotion close.
A swirling projection of introspection and hopeful wonder, described by Lætitia as "an archive of a very specific time," 'Infinite Worlds' is a potent display of character and capability that seeks out beauty and comfort within chaos. "I feel so small," she sings on opening track 'The Embers', "my feet can barely touch the floor, on the bus where everybody is tall." It's a striking image. Giving voice to feelings of anxiety and displacement, the Cameroon-born, New York-dwelling musician introduces herself with a profound strength.
"What I wanted to do with the music for this album is put together a bunch of different genre, and show different parts of my technical skills and personal self - because they vary," she portrays. From garage punk, through gentle folk stylings, to airy electronic soundscapes, Vagabon incorporates them all. "I really wanted to make sure that the whole album, the way it plays from song to song, portrays me as a musician, and shows what I can do," she interprets. "I like a bunch of different things and I can do a bunch of different things, so why not?"
"I can find home in people, and I can find home in my physical place - right here in New York City"
— Lætitia Tamko
Taking inspiration in its title from Dana Ward's 'The Crisis of Infinite Worlds', Vagabon's debut album finds power in the poetical, offering comfort through echoing words and resounding melodies. "I have a lot of respect for poets, and I wouldn't be surprised if some of that seeped into my brain," Lætitia mulls. "It's the way you take words to paint a picture for the reader, and seeing how I can do that sonically." Hammering her meaning of home into shape with innately familiar imagery, her way with words is one that resonates to the core.
"I think I wrote a lot about the sense of home, whether it be a tangible or intangible place," Lætitia adds. "I was travelling a lot leading up to this record, so a lot of these songs retell stories of when I was travelling." Take 'Minneapolis' for example. Led by helter-skelter refrains, the song was inspired by a particularly frightening flight the musician took, on which the pilot was "flying like an intern." Drawing from her own experiences, 'Infinite Worlds' takes a variety of settings and sounds in its stride and roots them in a world of their own making.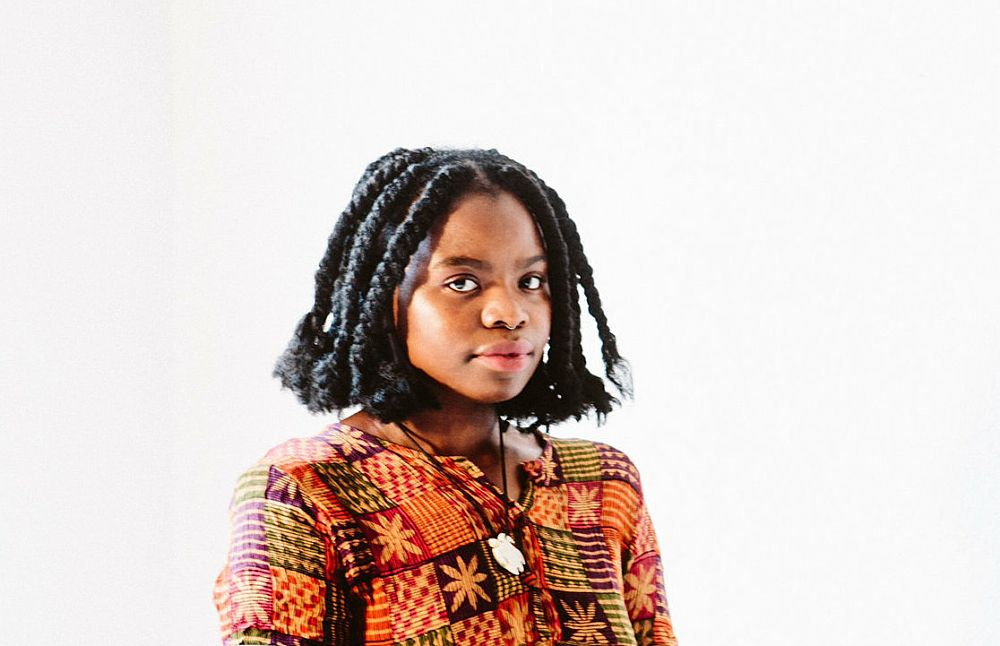 "I like a bunch of different things and I can do a bunch of different things, so why not?"
— Lætitia Tamko
Born in Cameroon and relocating to New York at the age of 13, the idea of home is one that's long influenced Lætitia creatively. Dealing with "travelling, displacement, and moving around constantly," these are subjects that emerge time and time again throughout the record. "They're topics I was thinking about a lot, and the ideas of self that I was reflecting on at the time," Lætitia considers. "My life was shifting in a lot of ways, and it warranted those sorts of reflections." Through contemplations of space, with vast constructions of intricate stylings, Vagabon finds a place that is very much her own.
Built around "the idea of wanting to have a makeshift island," the record offers a sense of home to anyone who wants to find it here. "I can find home in people, and I can find home in my physical place – right here in New York City," Lætitia states. "Sometimes I feel like home on tour or in the car. It's constantly shifting. I think that I'm figuring it out every day," she she goes on, "but fundamentally it's the place where you feel comfortable and your guard is down."
Through a candid expression of her own voice, with 'Infinite Worlds' Vagabon offers both escapism and an innately familiar sense of comfort. "I just hope that in listening to it, maybe there's someone who can feel less alone and more supported or more understood," she concludes. "That's what music does for me."
Vagabon's debut album 'Infinite Worlds' is out now.

Get your copy of the latest issue