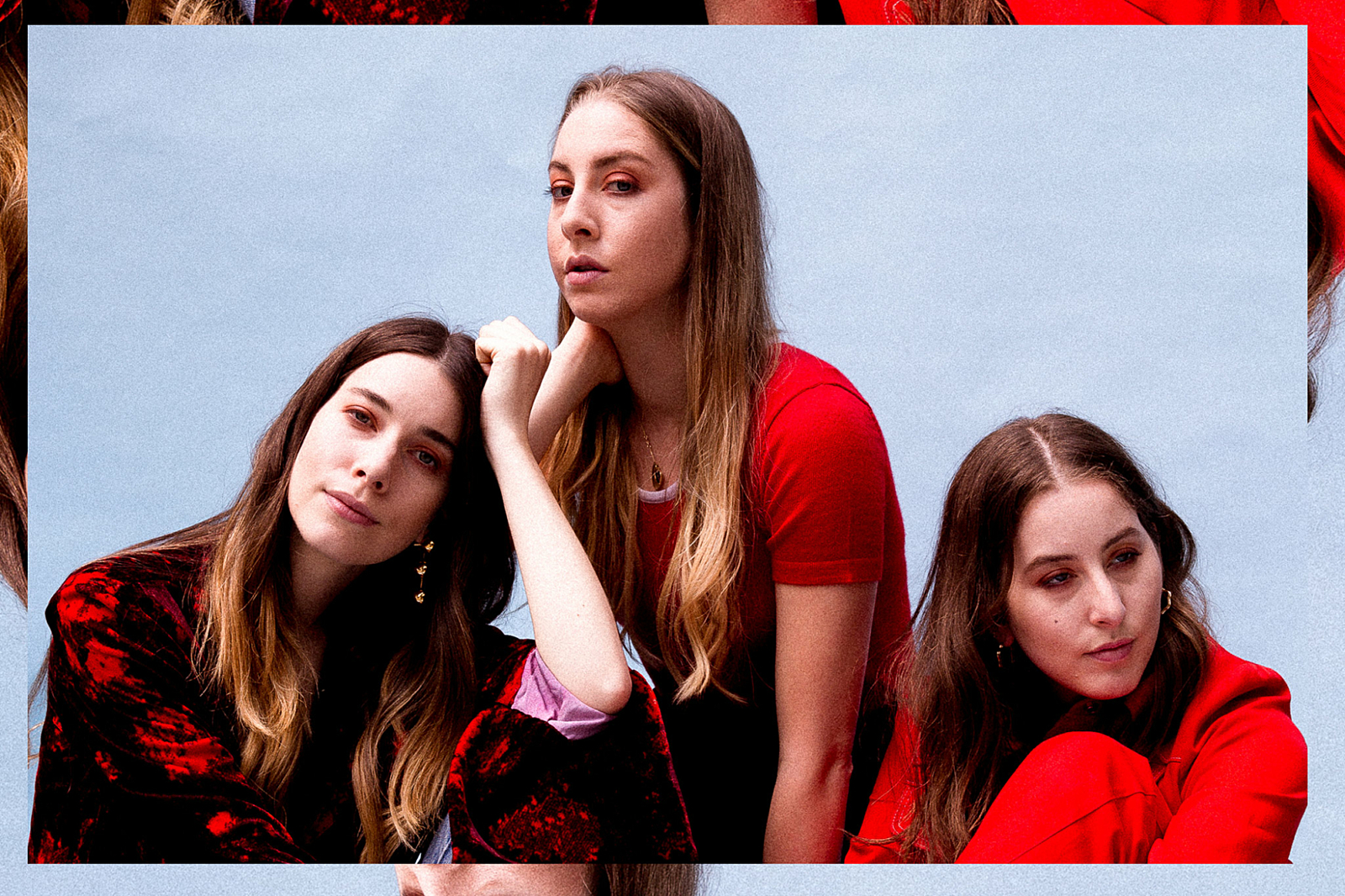 Sisters, Ledge: Haim
Haim's debut album 'Days Are Gone' unexpectedly yanked three sisters out of The Valley and sent them into a three year whirlwind. Now the trio are back, and they've got 'Something To Tell You'.
Battling off jetlag with copious amounts of coffee and lounging across a sofa, Haim are back. Having finished and turned in second album 'Something To Tell You' just last night before catching a flight to London, amid the understandable tiredness, they may have just dropped the biggest clanging statement of this year so far. "We're now robots," deadpans Este, leaning towards the dictaphone to give her words further gravitas. "This," adds Alana, indicating towards her bandmates, "doesn't exist." Danielle nods sternly in agreement.
To be honest, you wouldn't really blame Haim for employing robotic stunt doubles to fill in for them every now and again; in the years that have followed the release of debut album 'Days Are Gone', the sisters have developed a magical ability to be in at least four places at once. Splashed across tabloids on their holidays with Taylor Swift, performing with the late legend Prince (as you do), palling up with their idol Stevie Nicks, sprinting across festivals around the world, and working on their second album – practically all at once – is the kind of schedule that could feasibly inspire such a move. Apparently, though, their newfound android form is actually all thanks to Beyoncé. It all began when the sisters Haim found themselves at the BRITs, along with a huge ice bucket packed full of booze, dancing along to 'XO', the routine fully memorised. After her performance, Queen Bey herself nodded at the band, and mouthed "thank you". As you'd perhaps expect, they could barely cope.
"When she pointed at me… I just burst into tears," Alana says. "They shot out! It wasn't even tears, it was projectile crying, flying out of my eyes. And now I don't exist," she laughs. "I melted into a Beyoncé puddle. A puddle of lemonade."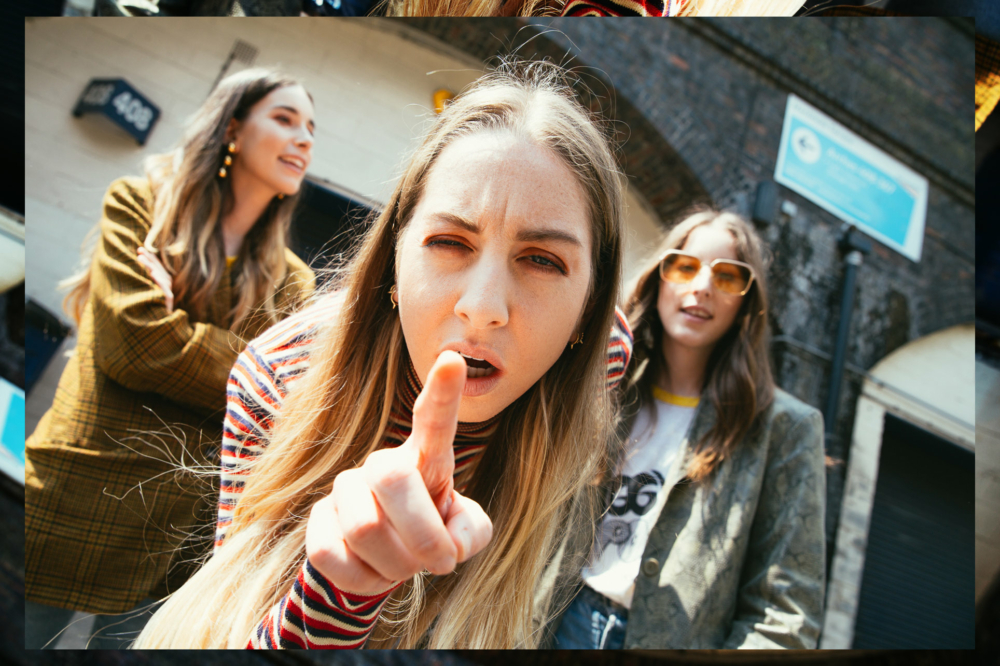 "
We get to go on this rollercoaster of life once again, together!
— Alana Haim
Spraying tears of joy across the O2 Arena is just one of the pinch-yourself experiences that has fuelled the trio's second record, which draws on all the live energy of three years on the road. "After tour, we really felt like we were on fire," affirms Danielle. That surge of confidence, and all the mayhem that had followed their debut, clearly feeds the follow-up. From the urgent immediacy of lead single 'Right Now' – which fittingly emerged in the form of a live performance video directed by Paul Thomas Anderson – to the punchy, to-the-point choruses that continually pepper the record, 'Something To Tell You' is packed with moments custom-made for a muddy field and several thousand clapping, yelling, booze-swigging revellers. 'Little of Your Love' – a peppy, stomping standout dedicated to "another recovering heart" – howls and yelps with smirking Thin Lizzy-esque guitar licks. 'You Never Knew', meanwhile, takes an unexpected swerve into, erm, '80s disco. Elsewhere, they've crammed the album with "a lot of guitarmony, a lot of drum-offs."

Last month, they even popped up without warning at Barcelona destination festival Primavera Sound in the very early hours of Sunday morning, to air brand new songs and bash the living daylights out of every drum they could get their hands on. It's clear that, on every level, 'Something To Tell You' is written for the stage and, at the same time, is also inspired by it.

"We started playing live as kids," Alana enthuses, "and that's the part of being in a band that's so much fun; you get to run around and play music. It's a dream. Before 'Days Are Gone' I had never really been outside the US!" she adds. "It was a culture shock, like, woah, I'm in places I learned about at…" "Places you see in books!" Este picks up, finishing the sentence. "Talk about a rollercoaster ride. That's the theme of this interview, a fucking crazy rollercoaster ride!" Alana resumes. "Coming back, we had all those experiences to write about, and to draw from. Really, I think that's how the record got created," she says, "because we were lucky enough to tour for so long. That's all we ever wanted, growing up."

The whirlwind of time on the road aside, though, 'Something To Tell You' is unmistakably charged with their home city of Los Angeles, too. Returning to The Valley after years away was welcome; not least because it brought them closer to beloved burger-vending West Coast institution In N' Out. "I have the app on my phone," announces Este, her pride palpable. "Right now," adds Alana morosely, "you press it and there's a sad face, saying sorry."


Having first acquired their In N' Out favourite, animal fries ("fries with melted cheese, special sauce, and grilled onions") upon arriving back in California, Haim returned to a familiar haunt to write 'Something To Tell You', setting up shop, as they did for the debut, in their parents' living room. Funnily enough, their first band Rockenhaim – a family Von Trapp type setup which also included the Haim parents as members – practiced in that very same room, and reunited for a one-off gig back in 2015. Today the band insist the revival is likely to stop there. They're not, for example, planning on bringing back the comfy Westlife-style stools they used to perform on. "The stools weren't padded, but we made pillows," hoots Alana. "Special pillows for the stools, which is super embarrassing…". "Bandana pillows," Este yells. "Yep, we'd sew two bandanas together and stuff them with cotton," adds Danielle.

Asked whether the stools are likely to make a return, Alana and Danielle shake their heads and look mildly horrified. Este, meanwhile, isn't so sure that the notorious high chairs are consigned to the history books for good. "Record five," she announces. "When our hips give out. I weirdly feel like when we're that old, we'll have walkers that have been specifically made so we can play. I have a weird visual of my bass propped up on a walker. It's not even on my shoulders, I'm just tinkering," she expands. "One day. In 2077." By Este's maths, anyway, that means that Haim expect to release a new album every twelve years going forward. And though this one only took a measly four years to come out (putting them way ahead of schedule), it's certainly true that the band refused to be rushed, taking their time in producing something they were truly proud of. "We've never put out a second record," Alana jokes. "You can only do it once!" Este laughs.

As much as they're gutted they had to cancel a handful of festival slots last summer to knuckle down for the final push – Haim pulled their planned appearance at Reading & Leeds last summer for this very reason – their focus proved worthwhile. The space allowed them to crack tricky challenges like 'Want You Back', which at first proved a nightmare. It ended up being one of the album's highlights. "It was 'The Wire' of this record," Alana quips.

"We never throw anything away in this band," she goes on. "We're musical hoarders, and if something isn't working, it doesn't mean it's not good." "Sometimes we'll take different paths, with different songs…." muses Danielle. "Like a Mr Potato Head."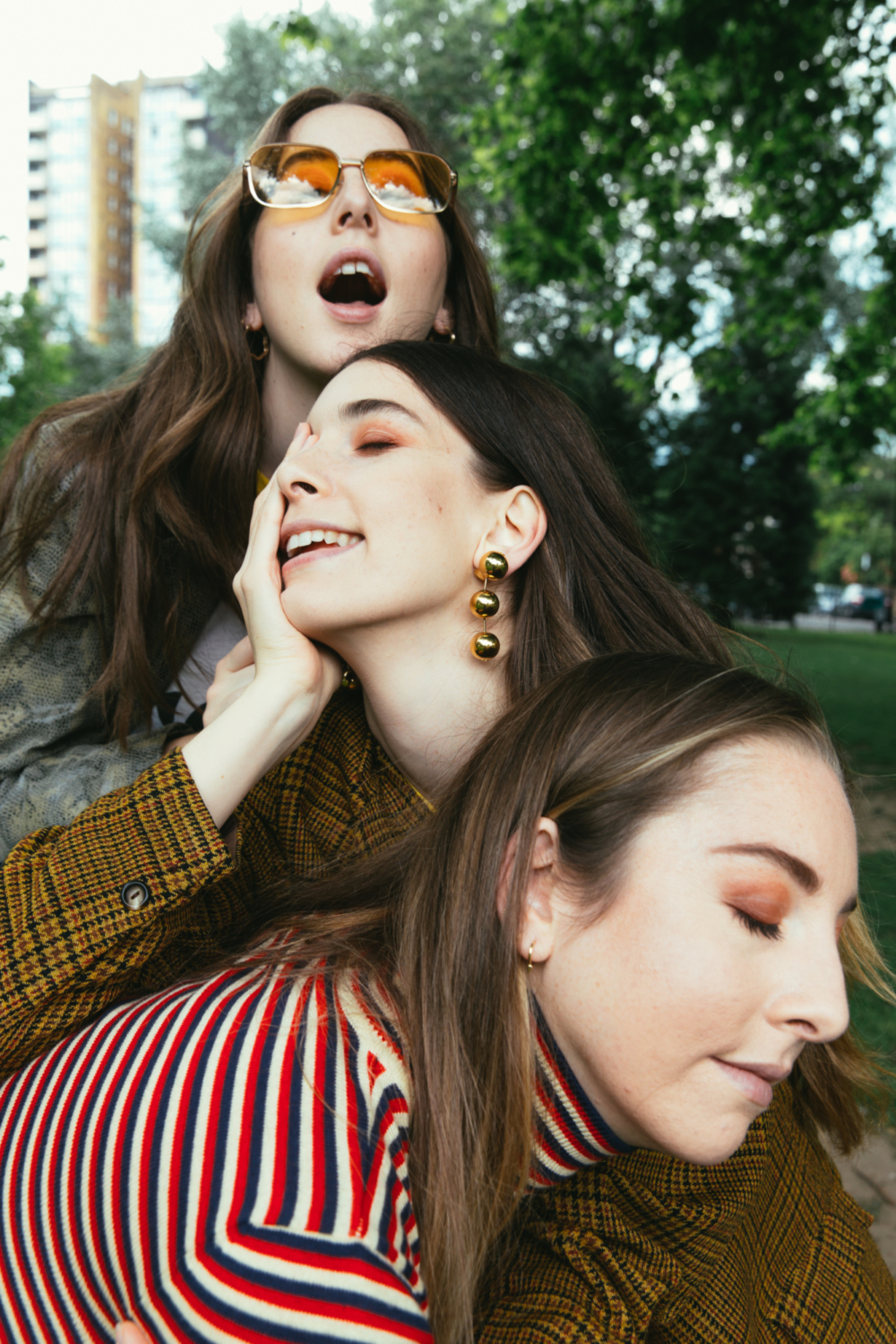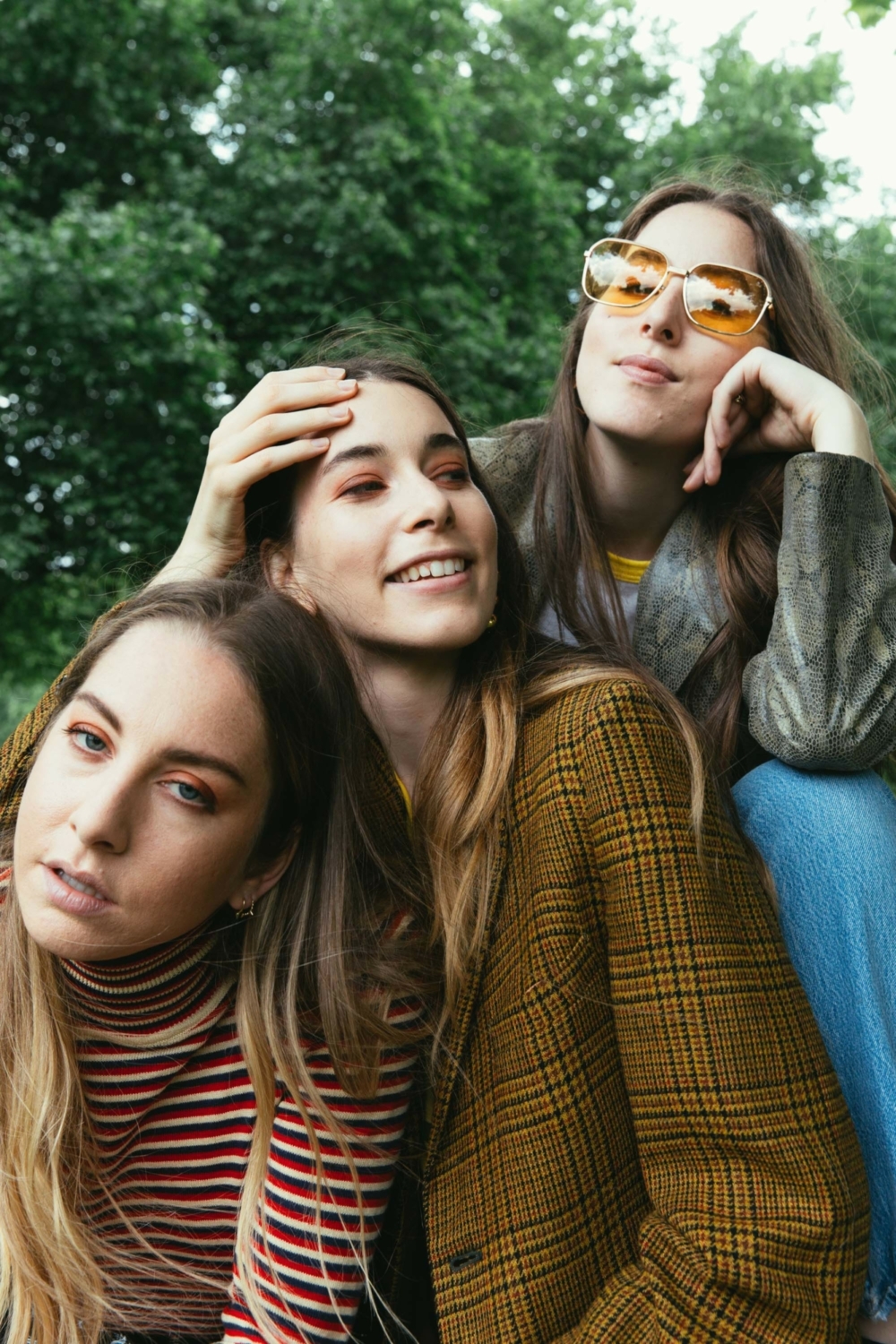 "
After tour, we really felt like we were on fire.
— Danielle Haim
Though slapping various facial features onto a crude plastic potato might sound like an unusual metaphor for writing music, it's true that Haim tried a whole bunch of methods this time, and little was off limits. "'You Never Knew' we actually started with Dev Hynes [aka Blood Orange]," Alana explains. "Ariel [Rechtshaid's] studio is kind of like an open door policy. Whoever's in town, they visit. Dev was in town, and he moseyed on over, and we were like, let's write a song, 'cause why not. That song came together in like, two hours," she adds. And on the flip-side, others took months to bring together; gradually shifting from ballads to drum-machine charged pop bangers after being yanked out of temporary retirement several times over. Former Vampire Weekend man Rostam Batmanglij, who produced a handful of songs on the record, also proved another huge influence on pushing Haim to keep persevering no matter what. "He is your biggest cheerleader when you work with him," beams Alana. "At least for me, there's a voice in my head saying, 'I don't know if this is good'," she goes on, and the others nod in agreement. "'I don't know if we should keep going.' You need a voice to be like, no, keep going. That's Rostam in a nutshell."

Taking stock of the last few years, the band suddenly note that 'Something To Tell You' is being released on a big anniversary of theirs. "Literally, our record is coming out ten years – to the day - after our first show," Este observes. "It was at a clown museum in North Hollywood," she remembers. "Danielle had just graduated high school," adds Alana, "…and we played Vitamin C! 'Graduation (Friends Forever)'!" Without any prior discussion, the three of them suddenly burst into song. "As we go on, we remember, all the times we had together…"

Haim's impromptu rendition might've been unplanned, but listening to 'Something To Tell You' – which frequently wrestles with reaching a point of no return in a relationship, and weighs up stagnation against walking away – it's filled with the universal kind of struggles that almost everyone can draw from, and feeds off older experiences in the band's lives. "When we sit down, we're almost channelling a feeling that we've maybe felt before, in high school," Danielle says. "We like writing songs that channel different emotions from different parts of our lives. And we're lucky that we're sisters, so when I'm like 'remember my first boyfriend, and when I was crying my eyes out?', they remember!" she points out.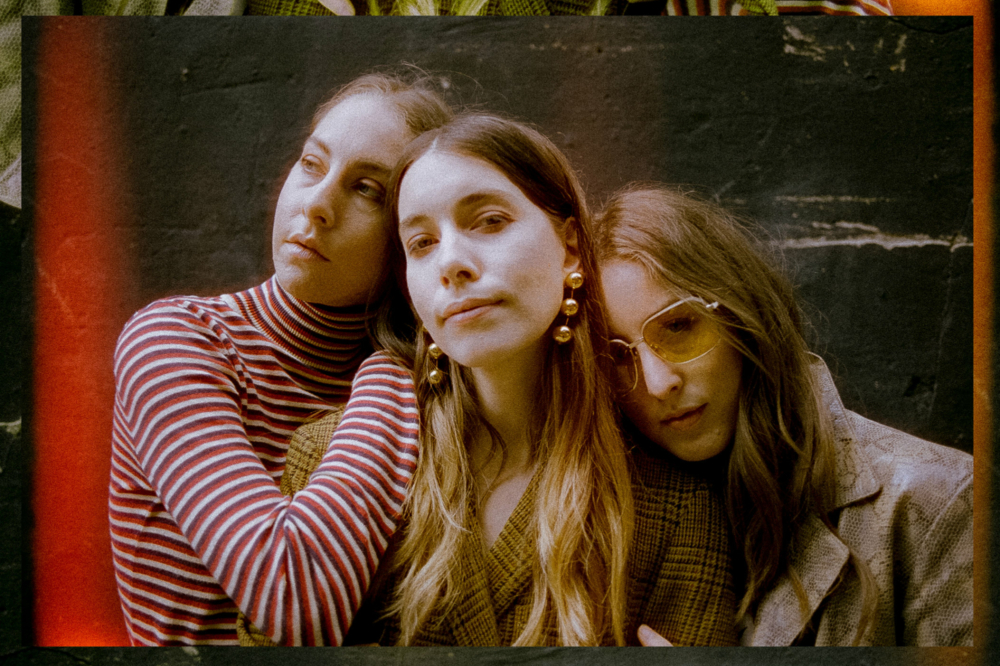 Haim drew on memories old and more recent for their latest offering, and it turns out they have an unlikely fairy godmother to thank for helping them to mentally organise the chaos of several years in a tour bus. Alana quickly whips out a crescent moon shaped necklace she wears in honour of Stevie Nicks, and the three of them start singing 'Sisters of the Moon' by Fleetwood Mac in unison.

"I have chills saying I've met Stevie Nicks!" Alana exclaims, still clutching her necklace. "All of a sudden I'm in her house, in front of her! We were trying to not lose our shit."

"The way she journals!" interjects Este. "I've copied it! She'll write a journal passage on one side, and on the other side, she'll write lyrics. I was like, that is so genius! It's so simple! And now we have these magical little books that depict everything that's been going on in our lives."

"Stevie Nicks' tips," Danielle adds. "We were super lucky, she took us in her arms, and taught us about journals." "It's like that scene in Beauty and the Beast," concludes Este wistfully, "where she sees a library for the first time. And the beast is like, 'this is all yours!' She walks in, and there's bound books, upon bound books!"

Happy accidents and chance encounters figure frequently in the good ship Haim. Along with Stevie Nicks coaching them in diary-keeping, and Beyoncé approving of their choreography, the biggest jaw-drop of all arrived when Haim – and a very drunken Haim, at that – found themselves on stage with Prince, live on SNL.

"We weren't really supposed to be up there for that…" admits Alana. "That was just a mistake."

"At that point of the night, we were all fucking drunk," she continues. "Honestly, you could've told me 'lets go sky-dive!', and I'd be like, 'why not! Why didn't I think of that!' We were about to play a Prince song, and then someone had announced 'Prince is in the building'. I was like, are they all talking about… us? Let's not get ahead of ourselves, here, we're three drunk bitches about to butcher a Prince song. All of a sudden, the crowd parted, and then Prince just walked in with his band. I don't even know what happened, but I flung off the instrument. 'I am not worthy! Take everything! Take my clothes, I don't care!' He played 'Let's Go Crazy' and we were on stage."

"I'm glad there's video footage, or else I wouldn't feel like it actually happened," Alana concludes.

Looking ahead, Haim are chomping at the bit to put out 'Something To Tell You', and make no mistake, they'll be keeping a journal to help them keep track of the impending loop-the-loops, twists, turns and properly topsy turvy moments in the days, and months, that follow. "We get to go on this rollercoaster of life once again, together!" beams Alana, more addicted to cheesy theme park metaphors than Ronan Keating. "Right now, we just wanna get out there. We're done being in a studio, we just wanna play."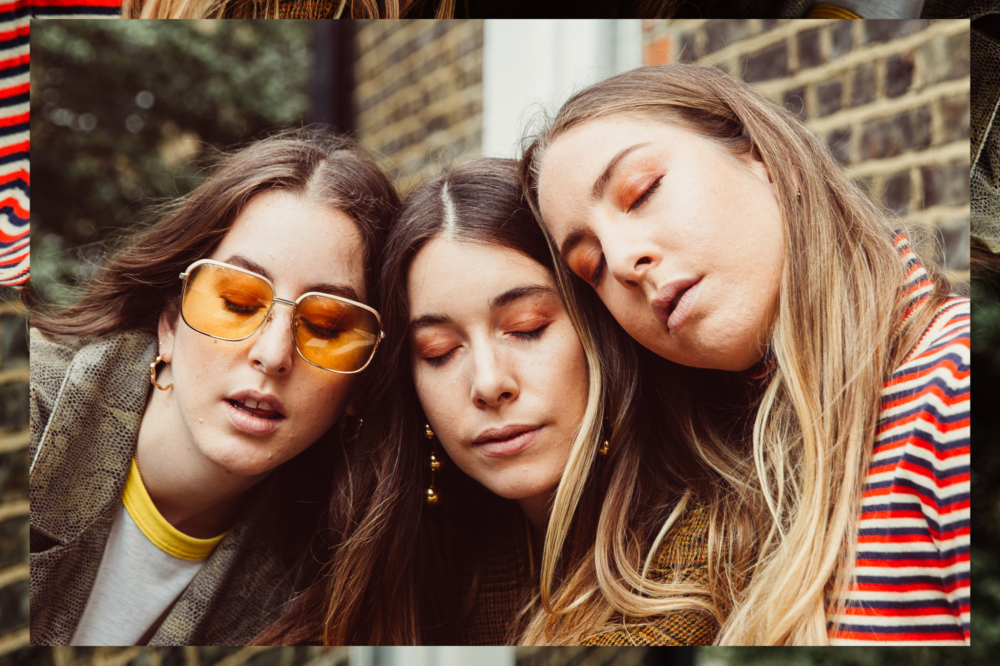 Haim's new album 'Something To Tell You' is out now.