Album Review
Prophets Of Rage - Prophets Of Rage
2 Stars
They've undercut their own power by playing it safe.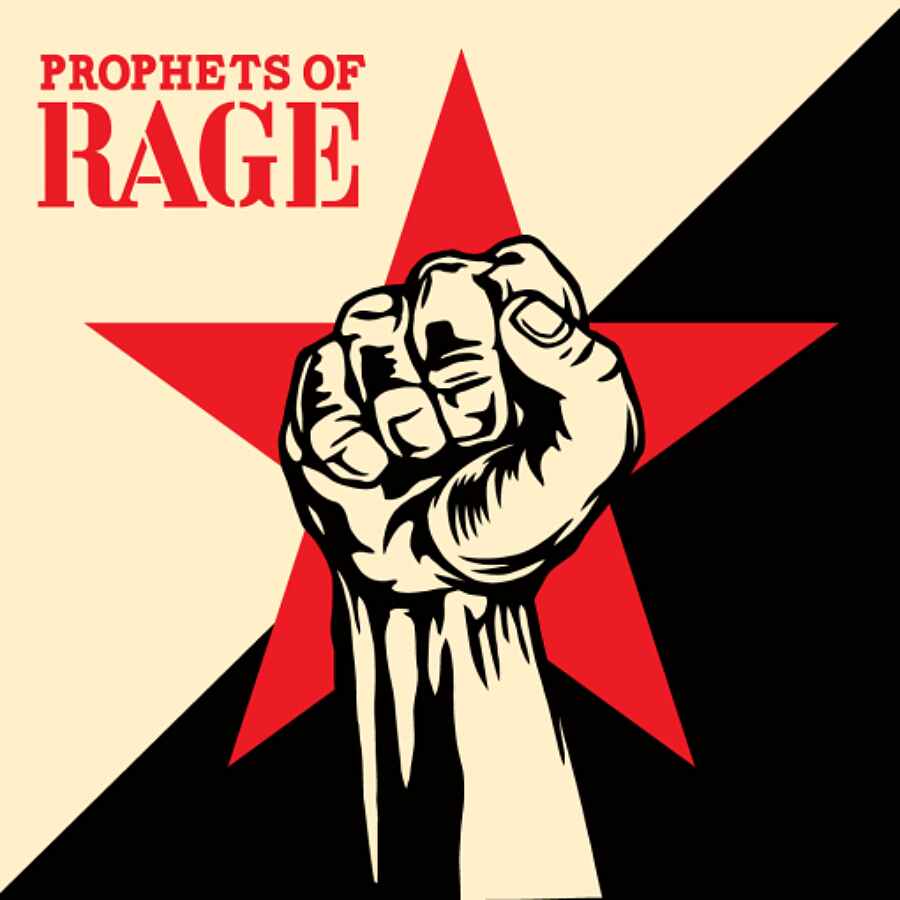 Supergroups are hard as all hell to pull off. Chances are Tom Morello knows this (and if anyone would know it'd be him, right?). In May last year Prophets of Rage were finally revealed as a collaborative group project between members of Rage Against The Machine, Public Enemy and Cypress Hill, after a brief but cryptic PR campaign designed to pique interest. In the wake of the news breaking, Morello somewhat humourlessly insisted to Rolling Stone that "We're not a supergroup […] We're an elite task force of revolutionary musicians" and in a stunning display of hubris: "We've come back to remind everyone what raging against the machine really means… it's a voice that's been missing too long in the national/international dialogue and it's back". But saviour syndrome and revolutionary chops aside – and who can deny that RATM didn't have the latter down to a sloganeering art – perhaps he deflected because it's such a loaded term. Weighed down by the baggage of expectations, supergroups sink or swim on the power of nostalgia; the more successful they were before on their own, the better they have to be in the here and now to avoid self-sabotage by the past.
Despite having the upper hand in numbers, with 50% being RATM (Tom Morello, Brad Wilk, Tim Commerford), and the remaining 50% being Public Enemy (Chuck D, DJ Lord) and Cypress Hill (B-Real), Prophets aren't a mostly Ragey affair and there's a division of labour of between the comrades. The tense, tremulous Spanish guitar intro of 'Take Me Higher' quickly switches into playful stoner rap that's right in B-Real's wheelhouse – although it's about drones and not what you think – while 'Radical Eyes', which opens like Audioslave at their peak, turns into a sinuous, slinky banger that sees Chuck D and B-Real spit a relaxed but powerful flow over grooving funk rock. The groove-based foundations are a testament to how audibly important Cypress Hill and Public Enemy's presence is, as Rage were always a whole lot better at bringing the noise than bringing the funk. 'Unfuck the World', the most seamless, effortless blend of all the influences at play, gives everyone their moment to flex; the spooky guitar line and B-Real's watery vocals sound like a nod to 'Rock Superstar' and a grinding alt. rock riff explodes on the chorus almost as standard – but it's Chuck D's sonic boom of a voice that dominates with megaphone imperatives: "No hatred / Fuck racists / Blank faces / Time's changin' / One nation / Unification / The vibration / Unfuck the world!".
Elsewhere the message remains on point, even if the medium gets a bit samey. Current single 'Living On The 110', which draws attention to the plight of homelessness along a particular stretch of L.A. freeway, sees B-Real at his inflammatory best railing against the injustice of poverty: "You drive by / See the family camped out by the underpass / You got your blinders on / You want to hit the gas". Unfortunately it virtually recycles the same pentatonic riff as on 'Hail To The Chief' and the two songs sound confusingly similar for a beat, though they're both strong on their own merits. Especially 'Hail To The Chief'; set against a tight, muscular rhythm section, Chuck D's on his finest form, spitting bars with the urgency and power of a firebrand preacher in his awesome – in the true sense of the word – and commanding baritone, completely pulling focus.
The only major clanger is the pedestrian-sounding 'Legalize Me' which puts B-Real through some naff autotune and ends up being a clownish misfire. It's an odd choice (mainly because it's not very good) and there's a sneaking suspicion its inclusion was a concession to the Cypress Hill frontman's self-professed political interests in the arena of marijuana legalisation. That aside, the record's biggest letdown is that it slides into filler territory for the second half, almost like the band and producer Brendan O'Brien thought 'fuck it, let's throw some more broad political statements and generic hard rock at the wall and see what sticks'. Maybe that's unfair, but after a while the riffs sound repetitive, the breakdowns become by-the-numbers and the anger starts to feel a tad manufactured. It's not just the slick production that's to blame either.
The problem is that the Prophets of Rage are a contradiction: they're brash and bold but at the same time vague and unspecific. They rage against various systems and machines – the government, poverty, capitalism, racism, surveillance culture – but don't get down to the nitty gritty. Where's the mention of Black Lives Matter, the Standing Rock protest over the Dakota Access pipeline, Trump's Muslim travel ban, the frightening rise of global fascism and white supremacy? You'll struggle to find it here. By dealing largely in generalities, in one sense the band have made a timeless record; this really could've been released at any time over the last 25 years and it would've 'worked'. But the lack of specifics to anchor it to what's going on right now means it loses much of the impact it could've had and lines like 'Gasoline that rag / Burn that goddamn flag!' just feel a bit, well, impotent.
And this is what it comes down. Forget the fact that even at its best moments the album still kind of sounds like a RATM reunion minus Zack de la Rocha, the biggest issue with 'Prophets Of Rage' is that it's not as radical as it thinks it is. Is it competent and confident, energised and engaging? Sure. But there's nothing new here. After Morello talked such a big game about "dangerous times demand[ing] dangerous songs", it's a pity that altogether they've undercut their own power by playing it safe and retreading old, familiar ground.
More like this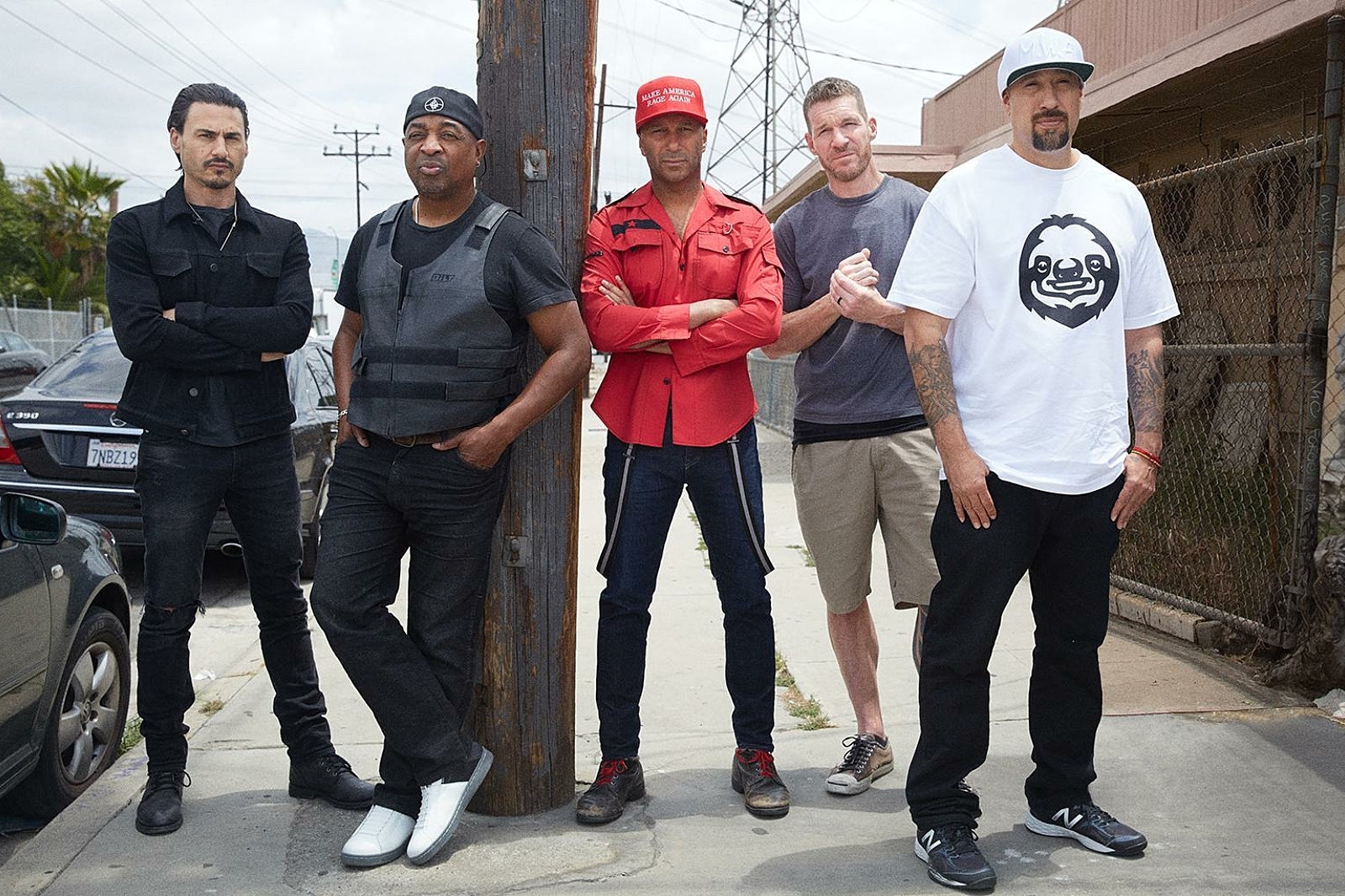 It's called 'The Party's Over'. Take that, the Government!