Interview:
Anna of the North: Northern Soul
After uprooting their entire lives, and creating 'Lovers' out of the fall-out, Anna of the North have reached a level of unimpeachable chill.
Not everybody would give up a comfortable life in their homeland to move to the other side of the world, but then not everybody is Anna Lotterud.
That was the roll of the dice that the Norwegian singer made around eight years ago, when she turned her back on her job, her family and her friends to decamp from Oslo to Melbourne; initially to study for a bachelor's degree in graphic design. If it sounds like a huge leap, it's worth mentioning that there was something almost a touch mystical about the key figure in her decision-making process - and it's a story that the singer better tells herself.
"I had a pretty comfortable life in Norway - I had a job, I was done with my studies, and I was just doing what life expected of me," she starts. "I always had a feeling in the pit of my stomach that maybe something was out of balance, although I didn't know what that was. I was working as a store manager, and this lady used to come into the store and tell me about how she'd travelled extensively, and that it was the making of her - she'd lived in France, married a Frenchman, that kind of thing. She really encouraged me to travel myself, and two months later, I was on my way to Australia."
Anna chose to move down under purely because she wanted to be far away enough from home to pack up and head back to Norway should homesickness come calling. It did, and hard at that; Anna had few friends and was still learning English as she went along. Happily, she stuck it out and, in her spare time, began to channel her angst and anxiety into songwriting. When she went on to meet Brady Daniell-Smith - himself displaced in Melbourne, although only from the much closer New Zealand - an improbable synthpop duo was born. After a tumultuous few years that eventually saw Anna returning to her native Norway, collaborating with Tyler, the Creator and being brought to wider public attention by The Chainsmokers, they've finally released their debut full-length, 'Lovers', under the name Anna of the North.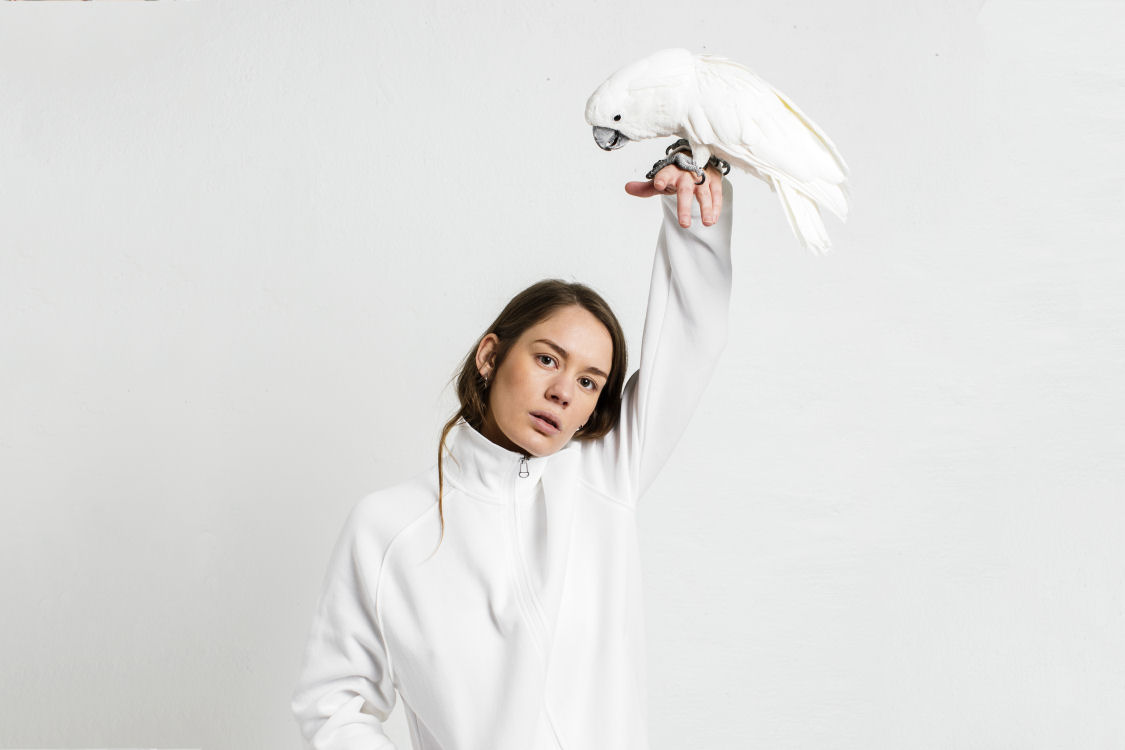 "I always had a feeling in the pit of my stomach that maybe something was out of balance."
— Anna Lotterud
It's an irresistibly laidback record, all twinkly synths, soft percussion and unmistakably Scandinavian vocals. Anna is a strikingly easy-going interviewee too, quick-thinking and faster still to laugh, and you begin to wonder whether it perhaps took this long to put a record out because Anna of the North are so unimpeachably chill all the time.
"Well, the band started pretty randomly," she agrees speaking over Skype from Oslo. "There was never any kind of plan. I always dreamed about being a musician as a kid - singing in the shower, coming up with my own melodies, and writing lyrics as a way of expressing myself, in the same way that other people might keep a diary or take photographs. Being from Norway, you never really think it's realistic to make it into your whole life. Myself and Brady started making music for fun, but we put our single 'Sway' on Soundcloud and it seemed to blow up. We just wanted to keep putting singles out for a while, to see how people reacted to them."
The geographical disconnect between Anna and Brady is an obvious talking point, especially now that it's a very real part of the band dynamic with the former back in Norway; she says that both the pair's different cultural backgrounds and the more mature outlook that travelling provided her are a key part of what makes the group tick. "We've both grown up with totally different backgrounds, as well as personalities and senses of style - basically, everything that makes us us," she says. "We're quite different in a lot of ways, but when it comes to music, we really connect - which is the magic aspect of it, because the songs are so personal. I think Melbourne changed both of us as people, and that's something that we have in common, because we were both challenging ourselves - I think until you do that, until you push yourself to try new things, you don't really know who you are."
"Until you push yourself to try new things, you don't really know who you are."
— Anna Lotterud
'Lovers' is unabashedly a pop record, one in the same vein as the last couple of Tegan and Sara albums or Shura's excellent debut 'Nothing's Real'. That said, Anna's vocals recently found their way into considerably less tranquil surroundings when she was featured on the track 'Boredom' on Tyler the Creator's latest LP, 'Flower Boy'. It seems like the unlikeliest of pairings on paper, but Anna insists that that in fact, it's anything but. "Everybody's fascinated to find out how it happened, but it was really the simplest process ever. Taco from Odd Future messaged me on Twitter, and I met up with those guys when they played Øya Festival in 2015 - they snuck me in backstage, and we hung out for while. We stayed in touch, and Taco messaged me again to ask if I could help out with Tyler's record. I think they really liked the vocals on 'Sway', and they saw some room for something similar on Tyler's record. I was happy to embrace that world, and I'm thankful for how Tyler's supported and pushed me."
With 'Lovers' finally out in the world, Anna of the North are now ready to tour in earnest - a prospect that Anna's been relishing for a while, but is only now about to properly get her teeth into. "The live show is something that's going to keep evolving. Eventually, we want to have moving visuals as a backdrop and a proper light show, and maybe expand the band a little bit more. For now, we've got a drummer on board, so it'll be the three of us travelling the world - which is where we've always wanted to be."
'Lovers' is available now via Different Recordings. Anna of the North play London's Omeara tonight (September 26th).

Get your copy of the latest issue