Live Review
Weezer, Wembley Arena, London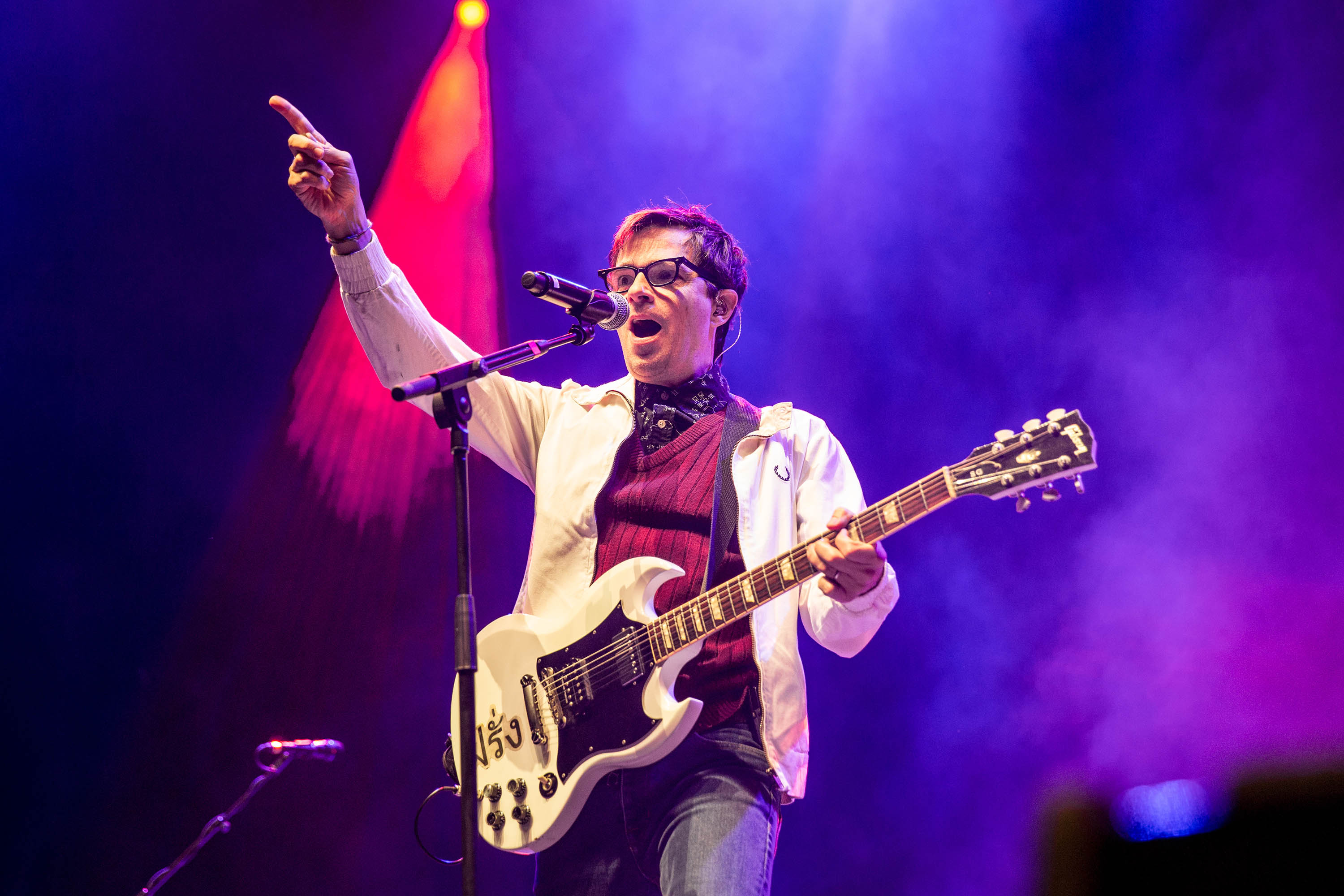 There's not a syllable or guitar lick that doesn't go without a singalong.
Wembley Arena knows its way around a screaming fan, or few thousand. What it probably doesn't expect is it aimed at the opening drum sounds of a single which reached the giddy heights of Number 50 on the UK charts in 1996. But, as Weezer launch into 'Pinkerton' cut 'El Scorcho', that's precisely what happens. Across this final date of the band's UK tour ostensibly to promote new album 'Pacific Daydream', there's not a syllable or guitar lick that goes without a singalong.
They might be here with that new record in tow, but just two of the album's tracks - singles 'Feels Like Summer' and 'Happy Hour' - get an outing. Tonight is really all about the hits, chart-busters or not. 'Blue' album numbers 'In The Garage' and 'No One Else' complete an opening trio of old favourites, while last year's 'White' gives us 'King of the World', 'California Kids' and 'Thank God For Girls', the last of which is accompanied by a display of notable women on the venue's giant screen - starting with nan's favourite, Mary Berry.
Then, somewhere in the middle, things take a turn for the bizarre. Weezer have long enjoyed a cover - their self-referential take on Wheatus' 'Teenage Dirtbag', donning a blond wig to mash up Lady Gaga's 'Poker Face' and MGMT's 'Kids', a curiously faithful 'Paranoid Android' - but an entirely serious take on OutKast's 2003 mega-hit almost fifteen years after its release could well be more yer da than 'Hey Ya'. And yet, the sheer joy on Rivers Cuomo's face as they perform it has the room's curious frowns all but disappearing by the time the chorus rolls around.
The same buoyancy flows through the whole set - the playfulness heard on 'Pacific Daydream' is no one-off. By the time the single-song encore of 'Buddy Holly' rolls around - via a closing trio of 'Hash Pipe', 'Beverly Hills' and 'Say It Ain't So' no less - complete with confetti canon, their giant light up W and a promise to be back "soon", Wembley's all smiles.