Live Review
Horsey and Whenyoung canter ahead on the third night of Hello 2018
Nervous Conditions and Team Picture also packed out the Old Blue Last last night
If De La Soul are to be believed and three is, indeed, the magic number, then tonight – the third in DIY and The Old Blue Last's four-instalment January new band extravaganza – should herald all kinds of delights.
The night begins in the buzziest of fashions. With barely two tracks to their name (second offering 'The President' was only released mere days ago), London troupe Nervous Conditions are already inciting the kind of feverous chat that suggests they could be onto something intriguing. Tonight, they're halfway there. An eight-person onslaught of derailed jazz and aggressive growling punk who play a full 45-minute set despite their early support slot, they're clearly not fans of slim-lining. When this ethos lands, as it does for the last 20 minutes, then it's viscerally exciting: an undulating cacophony of noise that swallows you up and drags you by the scruff of the neck through grinding keys, two sets of drums, hellish saxophone parts and more. When it doesn't however (and it takes a while for the band to really warm into it tonight) then it feels like just throwing everything at the wall and hoping some of it will stick.
Still very much in their infancy, Nervous Conditions clearly have the admirable ambition to make something that doesn't just toe the line. Now, it's a case of refining it.
By contrast, Leeds group Team Picture are a far more polished proposition, but perhaps lack the raw energy of their onstage predecessors. Decked out in matching blue jackets like The Libertines in an episode of Star Trek, they veer between synthy Everything Everything-esque falsetto and more heavy, psych leanings. It's in the latter where they most excite, but the audio-visual combination is a little confused: continue to push the meatier elements of their sound, and they won't need any gimmicks.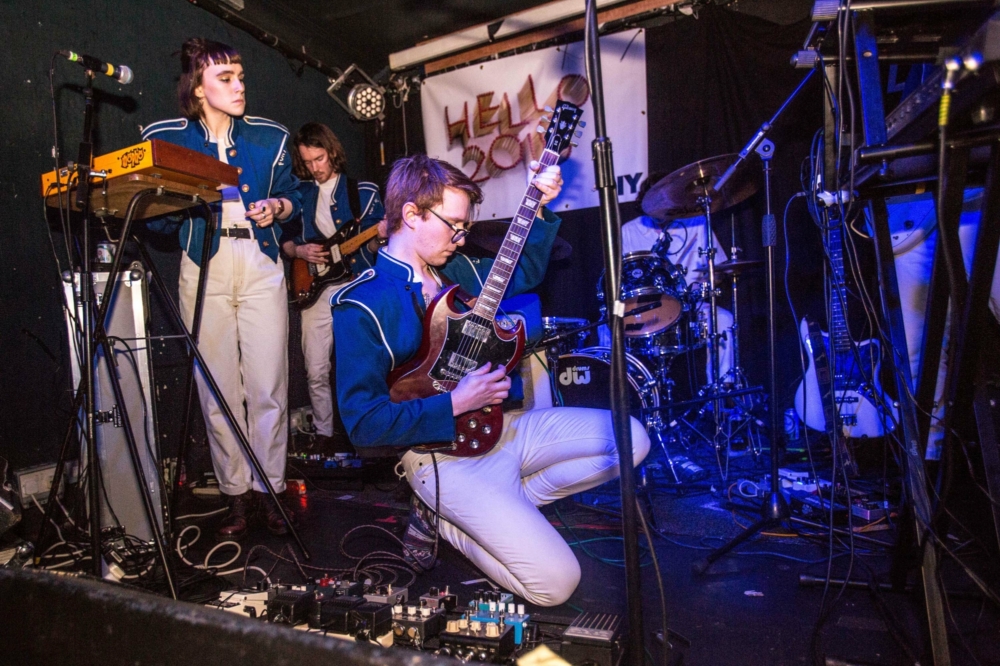 Limerick trio Whenyoung, however, feel like they've come out of the traps fully-formed. Unafraid to commit to unabashedly hook-laden anthems filled with the giddy abandon of youth, their penmanship is not dissimilar to a certain bunch of Wolfs. But there's a lightness of touch here, an almost Cranberries-esque softness to singer Aoife Power's vocal, that adds a sweeter, more FM pop slant to their effortlessly massive tunes. Onstage, they exude a quiet confidence and so they should: early single 'Actor"s self-questioning lyrics are a nuanced take on a universal theme, housed within a soaring sweep of air-punching brilliance. The rest of it's pretty fucking good too.
If Whenyoung's giddy hits are the stuff of music industry wet dreams, then headliners Horsey clearly couldn't give two shits about that criteria. Decked out in cut-price gold sequin jackets ("the cheapest that money can buy," they inform us later), the band, co-fronted by Theo McCabe and Jacob Reid (aka NEU fave Jerkcurb), are essentially the best possible result of some friends dicking about.
Each of their gloriously overblown tracks – offerings that swerve between tongue-in-cheek lounge croons, rock histrionics and traded shout-sing vocals – is basically an attempt to rewrite 'Bohemian Rhapsody'. That McCabe pens musicals for his day job goes some way to explain the cavorting madness that runs throughout their set.
If that all sounds a little 'We Will Rock You', however, then fear not: though almost everything here is delivered with a knowing grin, Horsey always uniformly fall on the good side of ridiculous. Theirs are tricks that only work when the people behind them are actually very, very competent musicians – ones that can co-opt these ideas and skewer them with a wink. It enables them to fuck about with the ludicrous pomp of new track 'Lagoon' or the grandiose theatrics of 'Park Outside Your Mother's House' with aplomb, switching between umpteen different dynamics, styles and time signatures at will. That low-lit serenader Jerkcurb is basically unrecognisable from the guitarist who spends the set busting Slash-esque, riffing back-bends tonight only adds to the effect.
If the start of a new year generally heralds a frantic scrum to find the next big commercial chart hopefuls, then this lot fall gloriously, unapologetically outside of that. This is music far too brilliantly weird to conform, and all the better for it. We know which Horsey we're backing.

Get your copy of the latest issue