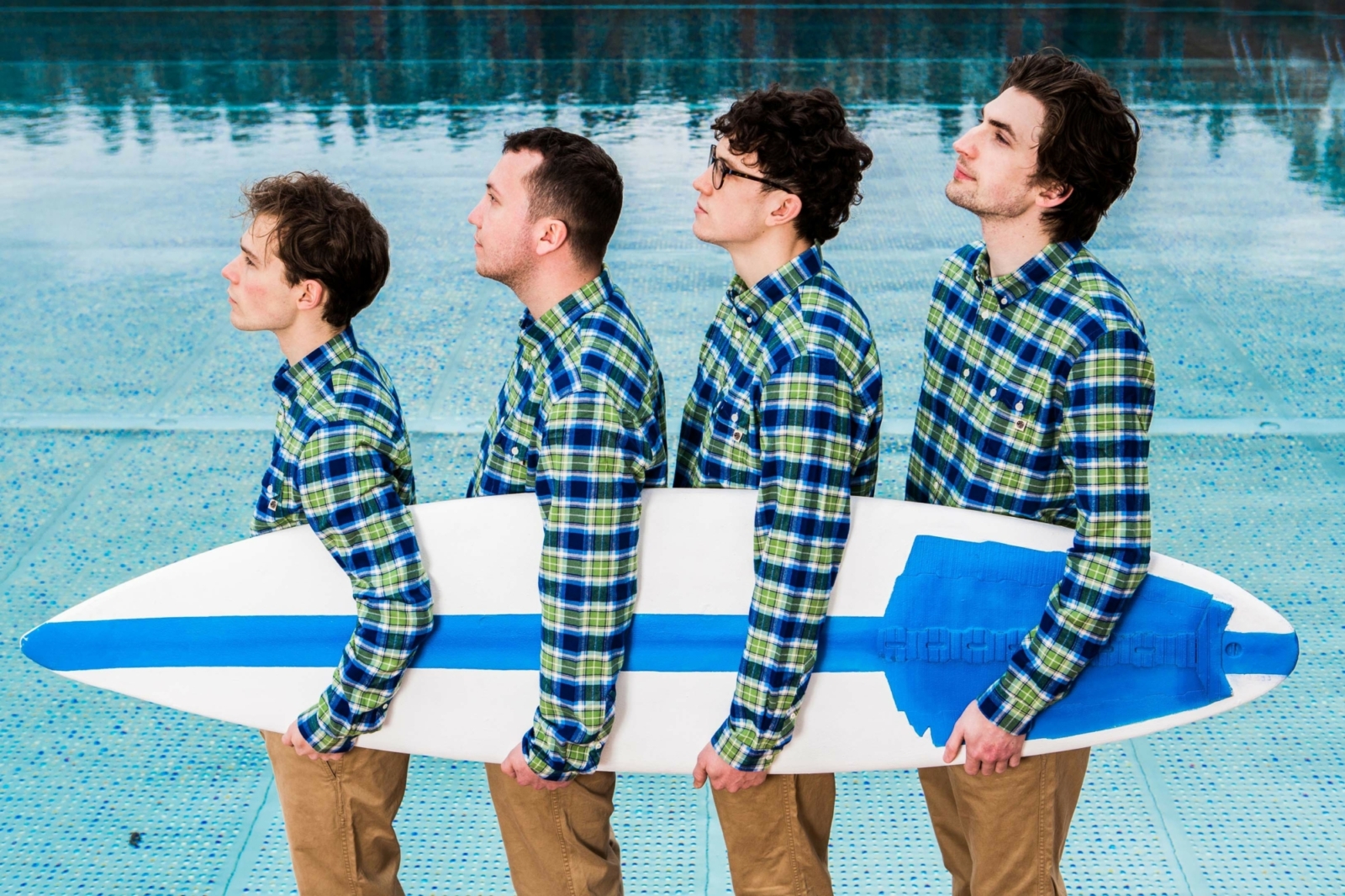 Surf's up: it's The Magic Gang!
Channelling the '60s into something fresh, new and exciting, The Magic Gang are leading a brilliant new pack of British guitar bands. Their debut album comes good on all their promise.
It's the day before The Magic Gang's long-awaited debut is finally announced, but there are more rudimentary things currently playing on vocalist Jack Kaye's mind. "It's like I'm a teenager again, trying to impress all my mates into thinking I'm cool by playing a good show," he grins, minutes before the band are due to play a hometown gig at Bournemouth's Old Fire Station. Tonight is an evening that both marks their next great step, and provides a surreal school reunion for a band who now find themselves miles away - literally and metaphorically - from their scattered beginnings.
"One guy I knew from school just came up to me and told me that [album closer and previous single] 'All That I Want Is You' makes him really sad. Just really sad," vocalist and guitarist Kris Smith says, chuckling ahead of their set. Drummer Paeris Giles, meanwhile, is manically bidding for an old shirt from his beloved Southampton FC on eBay. "We'll be at a practice and Paeris will look at his phone and shout 'YES!' from behind the drumkit," Jack recounts, "and we'll all think 'Score! We've been booked for Glastonbury!' but he's just won another football shirt."
Sure, you think you might know The Magic Gang, but the four-piece began in significantly different circumstances. After, in their own words, "narrowly avoiding each other" across the majority of their A-level years, Jack, Kris, Paeris and bassist Gus Taylor all gravitated along the south coast to Brighton across a three-year period. "Me and Jack actually met on Skype," remembers Paeris. "Bearing in mind we'd been through the whole Bournemouth school system together, we'd luckily never actually met because I think…" he carries on before Jack takes over. "We've worked out that we met at the right time because we'd have properly hated each other at school. We were both little shits but in different ways."
Paeris and Gus then followed Jack to Brighton, and into the same house, which was frequented by visits from Kris, and these visits became the beginnings of The Magic Gang. The idea, though, was initially dreamt up in Kris' head as a collective of around ten interchangeable members. "A proto-King Gizzard type of thing," Paeris reckons.
After losing the interest of many of the potential members of the imagined gang, debut track 'Bruises' was written by Jack and regular Brighton visitor Kris. They were backed by Paeris and Gus on drums and bass respectively, as they, uh, happened to be in the house at the same time. Once shared onto Soundcloud, the identity of The Magic Gang began to solidify.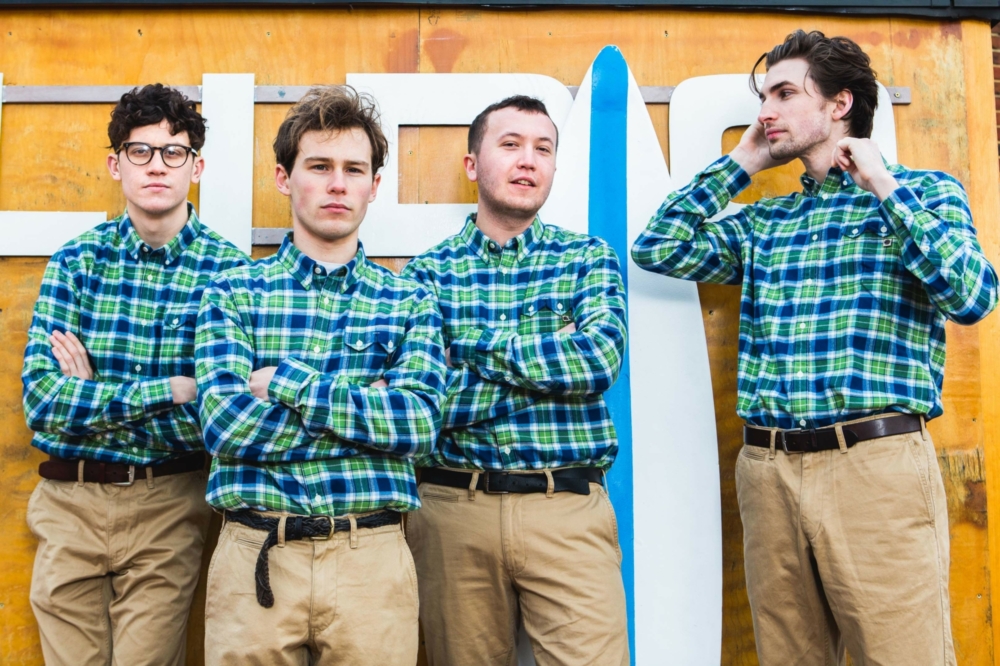 "
We were both little shits but in different ways.
— Jack Kaye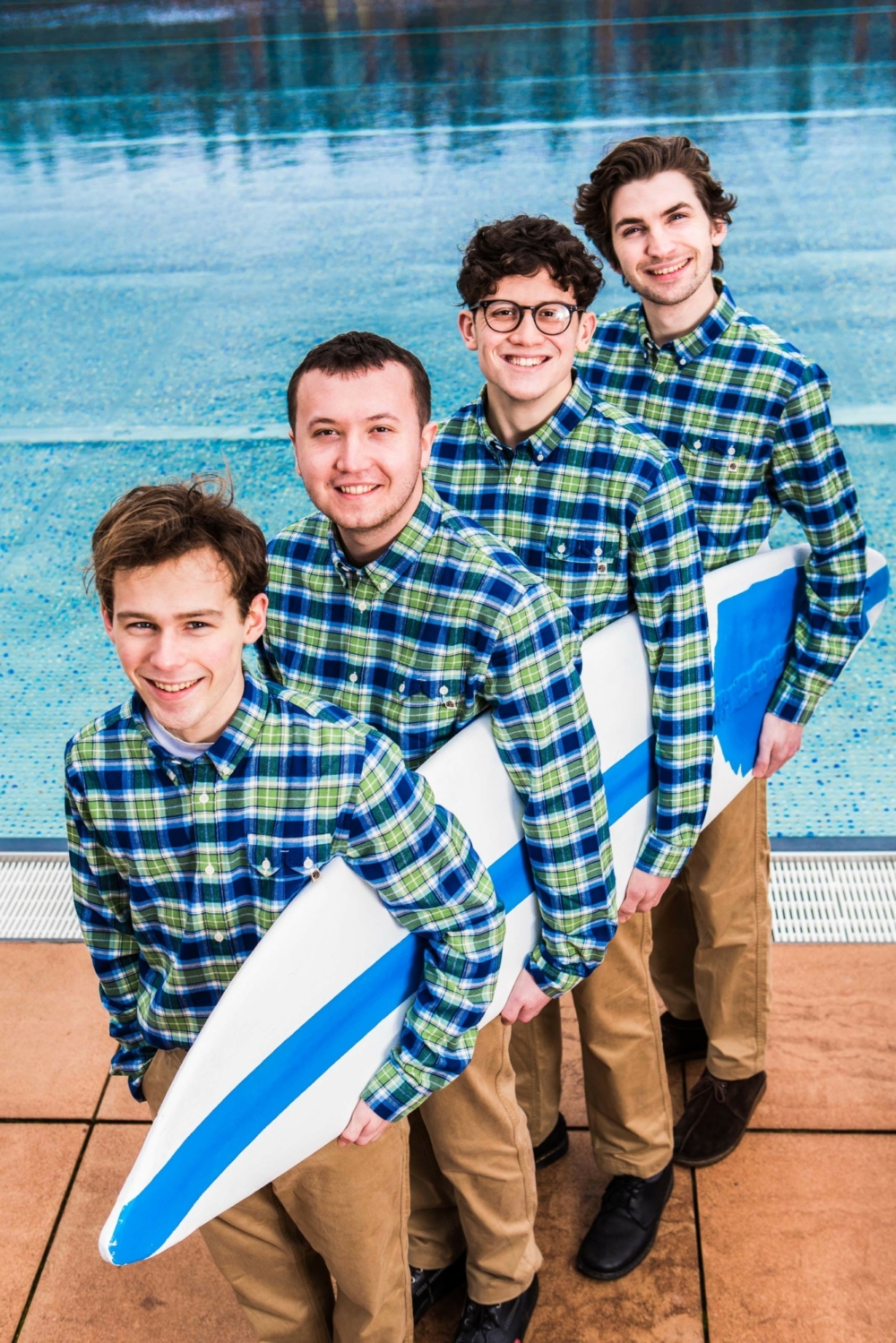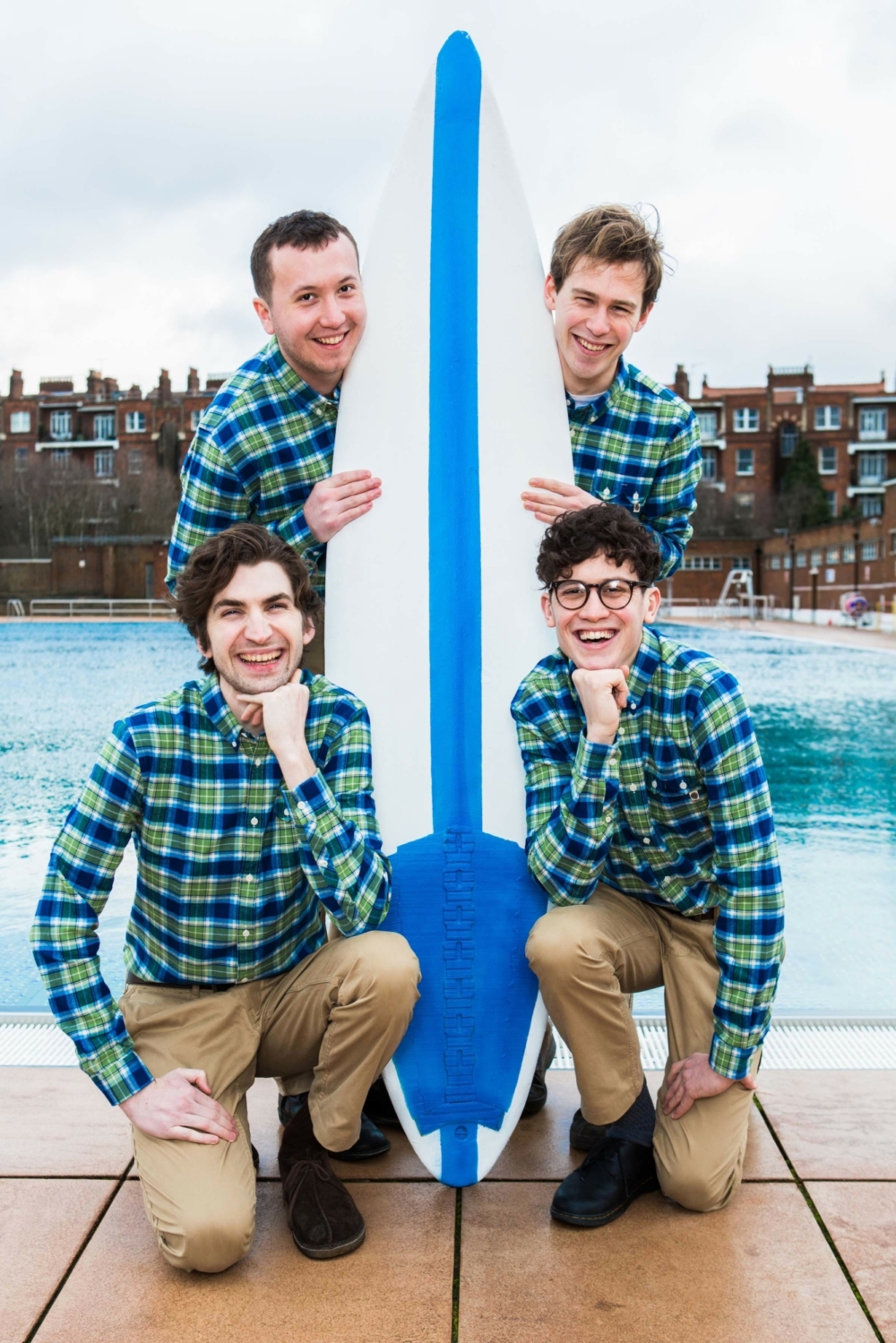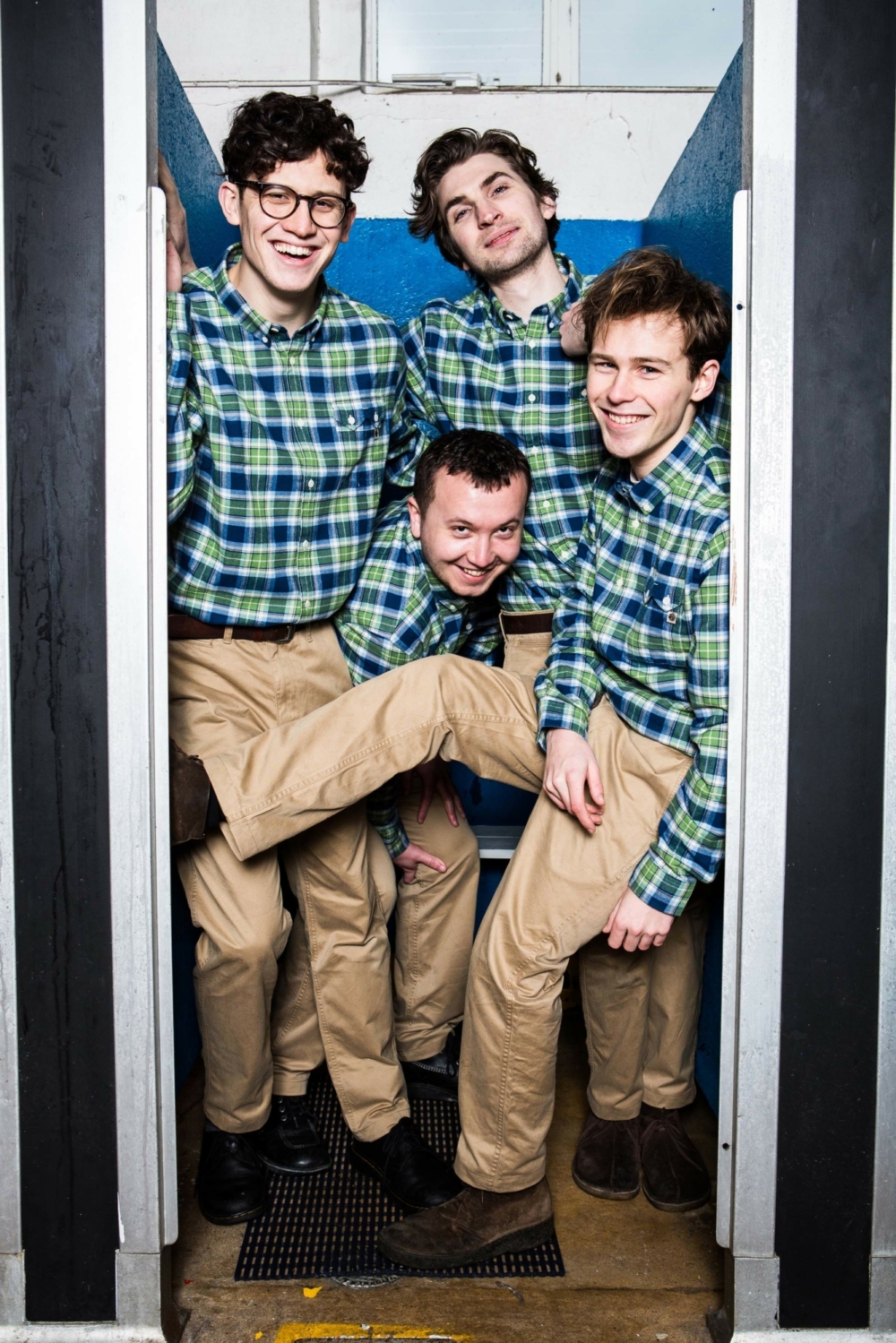 It's a wonder now that the four-piece began in such fragmented, uncertain circumstances. Drying themselves off after an icy dip in North London's Parliament Hill Lido - a few weeks prior to their Bournemouth show, and doing their best Beach Boys impressions as part of our cover shoot - they're an instantly charismatic bunch, bouncing off each other constantly. Each member is just as integral as the next.

Spending the majority of the band's lifetime all living in a huge shared house in Brighton alongside members of Abattoir Blues and Sulky Boy, The Magic Gang and their residence became the focal point of a new scene bubbling up by the seaside. A handful of early singles that felt like festival anthems-in-waiting and a first tour alongside JAWS later, and the band headed out on their biggest run to date in support of Wolf Alice mid-way through 2015.

"When you start and you're a support band, you don't have a fucking clue how to behave," Jack looks back, almost cringing. "We started as kids just bothering Wolf Alice all day long," Gus confirms. "We thought we were sick, as well."

It turned out, though, that the band, who were about to release debut album 'My Love Is Cool' at this point, would teach The Magic Gang a hell of a lot, and see the Brighton quartet treading a largely similar path in years to come.

"We learnt a lot on that tour," Paeris expands, "seeing the way [Wolf Alice] had built themselves up, and had a fanbase, but waited ages to release an album, knowing that it would have an audience when it comes out that's actually going to say 'Fucking yes! Finally!'."

Such words turned out to be accurate upon the announcement of 'The Magic Gang', with a healthy injection of emojis thrown in for good measure. And, as if to mark the poignance of that tour even more, the London show of the run, at Shepherd's Bush Empire, was the first time YALA! Records boss and former Maccabee Felix White saw the band play live.


"
We started as kids just bothering Wolf Alice all day long.
— Gus Taylor
Three years, three EPs and live shows that boast a reputation for being joyously raucous, life-affirming affairs later, and the album is ready. A chronicle of everything that's lead these four to becoming one of the country's most-loved new bands, 'The Magic Gang' fuses old and new together perfectly, reaffirming their ability to write arena-sized anthems to bellow from the depths of a beer-soaked moshpit, while treading new ground on the album's fresh cuts, albeit with a familiar tint.
'Alright' - from the band's first single proper alongside 'No Fun' - arrives in beefed up form, with its live power translated perfectly. Elsewhere, the instrumentation on the final choruses of 'Jasmine' and 'All This Way' gets stripped away, leaving room for the lung-bursting singalongs they now receive at every show
It's the new songs on the album that really push the band forward, though. Nestled in amongst old favourites, the six new songs widen the band's outlook massively. The scope of the quartet's songwriting is fully realised, something the EPs couldn't bring. 'Getting Along' joins the band's enviable arsenal of punchy, chorus-driven bangers, while 'Take Care' sees Gus take centre stage for the first time, unveiling a gorgeous, affecting voice over piano-based balladry. Both tracks come as a signifier of the band becoming more lyrically open than ever before.
Written by Kris and Jack after they went through a pair of breakups simultaneously, 'Getting Along' sees the pair riffing off each others' problems and finding a common solidarity, one that proves strong as steel. Their jangly '60s melodies aren't the only reason the names Lennon and McCartney have been whispered around The Magic Gang more than a few times: while Jack stands at the helm of the brighter, chunkier cuts, Kris masters the sombre minor chords, which prove just as affecting once they've settled in. Together, their vocals weave in and out of each other, fitting perfectly.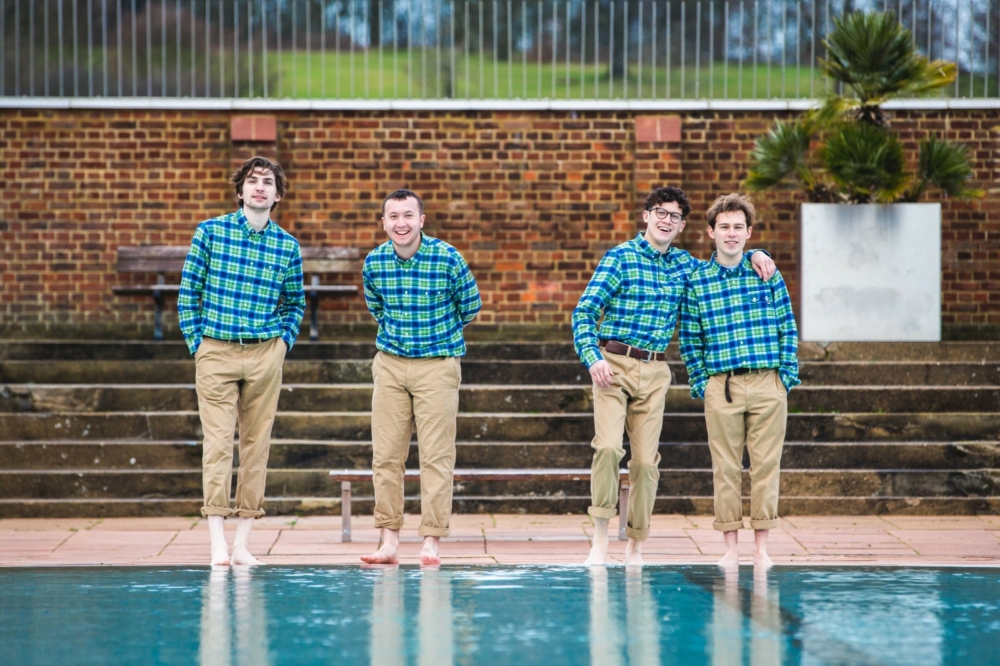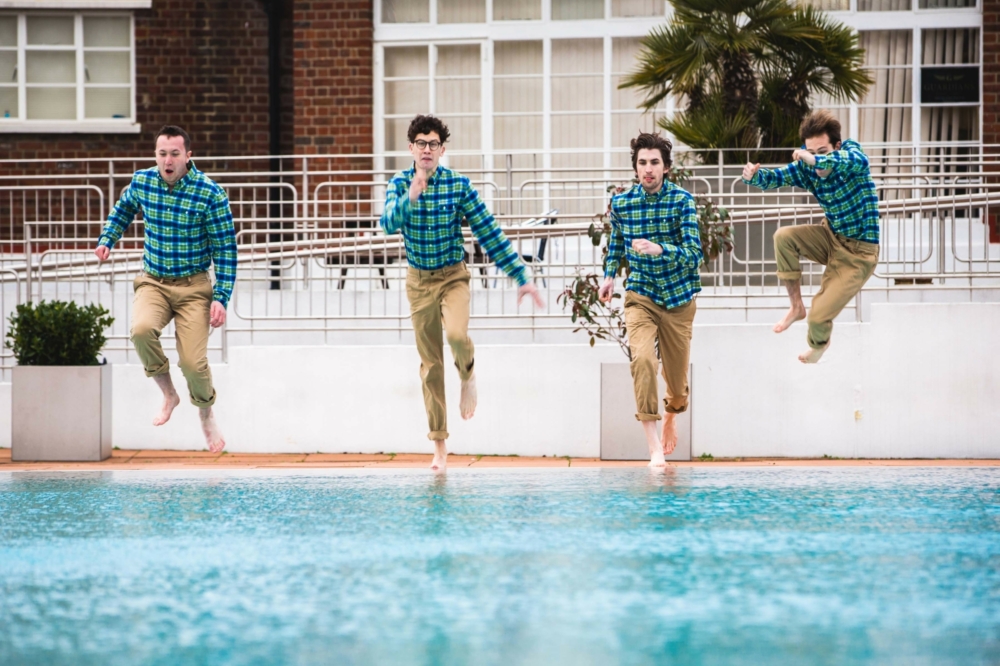 "
It would fucking collapse without one of us.
— Jack Kaye
Album highlight 'Caroline', a sky-reaching cut, was written for a woman Jack met at a group therapy session. "She was going through a really shit time, and it really struck a nerve for me," he recounts. "So I went home and wrote a song for her. I imagined it being to lift her up, but I think we felt the same as each other, and I thought 'I don't know how we're going to get through this, but we're in the same boat'. Obviously she'll never know and never hear it, but I like the idea that it'd be to lift her and help her."

For all the tracks' nuances though, they all flutter with the instantly identifiable energy The Magic Gang have cultivated throughout their existence. It's the same spark the band give off in person; four best friends not afraid to crack a joke or ten at each others' expense, but also deeply committed to the music they make.

Signing to YALA! for the album - and essentially committing their whole lives to the band in the process - wasn't something they had to think twice about, then. An unspoken rule permeated everything the band did up until that point: they're in this for good. "You figure it out over time," Jack begins. "We figured that out in the first year when we were sleeping on sofas," Gus takes over. "My Mum and Dad drove us on our first tour… We did everything in our power to get out there. We put money into it, and invested all of our time." "There was a moment when we really had to sacrifice something to do this," Jack remembers. "And it's pretty fucking stressful, but it means we're all in it together."

And alongside tour after tour and festival-defining performances, the band have become more important to some than they'd ever have expected. "There was a really lovely story in Leeds," Gus begins, before Paeris explains. "Some kids at this school were severely autistic, and whenever they got into a place where they were in extreme discomfort, the only thing that would bring them down or calm them was putting our music on, so one of their helpers asked me to sign a drumstick for them." "We need to go and play a show for them," Gus affirms.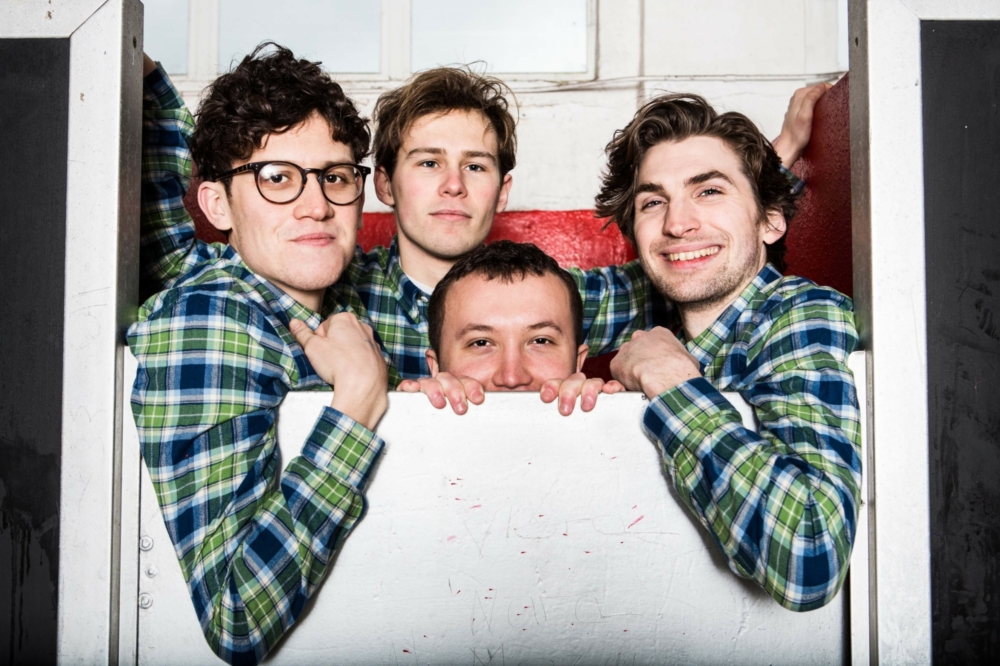 "
I'd love to know the first Magic Gang baby conceived.
— Gus Taylor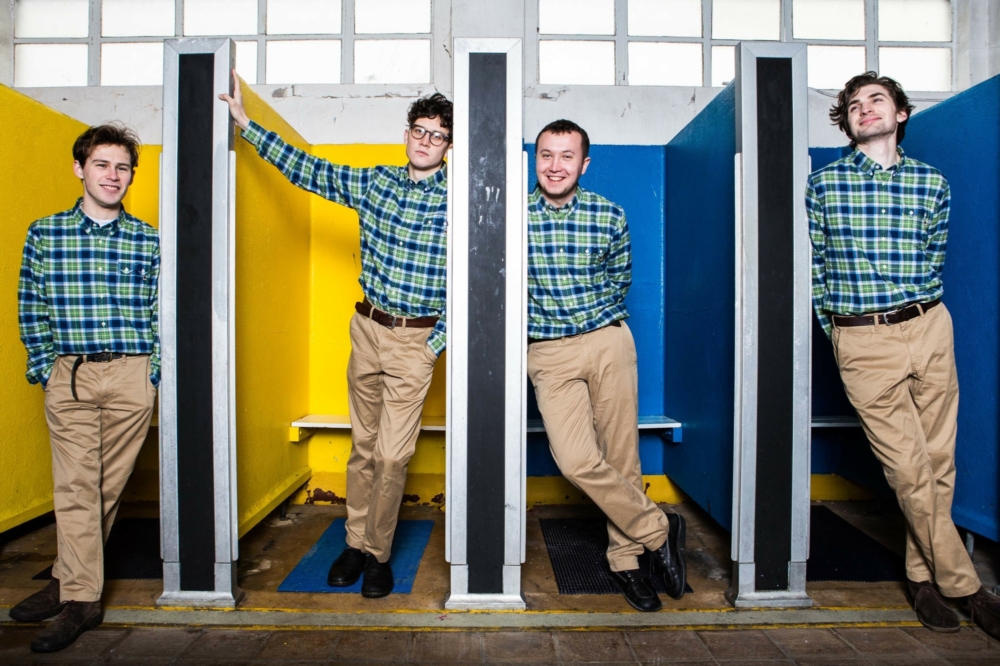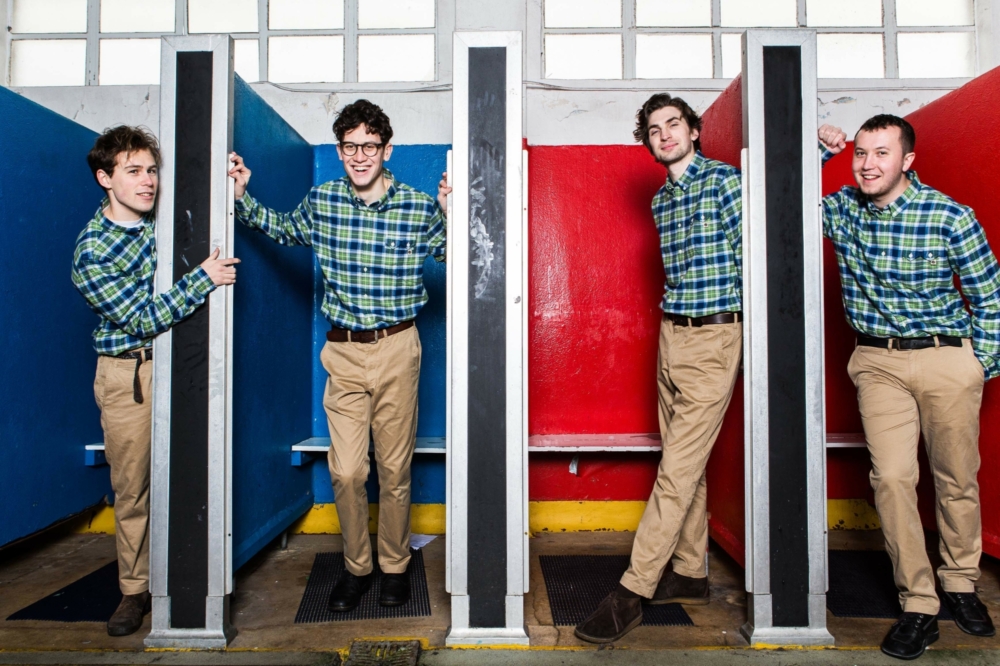 "I'm pretty sure a kid told me once that he…" Kris coughs, "'became a man' to our music." The tone instantly lowers. "Which song?!" Jack enquires. "Maybe not necessarily one that we'd want him to..." Kris quips back. "Oh fuck, THAT ONE?!" Jack replies, doing his best wide-eyed shocked face, clearly mortified about 'All That I Want Is You''s new setting. "Hopefully they weren't making babies," Paeris adds, with a worrying tone. "I'd love to know the first Magic Gang baby conceived," Gus grins.
Starting the band in years when anonymity and mystery in new bands was the number one mantra, The Magic Gang were refreshing from the outset, even if it was achieved by tapping into ideas of old. Worlds away from a frontman and three interchangeable, faceless bandmates, each member carries their own eccentricities and is as well known to fans as whoever's holding the mic.
"To have a band where three of you all sing, that's the ultimate goal," Jack says, before Gus takes over: "It definitely is a band, and we're all so invested in it. There's not one person spearheading the songwriting, we split everything four ways. We all have different jobs."
"It's a proper sum of its parts," Jack picks back up. "I hear a lot of bands saying that, but we are actually a proper sum of our parts. It would fucking collapse without one of us."
"We couldn't replace any of us... no way," adds Gus. "If one of us were to tragically..." he continues before Kris chips in to roars of laughter, "...want to leave the band, it would just be a nightmare."
Glued together by an unwavering passion and enviable bond, one that's existed from the start - and even through the time Gus had a shoe stolen after a show in Liverpool and made it all the way back to Brighton with one very, very soggy foot - The Magic Gang are a band in the truest sense. They master the ability of making it all seem effortless.
Their debut album is a perfect chronicle of the band up until this point; a clever, caring record that packs a massive punch, while also pointing firmly towards a bright future. Releasing an album that's as hopeful and empathetic as we all need right now, while having bucketloads of fun along the way, The Magic Gang are a band to fall head over heels in love with.
'The Magic Gang' is out 16th March via YALA! Records.