Interview
Sharon Van Etten talks reconciling darkness and light on new album 'Remind Me Tomorrow'
After a busy few years, the New York-based musician wants to make peace with the past on her new LP.
In the close to five years since her last studio album 'Are We There', Sharon Van Etten has been anything but idle. She returned to college to study psychology, guest-starred in the Netflix series The OA, performed in David Lynch's revival of Twin Peaks, wrote a score for Katherine Dieckmann's film Strange Weather and became a parent, all while making her fifth album 'Remind Me Tomorrow'.
But it was when working on the music for Strange Weather in 2016 that Sharon found herself growing tired of playing guitar and instead turned to piano and synthesisers, trying to clear her head from the score's ambient guitar sounds. There she formed the building blocks for 'Remind Me Tomorrow', which takes her sound in an altogether more grittier direction, mixing eerie droning synths and swells of distorted organ sounds with lyrics that sound more hopeful, about intimacy, finding love and staying present.
"I feel like, musically speaking, even though I am in a really, really good place and I wanted to convey that in my songs, I wanted there to be some darkness surrounding it because even with happiness there's a bit of that doubt," Sharon explains from LA, where her and her band are rehearsing for their performance on Jimmy Kimmel later that week. "As happy as I am in my life, there's darkness looming around us while we are in a positive light."
"Even with happiness there's a bit of that doubt."
The new energy of the ten tracks on 'Remind Me Tomorrow' is owed in part as well to the impact of new parenthood; the album was written both in pregnancy and after her son's birth, putting together the songs in moments of quiet and solitude while thinking about the future. "I definitely remember being pregnant and watching Trump get elected into office," she recalls. "My eyes welled up as the votes were coming in and I had to turn off the TV and tell myself to not cry because I was afraid that my child would absorb all these negative emotions that I was feeling and I went to bed."
When she woke up the next morning, however, she made a resolution: "I made a promise to myself that no matter how scared I was about our political environment that it was my job as a mother to be a positive influence to my son and make sure that he just feels safe as he gets older because you can't control certain things."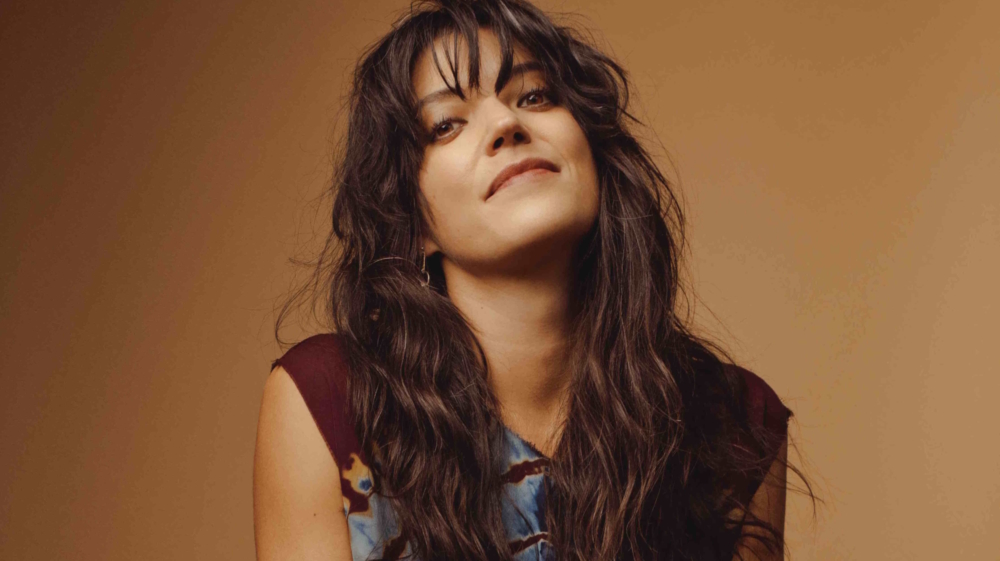 "The most progress I've had as a human being has been very present and the most anxiety I've ever had is by looking too far ahead."
Though named jokingly after the option to postpone a computer update, on a more serious note, Sharon explains that the title of 'Remind Me Tomorrow' also comes from the the prioritising of your time that takes place when you figure out what's important to you. This sense of contemplation over time also runs through the album lyrically, whether from the barking instruction of "don't look back!" on the chorus of 'Comeback Kid' or in the question and then unsure answer of "What is the difference between now and then? I'm not sure" on 'No-One's Easy To Love'. 'Seventeen' is a look at a younger self ("I see you so uncomfortably alone / I wish I could show you how much you've grown") that asks the questions: what do you hold onto and what do you let go of? And how much of our past is useful or worth remembering in order to live in the present?
It's a line of thinking Sharon has been mulling over herself over the course of her studies, where she's currently studying for a degree in psychology and eventually hopes to become a therapist. "There are some therapy styles which focus a lot on the past, some that acknowledge the past but focus on the present and then some which focus on the present whilst making a plan for the future," she explains. "I still don't really know what I would personally want to pursue but I feel like I have a lot of reading to do in that regard, because I've learned a lot from experiences that I've had in my past but the most progress I've had as a human being has been very present and the most anxiety I've ever had is by looking too far ahead. Being present is still the centre but I acknowledge the past and I think you have to make peace with it."
"I just want to help people find their own outlet and learn how to communicate in their own way."
Her interest in psychology was sparked in her early twenties when she experienced what she calls "an early mid-life crisis" and saw a therapist who helped her learn to communicate her emotions more easily, leading to her deciding to move to New York to properly pursue a career in music. Later, when she'd established herself as a musician, her audience grew and she found herself connecting more with fans at the merch table after her shows.
"Fans would tell me personal stories about how they connected with my songs and how I'm able to say things that they're not. They've also told me intense things that are going on in their lives and I felt some really intense connections and I wished I could call some of these people and check in with them and see how they are," she says.
Today, she reveals she has a handful of fans that she checks in with regularly. "I try and encourage the things that they are afraid to pursue. I just want to help people find their own outlet and learn how to communicate in their own way because it's not all just music. It's deeper than that, you know?"
'Remind Me Tomorrow' is out now via Jagjaguwar.

Get your copy of the latest issue