Interview
Filthy/Gorgeous: Filthy Friends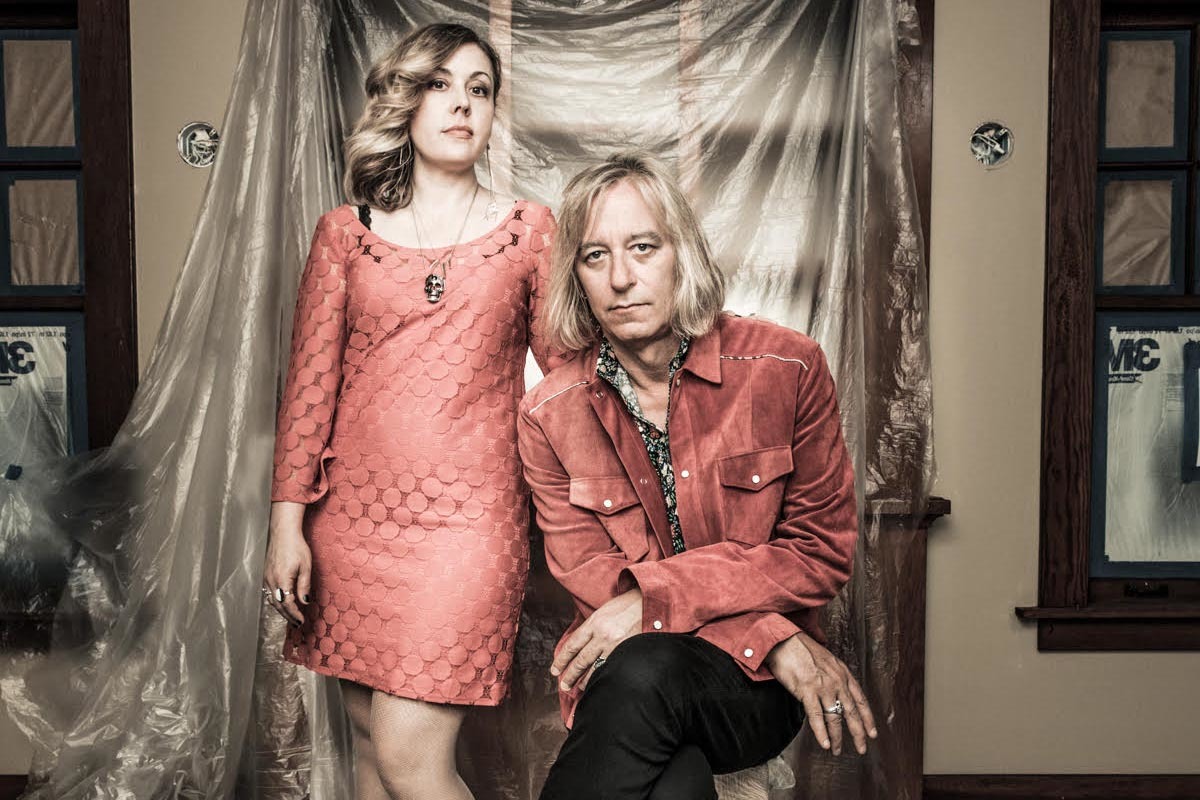 Ideas around climate change and environmental ruin hang heavy over 'Emerald Valley' - the second album from Portland's Filthy Friends. But there's hope there too.
'Emerald Valley', the second album from the star-studded, Portland-based Filthy Friends, sets out its stall early. "Rolling fields they speak your name, vibrant green is here again," Corin Tucker (also of Sleater-Kinney) soothingly states in the first line of the album's opening and title track. Throughout 'Emerald Valley', though, the band she shares with R.E.M. guitarist Peter Buck take a more dangerous and sceptical view on the environmental future of the world.
"Climate change has come to the Northwest in various ways quite dramatically over the past few years, with wildfires and temperature changes," Corin tells us. "But I didn't realise how passionate I was about trying to stop it until we started writing for this album. As a band, we do discuss things that are happening, just like anyone does, and I do remember a lot of smoke from the wildfires during summer recordings and rehearsals. The ideas and themes just came to me very strongly."
"We're certainly fairly left-leaning people," Peter agrees. "It's a body of work, and we chose the songs that felt thematically correct. It makes sense as a whole."
Across 'Emerald Valley', these views are hammered home over music that sways between harmonious and forceful, and sounds just as classic as you'd expect from two of American guitar music's premier figures.
"I think appreciating nature around us should spur us into greater action in terms of government policy," Corin continues, expanding on the album's themes. "I think we should try and see ourselves as very connected to the earth we live on, and that we really need to step up in taking action on climate change. I see my outlook as a mix of panic, frustration, despair and hope! If people can connect with any of those feelings in the music, I'm grateful." This mix of panic and hope is epitomised on 'Pipeline', as she urges: "Don't give up the earth this time."
"This record was more forward-thinking, about where we wanna go, what we wanna say, what we wanna do."
— Peter Buck, Filthy Friends
On their debut album, 2017's 'Invitation', Corin and Peter introduced Filthy Friends. As well as an excellent first statement, the project - at the members' request - was not to be called a supergroup; it existed on its own terms and had its own identity. This continues in earnest on 'Emerald Valley'. Despite the pair's considerable prior commitments - Corin is returning with a new Sleater-Kinney album this year, and Peter continues to write and release multiple solo albums each year - and the heavy social conscience of the new album, Filthy Friends is a project that allows the pair space and freedom, bringing on new creative breakthroughs. After all, as a pure passion project, there'd be no reason to carry on if they didn't enjoy it so much.
"I like the different skills that we bring together as a band, and how everyone works really hard to make the song as good as it could be," Corin affirms. "The experience [has] definitely helped me grow as a writer; we always planned on making a [second] record."
Peter hammers home the idea of Filthy Friends being a vehicle for new creative breakthroughs, even as the amount of LPs he and Corin can put their name to reaches well over 50. It's also, for a guitarist who has sold out stadiums the world over, a refreshing if slightly nerve-wracking transition to watching ticket counts for club shows across the US and Europe. "I'm really happy with the band, and this is a level we feel comfortable working at," he affirms. "I was lucky enough to have got to the other size venues, and having done that, I can accept that this is a different thing."
Writing songs for this second album before the first was even released, the momentum behind Filthy Friends has been significant since its inception, when Corin sang backup vocals on two of Peter's solo albums. It also appears to be an almost entirely stress-free process, for two people who have been at the forefront of rock music and experienced all the bumps in the road that come with that.
"In R.E.M., we spent ten years constantly on the road, and were then really busy for the next twenty or whatever," Peter states. "With [Filthy Friends], a month on the road is great, and five months may not be. It's a level I feel comfortable at. The first [Filthy Friends] record was an accident really, we just wrote some songs when I had days off from making records with other people or my solo records - we'd go in and knock out a couple of songs - and we had a record without really thinking through what we wanted to accomplish. Knowing we'd done that, this record was more forward-thinking, about where we wanna go, what we wanna say, what we wanna do."
Writing album after album, and accelerating this pace after R.E.M. disbanded in 2011, Peter's creative firepower is yet to dim, and with Filthy Friends, the balance of making music that feels vital as well as free-flowing and fun has hit its sweet spot. "I get really tired [when] spending a huge amount of time on stuff," he reflects. "I feel that it's better to keep it fresh and really fun. That said, I don't feel like I want to waste any time doing anything that's less than essential. "It's not like it's that much," he concludes, without a hint of a grin. "There'll be a couple of records out this year. I play guitar every day anyway, and with such a supportive group of people around me, it pushes me to keep going." Long may it continue.
'Emerald Valley' is out now via Kill Rock Stars.