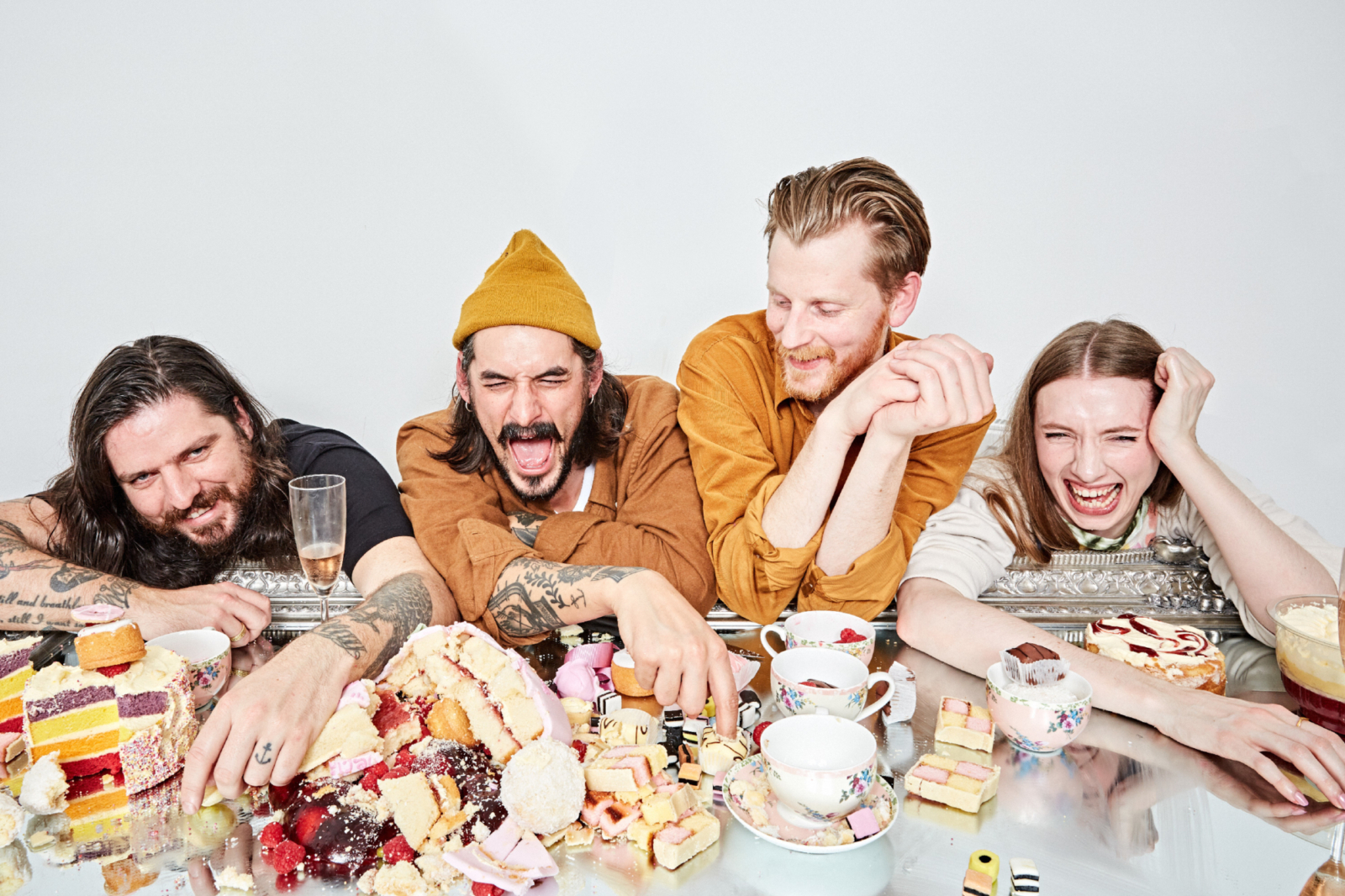 Class of 2020: Dry Cleaning
Having gone from a bunch of mates making weird noise in a cupboard to one of the most hotly-tipped new groups in the country, Dry Cleaning are exactly the band we all need right now.
"My cat died three months ago at 17-years-old," intones Florence Shaw in a deadpan monotone. "When this song plays I can remember the good old days when I was a kid, how we played together with my cat at home alone with my brother and all the good days I had with her… Goodnight sweet princess." She pauses, motorik guitars weaving around her. "She said have you ever spat cum onto the carpet of a Travelodge?"
And thus began Dry Cleaning's debut statement to the world.
You wouldn't imagine, on listening to the hyper-specific, often-hilarious tales that litter debut EP 'Sweet Princess' and its recently-released follow-up 'Boundary Road Snacks & Drinks', that their narrator would be a slightly reluctant one. And yet the band - completed by guitarist Tom Dowse, bassist Lewis Maynard and drummer Nick Buxton - had to dangle all sorts of carrots to coerce their artist friend to join their new musical venture.
"There was quite a lot of reluctance, for a few reasons," she begins, "because I'd been quite settled doing what I was doing creatively for a long time." "She quit the band maybe three times before coming to our first rehearsal," chips in Lewis. "Tom called me and was like, 'Look, you can… wear cool clothes?!'" she laughs. "He was scraping the barrel for these reasons why I should do it - although that's kind of legit, because I do like dressing up. He was like, 'It could be an outlet for all of your different creative things!' And he basically convinced me over quite a long phone call. And then Nick text me with some references, a Grace Jones track and some spoken word stuff, which was quite encouraging because I was worried they'd want me to belt something out like Mariah Carey." "When Flo joined we all knew within seconds that her approach would work with the music," assures Tom.
Having clocked up a solid decade in the friend game, though the four pals had never attempted to make music together before, they had built a solid foundation of trust and creative freedom as people. All now in their thirties, each member had been flexing their artistic muscles in various forms for a long time – in different bands (Lewis, Tom and Nick), drawing and making visual art (Florence and Tom) and lecturing an arts course at university (Florence). Combining all these aspects, meanwhile, Tom still makes music under a solo project called Mr. Blunt Trauma. "He has costumes and he's got a big trench coat. Lots of spikes and studs," nods Florence. "He sent me a picture the other day where he'd made a mask out of bouncy balls," informs Lewis.
It meant that, when they began writing for Dry Cleaning, the quartet approached the project with this same uncommercial, art-for-art's-sake mindset. In order to create an un-intimidating safe space, they rehearsed in a tiny room at Lewis' mum's old house (the same Boundary Road early base that would later become eulogised on record). "You couldn't really see each other because we were so close. It was a glorified cupboard and that made it way less scary," says the singer. "In quite a crowded space, you almost feel less self-conscious." "It made everything a lot more minimal," continues Lewis. "We didn't have any distortion, because we physically couldn't. We're gonna start rehearsing in a smaller room again to revisit that kind of writing. I called up a studio the other day and asked to downgrade our room, and they're like, 'OK…'"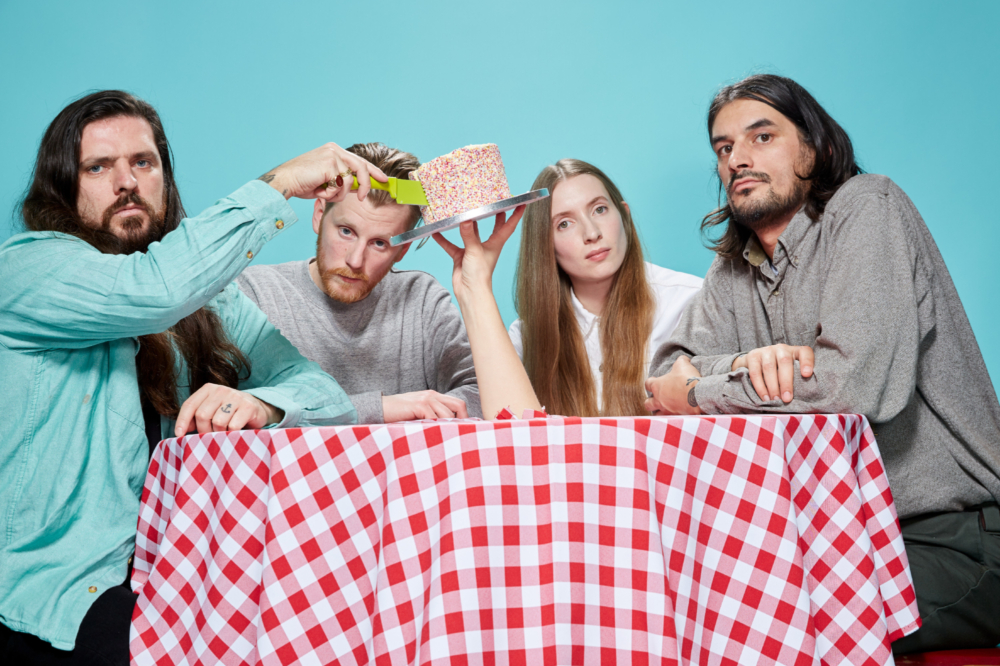 "
I feel like it's possible to be an expert in everyday life and small emotional dramas, rather than anything trying to be too universal.
— Florence Shaw
Describing their early mantra as aiming to be like "a cheap date" ("We never wanted to soundcheck; we wanted to be as easy as possible, just play a few parties for friends"), Dry Cleaning happily puttered along for a year, penning their strange tales - a combination of sparse, propulsive post-punk music and idiosyncratic storytelling - for themselves. It was only after a friend heard an early demo and offered them a support slot at London's Shacklewell Arms that the band began to properly entertain the idea of playing live - a development that brought its own preparation. "We definitely had a few chats around 'what gigs are like', which was for my benefit," laughs Florence. "Before then, we hadn't had that much feedback on what we were doing at all. I didn't have much of a clue how it would go down, or if people would respond to it in any way, so it was nice. People stayed until the end… they clapped…

"I'm quite pragmatic so I'd thought about it in terms of 'How do I deal with this problem?'" she continues. "I don't really dance, and I'm not a natural performer in that way, so I was always like, 'Oh crap'. I had all these problems in my head where I wasn't traditionally that kind of person, so my main plan was that if I feel nervous, I'm just going to show it. If I feel worried, I'm gonna look worried; I'm not just going to smile my way through it and be fake. I can just think about how to deliver the words, and just look however the hell I ended up looking."


"
I don't really dance, and I'm not a natural performer in that way, so I was always like, 'Oh crap…'
— Florence Shaw
If there's a characteristic that epitomises Florence's style as a frontperson, then this kind of unadorned honesty is potentially it. Lyrically, Dry Cleaning's topics of conversation so far veer from trying to avoid dodgy strangers on the street ('Phone Scam'), to hard work vs luck ('Dog Proposal'), to the personal wellbeing of the Royal Family's newest princess ('The Magic of Meghan'). Delivered as essentially spoken word, with a dry sense of sardonic wit, they're disparate subjects on paper, but ones united by their sense of specificity: you won't ever, to put it simply, find the singer penning the next 'Shape Of You'. "I'm not particularly invested in committing big, sweeping things to paper. I think it's so easy to regret being really strident about something later, when you meet someone who's got a better experience of it than you. But I feel like what it is possible to be an expert in is small things," she explains. "In everyday life, and small emotional dramas, rather than anything trying to be too universal.

"I used to listen to this track by Buck 65 that's about a baseball game, and it's just talking about the things that happen in the game. And it's not a metaphor, or at least it doesn't seem to be trying to be, it's just a recounting of the game – points scored, and who's up next. I've always been interested in things like that. It's not an art piece, and it's not obscure – it's actually quite a cute little song, but it's a weird approach to what you'd fill a song with."

There's an important point to be noted there, too. It would be easy to think of Dry Cleaning, with their art school background and their lack of inclination to play the social media game ("We always try and think, what is this for? Who is it serving? And if it's basically serving a huge multinational corporation and we're basically doing some free advertising then that's something to think about," comments the singer) as purposeful outsiders. But rather than stubbornly remaining on the peripheries, the quartet simply aren't prepared to compromise their priorities in order to sidle into the more money-making mainstream. They're an easy-going bunch, as evidenced by the way they gamely begin smearing candy-pink cake all over the place in the pursuit of the perfect Marie Antoinette nightmare for our shoot, but they're also a slightly older band than most newcomers, who've worked out what matters to them and know how to stay on their best personal path.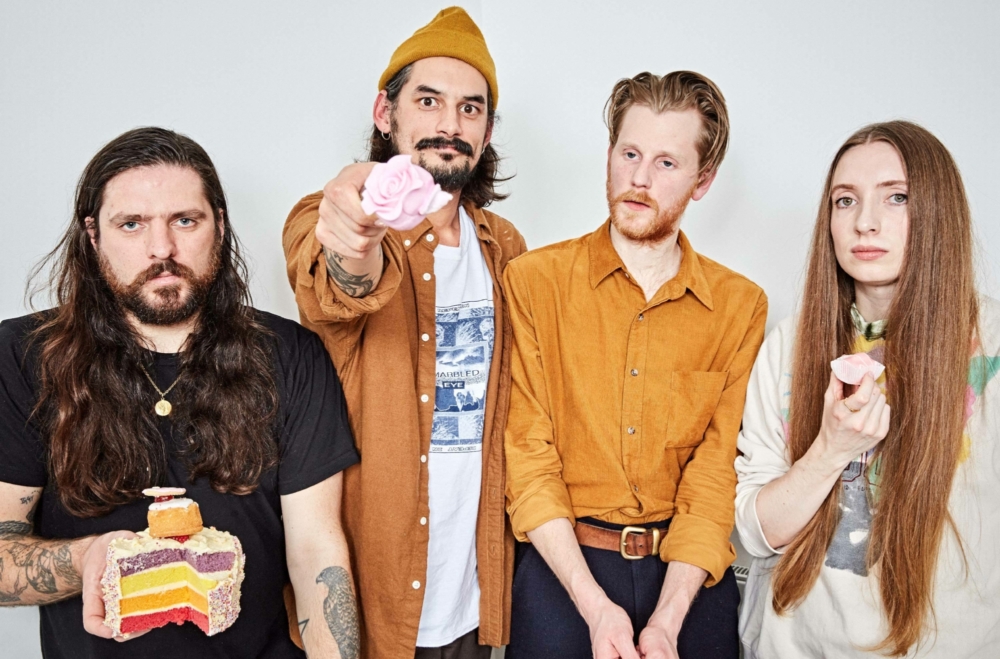 "
We're all people who make things and we take creativity quite seriously.
— Florence Shaw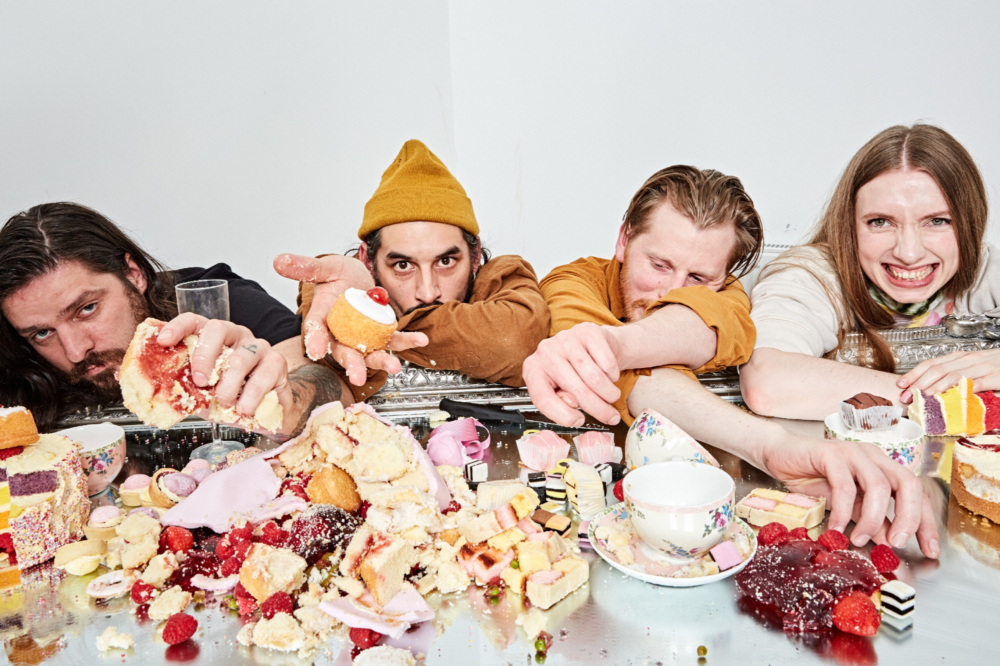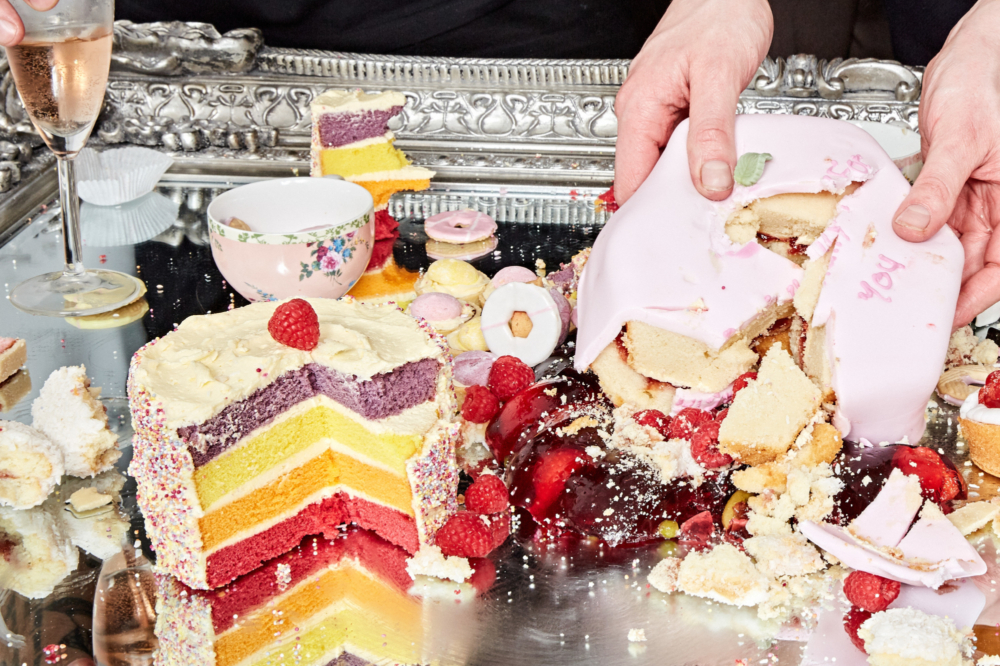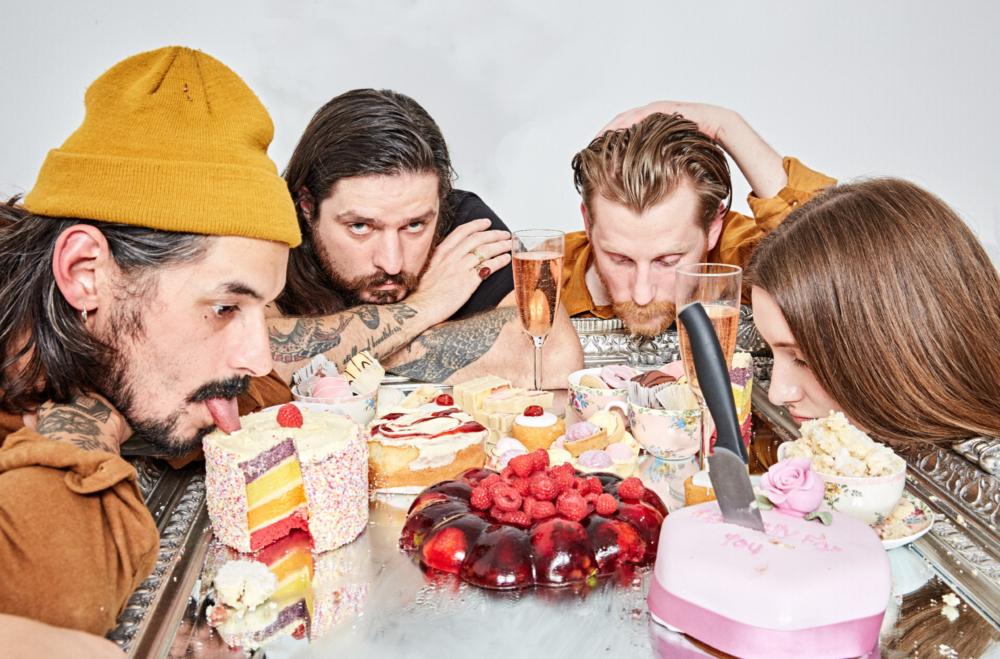 "The sheer logistics of being in a band are crazy. The amount of shit you have to sort out could easily overtake the creative side, if you let it. And I think our mindset is that we're quite protective of that, and up for whatever can help us to remain creative with the additional attention that we've got," nods Florence. "This last year, when things have been picking up, we've said we just want to do whatever helps the band's output progress. So if someone's expecting us to tour for two-thirds of the year, which probably won't help us write stuff, then that's probably not the best idea," continues Lewis. "We're finding our feet with what brings out the best in us as a band."
Yet, despite – or, arguably, because of – their strong sense of what works for them, Dry Cleaning are pushing rapidly forwards, regardless. At the start of 2020, they'll headline London's Village Underground, their biggest show to date, while they're also hoping to begin work on a debut record around the same time.
It's all testament to a group of friends who started a project for all the right reasons. "We weren't ever ambitious, but we're all people who make things and we take creativity quite seriously," nods Florence. "We always cared about what we were making a lot – maybe even more because it was our personal thing. We were kind of doing it for each other." "Now things have become a lot busier, and I wanna say our aims with what we can do with the band have changed, but I actually don't think they have," concludes Lewis. "Now people are saying to us that we could be doing things that are very different from where we were a year ago, but we still mainly just want to impress each other."
Success on their own terms, with a sense of humour and some of the weirdest, most wonderful music out there? We'd say that's pretty damn impressive, by anyone's standards.