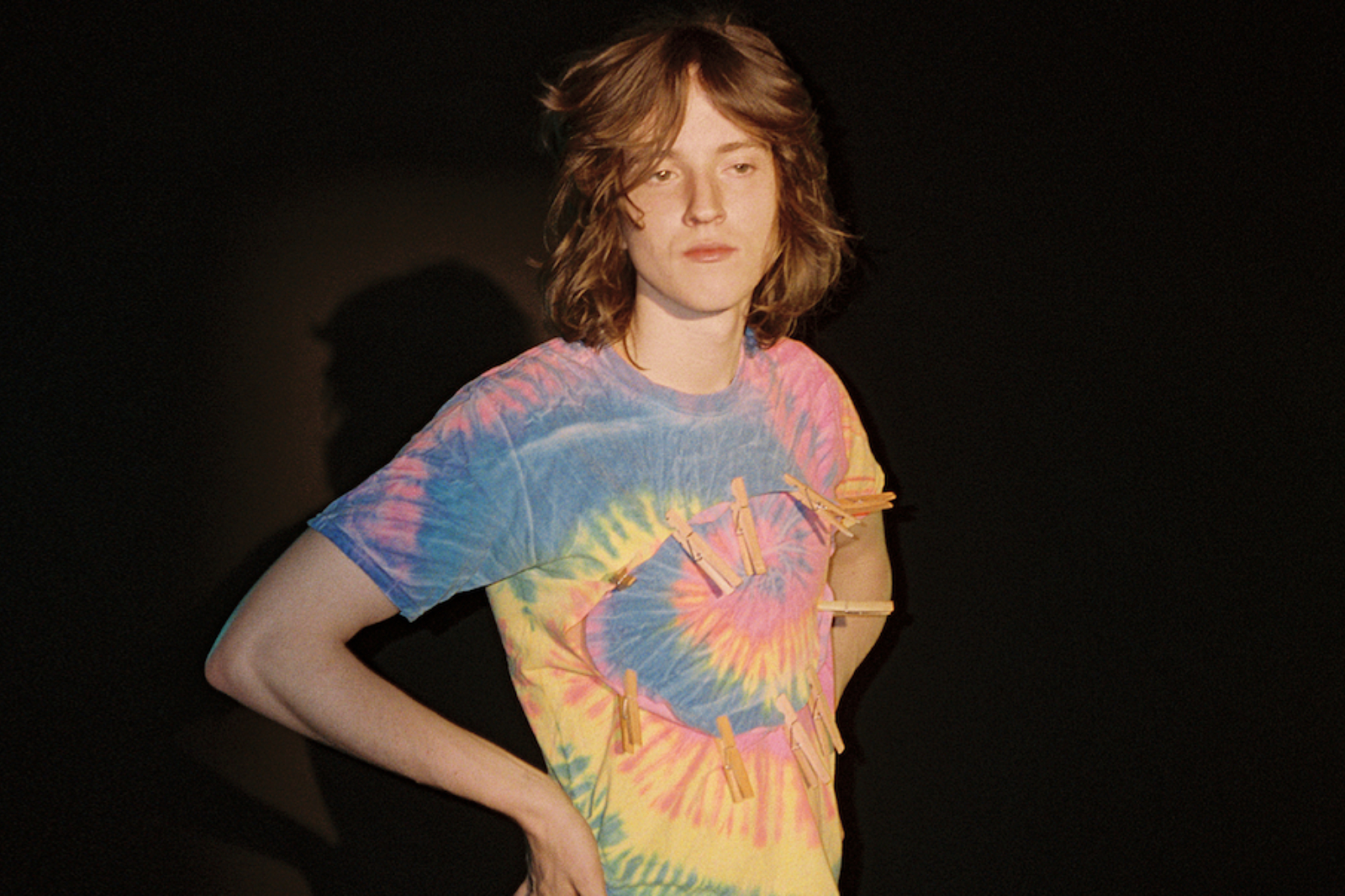 Photo: Claire Gillan
Introducing
Get To Know… Mk.gee
Fresh off of the release of his newest mixtape, meet the rising LA-based artist.
Hello and welcome to DIY's introducing feature, Get To Know… getting you a little bit closer to the buzziest new acts that have been catching our eye as of late, and working out what makes them tick.
Recently we've met Americana-loving wunderkind Sammy Brue, genre-spanning indie artist Havelock, pop's newest rising star Tate McRae, Parisian trio Keep Dancing Inc, and now we're introducing you to rising LA alt-artist Mk.gee.
Sharing his new mixtape 'A Museum Of Contradiction' earlier this year, the 9-track record is full of mesmerising indie gems. Speaking of its creation, Mk.gee - real name Michael Gordon - explains "I was in between homes last August and sleeping on couches for about 2-3 weeks. On the first day of being in a new spot, I set up my studio and made 'Western' start to finish in one session. It was really fucking manic energy. I don't think I slept that night. Really manic. The next week I made 'Overtime' and finished the lyrics the following week in Europe on a train to Amsterdam really hungover. There are 20 revisions of that song in the hard drive, maybe more. It's my favorite song off the tape."
An exciting glimpse at what he's planning next, we sent him over some qs to find out a lil' bit more.
Describe your music to us in the form of a Tinder bio.
I don't use tinder so I don't know how the bios work. I'm just out here looking for a fuckin friend I'd probably say.
What's your earliest musical memory?
Used to write piano pieces when I was younger, like around 7. I used to do these uptight classical recitals. Some musicians there were like absolute prodigies. Young 10 year olds would play like monster 10 minute Rachmaninoff/Shubert pieces, and I would go up after and play my little 2 minute original songs. It felt good to stand out at that age though I remember. I'm sure they weren't any good though. Seems a lot funnier today thinking back on it.
Who were some artists that inspired you when you were just starting out (and why)?
First time I got into Black Keys was pretty life changing. I wouldn't even say I was like the biggest Black Keys fan but they kind of opened the door to a realization that attitude is also in how things sound not just how you perform/sing it. I was like "what the fuck they meant for it to sound like this?" Their first couple records I was into around the age 12-13, like 'Thickfreakness' and 'Rubber Factory'. I was making demos at the time and tried to copy that sound, embracing the few tools I had and leaning into my limitations like they did I guess. The demos sucked but that wasn't the point. There is attitude and stories in the way things are recorded. It's not always about finding the cleanest more perfect sounds. Much more often it is the opposite if you want some sort of sonic story, that was encouraging when I realized that.
Sly Stone changed my whole life as well around that age. So fucking raw. A lot of funk and r&b didn't really click with me at a young age because everything was so perfect and sparkly, especially once it crossed the second half of the 70s. Funk can be too much, too cool and too suave sometimes . Sly was dirty and unapologetic. Everything was clipping, and sloppy but in the most congruent way possible. That nuance had so much magic. So much personality, in every part, and in every take regardless if it was conventionally a "clean take". The magic is in the personality, it leaks into everything; the recording, the writing, the singing. I record now thinking every part has to have a specific personality/attitude, if it doesn't then It gets cut. Larry Grahms got to be one of my favorite bass players ever too. Stupid good.
You're originally from New Jersey and now live in LA! What do you think of the music scenes there at the moment?
Not sure if you're asking about NJ or CA, but the part of New Jersey where I'm from had nothing really. Up north had a lot of shit bubbling up near NY, but down south there wasn't a whole lot of scenes. It was so corny to do music, nothing cool about it. To play guitar was cliché, and just writing or anything creative wasn't that encouraged. I hid it a lot in middle school and high school. But I like LA. There's is a shit ton of cross pollination within the scenes. Had the pleasure meeting and working with a lot of amazing people. I have like 4 reaaal close friends in music here though. I keep my circle small, I can't be around too many musician artists man, were a naturally conceited bunch. Everyone's got their "vision". Everyone's nuts. I'm nuts too that's why I know haha.
Are there any other artists breaking through at the same time that you take inspiration from?
Love my friend Dijon's stuff. He's really pushing the conversation forward. A lot of class in the EP he just let go. It has a lot of mini worlds in his stuff if that makes sense.
Who would be your dream collaborator?
I don't have one major one, but Todd Edwards/Liz Harris/Theo Parrish, I'm not sure there's a lot. Would be cool to meet Timbaland lol.
Musically or otherwise, what are you most looking forward to this year?
Our country getting our shit together and recovering from a national pandemic, that would be cool.
If people could take away one thing from your music, what would it be?
I'm just looking to heal people. My music contradicts itself a lot, almost all the time really, hence my last tape. There's a hidden confidence in that I found though. The more I accepted this paradox within parts of myself and my personality and my tastes/my life, the more I found some sort of inner peace. It's empowering. I like to make people feel like a little hero. And If I have acceptance and confidence in my weird self then maybe someone listening can too.

Get your copy of the latest issue