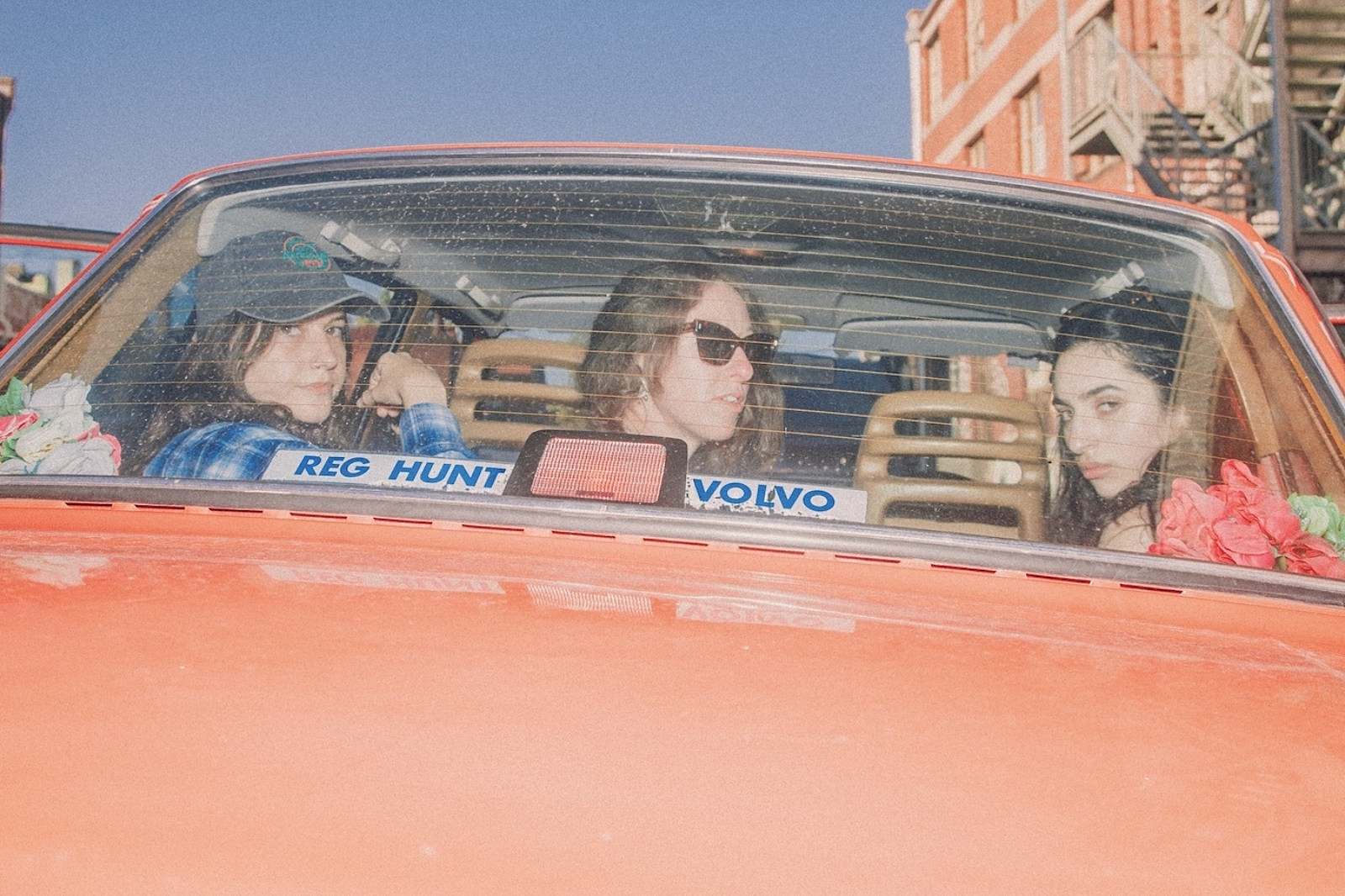 Photo: Nick Mckk
Camp Cope: "I feel like I'm a channel for the universe to express something and I can't help it"
Armed with a third album that's the most "them" yet, Georgia Maq tells us all about 'Running With The Hurricane'.
Australia's Camp Cope have become something of an punk-rock sensation following both 2016's self-titled debut and breakthrough record 'How To Socialise And Make Friends' which followed two years later. Now, almost five years on, they're back with 'Running With The Hurricane': more personal, more sonically varied, and as the group's Georgia Maq tells us, more 'them' than ever.
A lot has happened in Camp Camp Cope since we last spoke – how's the journey been?
SO much stuff has happened! 'How To Socialise And Make Friends' came out, we've toured heaps, I live alone now which I love, I have two cats, Spatula and Adidas… But I actually think 'How To Socialise…' is kind of shit! The songs are good, but I really associate it with stress and sickness. I was struggling a lot, we put a lot of pressure on ourselves. But then in the middle of 2020 I went mad and started making a pop album than no one's ever gonna hear, and in doing that I learnt how to produce, I learnt how to arrange, I learnt how to write backing vocal parts and harmonies, and then with 'Running With The Hurricane' I just got to apply everything I've learned! I got really creative.
That must have been really freeing – what can we expect to hear of that on the record?
I decided I wanted to play acoustic guitar on every track, because I hate the sound of just an electric guitar. I wanted to play piano because I'm really good at piano, and I wanted to write more vocal parts. I wasn't making an album that could be perfectly recreated live. I'm actually looking forward to [adapting them], because it keeps us learning and playing and that's a very cool thing.
What kind of lessons from your last records are you bringing into this one?
To spend more time on it! Instead of two days, we got six days, which was heaps. But it wasn't enough for me because I'd had a taste of working on an album every day for weeks, so six days wasn't enough. I knew exactly how I wanted it to sound, but it's still not perfect because I change my mind a lot - I'm so annoying! I have a love-hate relationship with everything I do – Bono said recently, 'I hate my voice and I hate everything that U2 has ever done,' and I was like, 'Bono you're talking to me right now'!

"I have a love-hate relationship with everything I do."
— Georgia Maq
Camp Cope songs always feel very personal, especially on RWTH – is it scary, writing like that knowing people are going to listen?
Not really. I don't really write like that – if I do it's really intentional! I put a song out called Joe Rogan, with the intention of it being heard by the fuckhead who it's about because it's so funny. He heard it, and he was like, 'grr, you know, I don't even do art…' Like OK, bro! Whatever, you're at home smoking a Gatorade bong and I'm singing about it, making money, so fuck you! I was happy.
…and what about songs that aren't about Joe Rogan?
Even if I wasn't putting things out I'd still be writing songs. It's a blessing and a curse, I just feel like I'm a channel for the universe to express something and I can't help it. I don't know, not to sound too much like I'm jacking myself off. It helps me understand myself, and every album I'm getting closer to figuring out who I am. I write like doing a puzzle inside my head over a really long period of time. Songs don't make sense until they're finished, and then it's like, 'Oh ok, that's what this is about'.
'RWTH' has some very cool collabs featured – tell us about them!
In my head I just heard a trumpet line, and I was just like… 'Well who do we know who plays trumpet?' And Tommo [Sarah Thompson, drummer] is really good friends with Courtney Barnett, and she was like, 'If you want us to do anything on the album, let us know!' And then, 'Sing Your Heart Out', that song actually came about because Simon Little [Frightened Rabbit] sent me this line on piano, and I was like 'Oh my god, I'm gonna make a song about this'.

It's super special, because Frightened Rabbit are my favourite band in the entire world. A few years ago, about six months or so after Scott had died, I got an Instagram DM from Simon saying 'Hey, you don't know me but I play in Frightened Rabbit, I just wanted to let you know that me and Scott listened to Camp Cope one of the last times we hung out and he had a lot of nice things to say about it'. I'd just got off a plane in LAX and I just burst into tears. That band is so special, and me and Simon just developed a friendship after that. He's an incredible person and an incredible musician, and he'll send me these little recordings from time to time and I'll try and make something out of them.