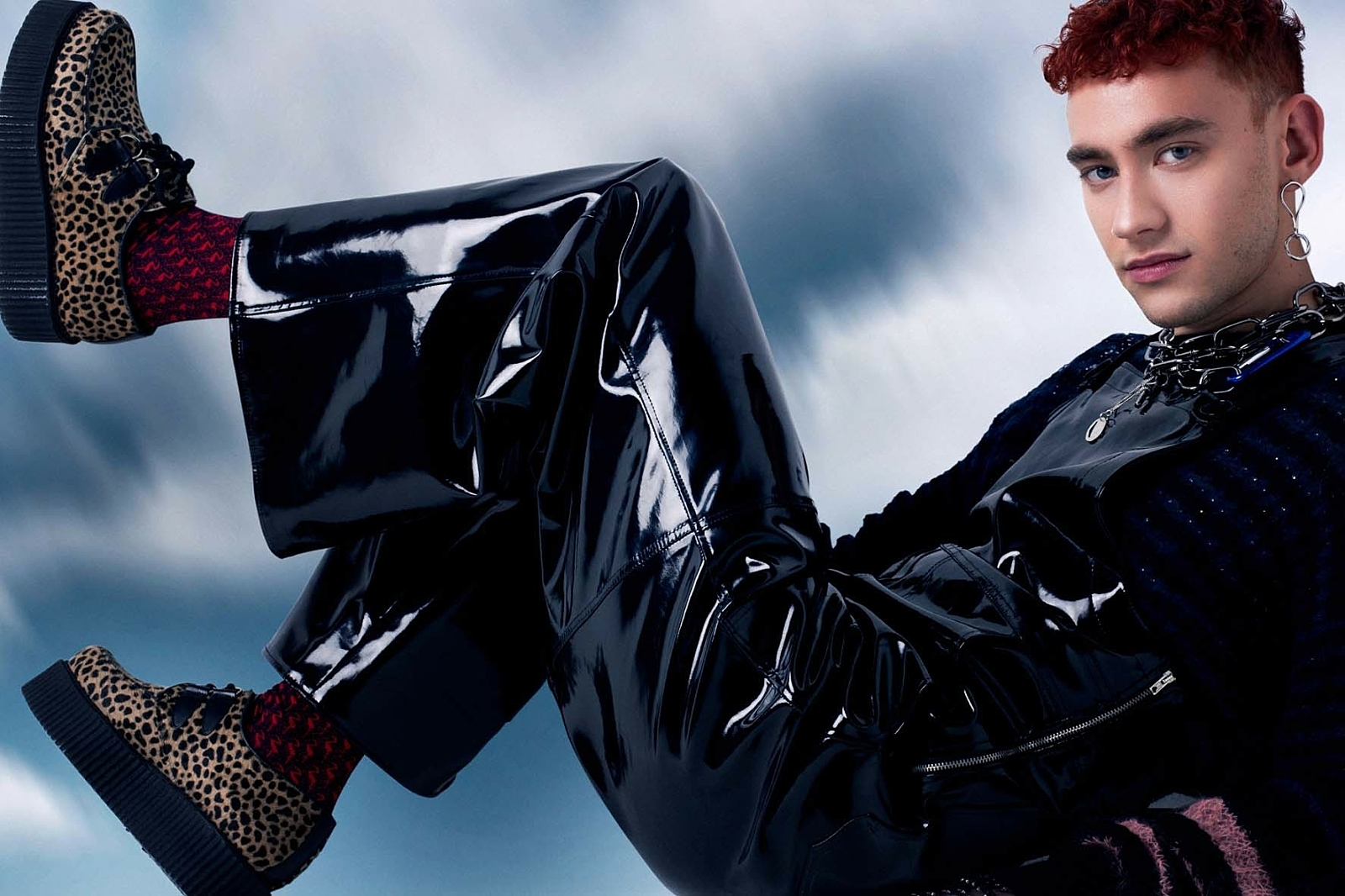 Let it burn: Years & Years
With Years & Years' second album 'Palo Santo', Olly Alexander is smouldering away all negative energy and shaping communities from the dancefloor.
Years & Years' ringleader Olly Alexander - clad in a magnificent pair of PVC overalls; his second costume change of the day - is currently milling around an East London photo studio, thoughtfully munching on cookies, and discussing Mariah Carey in great detail. The megastar pop icon has hit the news this same week after speaking publicly about her bipolar disorder diagnosis for the first time, and Olly's quick to commend her bravery in letting down her barriers. "I think it would be nice to believe that pop stars and famous people are just incredibly happy and fabulous; that they move glitteringly through the world, and that everything they touch turns gold," he reasons. "But it's a fantasy. Actually, I think vulnerability - and being able to be vulnerable - is a sign of real strength."
You sense that Olly Alexander lives by these same words as he navigates the landscape of being a pop star in 2018. In the three years following Years & Years' rapid rise to the highest echelons of the charts, Olly has gradually morphed into something of a public figure, too. A prominent spokesperson on mental health and LGBT activism in particular, Olly dedicated the band's landmark Glastonbury show in 2016 - which took place roughly a year on from the release of their debut album 'Communion' - to pride, promising to "shove a rainbow in fear's face" in an emotional speech to the assembled crowds. A year later, Olly took a camera crew back to his unassuming hometown for a moving BBC documentary titled 'Growing Up Gay', and was very honest in discussing his experiences with bullying, eating disorders, and anxiety. 'Palo Santo' - Years & Years' second album - is a continuation of this, combining ridiculously overblown, brilliantly lavish sci-fi landscapes and gigantic pop ambition with an amped-up sense of honesty, and a space-reclaiming edge that defies the presence of negative energy. Today, Olly observes that one of his chief goals as an artist is to write the songs that would've lifted him up as a teenager still searching for a community.
After spending several years moving around the country living next to a variety of theme parks - the singer was born in Blackpool, where he lived next door to the Pleasure Beach, before moving down the road from both Alton Towers and Staffordshire's Drayton Manor - Olly Alexander and his mum settled into rural Gloucestershire life when he was thirteen. Trading in the garish Blackpool illuminations for the distant glimmer of the Severn Bridge, it was a drastic change in pace ."It always gets described as sleepy, Coleford," Olly grins, having swapped his neon-orange PVC vest and chain necklace (another of today's outfits) for something a little more practical. Up until it became the hometown of Years & Years' frontman, the small market town boasted a ukulele expert as one of its most famous residents, and was perhaps best known for being the location of the world's only Ribena production plant. It wasn't exactly the epicentre of queer culture for a teenager searching for a community, especially given that the nearest gay bar - Flamingos - was thirty miles away in Bristol, and located the other side of a toll bridge.
"I was actually too scared to go to Flamingos," Olly remembers, laughing. "I love that as a name for a gay bar. Flamingos!" he announces, with grand intonation. "[Coleford] was never a place that felt connected to anything queer when I was growing up."
"I did like growing up around trees and fields, pretending I was a fairy," he adds, chirpily. "I enjoyed getting that experience."
"
Being able to be vulnerable is a sign of real strength.
— Olly Alexander
Rather than heading to the now-closed Flamingos (R.I.P), Olly surrounded himself with a sea of pop bangers growing up instead, worshipping at the altar of Christina, Britney and TLC. And speaking of worship, he also remembers taking notice of another prominent community in the town: the church next door to his house. Though organised religion wasn't his bag, the strange rituals - decorating an orange for Christingle, reciting the Lord's Prayer at his local Church of England primary school - proved intriguing. Later in life, he'd grow to view songwriting as a cathartic and mysterious kind of healing ritual, as well as noticing odd parallels between a church's sense of belonging, and the celebratory freedom that exists in a space filled with dancing, thrashing bodies, and filthy, sexy pop.

As Years & Years were starting to etch out the first strokes of 'Palo Santo' at the beginning of last year, Olly explains he was "newly single", and reading a lot of books in his spare time. Besides taking on the mammoth task of conquering David Foster Wallace's Infinite Jest, he also picked up Andrew Holleran's cult novel Dancer From the Dance; set amongst New York City's LGBT disco scene in the 1970's. As well as being flamboyant and fun - presenting a campy, fabulous surface world that's soundtracked by The Marvelettes and Sister Sledge - it's also a heartbreaking read, documenting the "psycho-sexual drama" of desire, and touching on both loneliness and immense inequality. It's a double-edged sword that also exists in 'Palo Santo'.

"It talks a lot about how the club is like a church; a church for gay people to go and dance, and I was like, yes!" Olly says, excitedly. "This is putting into words how I've been feeling for so long, and what I've been trying to communicate in music. It really inspired me to write a lot," he says. One song on 'Palo Santo' directly credits the book as an influence. 'I breathe the rituals of the dancer's dance,' Olly sings on 'Sanctify'.

"When I see dancers, their body is their medium," Olly notes. "The art is their body. What an amazing embodiment of creativity, to literally be your limbs and your expression and movement! I've always been enchanted by dance," he says. "Plus, I think a pop video should have dance in it, too. It's a prerequisite! A bit of choreography! You want that fantasy moment where everybody's going to burst into dance. Some choreo! I just think, if you can't do that in a pop video, where can you?"

Such considerations rule on 'Palo Santo', an album that pushes every last bold facet of pop to the maximum extreme. Set in a high-concept, futuristic world which plays on traces of real life to sneaky, allegorical effect, it also sees Years & Years more fearless than ever. One pulsing highlight, 'Hallelujah' dives straight onto the dancefloor to find healing in letting loose, while Olly's current favourite 'Lucky Escape' confronts the more unlikeable aspects of our own emotions. "It's such a petty song!" he reasons. "I was quite sick when I recorded the vocal for it, and I can really hear when I listen to the song that I'm not feeling very well. I don't like the person that's saying those words in a way, but it's an honest reflection of what I was feeling at the time. I'm proud to put that on there."


"
I've always been enchanted by dance.
— Olly Alexander
Over the past three years, Olly says, he has started to realise that pushing his own boundaries reaps creative rewards. "Putting yourself in an uncomfortable position - in terms of the creative process - it usually means you're going to get something worthwhile," he adds. "I really had to get past the levels of pettiness…. sometimes it made me laugh. I'd be writing a song when I was so angry at my ex boyfriend. I would never want to present this to the world, where I'm just this bitter ex who's still hung up on him!' Olly admits. "[But] actually, sometimes we are hung up! It's an ugly, but also truthful and beautiful, side to our humanity. I had to be okay with it."

Another standout track called 'Rendezvous', meanwhile, contains hints of Jennifer Lopez's euro-banger 'On the Floor' ("it does!" Olly exclaims in agreement) and explores hook-up culture, along with unpacking his immediate feelings as a relationship draws to a close. "After a relationship you think, maybe the things they did weren't as well intentioned as I thought they were?" Olly says. "I was in my petty, angry phase. I have had a lot of experiences with guys where the sex has felt like this depressing inevitability. We're gonna meet up, and we're going to have sex. That'll kind of be it, and then onto the next person. What's happening in that interaction, and what happens in that interaction when it's someone you want more from?" he asks, pausing. "I also just really wanted to write a song called 'Rendezvous'!" he adds. "I think I'd smoked a really big joint before I wrote that song, so there's that, too. Beyonce would have a song called 'Rendezvous' and she'd kill it! She has 'Deja Vu', of course. Britney loves a French moment, too. With stuff like that, you just need conviction."

Conviction is a world that springs to mind easily when you're talking to Olly Alexander. As well as his commitment to sharing his own experiences with unwavering honesty, this new era of the group feels like a step onwards from the anonymous throngs of bodies that once grabbed at Olly way back when the band released their video for 'King'. Performing solo gyrating routines for a panel of extra-terrestrial judges as Years & Years returned with 'Sanctify' - a bit like a filthier Strictly Come Dancing if it were set in an alternate universe - it's the very definition of conviction. And with his bandmates Emre Turkmen and Mikey Goldsworthy also taking on a slightly different role this time around - acting as behind the scenes production wizards and, as Olly puts it, "his musical husbands" - there's a sense that he's also careful when it comes to handling his newfound platform responsibly.


"
What is the point of a pop star in 2018? What should they be saying?
— Olly Alexander
"What is the point of a pop star in 2018?" Olly asks nobody in particular. "What should they be saying?"

Heading into 'Palo Santo' with the aim of creating a record that tackles the intricacies of belonging in a world that feels increasingly dangerous and fragmented, the band crafted an entire fictional landscape to explore the darker grit. "It felt too monumental, hard or depressing to set everything in our real world," he reasons. "I thought a lot about where I could make a place where we take out all the rules surrounding gender identity and sexuality. I thought, well, why don't we just have everybody be androids?" Olly laughs.

"I've always loved artists that take people to their mad world with them, like Bowie, Prince, Gaga. I thought, I want to do something like that, and go as big as possible," he concludes with resolve.

In 'Palo Santo', Years & Years have done just that, flinging open the doors on a vastly ambitious universe that ignites life's bullshit in a blaze of euphoria. Infiltrating the mainstream with dagger-edged pop - and doing it in fantastical, glittering style - Olly Alexander might just be the most important pop star we have in 2018.


'Palo Santo' is out 6th July via Polydor.