Unlikely Bond theme tunes with a license to thrill
From Bjork to Slade: who should 'do' the theme for new James Bond flick, Spectre.
Everyone's favourite sexist murderer is BACK! Today, Spectre, featuring the rocky cliff face of Daniel Craig, was announced to fans of espionage, gambling, problem drinking and noisy cars everywhere, who are very pleased indeed. Probably. So that's good.
What hasn't been announced, however, is the theme song for Spectre. Last time round, Adele's 'Skyfall' was an Oscar-winning smash, but we reckon they have done and could do better with the choice of music. Remember when Shirley Manson did one? Halcyon days. If you ignore Madonna's effort, the likes of Shirley Bassey, Tom Jones and Paul McCartney have enjoyed success as performers for the franchise, with memorable ditties that play before James Bond has sex, gambles or shoots someone. Or all three. Since he predominantly seduces unmarried women, the gamble he's taking is with the approval of Jesus.
So let's consider the options and come together as a populace to decide which sounds should help set up another Bond documentary. Here are some options, go on Twitter to vote for your favourite. If it's chosen as the official soundtrack, this document serves as testimony for the payment of £100,000 (I have PayPal).
Lethal Bizzle ft. Daniel Craig, JME, Scrufizzer, Frisco, 2Face and Flowdan – 'Leave It Yeah (Remix)'
Over recent years, two cultural phenomena have intertwined. As Judi Dench continues to rule over the landscape of cinema (having starred, written or directed 400 films all over the world in the last year alone), Lethal Bizzle's clothing brand DENCH has become the official outfitter for the Royal Navy, many rural schools and the Pope. It makes sense, then, that the next Bond theme serves as an homage to these two pillars of media. Daniel Craig jumps on the mic in place of former Arsenal footballer Emmanuel Frimpong, whose verse on passing the ball to Van Persie ("dench goal, oh lord, oh mercy") is great, but with a Bond theme, it's unlikely that his lyrics work as well. Craig could come in, as the character of James Bond, delivering a blistering 16-bar on the virtues of his employer. "DENCH", we all sing in unison. The video would remain pretty much the same.
Haddaway – 'What Is Love'
James Bond isn't incapable of falling in love. We saw that in not the last Bond film, but I think the one before that, where the lady dies and he's really upset. Similarly, of the thousands of rubbish gunmen Bond has shot, we can safely assume that they generally had relationships outside of work, with family, friends and significant others. James Bond, normally a cold and calculated secret agent, wavers on his ability to remain impartial, asking "What is love?". The answer, performed by the various future cadavers is "Baby don't hurt me, don't hurt me, no more." Of course, James does hurt them, by shooting them all over their bodies, or choking them to death with a wire that comes out of his watch. Or blowing a building up. He's such a prick, James Bond.
Pitbull ft. Jennifer Lopez and Flo Rida – 'James Bond (In The Club)'
'Skyfall', while being horrendously dull, was somewhat well composed, and the Adele's performance is polished and elegant. If you were to go entirely the opposite direction from elegant, you'd arrive at Pitbull, a leery anaesthetist having the most lucrative mid-life crisis of all time. You never really see James Bond drunk, or in a nightclub, which with his pattern of problem drinking, seems unlikely. Step in an all-star cast who've sound-tracked other things like the World Cup before now, so why not 'Spectre'? Pitbull would say things like "Mr. Worldwide!", which sort of works because James Bond probably has more air miles than a John Terry penalty kick. Flo Rida could come in with a verse at the end about how much he likes to party. It's a guaranteed success, produced by any of David Guetta, RedOne or Calvin Harris. The safe option, for sure.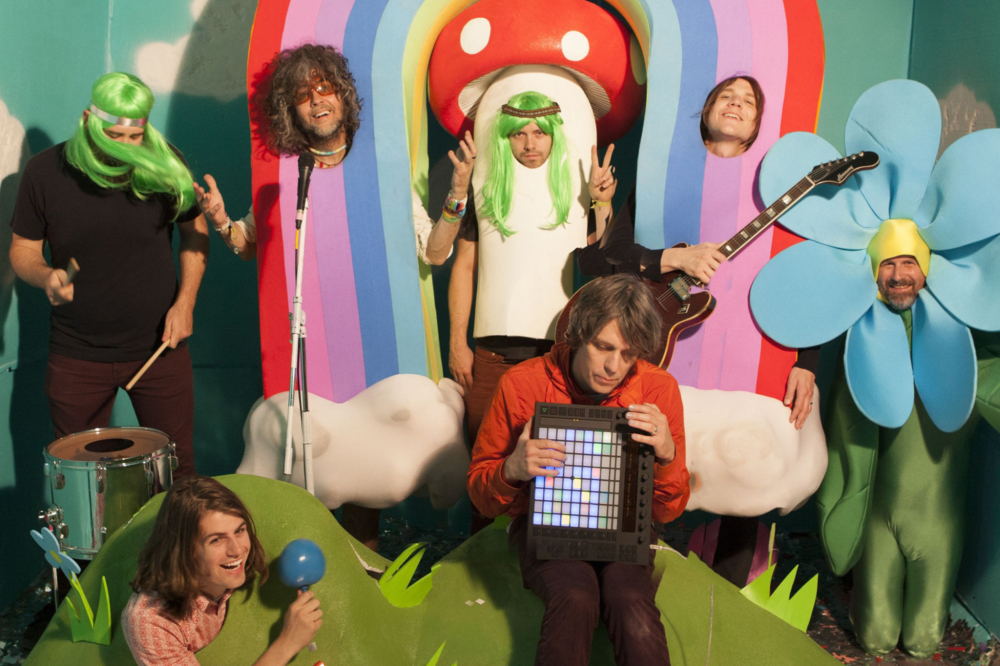 Bjork and The Flaming Lips (ft. Phil Daniels) – 'A Bullet Full of Love (Don't Shoot Me in the Face)'
It'd be great if whoever was composing the score for James Bond was having some kind of nervous breakdown and just didn't care any more. They'd turn up to work tipsy, with a powdery bank card, wearing half a pair of trousers. But they couldn't be sacked, they'll sort out whatever's happening. With this in mind, they've commissioned Icelandic oddball Bjork to combine with The Flaming Lips on a psychedelic trip of a Bond theme, with seven guitar solos and a portion of the song dedicated to Bjork wailing about swans. Phil Daniels (of 'Quadrophenia' and 'Parklife' fame) will bring the track back to its British roots by saying things like "cor, go on, shoot him you geezer" completely out of time with the song.
Gareth Malone OBE and the All-Star Children's Choir – 'Hava Nagila (Bond Version)'
Famous TV song-botherer Gareth Malone is one of those institutions of British culture that, while being famous, no-one's entirely certain why. A man very much of the "who? Oh yeah, him" bracket in our landscape, who does annoying things, but normally for good causes, so you can only get annoyed at him a little bit, and you feel bad for doing so. Put him in front of a choir of All-Star Children (just normal kids picked by Sainsbury's in a contest) and perform Jewish favourite 'Hava Nagila', replacing all the words with "James Bond", and there's a perfectly serviceable theme song right there.
Psy – 'Gangnam Bond'
It'd be great if 50 years from now, Radio 2 plays awful 2012 hit 'Gangnam Style' and several hundreds of couples, now married with children, remember the sticky student union they met in, pretending to be a horse to this song. Reminiscing a bygone era before virtual reality war and flying cars, softly singing along the "hey sexy lady" chorus, staring deep into each other's eyes, looking fondly back on that night in Fresher's Week, where the weird guy in halls turned out to have some gak, so ended up being worth talking to on the way to lectures for a couple of weeks before drunkenly admitting that he once burned down his house and university was the safest place for him. Anyway, I digress. I worry about Psy. Only two years ago he was hobnobbing with UN General Secretaries, dancing with all sorts of famous and important people. Now? Who knows, maybe he's inventing a new dance, or finding out different ways to get away with objectifying women because he's sort of jolly looking. Well Psy, this is your time to mount a comeback. The world is ready for more Psy. A jaunty K-Pop number with rapping in Korean is perfect for a Bond theme. Are you reading this and shaking your head in disagreement? It's because you've not fully imagined the possibilities of this yet. Go away, think about it for a bit, and finish reading this article.
Slade ft. Brian Blessed and Lil Jon – 'IT'S BOND!'
Slade are quintessentially British. They look strange, hang on to past glories and only do something worthwhile every few decades. It seems so right, then, to have an annoying, catchy and obnoxiously loud song for the Bond theme, another important cultural emission that harks back to notions of Empire and being the good guys of the world. Brian Blessed and Noddy Holder alone would be a loud enough team (the chorus would literally be those two screaming "IT'S BOND" repeatedly), but throw Lil Jon into the mix and you've got yourself something truly special. By special, of course, I mean audible.
So there we have it, plenty of possibilities for a wonderful theme song to one of the oldest and most archaic film franchises of all-time. Hell, if Duran Duran have been allowed to do a theme song, why not any of these delightful entries? Pick from numbers 1-7 and tweet them to @DIYmagazine to determine the winner from this awful article, because it isn't me.

Get your copy of the latest issue