Baby Queen: Queen of Hearts
Bella Latham has spent the past three years steadily amassing a dedicated following of loyal subjects in the form of her Baby Kingdom - a legion of fans who are set to stand by her, 'Quarter Life Crisis' and all.
There's a satisfying sense of poetic justice that Oxford's The Bullingdon - named after the infamous all-male university club known for its old-fashioned elitism and vandalism - will, in a few short hours, be packed full of progressive, obsessive, (mostly) teenage girls. The subject of their devotion? Bella Latham - a woman in her mid-twenties who loves Taylor Swift, requests Tangfastics for her rider, and is quickly becoming the vape-smoking, heart-on-sleeve-wearing voice of the TikTok generation.
Better known by her stage moniker Baby Queen, Bella is visiting the storied city for the first time as part of an intimate-ish outstore tour, previewing stripped-back versions of tracks from her forthcoming debut album, 'Quarter Life Crisis'. "We've followed her on social media and been big fans for a couple of years now, but we can't travel too far so we've never seen a show,' says Leah excitedly, explaining to DIY why she and her sister Chloe have been sitting on the front step of the venue since 2pm. They're not bemoaning the wait, though (aside from having to pay £15 for parking - Oxford City Council, sort it out). In fact, far from it. For them, and for the steadily-swelling group of young people gathered on this bit of pavement, their being here for Bella is simply not in question. "I was at uni today," asserts Holly, another fan who's joined our conversation. "I went to my first lecture, and then I skipped my second to come really early so I could be at the front. I have to be at the barrier - I have to have a perfect view." "Obviously," Leah and Chloe agree simultaneously. "You have to!"
Such is the influence of the queen over her Baby Kingdom - a community of hardcore fans who range from Tumblr-esque teens to middle-aged women and beyond. While the phenomenon of fandom is nothing new, and can be traced right from Beatlemania to the Eras Tour ticket scramble, what sets Baby Queen apart is that she's perhaps one of the first artists to have cultivated an online network from the off. Not that she had much choice in the matter. As we speak in a nearby pub before tonight's show, Bella explains that she actually got signed over Zoom during lockdown, and started sending vinyls or letters to fans in the post as "a way to have some tangibility".
As a result, many members of the Baby Kingdom - particularly those who've been here since her 2020 debut EP 'Medicine' - feel a connection with Bella that goes beyond your typical fan-celebrity parasocial relationship. "There are certain fans - for example, these guys over here," she gestures to a small group a few tables away, with whom she later does a round of tequila shots, "they have my cell phone number. They've been fans for the longest time and I'll always make an effort to see them. I feel like I'll always honour that; you can't forget the people that put you on that pedestal in the first place."
Exceptions aside, it's only more recently that Bella's been able to appreciate the full force of her Kingdom's reverence. "You might imagine the people online saying, 'You've changed my life' or 'I'm not the same because of your music'," she says, "but you can't quantify that, you can't put a face to it. It's just an empty phrase; the internet's an echo chamber, and it doesn't feel real." But these more close-knit, acoustic gigs - a far cry from her appearance on the main stage at Reading Festival this summer - have allowed her to "see everyone's faces and actually hear their stories. It's been a very touching experience". Many of the fans queuing outside The Bullingdon come bearing gifts for Bella; she has "the most massive collection" of handmade, beaded friendship bracelets, while after the show people clamour to have her sign records and Pride flags, and take their BeReal.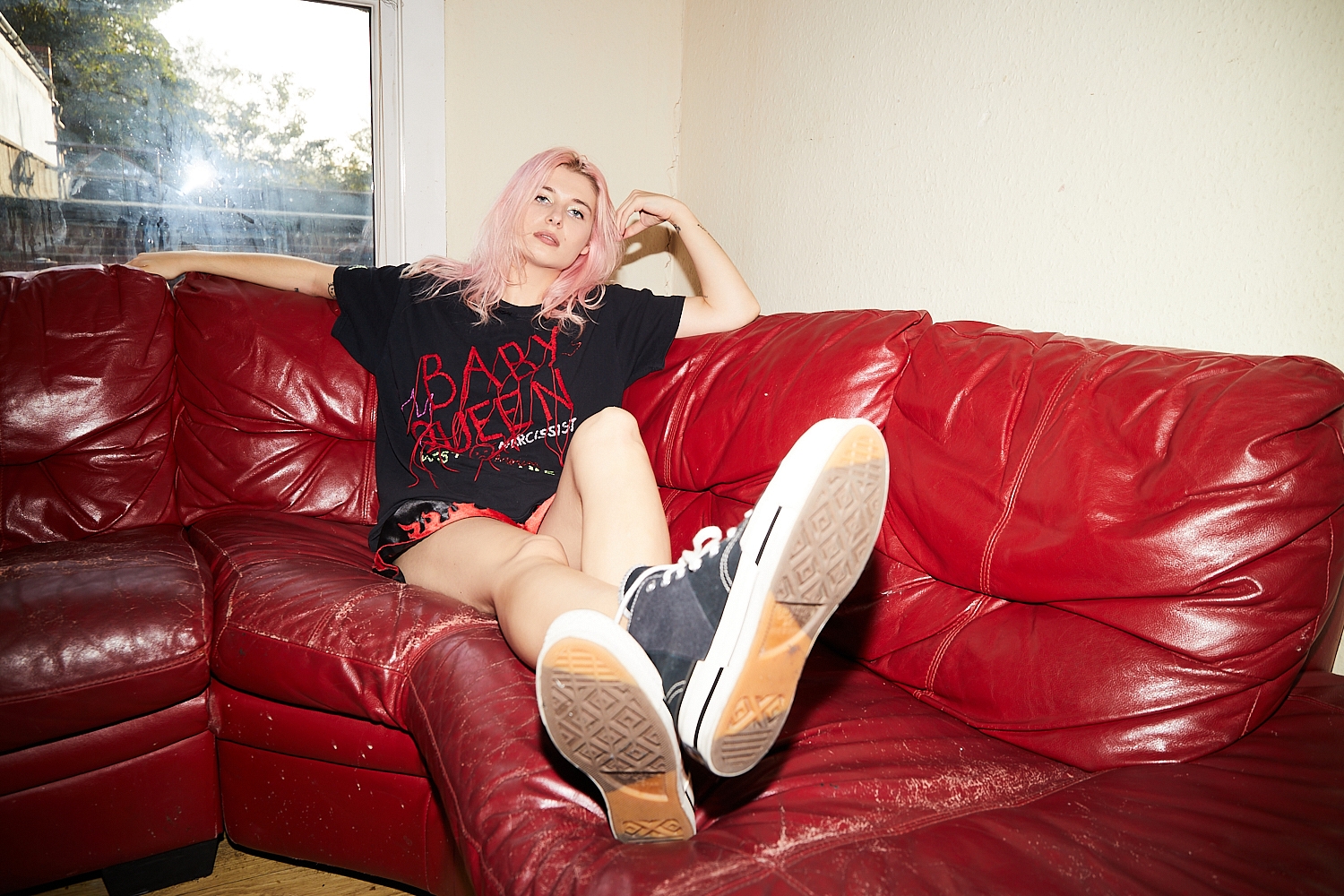 "
"What an amazing experience, to feel these depths of emotion. Because otherwise, what's the point?"
Baby Queen doesn't stop when Bella steps offstage or puts down her guitar; it's grown into something bigger than herself, something that represents connection and acceptance and all the messy complexities of coming of age. These have always been the building blocks of the project - just listen to early hit 'Want Me', a solid-gold obsession anthem written about Jodie Comer. But the associations have been reinforced tenfold by Heartstopper, the hit Netflix show with which Baby Queen has become somewhat synonymous. "It's completely changed my career," Bella smiles. "Alice [Osman] explained how much my music had impacted the show's writing, so it just felt very natural to be more involved."
A handful of pre-existing Baby Queen songs ('Want Me', 'Dover Beach', and 'Buzzkill') were included on the soundtrack of Heartstopper Series One, after which Bella wrote 'Colours Of You' - an understated ode to queer love, and one of the show's most beloved tracks - specifically for its second season, even making a cameo in the finale herself.
It's no exaggeration to say that Heartstopper, along with other flagship, teen-focused series like Sex Education, have been seminal in terms of LGBTQ+ representation on screen. Their depiction of young queer people as multi-faceted, nuanced characters who are developed beyond the labels of their sexuality or gender identity is something that just wasn't on mainstream television a decade ago. "We had nothing like that," agrees Bella. "We had the gay best friend character, or the two really hot girls that were lesbians, to add a bit of flame," she rolls her eyes. "But there was never anything that felt like a real version of two human beings falling in love like straight people. That's what really struck me when I saw [Heartstopper]. I just thought, 'I wish that we'd had this', because I grew up feeling so guilty. That a kid can watch Heartstopper and recognise those feelings and not feel guilty for them - I think that's amazing."
This, in essence, is the ethos at the heart of Baby Queen's debut: making her fans feel comfortable with and confident in who they are, because really, nobody ever has it fully sussed out. "I cried on my 25th birthday," says Bella, referring to the LP's titular 'Quarter Life Crisis'. "When you're younger, you don't realise that you're growing up. And then all of a sudden you get to a point where you're like, 'What the fuck? I was imagining this time in my life and now it's here'." Over twelve tracks the album explores the dizzying highs and crashing lows of these pivotal years, a sonic catalogue of the liminal space between childhood and the adult world, where you crave both guidance and independence simultaneously.
"There's chaos that you dip down into," nods Bella. "There's so much pain, so much heartache - life can be so terrible and so cruel." On 'Quarter Life Crisis', this chaos is manifested in tracks like 'Dream Girl', a synth-led sad banger about unrequited love, à la Robyn (see the eminently quotable "If you kiss her / and I kiss you / it's almost like I've kissed you too"). Or take the quiet hopelessness of 'Die Alone', or the poignant, homesick grief of 'Obvious'; there's no negating the rough patches, no glossing over the ugly parts.
"But," Bella continues, "what an amazing experience, to feel those depths of emotion. Because otherwise, what's the point? You're just floating through, feeling nothing. So really, I think that's the message of the album overall: we stay alive, and we keep going, because it's worth it." And at that age of late-stage adolescence, when things are good - boy, are they good. Album opener 'We Can Be Anything' encapsulates this sense of superlative possibility perfectly, its stream of consciousness spiral blooming into a soaring chorus that befits The Breakfast Club credits, or The Perks Of Being A Wallflower's tunnel scene. "I look at the kids that listen to my music, and I don't want to leave them feeling miserable," says Bella, discussing the track's heady euphoria. "I want to be like a beacon of hope in their lives. As much as you're going to write negative songs that make people feel less alone, I also want to leave a positive impact."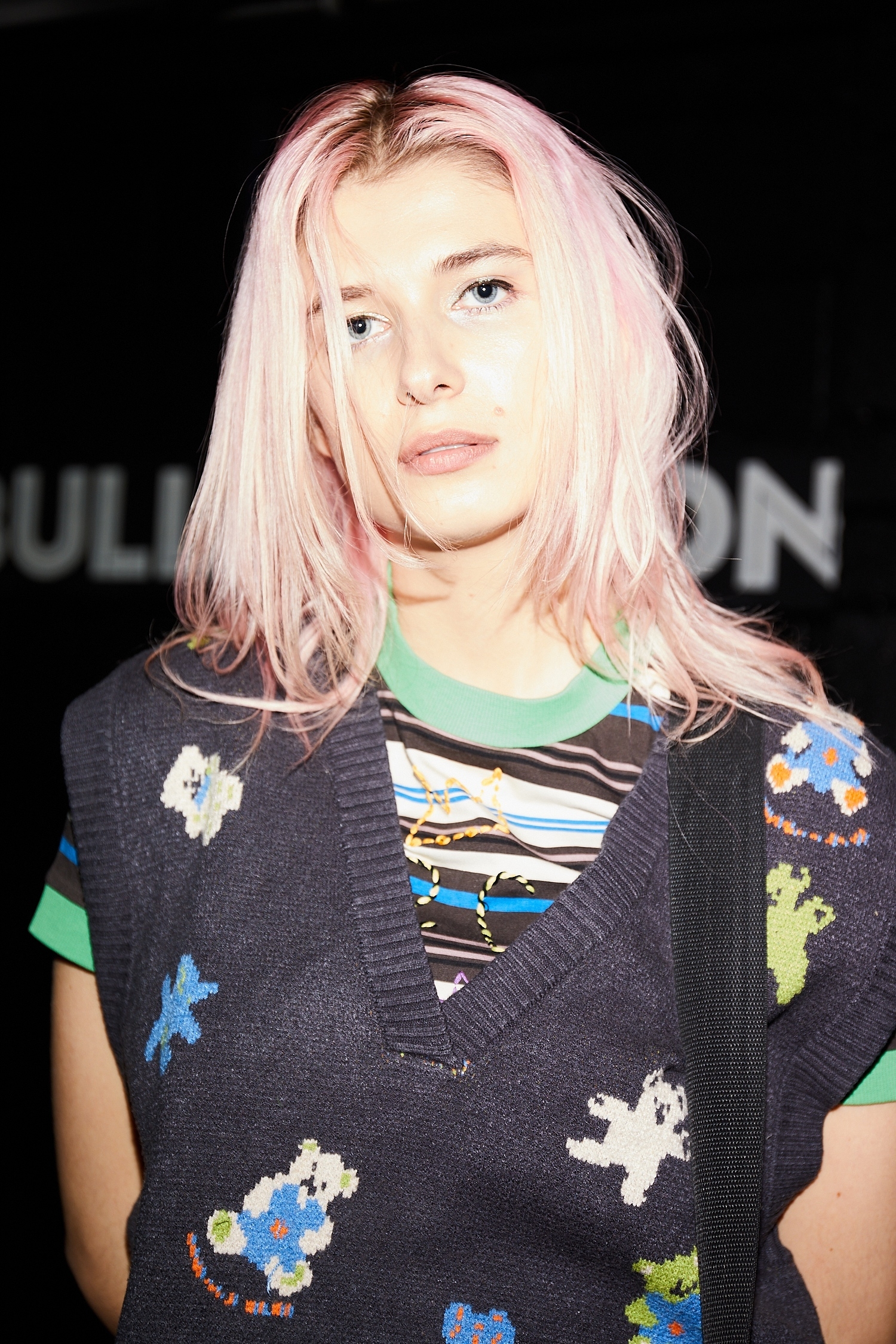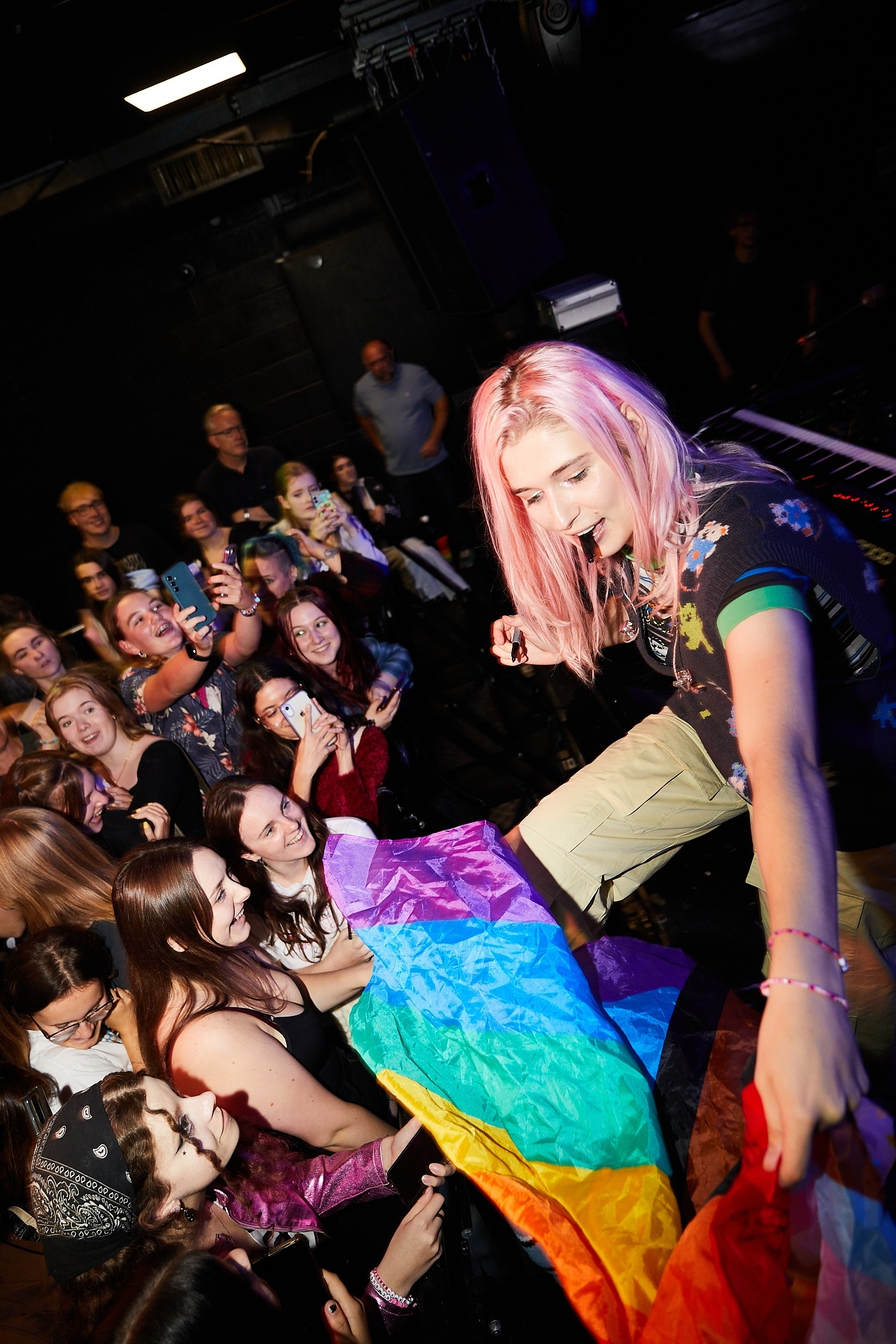 "
"I look at the kids that listen to my music, and I want to be like a beacon of hope in their lives."
The positive impact of Baby Queen, at this stage, is surely beyond doubt. Tasha, one of the fans queuing up today, runs an Instagram account dedicated to Bella's vape - she's well known amongst the Baby Kingdom. Others have set up accounts for Baby Queen's lips, or eyebrows. A decent number of the fans outside have already attended this tour; some of them are following her round the country. "I'm going to pretty much all the shows," says Holly, before explaining that she recently spent eight hours overnight in Victoria Coach Station because she went to the London date and missed her bus home. "I've made so many friends through Bella," she smiles.
The devoted Baby Kingdom-ers are the epitome of everything powerful about being a young person, when you feel so deeply, and love so fiercely. Does Bella ever feel the pressure of being such a role model to them? "It obviously is tough," she admits. "You have to think through everything you do, because the fan base is a lot younger than me." Earlier, as she does her makeup in her dressing room, she proudly shows us her (apparently uncharacteristically organised) sandwich bag of pre-rolled joints, one for each day of the tour. It's a habit she's conscious of not promoting on her platform, but equally, she says, "I've got to be myself; if you don't like that, you're in the wrong place. I'm a bad role model in many ways, and I'm sure there are a few parents that are a little bit like…" she breaks off and grimaces before laughing. "But as far as my views on the world and how I treat people, I think I'm a good role model. I want kids to treat people the way I treat people."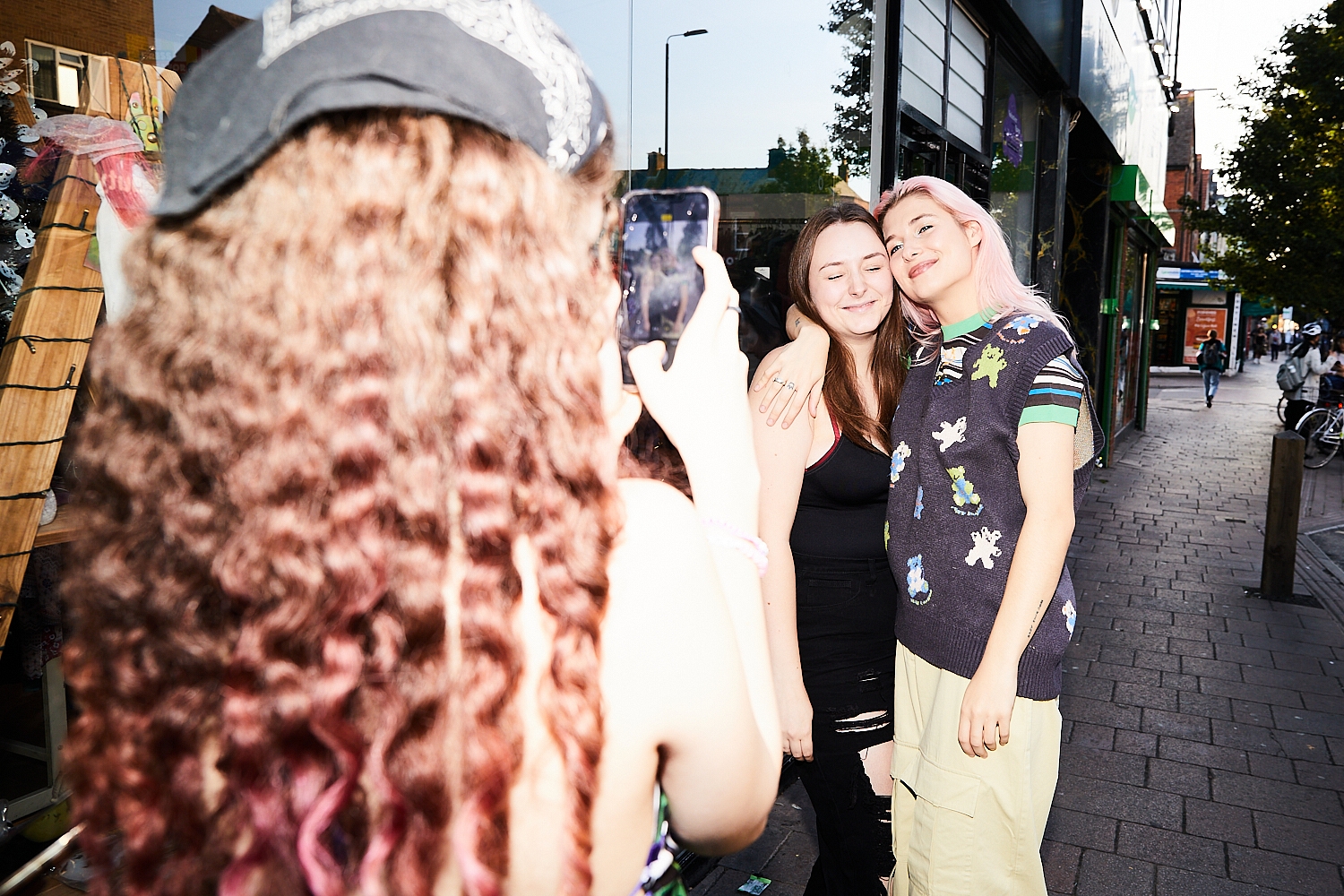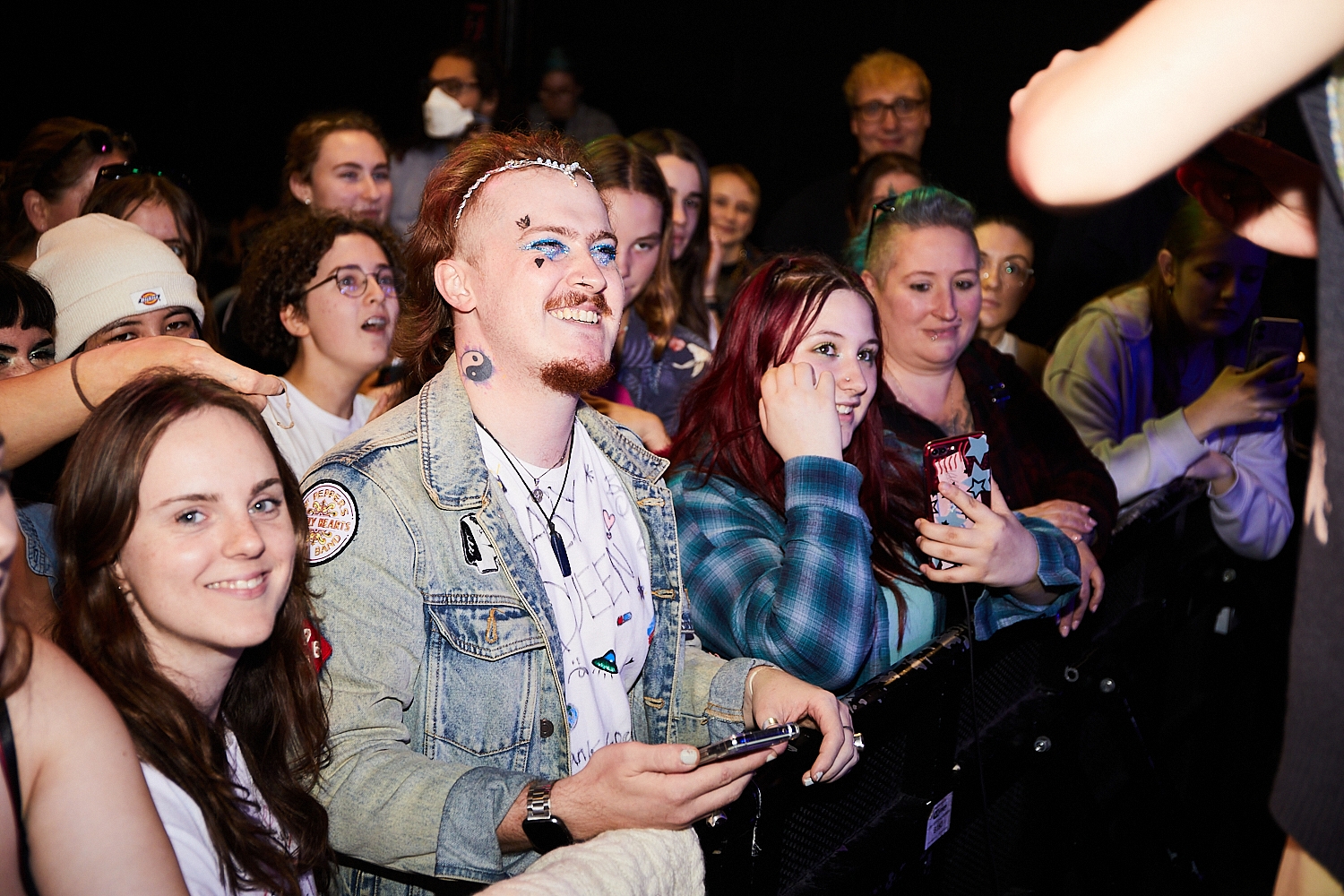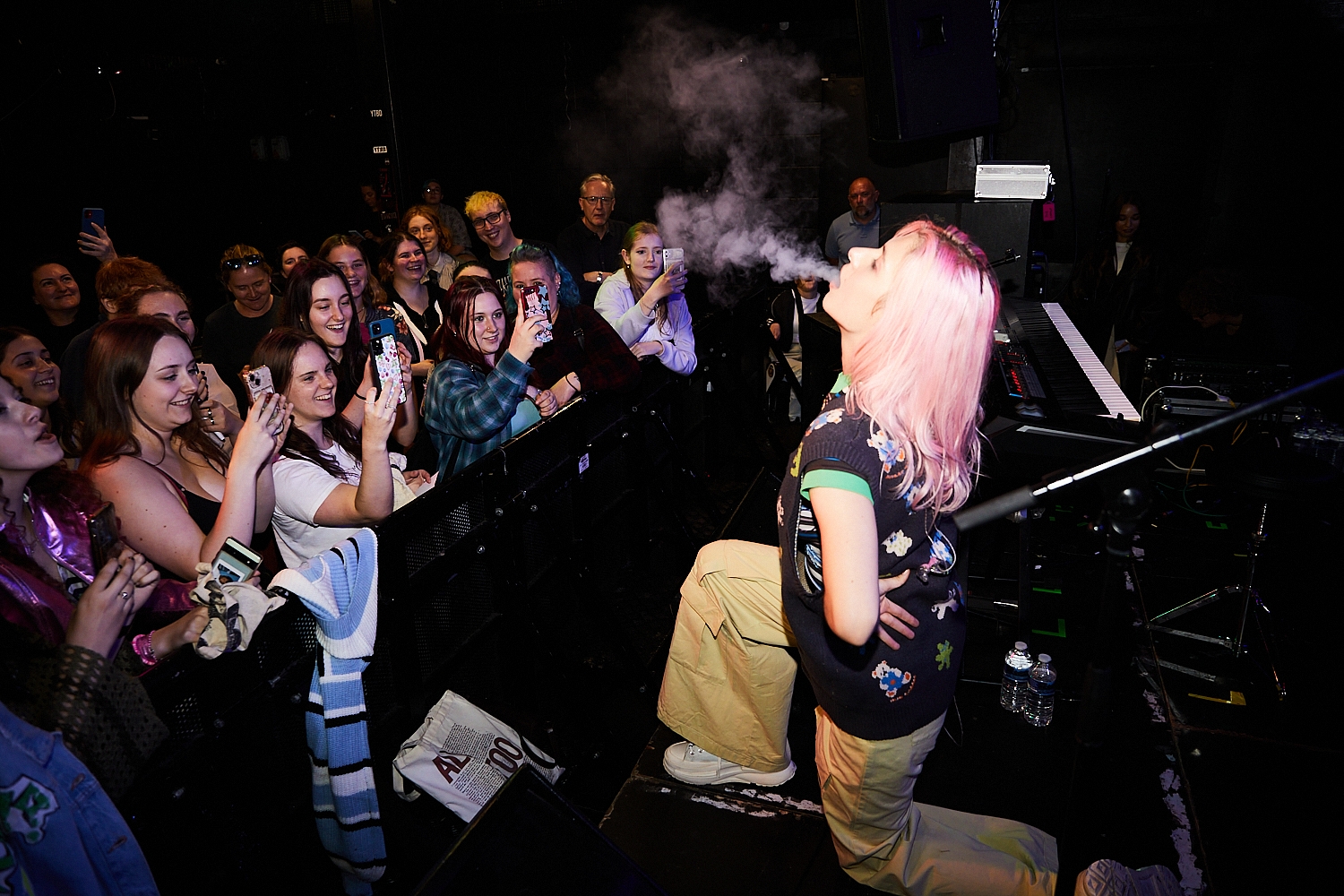 "
"I think of Baby Queen as an entire empire, and I'm just a person."
In performance, Baby Queen exudes empathy and open-mindedness; on record, Bella turns her gaze inward, attempting to afford herself the acceptance she extends so wholly to others (as on 'Letter To Myself At 17'). There can be difficulty, though, in separating the two facets of her identity. "I think of Baby Queen as an entire… empire," Bella says. "And I'm just a person. Baby Queen isn't me; she's so much more than me. She's certain parts of me, distilled and hyper-activated."
Maintaining this exaggerated persona can be exhausting. Being constantly 'on' when interacting with fans requires an admirable level of selflessness. But the fact they have faith in Baby Queen has given Bella the security to remain steady in her creative vision, despite the pressures of the industry. "When you sign to a label you think, 'Oh my fucking God, I'll do anything you want Daddy'," she muses. "But you sort of learn over time - by getting this horrible feeling in the pit of your stomach when you do something that makes you cringe - to really trust your instincts a bit more. It sounds so cliché, but being yourself is everything. The closer you can get to your unique self, the more successful you'll be."
'Quarter Life Crisis' is Baby Queen's most authentically 'Bella' work to date - meaning, by this logic, that her Kingdom is only set to expand. "When I was younger, I always wanted to be famous, to get loads of attention," she smiles. "Musicians all do. People go into this job, where you want to be revered in some capacity, because there's a hole inside yourself that you're trying to fill, because you feel less-than. I wanted to prove to the world that I was worth something." Speaking to Holly, Leah, Chloe, Tasha, and all the fans waiting patiently outside The Bullingdon, it's clear that Bella can consider this mission accomplished (not that it was ever in doubt). Perhaps the most significant part of Baby Queen, though, isn't how they feel about her, but how she makes them feel about themselves. "The only thing that makes you any different to Jane from down the road is the unique way you view the world," Bella says simply. "You have to try and hold on to that."
'Quarter Life Crisis' is out 10th November via Polydor Records.