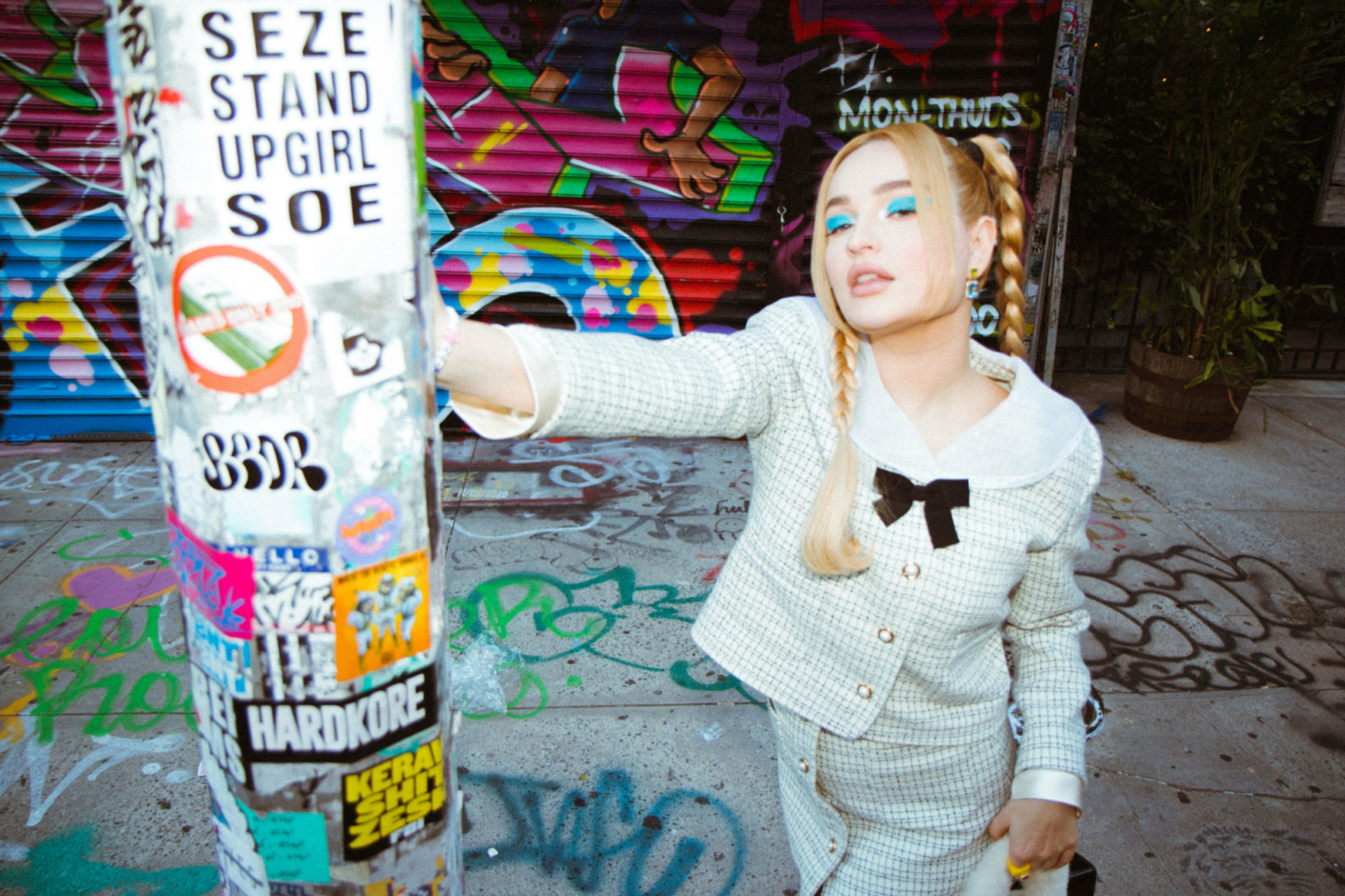 Kim Petras: Très Magnifique!
Like a one-woman pop antidote to Brexit, Kim Petras' forthcoming debut is throwing her arms around Europe (and hot-boxing with Paris Hilton in the process).
"I was like, 'Megan Thee Stallion, I'm a horse, I love you!'" Kim Petras laughs. It's maybe not a traditional way to greet one of hip hop's leading ladies, but when you're at the mega famous, invite only Met Gala, wearing a custom Collina Strada gown complete with a 3D horse head corset - lovingly dubbed by Petras as "the horset" - how else are you meant to introduce yourself?
"It was a big hit in the bathroom," Kim smiles. "I was passing it around to everyone, like Lily Rose Depp, and people were fascinated by it. He didn't try it on, but Kit Harrington was like, 'Oh my god, the horse!' And I was like, 'Jon Snow?!'"
Outlandish but also lighthearted, Petras' outfit did precisely what a Met Gala ensemble is designed to do - Kim's ode to horse girls becoming a pop culture talking point, with a skit about it making it into the Emmys, and people jokingly referring to the evening as 'the Ket Gala' afterwards. "Some people hated it and some people loved it," she shrugs. "That's kind of always the reaction I want from things."
The glitzy event, hosted at New York's Met Museum in September, was the cherry on top of what the 29-year-old pop star describes as "the craziest week" she's ever had: a seven-day stretch that could be summed up perfectly, she says, by the often-memed Lady Gaga "no sleep, bus, club, another club, plane" viral clip.
"It was literally the VMAs, then the next day the Met Gala, and Fashion Week happening while all of that's going on," Kim explains. While she concedes that the all-go lifestyle can be really intense at times, it's one that Petras has fantasised about since she was a kid. "It feels like my dreams came true," she smiles. "I love being in the car standing up because your dress can't get folded, and changing in cars from making it last second to a show. The adrenaline from it is the best thing in the world."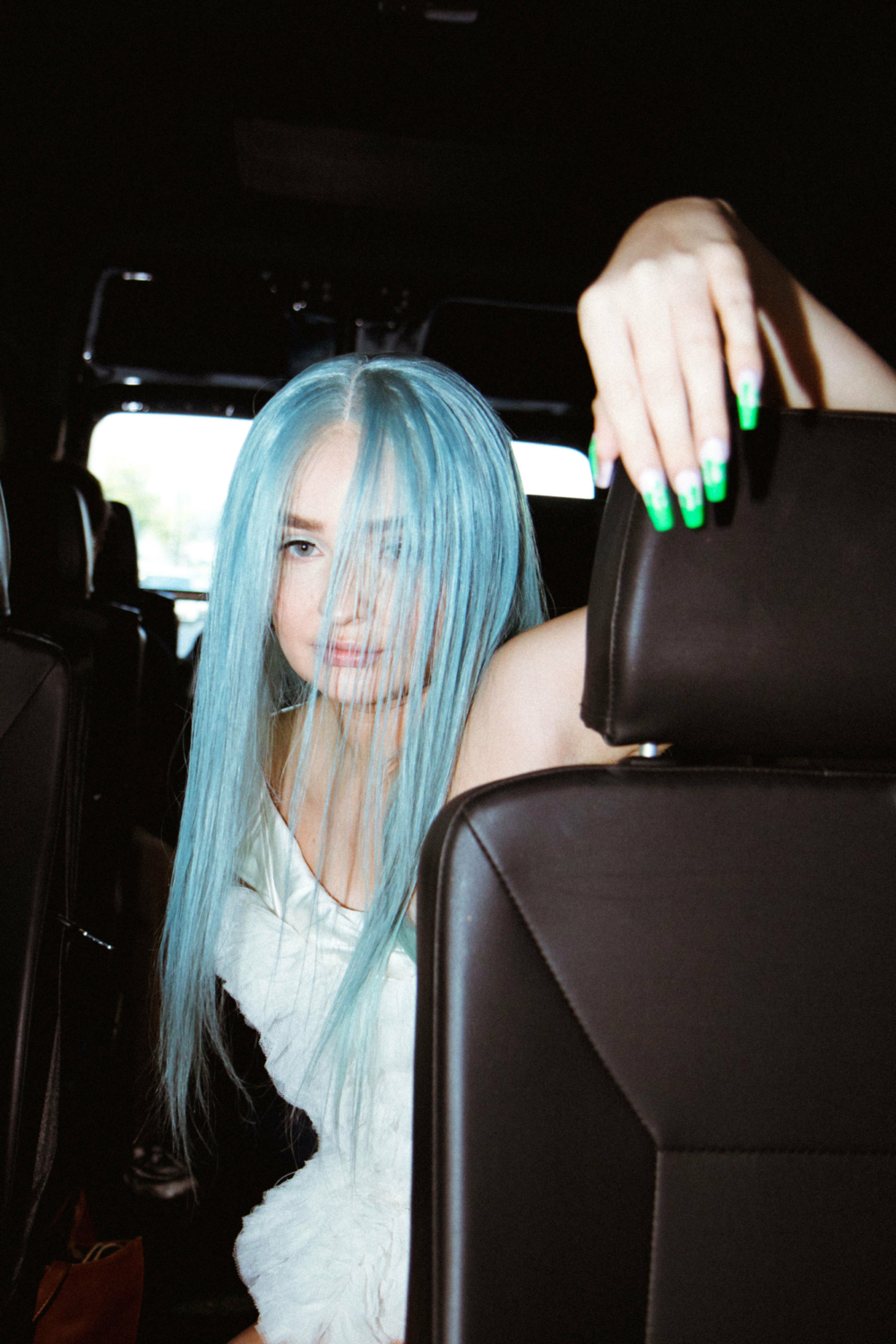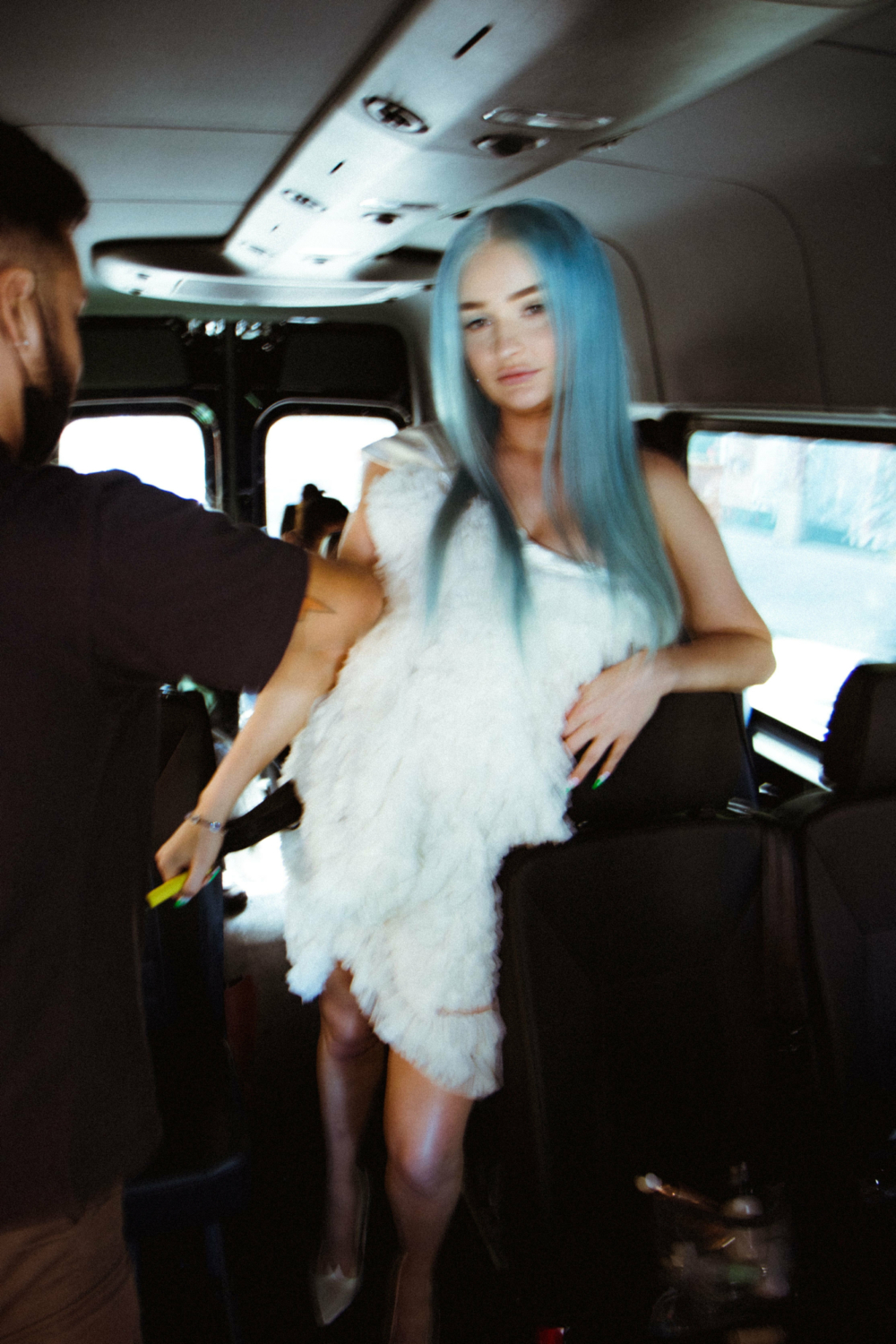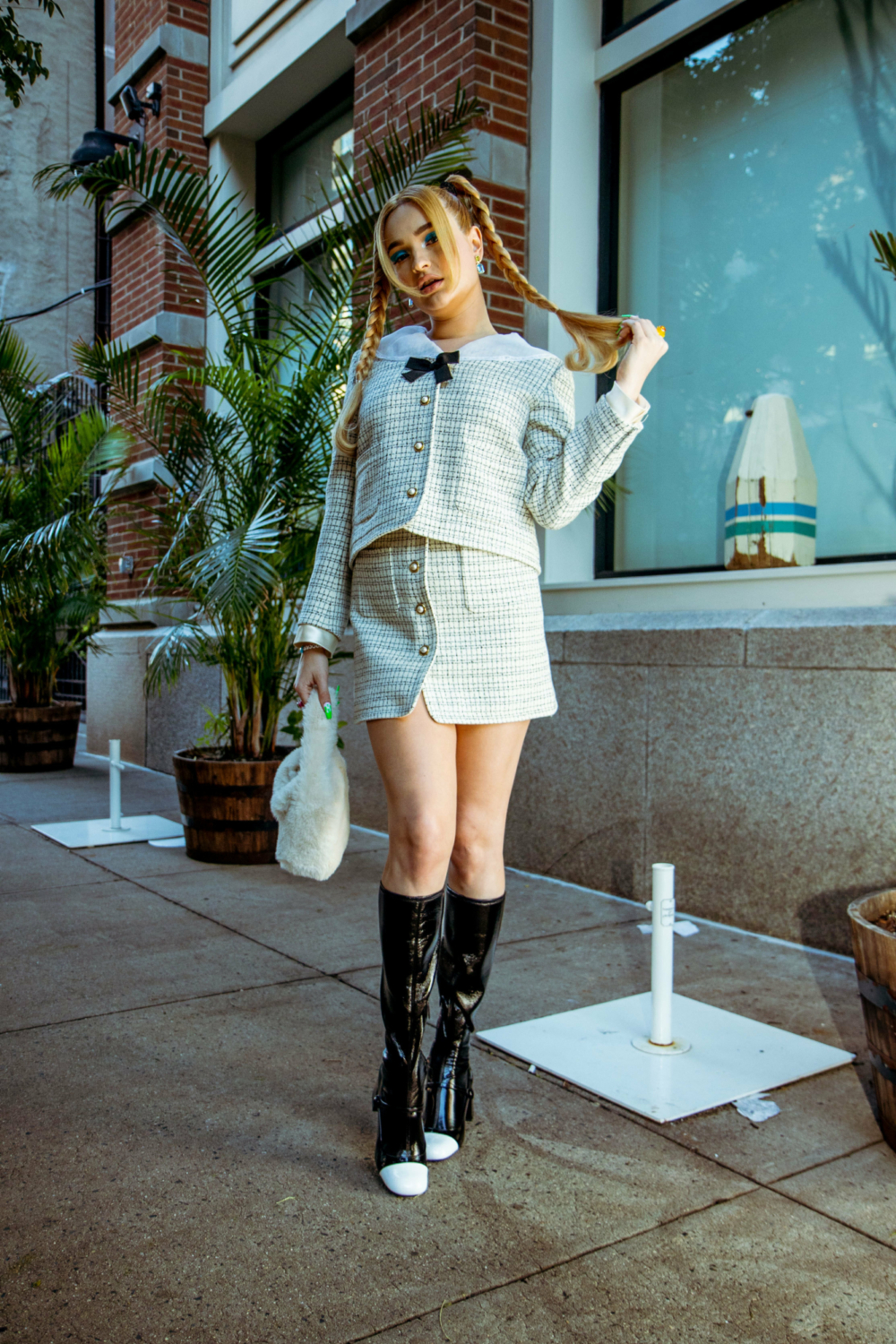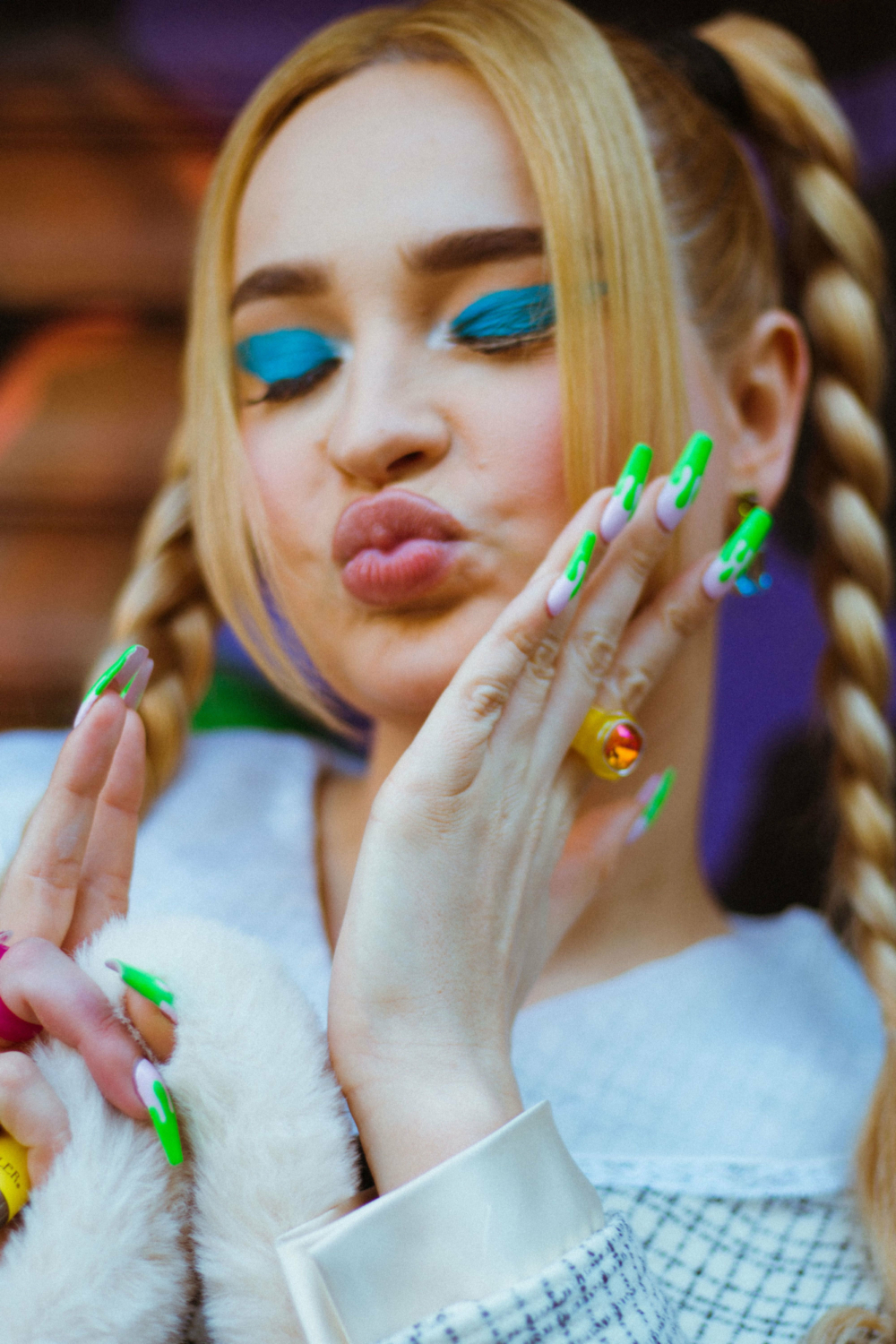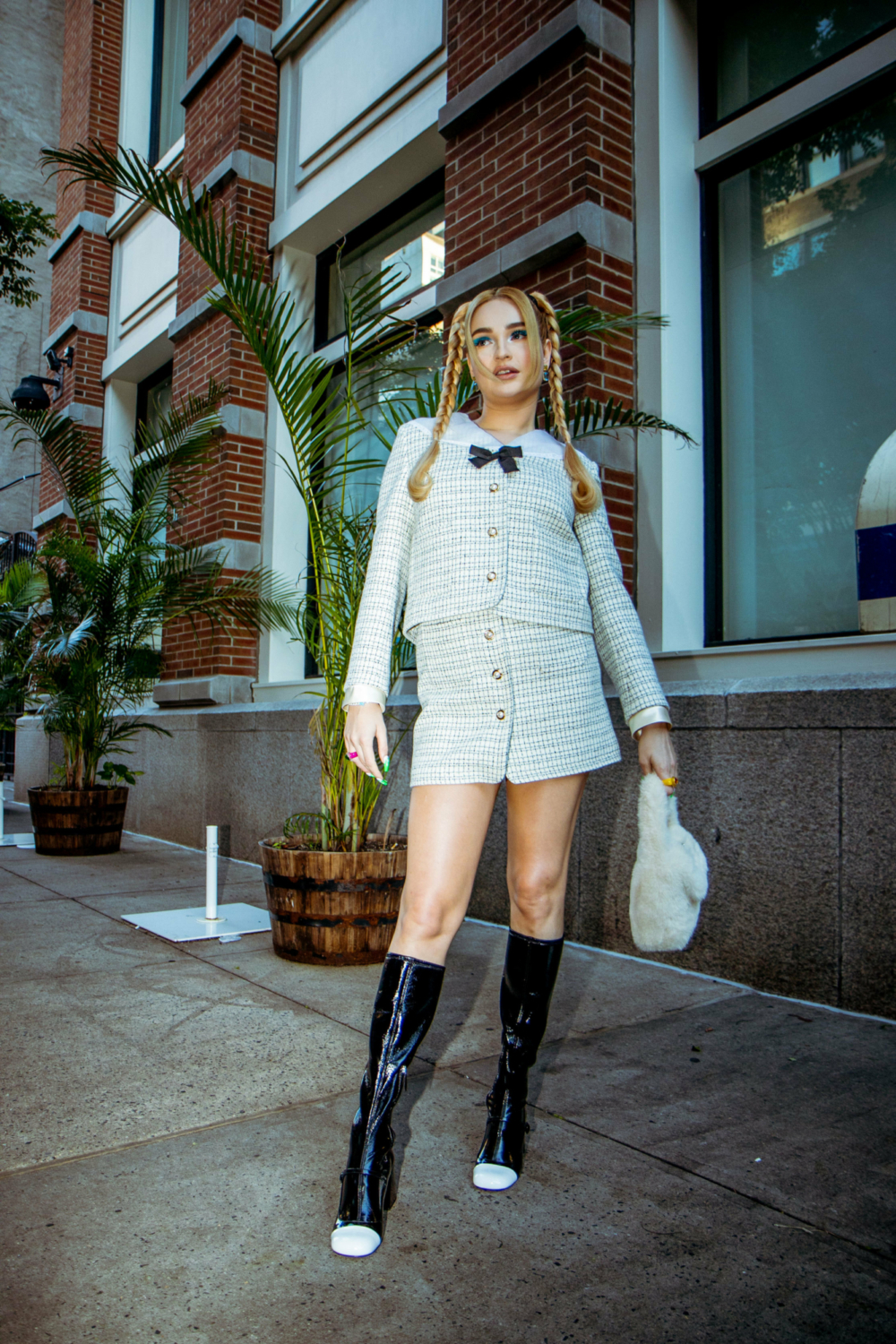 "
I think for me, my personal goal is just being seen as a good artist, without the 'trans' in front of it.
Although Kim has been a rising star since 2017, the increasing stack of invites to exclusive events over the past year has pushed her even further into the mainstream spotlight than before. First gaining attention when her debut track 'Don't Want It At All' rocketed to the top of the Spotify Viral chart on its release five years ago, her 2019 debut project 'Clarity' saw her praised for her sweetened pop bops, whilst her spooky Halloween trilogy 'Turn Off The Light' has become a huge hit, earning her a staunchly loyal fanbase.
Fast forward to 2021 and Kim's consistently adding to those achievements, not least with her already iconic August MTV VMAs performance, where she arrived complete with a pink car to perform new single 'Future Starts Now'. Rivalling the horset in head-turning outfits, the pink latex number she wore to perform was inspired by her love of bubblegum pop - having previously cited the likes of Britney Spears and Jojo as influences.
"Bubblegum pop gets such a bad rep of not being real music and being shallow, but to me it was always an escape, and the fantasy of glamour of it was what really made me invested in it and made it its own world," she explains. "When I would put on Gwen Stefani songs, I would forget about school and stupid people I didn't like and not being popular and shit like that. I would just go to a different place and I think that's art, and it takes skill to make something catchy and sticky, and I think it's a good thing to make pop! So I just wanted to turn it around like, I am bubblegum pop. I love it!"
Not only doing her part to praise the genre, the performance was also historic, with Kim becoming the first out trans artist to ever perform at the VMAs, having transitioned at the age of 16. "Being trans and performing at the VMAs is, for me, something I've never seen," she says. "I hope it inspires other trans artists. I don't want to be the last - that's important to me. There was Amanda Lear in the '70s who had disco hits, and she's never talked about really and nobody knew she was trans; she came out and it almost ruined her career years after she had hits. It's so crazy.
"I think for me, my personal goal is just being seen as a good artist, without the 'trans' in front of it," she continues. "I don't see anyone saying, 'And here is cisgender, male, straight artist Drake', you know? You just talk about the music, so that's important to me. I've worked on being a songwriter and writing pop songs my whole life, and that's what I'm proud of. That I'm transgender, I'm proud of it, but it says nothing about me or anyone, you know?"

"
Paris Hilton and I smoked weed, we recorded the track in my closet upstairs, and the rest is history!
Coming into her new era and with her debut studio album on the way, Kim is ready to prove that she deserves a place among the pop elite, armed with the dance-pop clarion call of 'Future Starts Now' as its first glimpse. Encompassing the philosophy behind her upcoming album, the track is all about living in the moment and not stressing.
"It's really what I've learned," Kim notes. "You know, the biggest things in my life got cancelled after I've worked for three years to get to this point. Now, all you can do is focus your energy in the moment and stop stressing about when you can perform again and do what you love again. It's really the philosophy behind [the album], but it's not the theme. The theme is really Europe."
Starting off in Paris, the record is a sonic inter-rail adventure across the continent, with Kim's current "baguette bitch" alter-ego soon set to transform into a Berlin and London version. A red bus bitch, if you will. First beginning when Kim - who was originally born in Cologne - was unable to go back to Europe after lockdown kept her in LA, the inspiration marks a change from her previous material that saw her explore the American pop girl dream.
"I love the theme of a European girl moving to Hollywood and making it, and I was very obsessed with that kind of narrative in the beginning of my career," she beams. "I think there's nothing better than somebody moving to LA with $500, sleeping on couches and then getting somewhere with it. It's such a fairytale for me. So that was my influence for everything I've done so far, and now it's like, okay, I haven't actually shared this part of myself and this music library that I have.
"I grew up in Germany so I know so many strange songs, and I'm at parties and I'll be like, 'Hey, Charli XCX, have you ever heard this German song?'. It's kind of my party trick, like, 'Do you know this weird Russian song from 2008?' That's kind of a unique thing that I have and I just never explore it, so it felt like the right time to do that."
With influences ranging from Sophie Ellis-Bextor to JUSTICE to even Rammstein, you could be fooled into thinking Kim might be retreating into something more leftfield, but she promises that the record will still be "front to back pop". "It's a very poppy album, but with European theming and influences from Euro songs," she teases. "I wrote about how I feel in Paris, how I feel in Germany, how I feel in Europe in general, because it's a very different mentality than it is in America," she continues. "I miss when people just don't care about you and are rude. Here, everybody's up your ass and fake, and everyone's talking to you all the time.
"A lot of electronic music started in Europe and dance music, for me, is the best!" she continues. "I go out to dance. I don't really go out to socialise and talk to people, which is all that going out is in LA. And I can't really go to gay clubs anymore and dance because all they want to do is take pictures; I can only go to straight clubs now and I don't want to go there! I make music that I can put on with my couple of friends and dance to."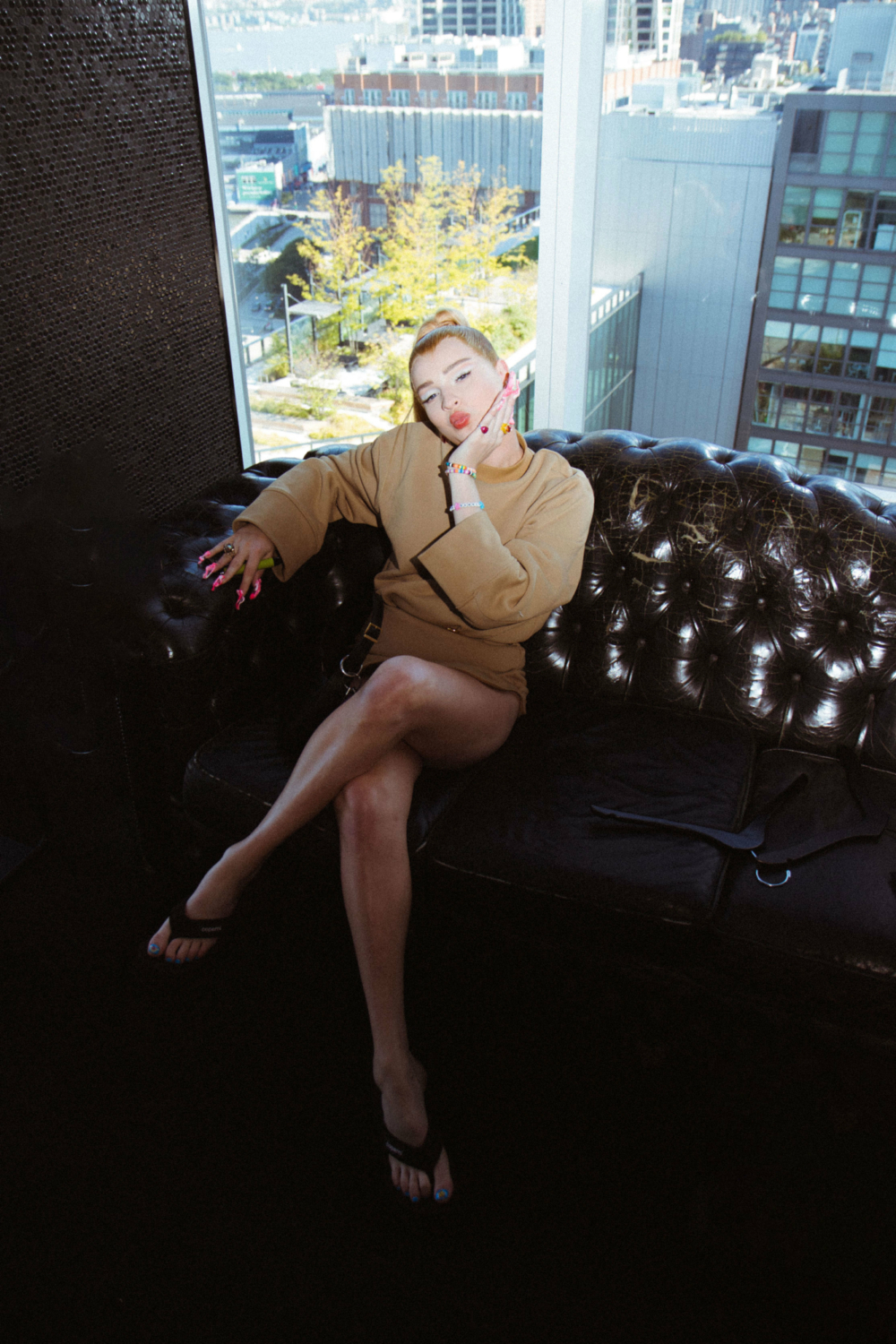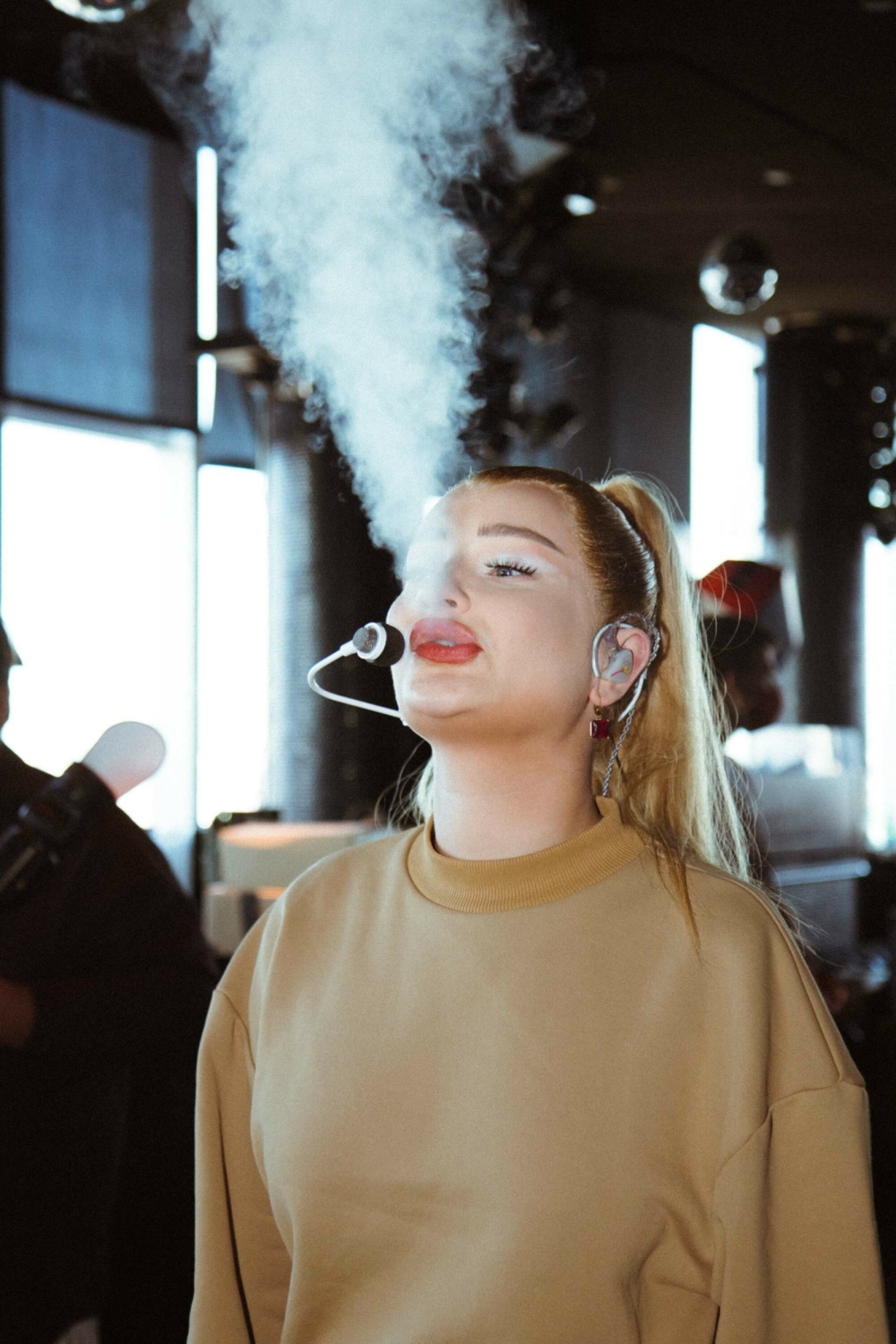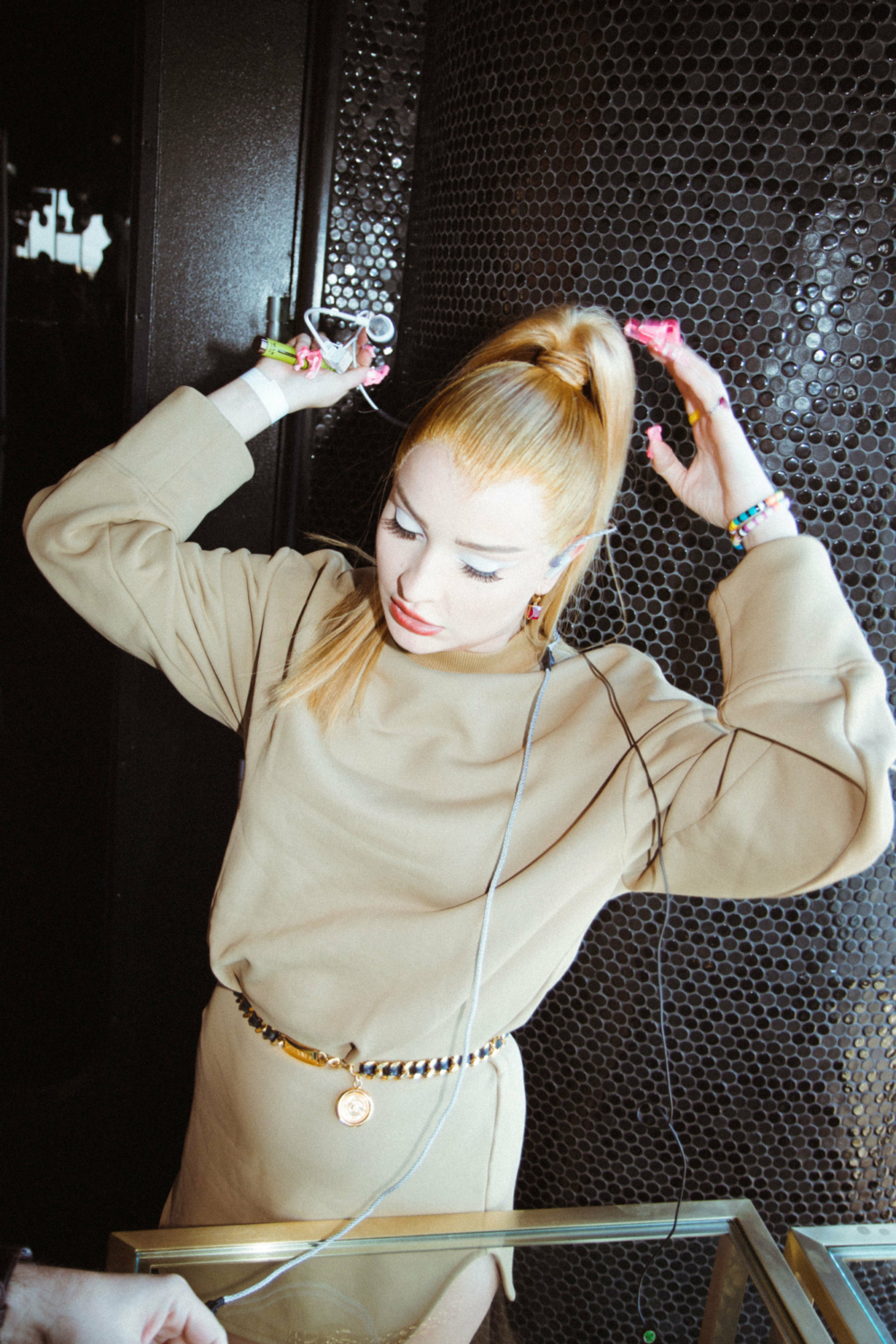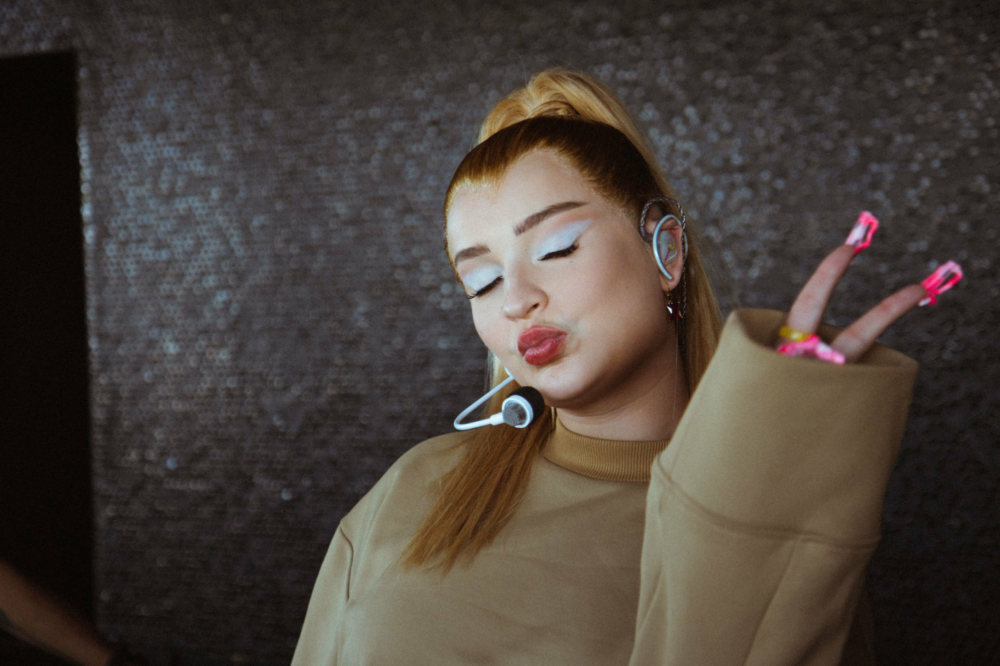 "
I like to push what can be beautiful… like a gimp mask for example.
With her forthcoming album - slated for 2022 but still being kept very much under wraps - packed with dancefloor fillers, Kim also has a special collab up her sleeve. On an iconic scale of one to 10, she puts it at an 11 - and she's not lying, having called upon longtime friend Paris Hilton to make an appearance on the album. The duo first joined forces years ago when Paris made a cameo in the video for debut single 'Don't Want It At All', and are now back together for "very clubby" song 'All She Wants'.
"I fucking love it," Kim beams. "And, I mean, she sounds so good! She's actually singing on it. A lot of people who haven't listened to her debut album are just having her do talking stuff, but I love her tone and her [singing] voice. It was so much fun. We smoked weed, we recorded the track, she recorded it in my closet upstairs, and the rest is history!"
Keeping the other team-ups secret (she promises another "pretty big surprise"), Kim describes other songs on the record as exploring first loves and crushes. There are also harder dance songs that she pinpoints as being more sexual. "I love writing fucked up, dirty stuff, so there's a lot of slut on it," she giggles. "The Britney thing reminded me of how, if a girl writes songs about sex, it's not art and it's not important and it's not winning GRAMMYs. But the shit that 'Gimme More' meant to me when I was a teenager and how it made me feel? I was dancing in my room, I put on my clip-in extensions and wore them around all day. It brought me so much joy, and no one can tell me that's not important music, you know?"
Having worked on her album solidly for the past year over lockdown, she says it's "the music that I would listen to if I was going out right now". She also deleted her Instagram and Twitter accounts off her phone over this period so that she wasn't influenced by any outside sources, and so that her approaching debut is 100% Kim Petras.
Sadly, that focus means the eagerly-awaited third instalment of her 'Turn Off The Light' trilogy won't be soundtracking 2021 Halloween, but Kim promises to be back and better than ever in 2022. "I still technically haven't broken as an artist; I'm selling out big shows and I have a very amazing and loyal fan base, but the goal is having as many people as possible listen to the music so unfortunately ['Turn Off The Light 3'] is not coming this year," she explains. "But it was always meant to be a trilogy, and it's going to be a trilogy, and it needs its epic ending."
With her star power in its ascension and ready to go stratospheric, Kim's looking forward to continuously going above and beyond people's expectations of her - be it within music or fashion, she's eager to push boundaries and not be boxed in. After being made fun of growing up for her outfits, she's now channelling Lady Gaga, Madonna and Cher in how she expresses herself through her "clothes, style and everything".
"I feel kind of a duty to keep that going for kids in small towns who buy Vogue from their pocket money just to be a little bit of a part of that and dream about one day being in that world, I do it for that," she says. "That's why I always want to do something different. I don't really love that right now there's this one type of beautiful. It's definitely changing and it's getting better, but I like to push what can be beautiful… like a gimp mask for example."
Not just pushing the boundaries stylistically, Kim promises that her debut will take the rules of pop she's learnt over the years and flip them. Or, in her own words, "now we fuck with them". "This time, I'm not insecure in myself," she smiles. "I'm not like, 'Am I pretty enough to make a slutty song like that?', I don't think that anymore and that's very freeing. I loved crazy music growing up, and I'm gonna make crazy music and not be afraid of it. For me, it's a confident record, because I was like, I'm just gonna do whatever the fuck I want."

'Future Starts Now' is out now via Amigo Records/ Republic Records.