Placebo: Catastrophe in Motion
More than 25 years into their career, Placebo are as vital as they've ever been. On the cult heroes' eighth album "Never Let Me Go', they're steeling themselves for the end of the world as we know it.
Where there is culture, there is always counterculture, and since the '90s, counterculture has meant Placebo. Formed by singer/guitarist Brian Molko and multi-instrumentalist Stefan Olsdal back in 1994, the band found themselves catapulted into the pop arena when they dropped their self-titled debut album two years later. A hurricane of vitriolic alt-rock, 'Placebo' peaked on the UK album charts at Number Five, introducing the trio - then completed by drummer Robert Schultzberg - as vicious new stars of the British band ecosystem. At the apex of boozing-on-the-beach Britpop, Placebo, with their venomous tones and broody personas, offered an alternative.
Having taken up guitar as a teen, inspired by the sordid sounds of Depeche Mode and Sonic Youth, frontman Brian would soon move to London to study drama at Goldsmiths. There, a chance encounter with Stefan - a trained musician who had once been a schoolmate of Brian's - sparked a creative partnership which endures to this day: next month marks the release of 'Never Let Me Go', their first full album of new material in close to a decade.
Down the phone on a lazy Sunday evening, Brian casts his mind back to those early years. Such a positive reception to the debut came as a shock to him and Stefan, he tells DIY.
"We really felt like we'd duped everyone," he laughs. "We fooled somebody into giving us a budget to make an album and like naughty school children we were gonna get found out sooner or later. So, when success happened, we grabbed at the entire rock'n'roll cake extremely enthusiastically and threw ourselves into it. I didn't imagine that it was going to last. I thought I was living in a kind of alternative reality, you know? I thought the drugs were working better than they really were."
What stood Placebo apart from their sideburn-sporting, lager-chugging contemporaries was as much to do with their looks as their tunes. Doe-eyed and slim, his pale face set behind a soft, black bob, the young Brian oozed androgynous mystique. When the accepted stage wear for a frontman comprised mostly of tracksuits and anoraks, Brian donned dresses, low-cut tops, lip-gloss and eyeshadow. To much of the general public discovering the band live for the first time, Brian was a walking, talking question mark. And he loved it.
"People who didn't know much about Placebo were coming and a lot of them thought that Placebo were a female-fronted band. That became a very fun thing for me. Particularly because sometimes it was people in Oasis t-shirts, and they'd find the singer in the band sexy and then they'd have to go home and ask themselves a few questions once they found out the singer's name was Brian. That tacit challenge of homophobia just by being yourself was as close to political, I guess, as we could be at the time.
"Looking back now," he continues, "it seems that was a real necessity for us, to express ourselves that way. We weren't trying to be extremely different, we were just trying to be us".
"
We really felt like we'd duped everyone. So, when success happened, we grabbed at the entire rock'n'roll cake extremely enthusiastically and threw ourselves into it.
— Brian Molko
Between their provocative aesthetic, razorblade sonics and lyrics about outsiderdom, gender and sexual identity, and mental health, Placebo quickly accrued a passionate fanbase of "misshapes" they share a deep connection with to this day. As their own band grew in stature, they collaborated with other prolific square pegs, reaching the upper echelons of rock lore at the hands of their own teen idols.
Brian mentions The Cure's Robert Smith and Michael Stipe of R.E.M., who he duetted with on 'Broken Promise' in 2006, as guiding forces in his life, both in and outside of music. But when DIY asks about the proudest achievements of his career so far, one name comes up immediately: David Bowie, who lent his vocals to a version of Placebo's 1998 single 'Without You I'm Nothing', and for whom they served as tour support for five years.
"We started touring with him even before we put out our first record," Brian recalls. "We'd do our half-hour set and then every night we'd get to smoke a joint and watch Bowie and learn stagecraft. Learn what it really is to perform." There could be no better mentor for the young punks, and Brian took a lot personally from their relationship.
"David certainly was a legend, but he never behaved like he thought he was. There was always a bit of the working-class boy who grew up in Brixton still in David," he says, imitating a subtle London accent.
"David was the kind of person that treated everyone with dignity. It didn't matter if you were Bono or if you were the plumber. He talked to these people exactly the same way, with kindness, dignity and compassion," he pauses. "You know that Foo Fighters song, 'My hero, he's ordinary'? There was a lovely ordinariness about David, an approachability and a kindness which I think has affected me very, very deeply."
And while being recognised as a peer by the artists he grew up loving gave Brian strength, he remarks, he's quick to admit to having self-deprecating tendencies and finds it difficult to appreciate his own output. "It hasn't totally taken away that voice in my head always telling me I can do better. You know, "It's not Leonard Cohen or Bob Dylan, now really, is it?' I have that voice!" he cackles. "You got away with it, but it's not exactly Billie Holiday!'"
Brian's reservations aside, it's obvious that just as Placebo have their heroes, they have inspired countless gangs of misfits to follow in their footsteps. When they shared a bill in 2007, My Chemical Romance's Gerard Way called Placebo one of his favourite bands of all time. More recently, Pale Waves paid tribute to the 'Teenage Angst' music video in their own clip for 'One More Time'. You sense their ethereal presence in Wolf Alice, their thunder in The Horrors, their gender-fucking sex appeal in Måneskin, who weren't even born when Placebo started making music. By continually stepping out of their comfort zone in the name of making great art, Placebo have cemented their bratty, brutish legacy in the sticky folds of rock history.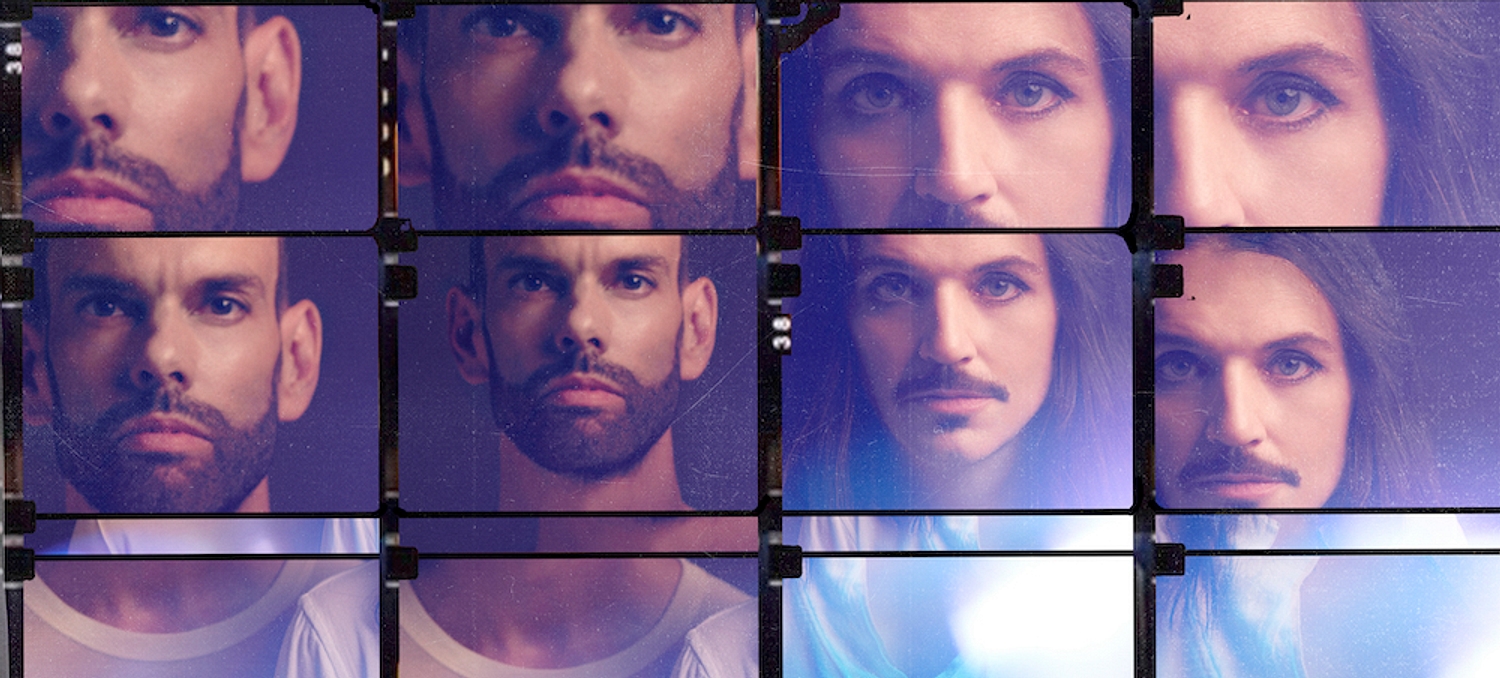 "
We weren't trying to be extremely different, we were just trying to be us.
— Brian Molko
Between their debut and 2013, Placebo released six more studio albums, each charting handsomely across the UK and Europe. They played arena tours, high-profile festival slots and even appeared in the Todd Haynes movie Velvet Goldmine - in blouses and feather boas, no less - covering T-Rex before a powder-cheeked Christian Bale. Sure, they weathered their fair share of drama along the way in drug abuse issues and line-up changes, but their trajectory, their "travelling circus," Brian quips, seldom slowed. That was until a huge 2016 stint marking the band's 20th anniversary - orchestrated by their label at the time - almost halted their train for good.
A result of his self-described "large boredom problem," Brian found revisiting old material night after night - hits like 'Nancy Boy' and 'Pure Morning', which the band had stopped gigging ages back - a trying experience, to say the least. "We went into it quite scared because we felt that it was a very commercial exercise, that it was very self-congratulatory, and to be frank, a touch masturbatory."
But when he and Stefan witnessed the joy that rolling out the classics elicited from their fans, this became the "fuel in the tank," spurring them to continue; then within a year the repetition became unbearable.
"Stefan says he's never met anyone with a lower boredom threshold than me. When you're bored of the sound of your own voice, but you have to present it in public daily, it creates great cognitive dissonance," Brian chuckles dryly. "Towards the end of [the tour], we felt like wax effigies being moved around the planet. At that point I said to myself, I really want to react against this kind of blatant commercialism in terms of what I do next as a lyricist and what moods I create in the studio. I decided in 2017 that everything that 'this' is, the next record isn't gonna be." And so, Brian and Stefan - once again a duo, after the departure of third drummer Steve Forrest - set to work on what would become 'Never Let Me Go'.
"
As we continue to deify money and the creation of wealth over altruism, we're getting more and more lost.
Landing next month almost nine years on from its predecessor (2013's 'Loud Like Love'), 'Never Let Me Go' is an amorphous, dystopian album that revisits staples of the Placebo canon through new prisms of paranoia. Over hypnotic electronica and crashing, sinewy guitars Brian examines the human impact of hyper-surveillance in cities, the emotional toll of climate change, and the desire to escape from oversaturated modern life. Most of the record was complete before Covid happened; that nightmare only added to its message.
It was after the anniversary tour that Brian began looking at the world around him and considering what he found most disturbing in it. Realising society was under siege from data-hoarding web companies and untouchable corporations polluting our minds and environments, he asked himself, as many of us have, how the fuck did humanity end up like this?
"What I'm interested in is the seduction," he states wryly, explaining how he enjoys using characters in songs to channel intimate emotions. "The story that interests me is how we've allowed ourselves to be seduced. I wanted to talk about how [these issues] feel from a human perspective."
Being in the public eye from a young age, Brian has long had to deal with his space being infringed upon, in the tabloids and by "rock'n'roll kids" who used to congregate outside his London flat, sometimes plucking up the courage to ring the doorbell. With the advent of smartphone cameras, the intrusion became overpowering, and he found himself forced from his adoptive home city.
"I left completely disillusioned. It was seeping in everywhere, this lack of privacy..." he trails off. "You feel like you're being surveilled by the people two doors down. You almost need to drop out, to run away from the gaze." He probes these escapist fantasies on "Went Missing', a discomforting sung-spoken track about a figure who flees from his planet to find safety elsewhere.
Anger bubbles through the album too. Eerie and agitated, "Surrounded By Spies' sees the band on top form. For it, Brian utilised the "cut up' writing technique popularised by author William Burroughs (and later Bowie, too) to create disturbing fragments of social commentary: "Dead fly on a national anthem", he yells repeatedly through its narcotic percussion. "I see faces on the bathroom floor / Come on over and I'll show you more." 'Try Better Next Time', meanwhile, meditates on climate change, suggesting that just maybe the human race deserves to go up in the forthcoming blaze of its own overconsumption. Brian points to the United Nations' COP22 summit as an example of profit prioritised over people.
"We're gonna look to capitalistic solutions to solve the problem that capitalism got us into in the first place," he scoffs. "I think it's the profit motive itself that's going to spell the end of our species. As we continue to deify money and the creation of wealth over altruism, we're getting more and more lost."
How does he feel about the CEOs atop the financial food chain who got us into this mess? Is there any saving those kinds of people?
"Fuck me. The thing is, these guys, they're trying to turn themselves into proto conquistadors of outer space. If we get to another planet, Jeff Bezos and Elon Musk will have us paying for our air and poor people won't be able to breathe." His usually catty tone is suddenly charged with anguish. "This is the brilliant future that they're offering us. I mean, it's already ridiculous that we have to pay for water. Water isn't a luxury, you know, you can't live without it. Is there nothing left we haven't monetised? I'm bored of how everything has to be about making a deal."
Perhaps to perfectly illustrate the dystopian edge of their new record, in its press release, Brian admits being jealous of his teenage son's generation who may get "front-row seats to the apocalypse". Admittedly today he's quick to disclaim that despite his own morbid visions of the future, "the world still needs people with hope and optimism" and yet...
"I have climate depression, so I'm not sure that people should actually listen to me too closely," he laughs. "Maybe my son's generation will save the planet. Maybe they won't. I'm just very disappointed by the human race."
'Never Let Me Go' is out on 25th March via So Recordings.