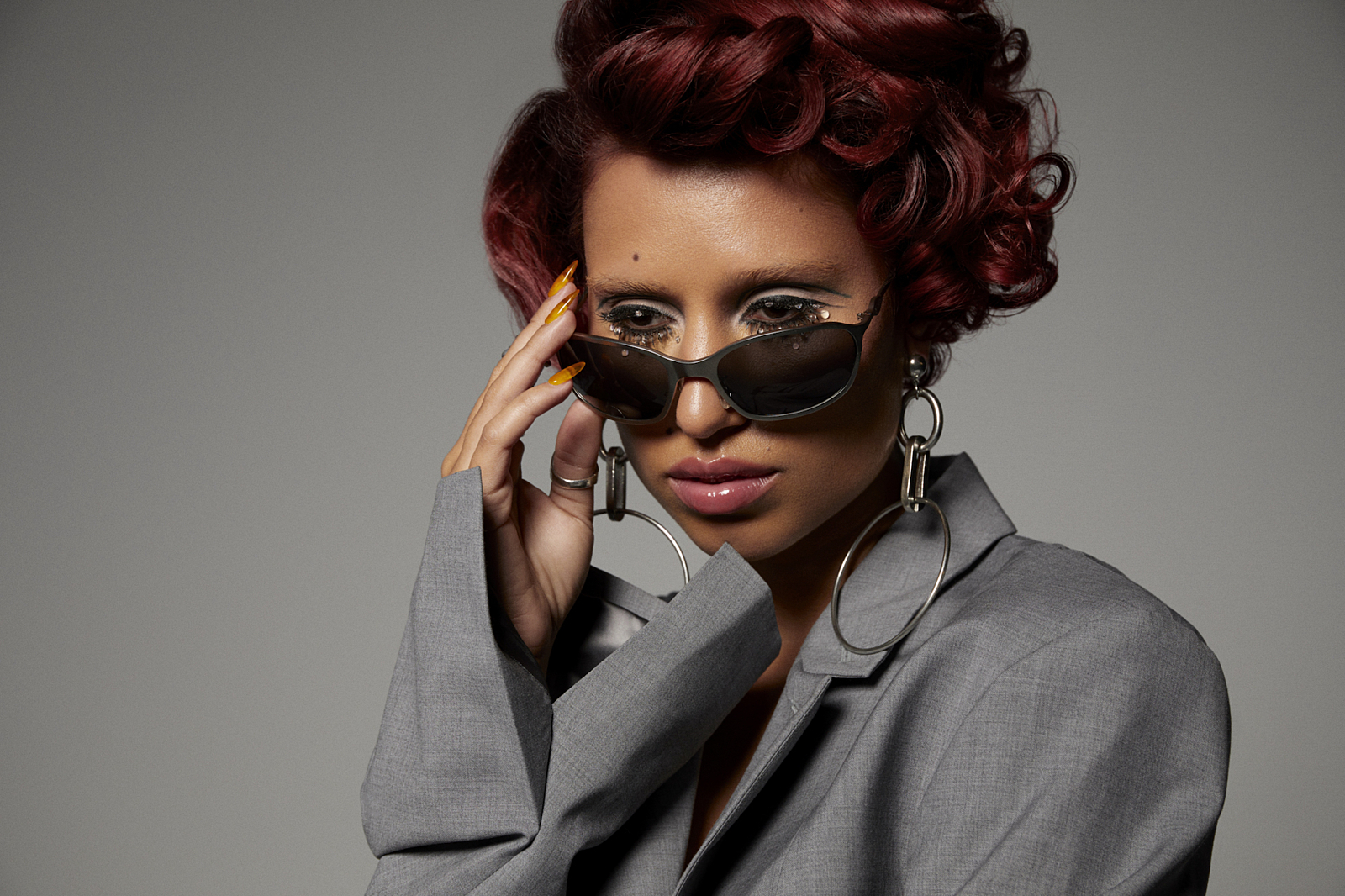 RAYE: Unschackled
With her long-overdue 'My 21st Century Blues' finally coming into the world, it's a chance for RAYE to exorcise her demons and reclaim her power once and for all.
It's been a couple of weeks since RAYE achieved her first Number One single with 'Escapism' and, says the singer, songwriter and producer, things "still don't feel real". Rather than peddling a line in faux-modesty, however, the overwhelming sentiment is evidently very real: over the past year, RAYE has been at the centre of one of the most unforgettable redemption arcs in modern UK pop history.
Speaking from her tour bus midway through a supporting run with pop heavyweight Lewis Capaldi, it's clear from RAYE's tone that she's already exhausted by the new attention and increased demand for her time. It's no understatement to say that her debut, 'My 21st Century Blues' (out 3rd February), has been in long gestation. RAYE, real name Rachel Keen, now famously spent years fighting her former label Polydor to green light her first full length. It took severing ties to deliver it. But now, repeatedly discussing album themes including sexual violence and substance abuse - which we're told RAYE has been questioned about rather clumsily thus far - has left her feeling fragile.
However, even if the Croydon-raised singer, 25, sounds like she's experiencing something like delayed shellshock, there's nothing to suggest that the path she's on now as a successful independent artist isn't one that she's thrilled to be treading. "It's been so empowering and liberating," she says of taking control of her artistry. "It's kind of incredible to be like, 'You know what? I'm gonna release 'Hard Out Here', 'Black Mascara' and then 'Escapism', then I'm going to do the album, then we're going to do these songs. Even that alone – being able to decide what I think is best, how I present creatively, what order things come in - is just such a new feeling, which is crazy."
"
I needed this album to be a rebellion of all of those lies that were fed across the years.
In the summer of 2021, RAYE parted ways with Polydor having been stuck in a four-album deal for seven years without releasing even one. She aired on Twitter her grievances with label bosses, whom she said had been unwilling to back a debut. Releasing her first record had been her dream since signing to the Universal subsidiary, aged 17.
Between 2014 and 2020, RAYE released a handful of EPs and a mini-album on Polydor but was spotlighted most markedly by guest appearances on charting floorfillers such as 'You Don't Know Me' by Jax Jones and her David Guetta and Joel Corry collaboration 'BED'. To land a Number One with her own song, featuring 070 Shake, then was vindication in RAYE's fight for her own voice. "For so long, [I was] told repeatedly that I had a problem with my identity, like not knowing who I am as an artist, what genre I want to choose, what kind of look I have," she says. "I really struggled with that. I needed this album to be a rebellion of all of those lies that were fed across the years."
She adds, intimating her British-Swiss-Ghanaian heritage: "I think also, as a woman of mixed heritage, I was raised with lots of different cultures. I don't necessarily identify with being one specific thing and I can't expect my music to do the same. So I wanted to just actively rebel against those kinds of words and negativity that sat on me for a while."
'My 21st Century Blues' is undoubtedly an honest album made by a woman wronged - created, as RAYE says often, as a "medicine" for herself and for others under the boot of the patriarchy. "I just think it's important for women to be able to decide what's best for them. There's a subconscious – I don't know if it's subconscious or because it's so traditional in the past that men decide what women do and what pop stars do… [but there's] a huge lack of women in positions of power to define what they want to do," she says.
"There's a statistic that there's more CEOs called John than there are female CEOs," she continues. "My experience in the music industry is a really clear testament of that, and also a lot of female artists I know struggle with the same thing. It's important to be able to be like, 'This is what I want to release'."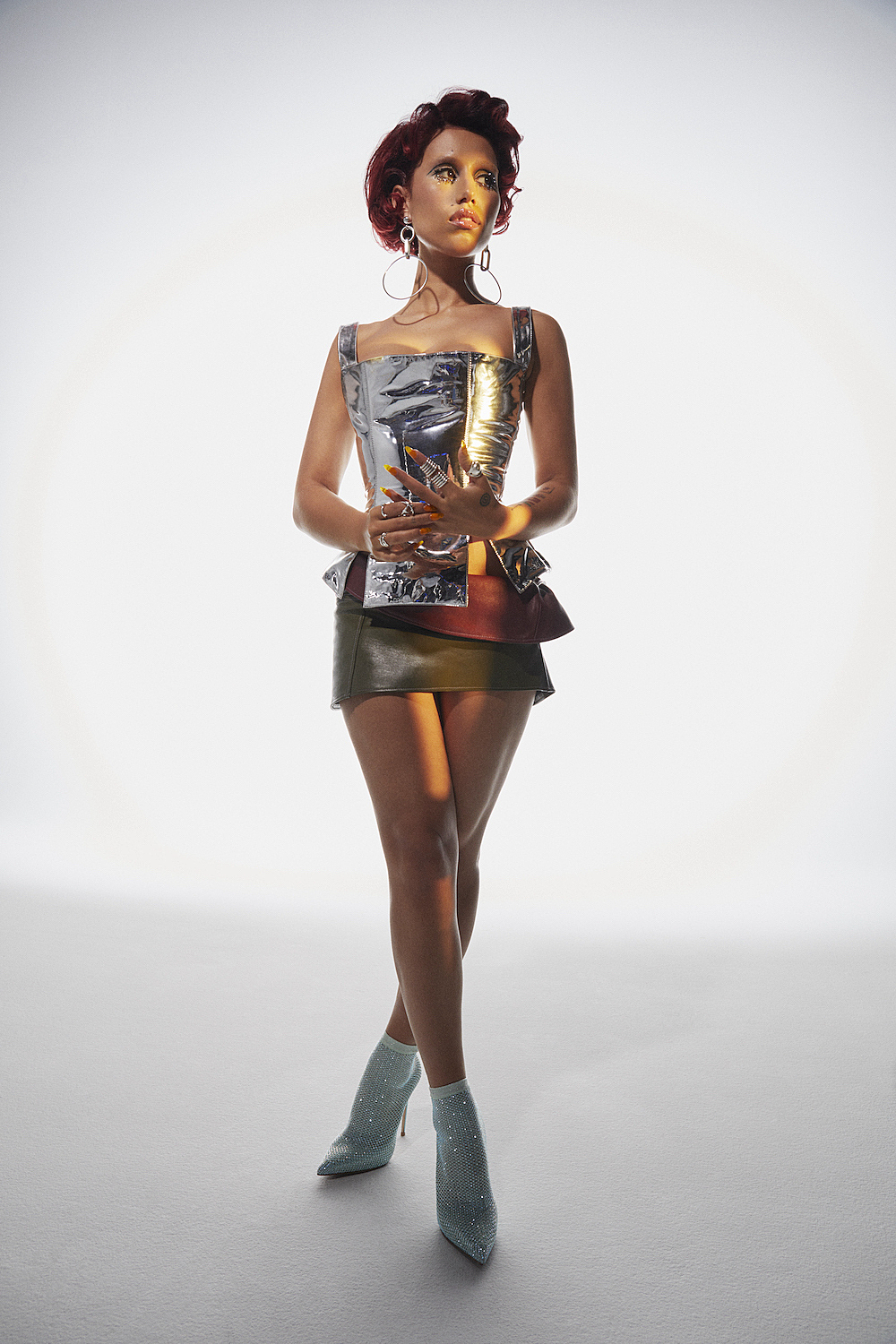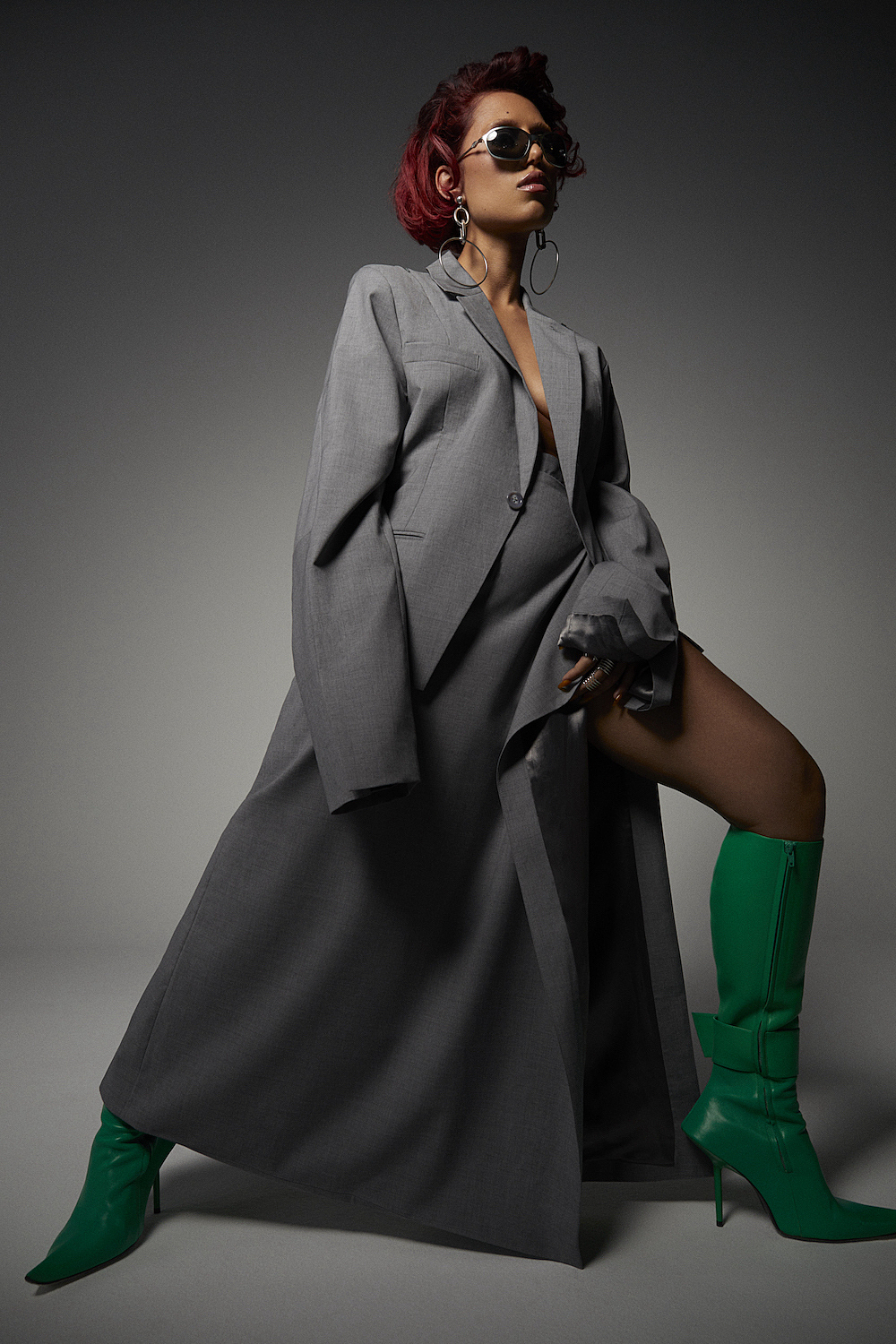 "
There's a statistic that there's more CEOs called John than there are female CEOs.
Currently, parallels have undoubtedly been writ large between these statistics and the recent BRIT Awards nominations. The 'Best Artist' category, which was gender-neutralised last year, has resulted in 2023 with a group of all-male nominees.
"There are so many incredible women making so much incredible music," she says, name-checking PinkPantheress, Olivia Dean, Anne-Marie, Bree Runway, FKA twigs and her album feature guest, Mahalia, as prime examples. "It's so important that women get these opportunities the same way men do. You just want to see at least the balance, you know? It's a shame."
She continues: "It's a little disheartening. It's even the same for the pop and R&B category. I really think it's important for these to be separate categories also, in my humble opinion, so that there's enough space to celebrate talent from all different genres."
RAYE's debut is studded with evergreen tunes traversing R&B, blues, jazz-pop, dance and hip-hop. Strong melodies and candid lyrics are foregrounded, as are RAYE's timeless vocals that evoke smooth whisky swilled at the bottom of a glass. The record is a reflection of her love of jazz and the myriad other genres she grew up listening to; it's likely to surprise listeners who've come to know her via her house and EDM guest spot background.
"Putting this album together wasn't necessarily the way that I'd always imagined… I imagined it being a consistent, cohesive process of which I would choose the musicians I wanted to work with and the concepts I wanted to cover," RAYE explains. "And I think this has ended up being a kind of mosaic of so many different styles and feelings that I love. Because it's been so long for me without an album, I needed to have it honestly reflect the songs I love and stories I really want to tell."
One of those stories - and, perhaps, the most cutting of 'My 21st Century Blues' - is the innocuously titled 'Ice Cream Man'. In reality, it's anything but. In it, RAYE recounts being sexually assaulted as a teenager by a record producer. Over burring synths and a muddy beat, she sings about a harrowing violation that often leaves victims silent. The lyric, "And no I didn't say a word, I guess that proves it / I'm a woman" smartly traces a progression from closed to open book, as lines such as "Cause I'm a woman / I'm a very fucking brave strong woman / And I'll be damned if I let a man ruin / How I walk, how I talk, how I do it" later unfurl. RAYE has arrived at a point where she feels willing and able to address it.
"That song has existed for years, I think I wrote it when I was about 19. But I rewrote it to be a bit more transparently candid," RAYE says. "The statistic and the reality is that one in four men and women will experience sexual violence in their lifetime. And I have just been kind of…. It's been a slow process. When you experience those things, they steal from you and it's really tough. I'm not an expert on even speaking on this subject. That's why I put it in a song. At the end of the day, music is my medicine and this album is very much me speaking on things in detail, even opening up wounds to really communicate these stories."
"It's not always easy but it is powerful," she adds with an audible sigh. "I went through several things across my life and, you know, you bury it, you keep it quiet, and I think that's when those things become really dangerous. The music video that we shot for it is like a one-take, and it's probably the most emotional thing I've done for a really long time. I just hope that one in four people who need a song like this [can] talk about it. I feel empowered to feel okay to accept that this is my trauma, you know? But it's tough."

"
I feel empowered to feel okay to accept that this is my trauma, you know? But it's tough.
Elsewhere across 'My 21st Century Blues', RAYE confronts other demons that have plagued areas of her life - one being her relationship with substances, which she used as a crutch during her time at Polydor. It's explored in 'Escapism', but more pointedly on the skeletal blues of 'Mary Jane', in which she anthropomorphises these dependencies (weed, codeine, red wine) like they're lifelong friends. She says that engaging with them now is something she's "still trying to figure out".
"I wanted to speak candidly on substance abuse because it's just another isolating emotion," she says. "It's not very attractive to talk about. You see a history of how villainised women are when fighting these battles. For me personally, it was so isolating. Like, you hide it, no one knows. So it's a work in progress, but more importantly than my personal relationship with all of those things, I think it's just powerful for me to be loud, to put those things in songs."
RAYE brings it back to women being wronged. "The history of imbalance, of how women are expected to be perfect and quiet and pretty, it stems from all the way back in the day when it was like, 'To be seen and not heard'. Those things have a ripple effect into our current society."
On the breezy R&B of 'Body Dysmorphia', RAYE broadcasts the innermost thoughts of many women when they look in the mirror. "I hate the way my face is square/ I hate my arms inside these sleeves/ For this hourglass we all desire/ I wear three corsets underneath," are just some of her red raw admissions. "Again," she says, "it's [the idea of] feeling emotions in isolation. They're uncomfortable to talk about, and so these things just manipulate and manifest in really ugly ways, and did for me.
"I think, because it's a social media generation, there's definitely so much more pressure to be perfect because we're all contributors now to these platforms," she continues. "But I'd be lying to be like, 'I'm so empowered and I love my body!' Like, no, you can hear in the lyrics that it's a love and hate, it's an up and down. It's the same with a lot of these concepts. With 'Ice Cream Man', some days it's fine, some days I'm great, and then some days it's just like: Bang!"
Does she ever wonder, were it not for her experiences in the music industry and the collateral damage that's come with it, whether she'd have been as honest as she has been on her debut? "I've always been open and I think that really helps with being a songwriter: empathising with other people," she nods. "Maybe the biggest thing about me now being in control of what I share is that [I'm aware that] artists feel some kind of subconscious or conscious pressure to paint this pretty picture, smile, and be like, 'Yeah, here's my new outfit', and turn up in a nice car. They have to put on this weird persona."
Autonomy is vital to RAYE, with her career refreshed and restarted. 'Escapism', notably, has chalked up billions of views on TikTok. As an independent artist she's arguably now more reliant on fan-generated momentum than ever - a notion that makes finding the balance of being authentic to herself while trying to command commercial attention even more of a tightrope.
"I feel quite strongly that it has to be an artist's decision whether they want to partake in social media lightly, heavily or not at all," she says. "Forced or unnecessary pressure is just not conducive. At the beginning of my campaign, I decided that I wanted to do a few TikToks and a few social posts but I didn't want to force anything or for anything to feel unnatural. There's such a big pressure on artists by their [representatives] to become something. And if it's still not what they want to be or not what they want to do then they should be entitled to say no or yes. It really should be as simple as that. Putting pressure on things artists can't control is just unfair, like, 'Try and make your song viral'. What sort of feedback is that? All of that pressure is really unfair, [it creates] a war in the mind."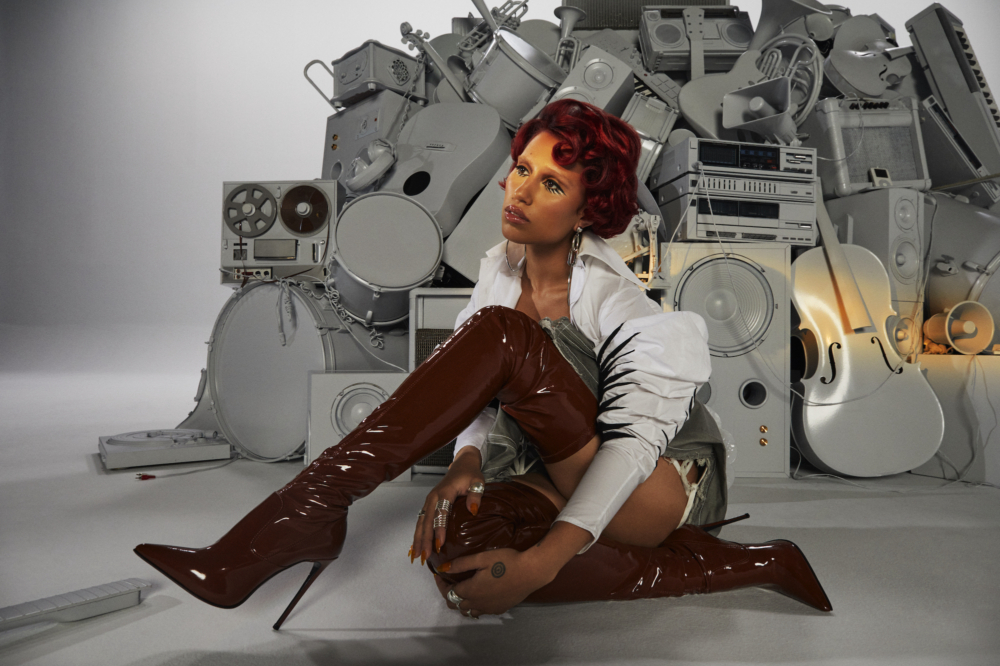 "
I've had a really beautiful time since parting ways with Polydor to get back to being a human again.
Talk turns to the impact that gruelling tour schedules, coupled with industry and financial pressures, have on artists today. Arlo Parks and Sam Fender are just a handful of acts in the past year who have put live shows on hold, citing the need to focus on their mental wellbeing. "I think putting mental health first should be a given," RAYE says. "It takes a lot out of artists when you're touring and releasing and doing so many interviews. I'm a number one advocate for mental health first."
With 2023 off to a sterling start for the singer, it feels like her brave leap to prioritise her art and soul will only reap further rewards. "I've had a really beautiful time since parting ways with Polydor to get back to being a human again," she says. "You know, talking to strangers on a park bench, walking my dog, shattering this silly illusion that I felt so much pressure to keep up. And I think some of this music reflects that. Some album songs are dramatic like 'Oscar Winning Tears', which gives you drama [about a failed romance]. But then other songs are just, 'This is how it is'. I want to talk about things honestly."
The long, long-awaited release of her debut album, after so much struggle and fight, is understandably a pinch-me moment for RAYE. "I think I'll believe it when it's out," she smiles. "As an artist, one of the things that's just most important to me is releasing bodies of work - you know, albums with an 's'. This just marks the first."

'My 21st Century Blues' is out 3rd February via Human Re Sources.