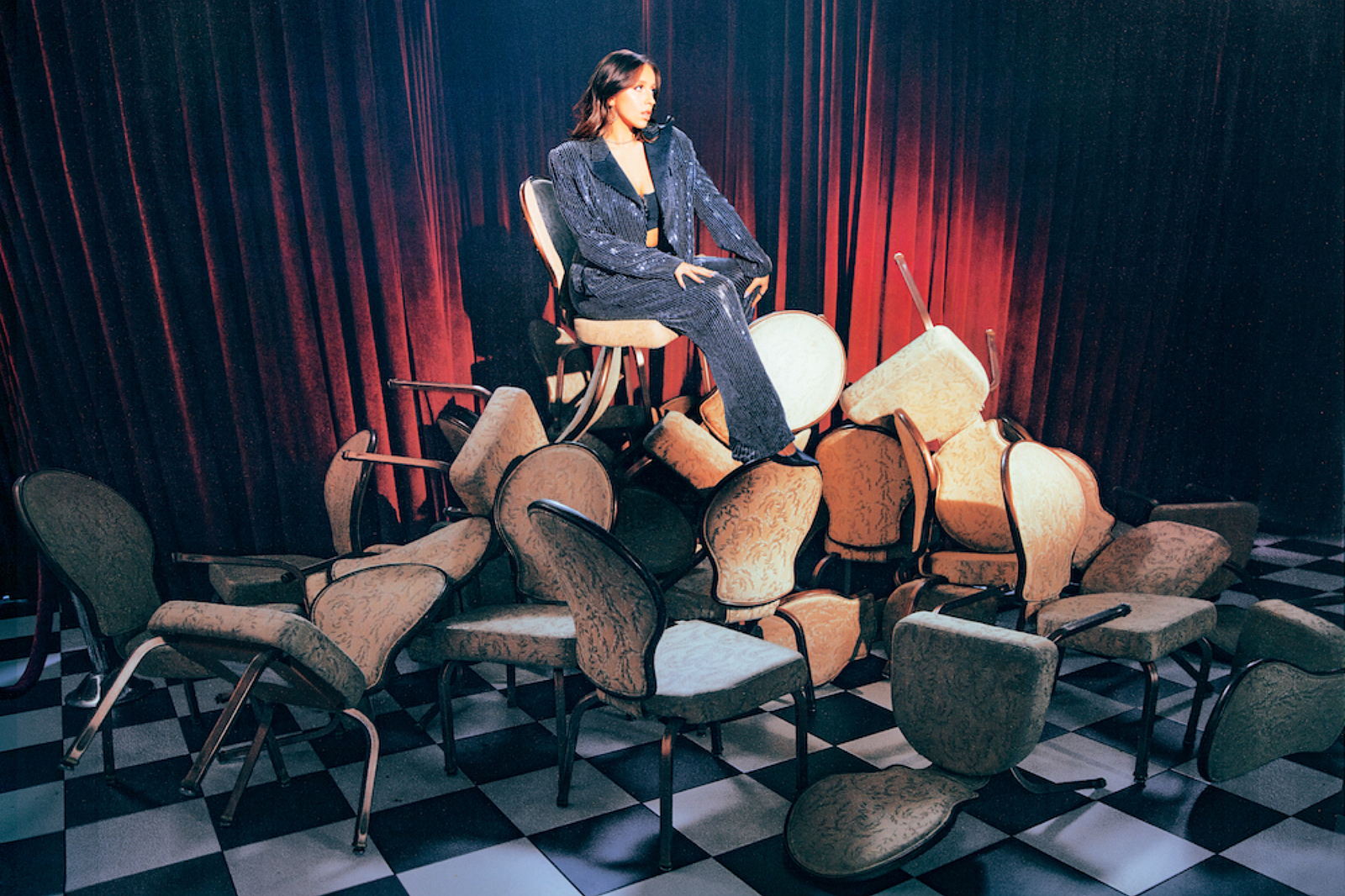 Tate McRae: Top of the Pops
A dancing, singing double threat with big dreams and the talent to match, Tate McRae is just getting started.
Tate McRae likes making lists. "I'm a goal-setter. I write down everything I want to do in my life, and then I don't stop until I do it." It seems to be working. Perform at the MTV VMAs? Check. Get nominated for several awards? Check. Chart on Billboard? Check. And the punchline? Tate celebrated her 18th birthday a mere few months ago, and has only just moved out of her parents' house.
However, despite her young age (she recalls studying for her social sciences test backstage before that 2020 MTV performance), Tate has been performing in the public eye for years. She shot onto US television screens in 2016 as the first Canadian finalist on So You Think You Can Dance, where Paula Abdul called her a "gift from God" in praise of her audition piece. Then, throughout her teens, she uploaded original songs and covers to her YouTube channel, attracting a large following and millions of views. To date, she has amassed over three billion music streams, collaborating with Khalid, Troye Sivan and Fred Again (among others) along the way. Now, she's preparing to release a debut album: this month's long-awaited 'I Used To Think I Could Fly'.
"I moved to LA recently," Tate begins by way of introducing her current life. Her hometown is the Canadian city of Calgary, a proud place with a strong cowboy tradition. "It's a lot of sports and hockey," she describes. "It has a very 'not creative arts' vibe." Tate's childhood memories are of dancing in her mother's basement studio, training for hours in the hopes of getting out and making it big. "I feel like I never really fit into my own city," she continues. "There wasn't really a performing arts scene. My dancing, singing and social media were considered super weird and not cool."
Tate remained undeterred, however, and continued competing with the support of her mother, a dance teacher. "I started off as one of the worst dancers ever. But I put my head down and improved. When So You Think… started auditioning kids, I decided I was going to be on that show. I was the only Canadian to ever make it that far. We set the bar for a lot of things in Calgary and I feel very proud of that."
Tate is equal parts dancer and musician, known to incorporate formidable acrobatic choreography into her pop portfolio. Her performances see her expertly handle live vocals alongside hefty dance routines, often tucking her leg behind her head mid-song: a signature move always met with fans' roaring applause. "Coming from the dance world, I have this expectation of pushing the boundaries. There's this one backwards walkover move from my So You Think You Can Dance audition that went everywhere in the dance industry. My choreographer and I wanted to keep raising the bar at every competition I entered after that. I would learn my solos on Fridays and compete on Saturdays, while other people would be working on their routines for months. That's partly what moved me to want to be an artist - the challenge of expanding my skills and what I can do in even more ways."
Alongside dance, Tate turned her determination towards writing original songs and posting them on YouTube. However, she first began writing out of loneliness rather than a desire for stardom. "Training dancing for more than 40 hours every week, I was isolated from all my friends," she explains. "I felt like such an outsider; writing was the only way I felt able to communicate with people. I wrote poetry and short stories in school. I taught myself piano so I could write songs too."
She recalls setting up a rigorous writing and upload schedule for original music. "I started posting original songs every Friday as a way of setting a goal for myself to write a full song, edit the video all on my own, and 'get my homework done'. I wasn't thinking about a career or 'popping off'. I was just a high schooler with so much shit to say, and no idea how to tell anybody." The discipline she had cultivated through years of dance - that commitment to showing up for practice at the same time every week and not leaving until the work was done - kicked in. "My manager tells me, 'I've never met an artist like you'," she laughs. "Apparently I have the brain of an athlete-jock, but the mind of a creative."
"
Apparently I have the brain of an athlete-jock, but the mind of a creative.
Tate's creative instincts have had no shortage of inspiration, that much is clear from her YouTube channel: a near-perfect archive of her original music to date. The path of starting on YouTube is one one well-trodden by many of today's biggest stars including Dua Lipa, Troye Sivan, Maisie Peters and, of course, fellow Canadians Justin Bieber and Shawn Mendes, who all posted grainy singing videos from their webcams before their careers took off, and it's into this lineage that Tate follows.
For those wishing to dig back, Tate's 'old' songs (some still only uploaded as recently as 2020) all remain on her channel, and reflect the young singer back to us as an emotional, inspired and prolific songwriter. Her original songs are short, distilled slices of Gen Z melancholia and social discord, whose titles - 'all my friends are fake', 'dear parents', 'don't fall in love lol' and 'if vsco was a song', among others - read like extracts from journals, conversations and online confessions.
Yet despite the relatable subject matter, Tate still found difficulty translating her honesty online into closeness and community in real life. "My channel blew up while I was still going to regular school," she explains. "I remember getting so made fun of for posting my feelings and being vulnerable on the internet. But writing songs and sharing them online was like therapy for me".
She considers this experience unique to people of her generation, who grew up entirely native to the Internet and used it from the moment they became self aware. Though it might be paradoxical to imagine posting soul-baring confessions of brokenness on YouTube one night, then showing up to class stone-faced and guarded the next morning to a classroom full of strangers and bullies, such is the experience of Tate's teen years and those of a lot of other people her age, she suspects. Nevertheless, Tate kept uploading. "I'm really grateful that I always had a mentality of not really giving a fuck about what other people thought," she reflects now.
With her original songs starting to attract attention, averaging millions of views each, Tate released her first EP 'all the things I never said' in 2019. Despite only being her debut, the project immediately attracted star collaborators; 'tear myself apart' was written by Billie Eilish and FINNEAS, and Tate later secured Jeremy Zucker to feature on 'that way'. Soon, professional music videos started appearing on her page which, up until then, had chronicled her musical endeavours on mostly homemade terms. Throughout all this, however, the singer still reliably uploaded covers and original songs from her bedroom floor, evidence of continuing to practise and hone her craft.
Her biggest song to date remains 2020's 'you broke me first' - a stormy and defiant ballad about who should take the blame for a break-up (hint: not Tate). As with her previous projects, the song first lived on her YouTube channel as a simple piano number, but took on new life in her 2020 EP 'TOO YOUNG TO BE SAD'. Released in April that year, the song exploded on TikTok: an early example of the pandemic-driven fever pitch that catapulted songs like Megan Thee Stallion's 'Savage' and Doja Cat's 'Say So' into the stratosphere that summer.
"We needed a music video, but it was the middle of quarantine and I was in Calgary," Tate recalls. "No one could help me. I strapped my iPhone to the back of my friend's car and she drove around the parking lot while I walked behind, singing at the camera. I edited it on my phone using the same app kids use to make music videos at school." This simple iPhone project, with lyrics flashing up against the darkening Calgary skyline, is her most watched music video with over 150 million views. "I still don't understand what worked so well about it, but it's so cool that it happened that way," she shrugs.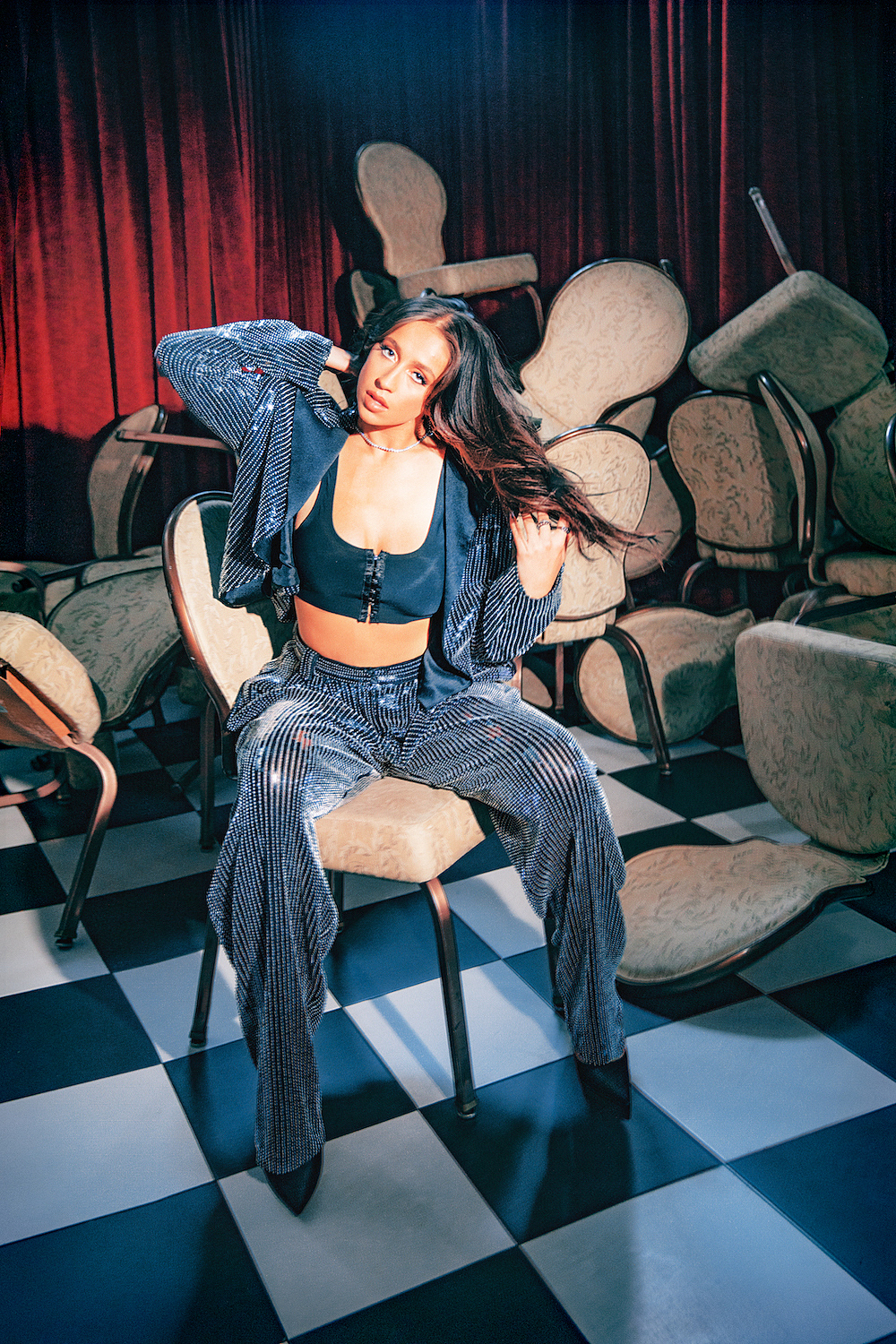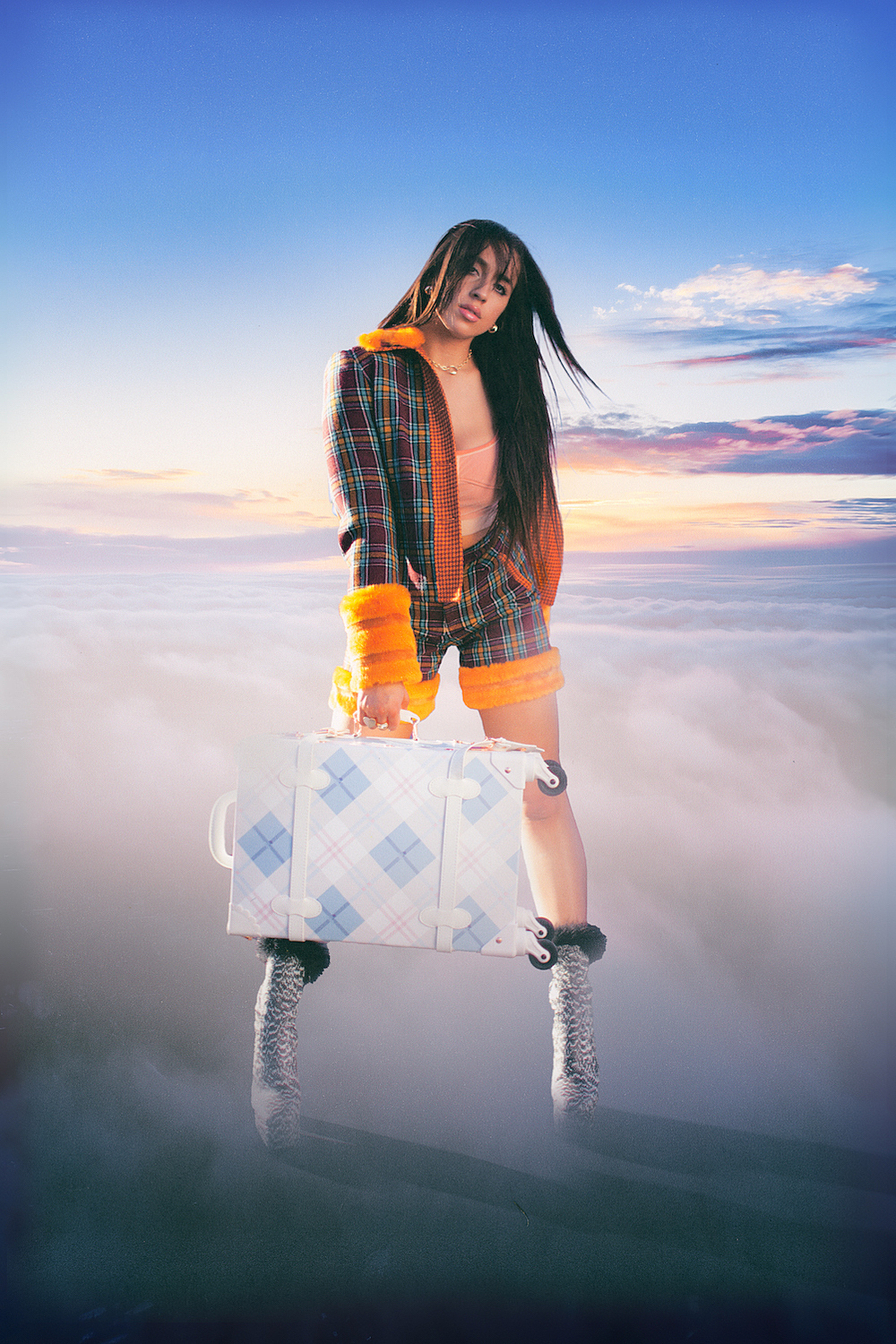 "
I was so headstrong when I first started. I was convinced I would be invincible.
As is true of many artists hitting their stride over the pandemic, Tate explains that the whiplash of her lightning-fast mainstream breakthrough was amplified by it being played out almost entirely online, and of feeling disoriented by the disconnect between her numerical success and her day to day reality. "One of the hardest things has been understanding that this is real," she shares. "My song was everywhere during quarantine, but I was in my house the whole time. People kept telling me it was doing well. I got so many texts and calls. But it didn't feel real to me for a long time."
Unlike the typified exodus to LA by people trying to make their dreams come true, Tate's relocation has been the opposite: she's moved out to the city to see the reality of her dreams for herself. Having now been famous online for longer than in person, it's only very recently that her musical success has been able to take on a physical form. "Going out to LA and doing festivals for the first time was really weird. I was genuinely convinced there would be like, 50 people at my sets," she explains. "I was beyond shocked to see 20,000 people in front of me at Lollapalooza. I told my mum after the show, 'I have such a negative ego compared to other artists in LA, for how little I believe in my own success'."
Notwithstanding the initial disbelief, however, Tate seems to have taken to superstardom naturally. She interacts with fans and handles herself online with the ease and inevitability of having grown up in the spotlight of social media. In many ways, she epitomises the modern Gen Z pop star's duality of authenticity and control. Her style, a mix of spaghetti strap tops, oversized t-shirts, cargo pants and high top sneakers, is effortfully dressed down; in conversation, she is youthful and charming, yet self-assured and unflinchingly ambitious. Professional and polished with nary a hair out of place, Tate is naturally adept at social media and brand-building on the internet, but at the same time fluent in the importance of appearing genuine and "not being perfect". You could call this mastery, but for the fact that these ideas all evidently come naturally.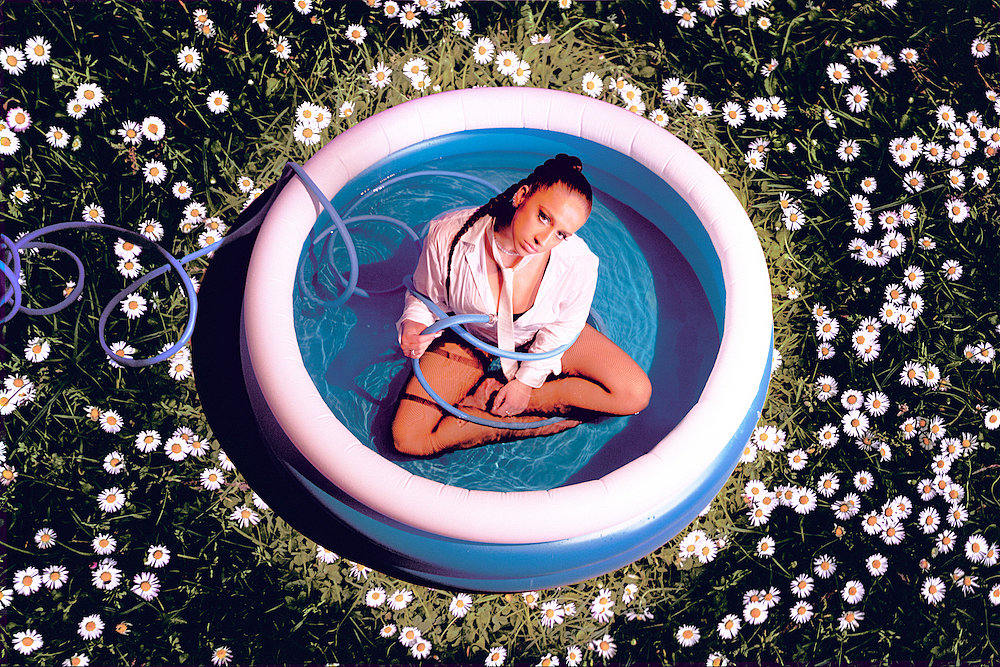 "
This album captures me in my most sensitive moments, when I felt like literally anything could break me.
Tate is a success story for the modern pop label - young, abundantly talented, and full of promise. But her experience in the industry hasn't always been smooth and, heading into 'I Used To Think I Could Fly', the challenges have still evidently been rife. "I feel like you hear a lot of horror stories about it, especially for young women. But I was so headstrong when I first started. I was convinced I would be invincible, and had this guard up to not let anyone walk over me, push me to think a certain way, or change my personality," she says. "But recently in the process of writing my debut album, I've been exposed to big shot producers and writers. Every day, these powerful male figures kept telling me I was doing everything wrong. It really messed with my head."
Her creativity and fearlessness, that steely confidence from her dancing days, faltered. "I was so persuaded by these people that I lost myself for a second. I had no idea what I loved and what I wanted to write about anymore. I looked up to these people and wanted to take their opinions, but you don't know if they're doing it for the right reasons or if they're trying to manipulate you. It definitely took me a while to realise, 'Wow, these people are fully walking all over me right now and trying to take away what got me here in the first place'."
Sure enough, however, now she's come back to a place of conviction in her vision. "I've found so much clarity on tour," she remarks today, ahead of tonight's soundcheck in Colorado. "Seeing people's faces took me back to why I do all of this. There's so much validation in hearing people scream back your lyrics - it's really special, and so therapeutic for everyone."
'I Used To Think I Could Fly', meanwhile, feels more complete, and even closer to that central Tate sound than ever: emotive, direct, conceptual, fearless. On 'feel like shit', a slick and pumped-up heartbreak ballad, she chronicles the painful process of settling into a break-up for real. "Last night, for the very first time, you didn't even try to call," she mourns. The music video, set in the back of a restaurant kitchen, charts an elaborate love story between two waiters. Tate, dressed in shirt and tie, deftly clambers up and down on her love interest's shoulders like a gymnast, making it look easy. "The visuals on this album are next level," she gushes. "One thing I'm most proud of is getting the right team together to execute my vision. I've landed on a group of all females who are absolute geniuses. It feels amazing for my music to be represented the way I hear it in my head.
"This album captures me in my most sensitive moments, when I felt like literally anything could break me," she continues. And, indeed, Tate writes and sings on the project with more candour and specificity than ever before. "Nobody said changing would be this exhausting," goes 'chaotic' - a tender, totally stripped back piano ballad; "Everything I say on this album comes from a really vulnerable place," Tate notes today.
Tapping into that clear-eyed, heart-on-sleeve truth of how she began, on her debut the singer holds nothing back, whether that's heartache, distress, or perhaps even cheerful spite. "The album is also about how someone screwed me over. I hated them, and I wanted to write down every single thing I hated about them," she shares with a giggle. Tate does just that on 'what would you do' (co-written and produced by Charlie Puth, Alexander 23 and Blake Slatkin), smiling and strutting down the hallway whilst spelling out a plan to get back at a shitty ex: "We'll make plans and I won't show up / I won't listen I'll interrupt / When your birthday comes won't answer ya / So what?"
Despite the high stakes of unveiling a debut album more than three years into her career, the creative process, she smiles, was remarkably similar to her early at-home songwriting methodology. "It all comes from the same place. When I get into the zone where I truly feel something super strongly, I can write so quickly," Tate nods. "There were 60+ songs for this album, and the last 12-to-13 we narrowed down to were mostly written by me only. My mom and I talked about this the other day: your own art and your own thoughts always win."

'I Used To Think I Could Fly' is out 27th May via RCA.