Graduating from 'B-Grade University' to release her debut album 'I Love You Like A Brother', this Aussie talent has a rare knack for spinning meaning from small images.
Gesticulating wildly in the gloomy downstairs of a Shoreditch bar, Alex Lahey has something she'd like to get off her chest today. With a patriotic fervour, she's gripped by a typical Australian obsession; defending Vegemite against rival yeast-extract based spreads.
"People who don't like Vegemite aren't eating it right," Alex declares with unwavering certainty. "The butter to Vegemite ratio is absolutely crucial in one's enjoyment of it." A bit like Marmite, then, eh, Alex? "Nah. Marmite is super viscous!" she retorts with a degree of disgust. "Vegemite is denser. You have to scrape, with moderation. If you ever come to Australia, get in touch, and I'll show you how it's done."
Raging debates around condiments aside, there's very little that's marmit…sorry, vegemite about Alex Lahey. Her "accidental concept record" EP 'B-Grade University' was one thing, documenting the struggles of being a graduate with zero cash and few prospects, with incisive, sharp wit. Her debut album proper, however, marks a graduation - both from actual university, and in its creative stepping-up. Deliberately omitting every one of her early singles - 'You Don't Think You Like People Like Me' 'Wes Anderson' and 'Ivy League' are all conspicuously absent - it's a statement of intent from an artist who's just getting starting. Widening the scope outside campus, Alex's debut album takes apart everything from messy break-ups to vital political debate; all from the small beginnings of phone call snippets, movie posters, and unfamiliar beds.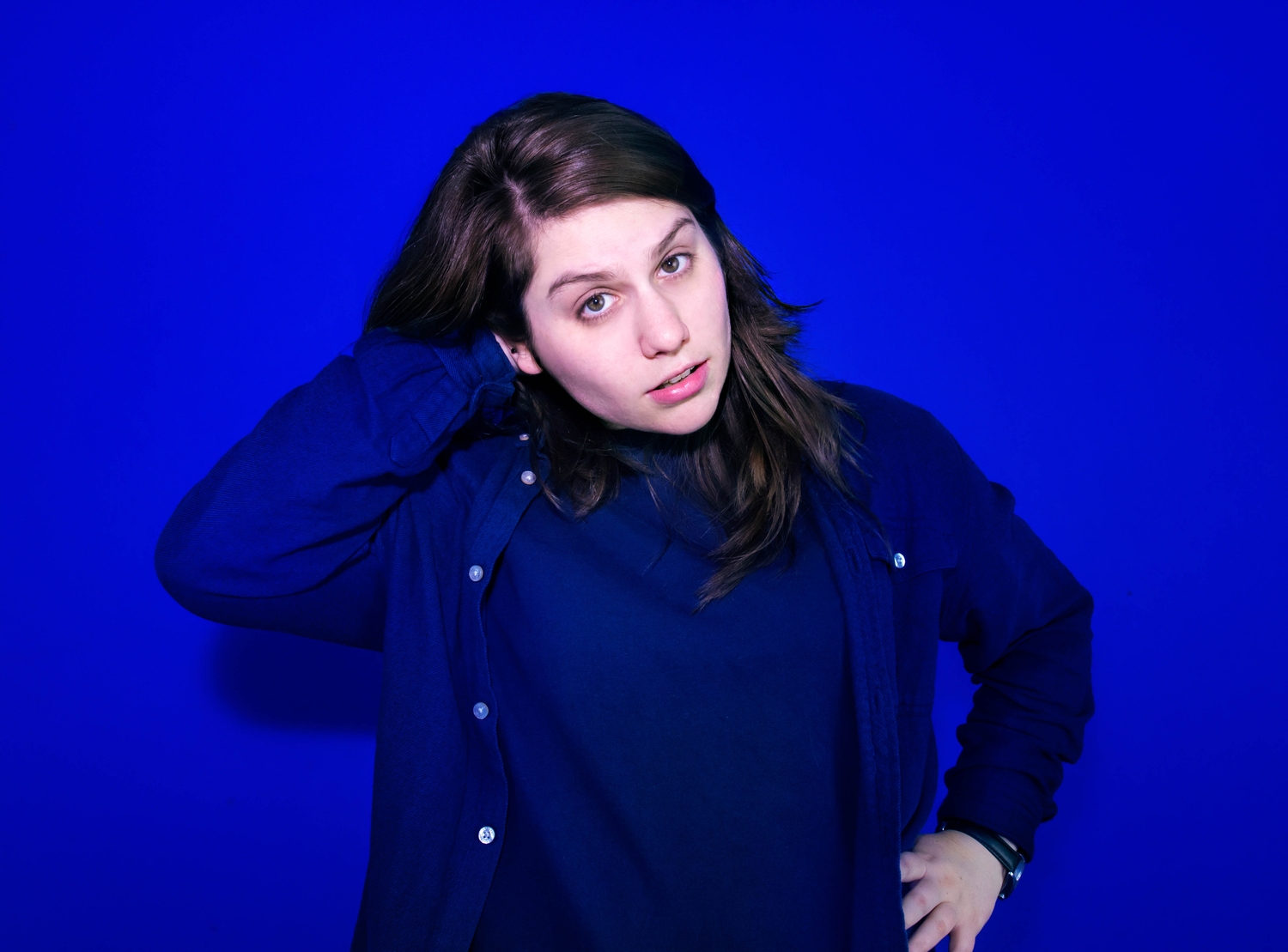 "Maybe on album two, I can go off and forage for berries?"
— Alex Lahey
On this record's final track, 'There's No Money' Alex recounts a phone call with her mum, telling her "we couldn't get married even we wanted to". It's a line that could be read as both commitment-phobic or strapped for the cash to put a wedding on in the first place; it's also the subtlest of jabs aimed at Australia's current debate around marriage equality.
"At the moment in Australia we're having a massive issue with marriage equality, with huge huge roadblocks in the way of making that happen. It's a very scary time for the LGBT community," Alex explains. In Australia, gay marriage is still not legal, despite a five year battle in the Senate and, now, a country-wide postal survey on the issue which is currently taking place with the results pending. "I remember my mum called me - at the time I was in a relationship - and she told me my brother was getting married," she goes on. "He'd known this person not that long, which is totally cool, but I was like, 'so you're telling me, he's known this girl for how long, and he can get married?!' But my girlfriend and I, even if we wanted to get married, we couldn't? She was like, 'that's a different conversation, Alexandra!'" she remembers with a laugh. "I remember when that happened, I was like, that is fucked! That is ridiculous. My brother's married, his wife is awesome, but on principle it's unethical and wrong, and I felt strongly about it."
"Maybe that's a bit selfish," she adds, "but I think it speaks volumes about where the world is at," Alex concludes. "Surely it will change soon. It's all very dangerous to young queer people, and it's very upsetting - especially as someone who is directly affected by the outcome of that."
"People who don't like Vegemite, aren't eating it right."
— Alex Lahey
Putting her own experience of the whole thing on 'I Love You Like A Brother' made sense; as a whole, this record comes at wider universal themes from the angle of small personal snapshots. All manner of relationships - from romantic dilemmas, to the sibling nod that names this debut - come under the lens for sharp, and often hilarious, dissection. "I think that the relationships we have with people as individuals are the things that shape us and affect the way that we see the world," reckons Alex. "And I guess that, for me, I wanted to explore that in songs at various times in my life. I think that the most important relationship we have is the one we have with ourselves. That's what makes things sink or swim. It's an interesting thing to reflect on, especially in your mid-twenties when it's acceptable to be feeling your way through…"
The way Alex sees it, she's still feeling her way through instinctively as a musician - and that's fine by her. Recording 'I Love You Like A Brother' in pockets of time snatched between tours, it possesses the unique magical energy of the best kinds of debut albums, with all of her exciting first steps bottled onto the wax. "One day I would love to do a Bon Iver and go to a shack in Wisconsin, and live a record from start to finish," she ponders with a smirk, "but then again, maybe I don't want to get too caught up in that process! Maybe on album two, I can go off and forage for berries? It's a first album," Alex adds. "The idea of that record being my entire life is so undesirable to me. To me, this is the beginning. Hopefully it's one of many. Hopefully if I'm anything like Dolly Parton..."
Our Dolly, it turns out, is a massive inspiration on Alex Lahey, and she's always got one key mantra in mind going forward. "Always be yourself!" she declares. "Even though people might see her demeanour as being quite superficial, she is 100% her own person, always has been, and literally gives zero shits. Not only from an aesthetic perspective, but in her songs as well, like... she was coming up at a time when it was taboo to sing about a lot of the things she was singing about. Sleeping with men she wasn't in a relationship with, or going and picking up, saying no, or saying yes. There were certain things she would talk about, and that country music sphere is so conservative. She didn't care. Elvis wanted to record 'I Will Always Love You' and she said no [because she wanted to keep the rights to the song]. She said no to Elvis. Go Dolly! And then, I heard this interview with her,
and she was like 'yeah, we said no to Elvis, and then Whitney did it. She did a pretty good job!' So funny. People underestimate Dolly."
There you go, then. Don't estimate Dolly, or Alex Lahey, for that matter. And definitely don't ever offer her any Marmite, whatever you do.
Alex Lahey's debut album 'I Love You Like A Brother' is out on 6th October via Dead Oceans.
Read More
Popular right now
Featuring James Blake, Romy, Marika Hackman, yeule and more.