All about empowerment and universality, this mayhem-loving trio are pretty content just being themselves.
"I feel like our next level of transformation is us being able to speak perfectly on phone interviews," Katie Gavin begins. Bandmate Josette Maskin, however, feels differently. "I don't care," she interjects, "I like the mayhem. I want it to be a shitshow."
As made abundantly clear just a few minutes in, interviewing LA trio MUNA is no easy task. Speaking to the band on the phone from the other side of the Atlantic - Katie and Josette are joined by Naomi McPherson – they all talk over each other so much that the line blurs into a cacophony of distorted, undecipherable and garbled words and voices.
While interviews might err on the side of mayhem, MUNA are anything but a shitshow. Having formed while studying at the University of Southern California, Katie, Naomi and Josette were friends long before becoming a band. "I think we definitely all have different relationships as a threesome, but also each one of us with the other one. But we're all super close. We can't get enough of each other these days," Naomi laughs.
That's handy given they're just about to release debut album, 'About U'."In some ways, I think my favourite moments were when we started because we had the excitement of, like, wow, we can write songs together," Katie explains. "But then the end of the process has been really beautiful because we had come to a totally new place of collaboration and being comfortable with one another. We were lucky that the whole process had different pieces of it that were special to us as a band."
"I was going to say," Naomi interrupts, "it's been nice just purely watching the relationship that the three of us have change and grow through the music. Also, we've had such creative freedom; it's really exciting to be doing this all ourselves, and to have a record coming out that we know is an accurate expression of what we want to communicate musically and also in terms of a message."
"I felt like we needed to be more explicit."
— Katie Gavin
That's perhaps what makes MUNA's music so thrilling. While "proclamation pop" is tired, their "message" of empowerment comes from expressing their own experiences of queerness with unflinching honesty. On songs like 'So Special', 'Loudspeaker', 'I Know A Place' and 'Promise', there's no compromise when addressing sex, heartbreak and the queer experience. It all stems from an inherent need to tell a story.
"I think that [Naomi] does this thing," Katie says, delving specifically into the track 'Around U'. "I'll give her a demo and she'll be like 'I'm going to sit with it and I'm going to carve out some moments,' which I always like, because if you look at a song you can see where there are moments where things drop out of it. I think that Naomi is such a visual person and also aural person, and part of her job that she's been able to execute as producer is finding places in the song where you can carve out the track to highlight pieces of the story."
That's not to say that there's any exclusion when it comes to their music. Rather, universality reigns supreme. "Sometimes when you're talking about the importance of spreading love, it almost comes with an implication that everyone is the same," Katie opines. "And that's not actually the case. We are all the same, but we're also vastly different at the same time. It's quite contradictory. I just think that us making an effort to show that we are an inclusive community, that we won't be judgemental and that our ears and hearts will stay open to people is not contradictory with us at the same time speaking about our opinions and our personal lives, and doing so in an explicit way. It comes with the belief that everyone else should be able to do the same thing."
Throughout, Katie (the self-professed ringleader of the group) takes the lead when the conversation turns to stickier topics. When the group inevitably crash into discussing the walking tangerine toupee who's been elected president, it's Katie who steers the ship. "I thought that, after the election, I was going to be, like, reading a bunch of books about history trying to understand the background of this point in the recurring cycle of hatred and fear and revolution that we're experiencing right now," she says. "What actually ended up happening instead was that I've been thinking a tonne about God and spirituality, and the fact that everyone that is around me, all of my neighbours, friends, the people that I disagree with, and the people that hate me, everybody has something inside of them that is holy."
Pained, she admits that members of her own family voted for Trump. "That really hurts me," she says. "On a personal level, and on a daily basis, I'm trying to make the choice to not turn away from those people and instead try to listen to them and love them and show them that I can do this, and I'm strong enough to do this. I hope, maybe blindly, that they'll do the same thing for me."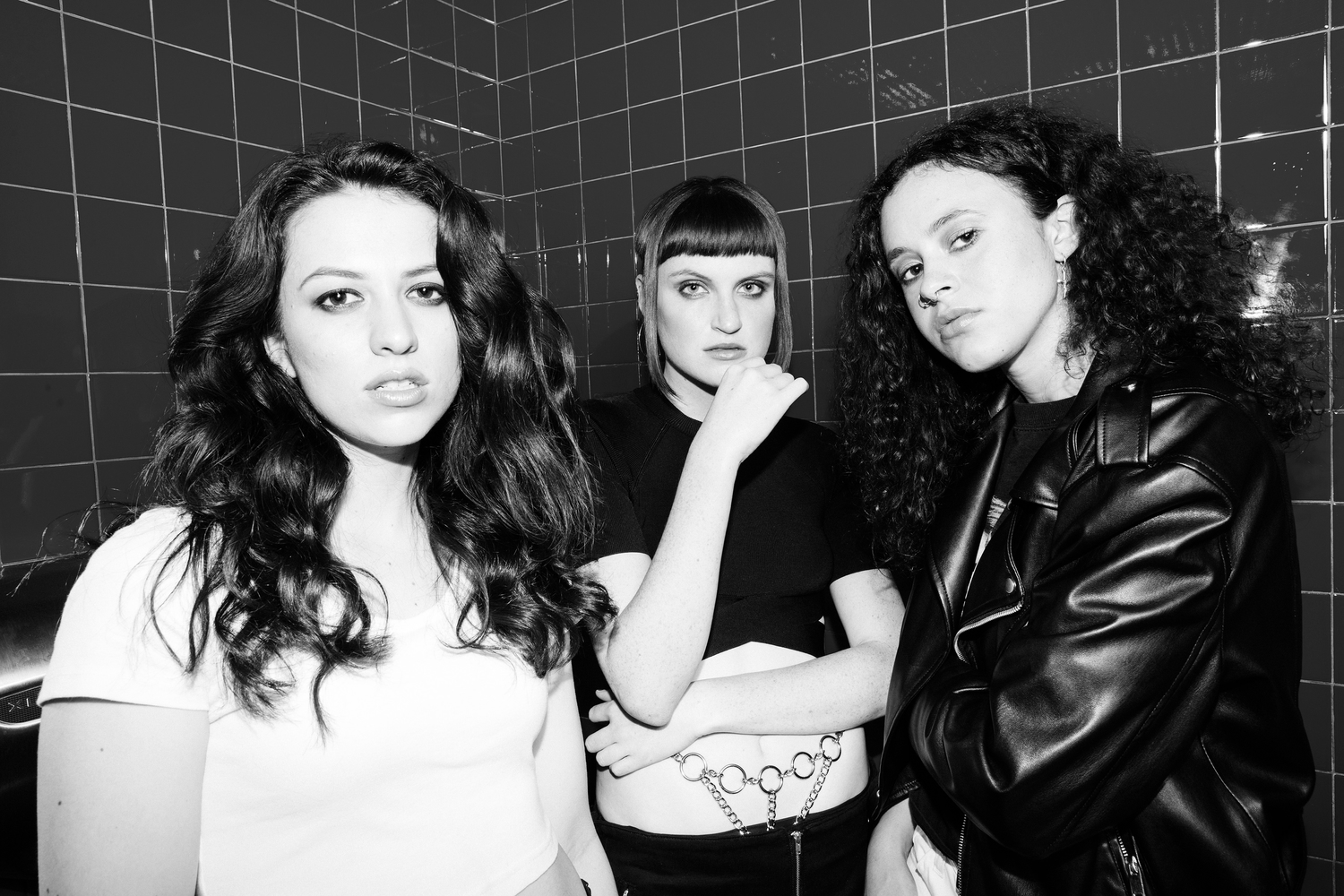 "We can't get enough of each other these days."
— Naomi McPherson
Given that they finished the record in the summer of last year, Katie, who writes most of the band's demos and lyrics before handing the material over to Naomi and Josette, felt they should scrap it all and write a punk album in protest. "I felt like we needed to be more explicit. Now I just feel grateful that we've had the opportunity to express ourselves and be fully ourselves. Whether we like it or not, we're entering a time where that's going to become contested. People expressing themselves fully."
While queer visibility in music has increased exponentially, with acts like Shura, Shamir, Mikki Blanco, PWR BTTM and Frank Ocean helping deconstruct and share the queer experience to a wider audience, do the band feel any pressure to live up to a certain ideal of what it means to be a queer artist?
"In terms of sex and sexuality, I think each of us have had growing periods in different times of our lives, even throughout the time that we've known each other, with how we want to present ourselves sexually and how comfortable we are with ourselves within our gender identity," Naomi says. "I've never really felt any pressure from anyone that we work with to not be exactly who we are, and I've felt inspired by Josette and Katie to figure out who I am. We just work together and I think we've all reached a peaceful place with it."
MUNA's mission statement, then, is to connect people. "That's the whole purpose of making music in times like this," Josette explains. "People forget that everyone else is a human. And music is the one thing that, at least I think, everyone feels and everyone can feel connected with another. Everyone's fallen in love; everyone's gotten their heart broken. We just have to find those common things that connect us because the world is becoming so much more divided. Hate is only going to further that divide."
"People forget that everyone else is a human."
— Josette Maskin
As Katie says, their music "rises above identity". Take, for example, the album's most sober and sedative moment, 'If You Leave Me Now', a song that captures yearning, heartbreak and the complexities of being human so perfectly it's arresting. Or the desperation in 'Everything' that pours out of the song in the production, lyrics and vocal delivery. And then there's the universally devastating 'Winterbreak', that features the despondently real lyric: "Oh, baby I think we both know / This is the love that we won't get right." These are, without a doubt, angsty, confusing and real themes that it's hard to disassociate yourself from.
"That's what pop music should do," Josette argues. "It feels like we're channelling something. I'm not necessarily a religious or spiritual person, but I feel like it's bigger than us. It's 100% bigger than us, and our bodies and whether or not people think we're cute… I couldn't give a shit about that."
Spirituality and religion seems to be a running discussion in our chat. Could an, er, "Christian record" be on the cards next? "It's going to be a Wiccan album!" says Josette, before Katie deflects the joke: "We definitely lean that way in terms of iconography and style. Like, we love a ritual. Wouldn't that be really fucking cool to incorporate into our shows? People come to concerts to have pseudo religious experiences. Venues are kind of churches." "Who knows," Naomi says, the conversation becoming muddled again, their voices merging to one, "maybe we'll start a cult..."
In the face of staunch political and social pressures for conformity and censorship, if that cult follows the doctrine of self-expression and connectedness that MUNA so vehemently preach, we'll be the first to sign up. Even if it does end up being a shitshow.
MUNA's debut album 'About U' is out on 3rd February via RCA.
Photos: Jacqueline Di Milia, Catie Laffoon. Taken from the Feburary 2017 issue of DIY, out now. Subscribe below.
Read More
Featuring King Gizzard & The Lizard Wizard, IDLES, Tkay Maidza, Sleater-Kinney and more.