Neu Class of 2018: Yonaka
With debut EP 'Heavy' adding to their already significant promise, this Brighton quartet push boundaries at every turn.
"We're all just massive music fans at heart," insists Yonaka vocalist Theresa Jarvis. "Look, I'll show you, wait one sec," she continues, before drummer Rob Mason whips out his phone. After a bit of searching, he finds a video from the band's recent show supporting Frank Carter at KOKO in London. Shot by a fan, it sees Rob headbanging like his life depended on it, leaning out from one of the venue's many balconies. "See!" Theresa giggles.
For further proof of their inquisitive musical obsessions, see debut EP 'Heavy': a sharp, varied collection which occupies a flexible middle-ground between pop-rock and something altogether more dangerous. "I think we've finally found the middle bits that meld them together," guitarist George Edwards chips in, with Theresa's spiky, Karen O-esque vocals backed one minute by crunching riffs ('Bubblegum'), and a funky strut the next ('Gods & Lovers'). 'Heavy' takes two intriguing sides of the band and fills in the blanks to make something cohesive as well as varied and electrifying.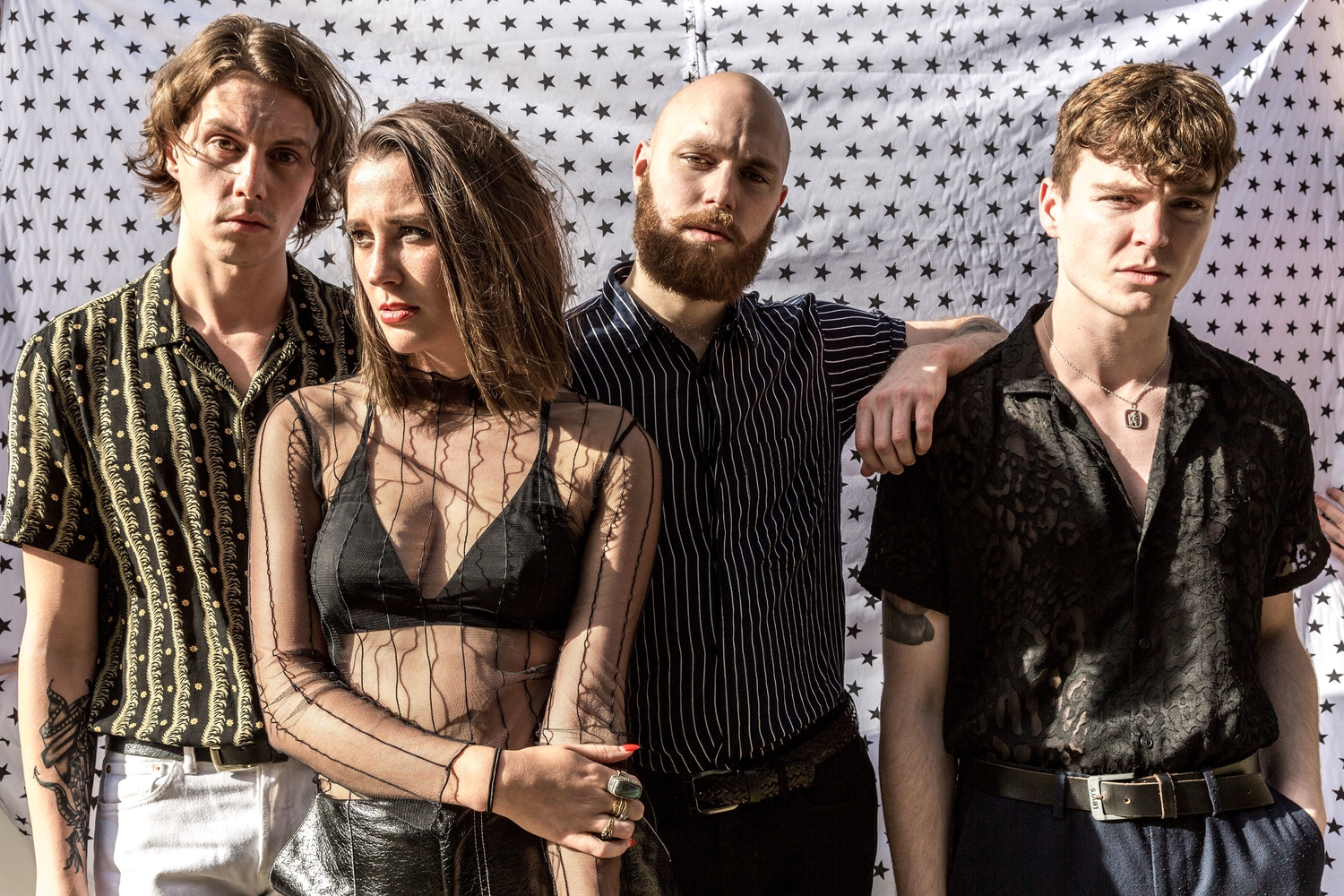 "We're going to keep making steps until we go all the way."
— Theresa Jarvis
Coming together after histories in other bands across Brighton, the four-piece felt an immediate connection and chemistry, one that has fuelled the band ever since. "It gave us this feeling that we never felt before," Theresa begins. "You get this rush. It's very rare to have people with you that always seem to play exactly what's going on in your head." It's a connection immediately evident when watching the band live. Theresa's front-of-stage swagger and snarling vocal battles with an often-topless George, thrashing around and churning out riff after riff, while Rob and bassist Alex Crosby keep things steady, combatting the chaos with steady, chunky rhythm.
From Pete'n'Carl to Frank Carter, Yonaka have already shared the stage with some pretty huge personalities, and according to Rob, playing with such acts is an experience that has only inspired them to become as unhinged and awe-inspiring as those they open for. "It makes you feel like it's possible. It shows you that you can be in their position."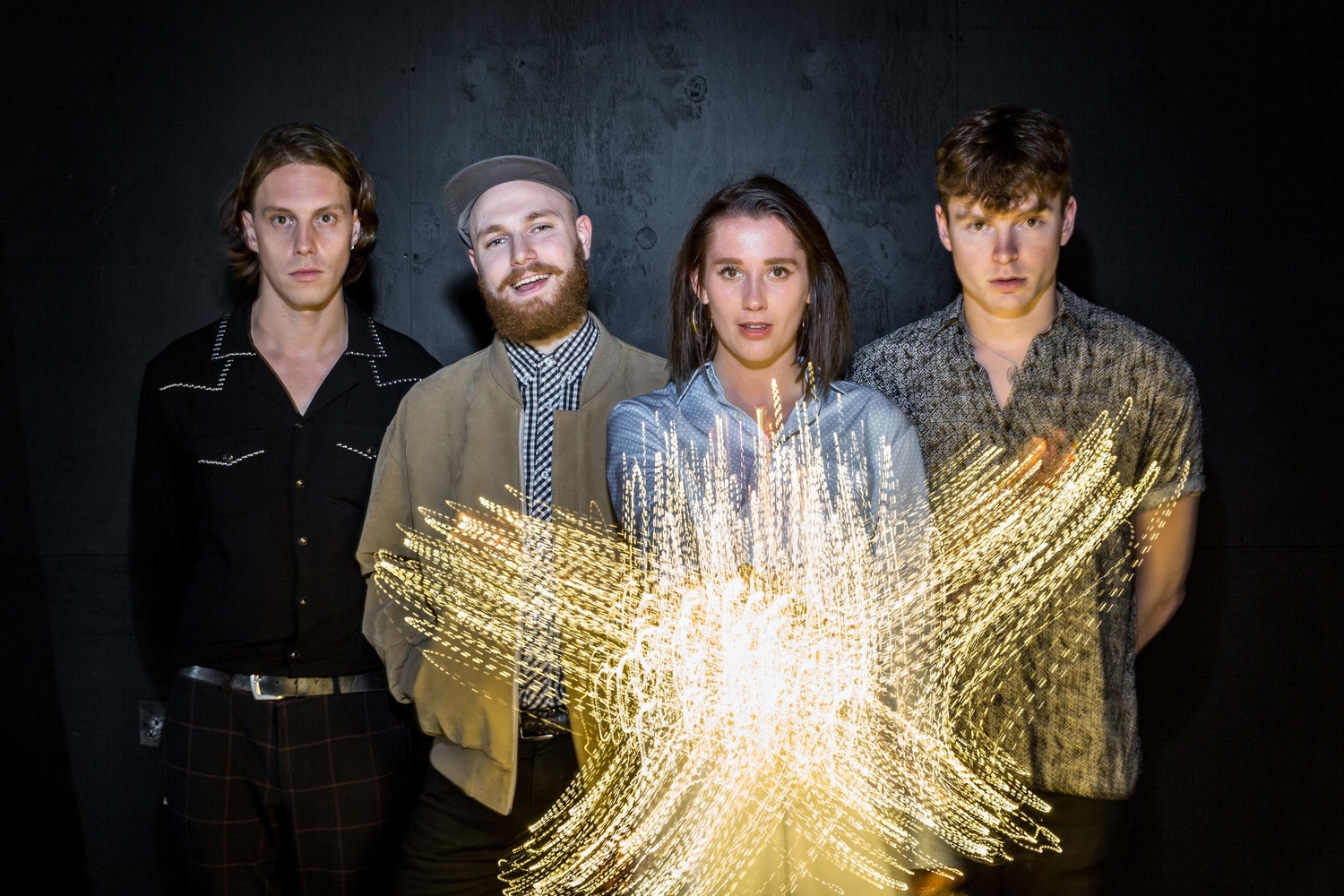 "We're all just massive music fans at heart."
— Theresa Jarvis
Theresa and George maybe took the idea of being in these bands' position a little bit too literally when the band supported the legendary Killing Joke, though. "We found our way onto their tour bus and hid in their beds and started taking photos and stuff, and their tour manager comes in and starts yelling at us, and we ran off the bus as fast as we could," Theresa giggles. "We had more shows with them after that too," Alex adds, the shame flooding back to his face.
Building themselves up as a live band - to such an extent that Theresa booked their first gig with only one song written, and another four had to be penned in the month before to fill the 30-minute slot - 'Heavy' is the band finally matching that live firepower with equal bite on record.
It's clear that a longing for success isn't something lacking in Yonaka, and they'd be right to back themselves. With a spiky, intriguing debut EP, a live show that's blossoming further every next night and an evident, burning passion, their lofty ambitions might not be out of reach for too much longer.
Read More
Featuring King Gizzard & The Lizard Wizard, IDLES, Tkay Maidza, Sleater-Kinney and more.