Class of 2020: Nasty Cherry
The girl band brainchild of Charli XCX, Nasty Cherry have been given all the tools and a massive platform to set them up for success. Now, they just have to come good on the potential.
Though the artists that make up DIY's Class of 2020 span spectrums of genre, geography, aesthetic and just about everything else, they all have certain things in common. All have made music first and gained attention for it after. All have done their time on the live stage, playing support slots to other people's fans to hone their craft. All have put in the considerable hours and years it inevitably takes to begin to make it in one of the most competitive and cut-throat industries out there. All, that is, except Nasty Cherry.
A four-piece girl band put together by pop legend Charli XCX, the group – comprised of singer Gabi Bechtel, guitarist Chloe Chaidez, bassist Georgia Somary and drummer Debbie Knox-Hewson – were puppet-mastered into existence a year ago, meeting for the first time the day they also started filming Netflix documentary 'I'm With The Band'. Literally born to polarise, they're either a very modern premise, designed to prove, as Charli says at the start of each episode, that these days there's no clear roadmap to success, or they're a group who've bypassed all the difficult bits and been given a spotlight because of their famous mate and a multi-billion dollar streaming platform. Understandably, when we meet the band on the day the show is released, they're keen to stress its the former. "Charli loves a challenge and it would have been kind of boring to get a bassist and a really great guitarist and drummer and singer and then start a band," shrugs Gabi. "Where's the process in that? Where's the development?" "It's a punk way of doing it. With Malcolm McClaren it was like, you can't play? Who gives a shit?" adds Georgia. "No-one cared if the Sex Pistols could play well." Which is true, but then no-one gave the Sex Pistols a 20-person-strong camera crew and a reality TV show either.
It's easy to be cynical about the group when everything about Nasty Cherry's conception seems designed to raise eyebrows. Half the band have spent years in the industry (Chloe as frontwoman of synth-rock band Kitten, Debbie as part of Charli's touring band), while Gabi, a professional model, had never sung and set designer Georgia learnt bass specifically for the gig. And yet the quartet seem genuinely inspired by their unlikely genesis. "It's actually really refreshing to work with people who haven't done it and don't have the same experience that we have because they bring something that you forget or lose along the way," explains Debbie. "It's unfiltered," nods Chloe. "I think there's this common misconception that if you work with a great producer, then you're gonna get a hit song. And I've been in those situations, with really experienced musicians and similar level producers, and you don't get the same thing because the musicians are overthinking things sometimes."
"It's a punk way of doing it. No-one cared if the Sex Pistols could play well."
— Georgia Somary
It's points like this where you can see clearly how a recipe like Nasty Cherry's could prove fruitful – no pun intended. For every comment about the group not having earned their position, there's an equal but opposite one about the volume of potentially brilliant artists that fall by the wayside because the opportunities aren't there. "I feel like what's always been motivating about this project is having reasons to keep going," Chloe nods. "There are so many reasons bands disintegrate, but it's normally to do with there not being any next forward step. Most bands break up because they have no reason to stay together." "Artists tend to get fucked over a lot and people are in development for 3-to-5 years which is crazy, so this is like a 'fuck that'," continues Georgia. "We can push through this and do the shortcuts, and it will piss loads of people off but at the same time I think it paves the way for people to do things a different way. Maybe we're manufactured, but there's also a really honest path that's being carved out that's as legitimate [as anything else]."

What's most intriguing about meeting Nasty Cherry is attempting to work out exactly what they want to be. Gabi insists that "none of [them] are here to be reality stars", and yet the show is both inextricably linked to and, seemingly, as much of a driving force for the quartet as the music. At one point, Georgia tells us how the normal dynamics of a recording session would be interrupted by the practicalities of having a large crew with them at all times. "We were in tiny studios with these massive camera rigs and they'd literally [have to] clear instruments off shelves because they couldn't turn around. That was funny," she laughs. Is it tricky, we suggest, because the conditions that make for a good TV show aren't necessarily the conditions that make for a good record? "YES," jumps in Chloe immediately before the others chip in with more amenable sentiments. "But they're not that different either," counters Debbie. "You need to be open and honest with one another; you need to champion things that are great but also have the confidence and safety in the space you're in to say, 'Well that's not the best idea we've got, actually'. And all of that was documented, but I think it actually makes for a very honest body of work." As if to blur the lines even further, the body of work in question - the band's recently-released debut EP – is titled 'Season One'.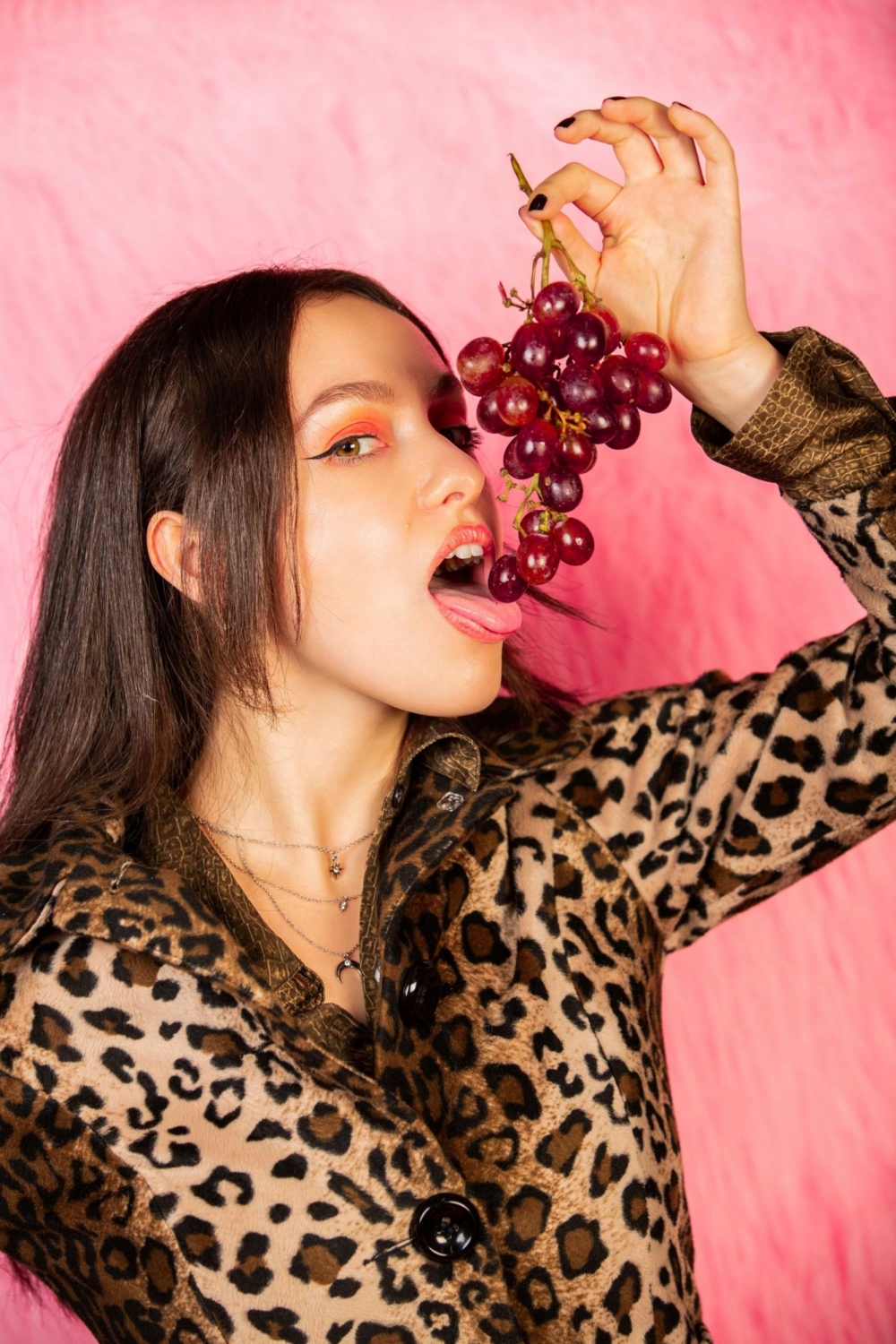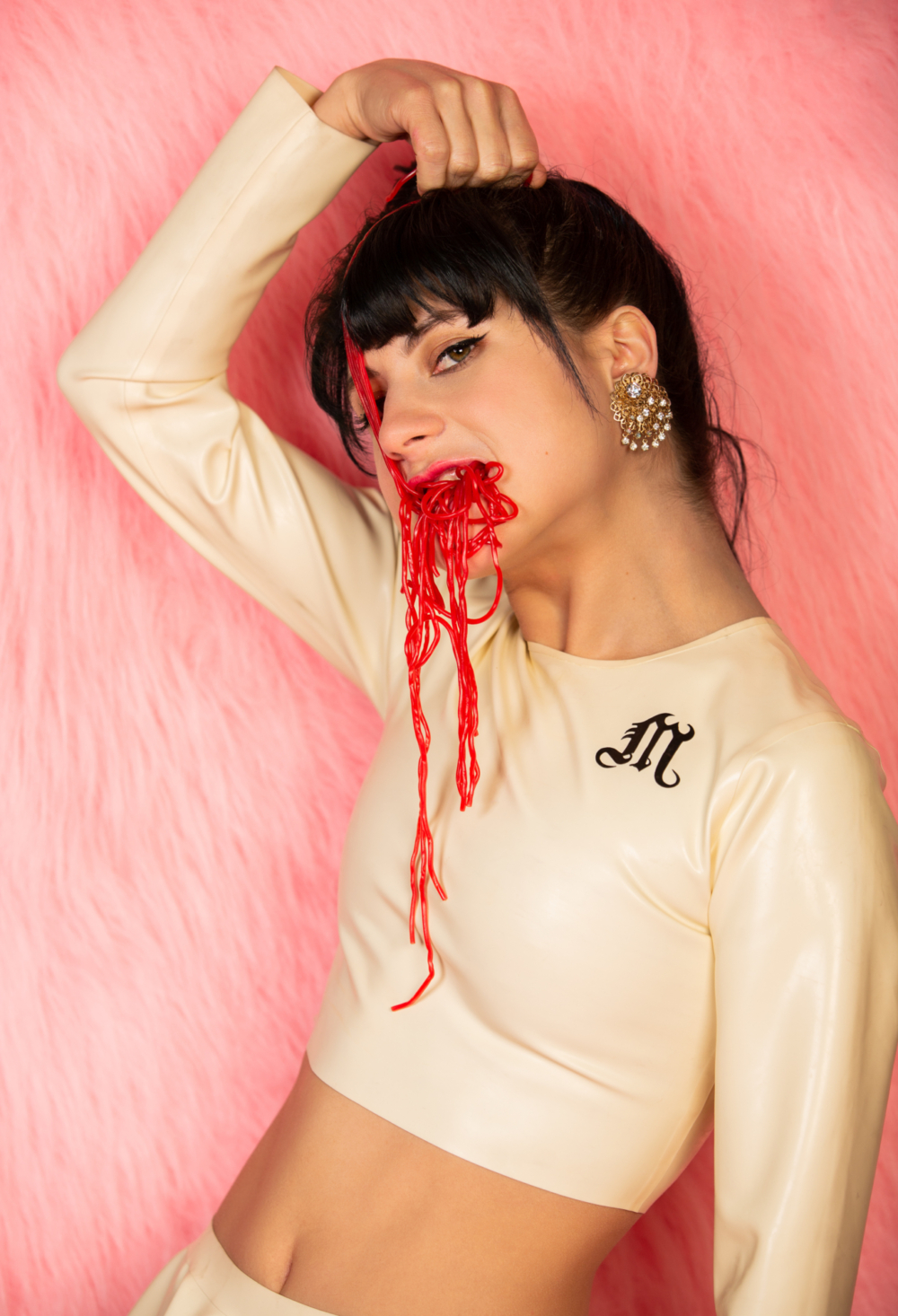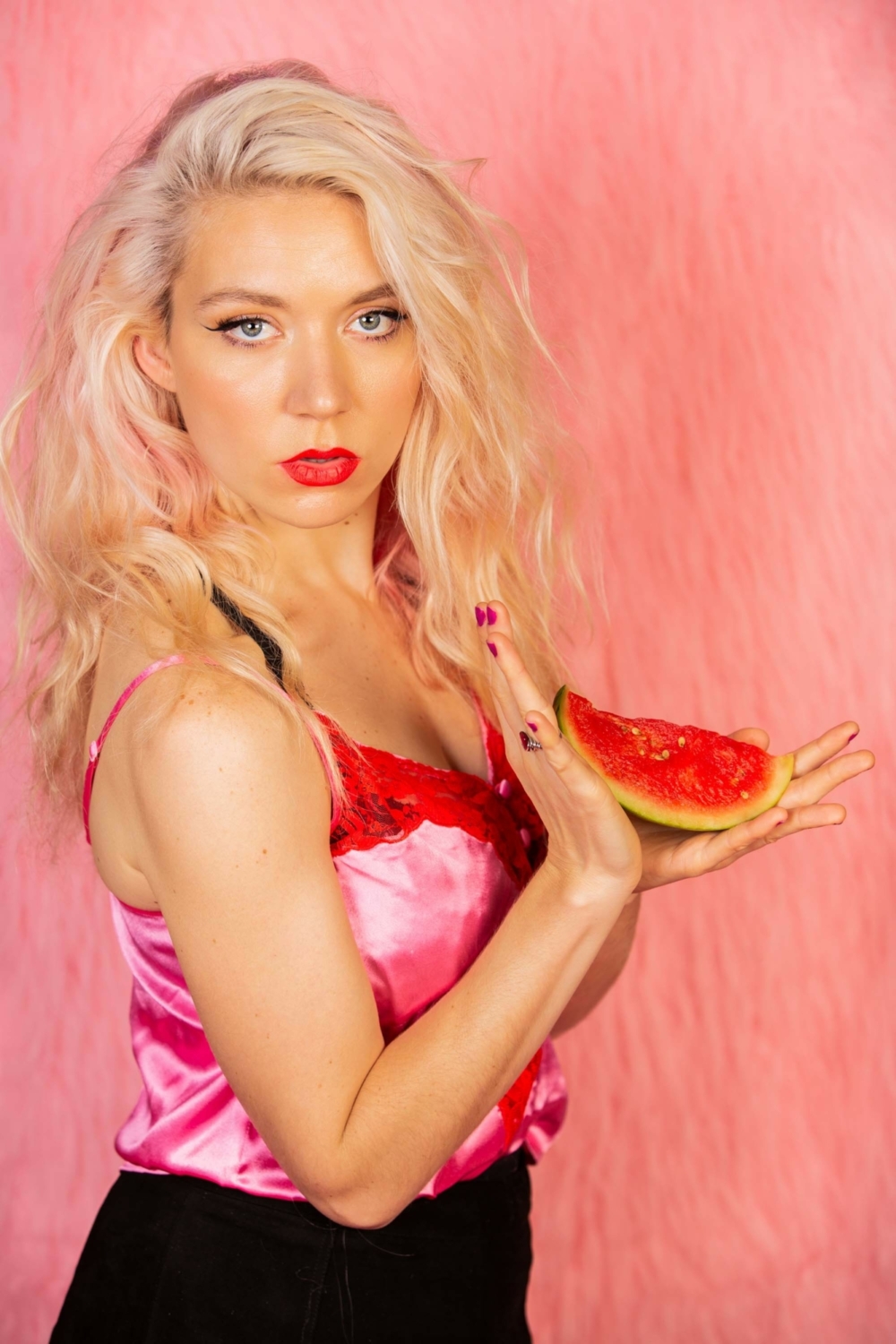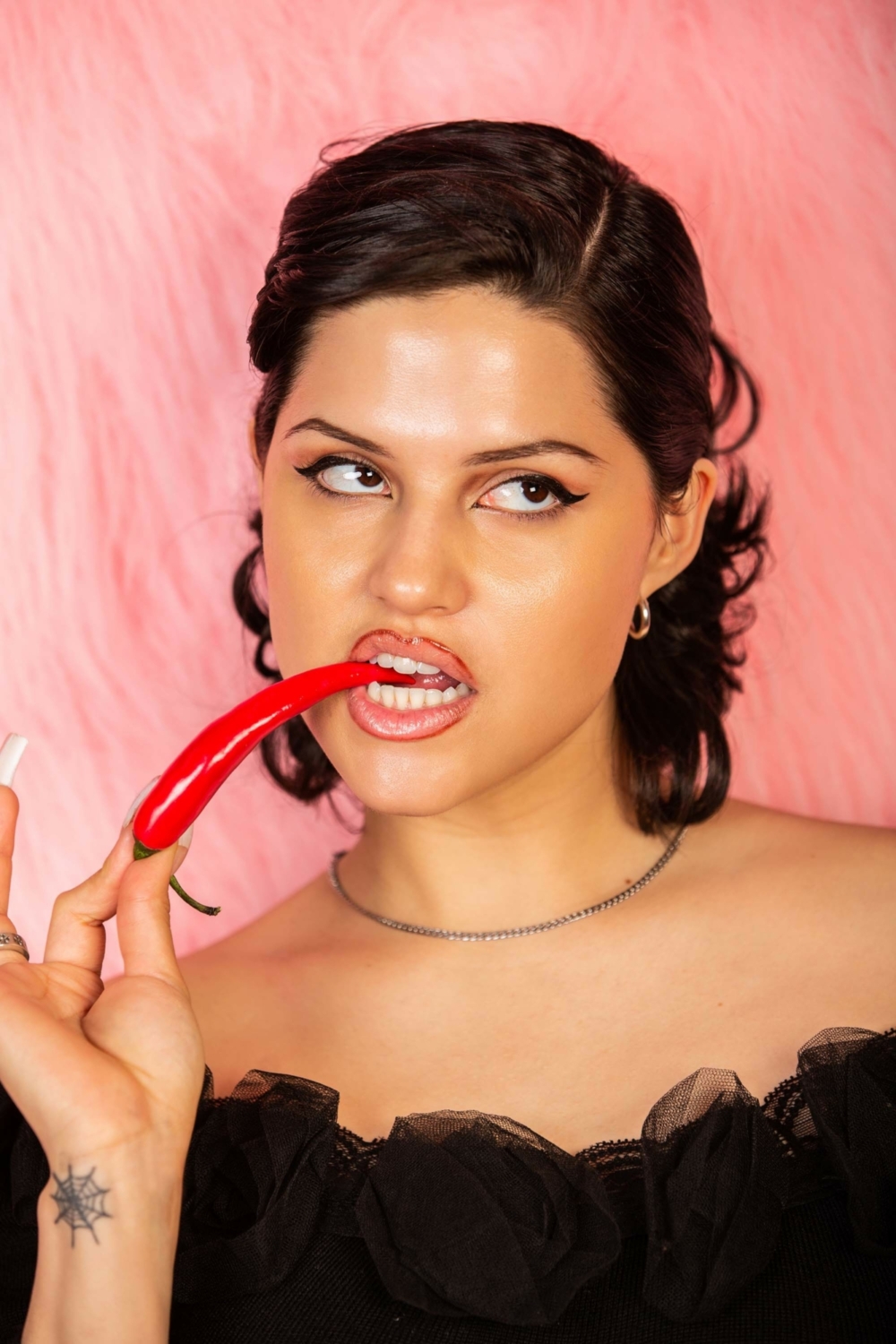 "Haters make me famous."
— Chloe Chaidez
A watch through the often-dramatic altercations of 'I'm With The Band' point to these same contrasts. On the show and in person today, Chloe is the most traditionally 'band-y' – more focused on the music and most up for taking the piss out of herself. Gabi, as you might expect, is magnetic in front of the camera but is also the quietest in conversation. Debbie seems the most guarded of the four, while Georgia veers between making very valid points about the unstable and constantly shifting nature of the modern music industry and then stating how she'd never previously picked up a bass because she had to get a job. It goes without saying, of course, than many, many musicians before her have managed to do both.
Sometimes you find yourself really rooting for the four-piece and their willingness to put themselves out there and try something new. When Debbie states that "the whole ethos of Nasty Cherry is to just do it, just try it", you can imagine a legion of teenage girls feeling braver in return. But then you'll ask about the show and Georgia will reply that she "wants it to have 15 seasons", which seems to sort of undermine the idea of Nasty Cherry as a band ever making music for music's sake, and emphasise the focus on fame and celebrity.
Still in their formative stages, the band's current output – a sultry, synth-flavoured, Sky Ferreira-esque brand of pop-rock – is promising enough to prove Charli's suspicions correct: no matter what their background, the four members of Nasty Cherry clearly have chemistry, potential and a knack for penning earworms that'll riddle themselves in your brain for days. Now it's a case of seeing whether, once the hype around their Netflix debut settles, they can continue the momentum and excite without all the behind-the-scenes extras.
How does it feel to be the most polarising new band on the block, we ask, as they head off for another day in their very abnormal new normal? "Haters make me famous," grins Chloe, with a wink. "Bring the haters on! I want people to talk about it, and I think there's a lot to talk about. A lot of questions!" she chuckles. "A lot of Qs…" There might be a lot of contradictions to Nasty Cherry, but you certainly can't argue with that.
Read More