Class of 2020: Working Men's Club
Less than 12 months since their debut single, and two members down (but far from out), singer Syd Minsky-Sargeant is out to dismantle the industry, one banger at a time.
"People are fucking shy of saying what needs to be said," declares Working Men's Club frontman Sydney Minsky-Sargeant in a Yorkshire drawl, stooped over the pub table we're sat at. "People aren't saying what they think; people are just chatting shit. Especially in the music industry, people are saying stuff for a reaction - I'm not, I'm saying EXACTLY what I think."
The frontman is an ardent force to be reckoned with, one loaded with opinions that snowball once you get him started. "I feel there's been a lack of decent music in general for a long time," he continues. "I don't think I could name 10 bands in the past decade that have made me really go, 'Fucking hell'. I think it's all really safe."
When we meet, it's mid-tour for Working Men's Club: a time where bags underscore eyelids and routines fall out of sync with the rest of the working world. It seems a spell Syd is currently beholden to. Unlike most bands on the road though, the rings around his eyes aren't solely indicative of a booze-infused evening; instead, Syd was up late engaged in a heated debate with a cleaner at the Hare & Hounds in Birmingham about Brexit.
One exchange particularly infuriated him. After explaining the origins of the EU's formation to bring unity and peace over Europe to said cleaner, she retorted with, "Some people need to persecuted". He raises his arms in bafflement, sloshing his pint of Guinness in the process. "Where is that hate coming from?! It's coming from everywhere man!" he exclaims, armed with a piercing stare which rarely strays throughout our conversation.
"These days / This time / Gets stuck / Between the line" goes the refrain of the band's most recent single 'Teeth', embodying and exuding the feeling of disillusionment that continues to sweep the nation. "Everything's a myth / don't know what to believe," the lyrics continue as they clamber for answers but ultimately end up falling short; a mutual sensation we've all felt over the past 12 months.
When you look at the timelines, Working Men's Club are still a band in their infancy, with their first official single only released in February 2019. Yet the 11 months since has seen them endure changes that take most bands a few years to experience; not only have they generated enormous buzz off their early releases, marking them as a serious prospect for 2020, they've also lost two original members in the process. "No disrespect to anybody who's been involved," Syd says, brushing his palms together. "It's a new beginning really."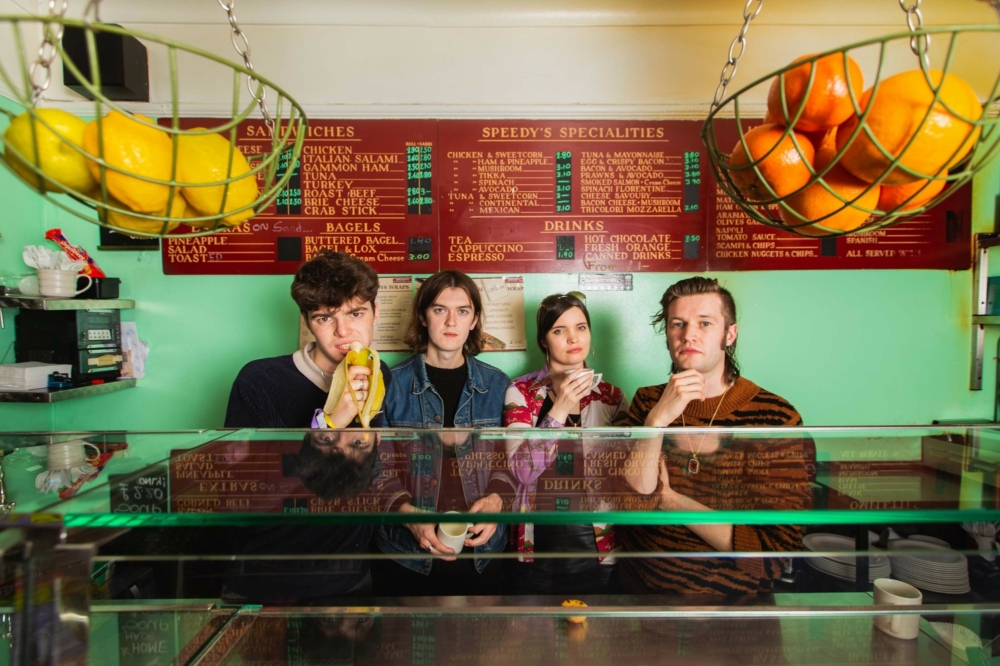 "Sam Fender and Lewis Capaldi? I think it's mass murder of art and culture."
— Syd Minsky-Sargeant
The group's sound, he tells us, aims to bring darkness to dance music: a formula designed to "make people happy, then fuck them up again." Despite only having two official releases to their name, the group has already made drastic sonic leaps within that small canon; whilst breakout single 'Bad Blood' sounds like The Fall having a pop at funk, aforementioned follow-up 'Teeth' is a gritty dancefloor banger indebted to techno and the pattering cowbells of LCD Soundsystem. Nothing, it seems, is off limits for Syd, who writes all the material.
While there are a number of topics in his crosshairs today, the one the frontman keeps returning to is major labels. "Everything has to be commercially viable. Fuck that! That's why there's a standstill," he says, prodding his finger on the table in time with each syllable. "I'm still listening to Kim Gordon: her new record excites me more than fucking Charli XCX, Sam Fender or Lewis Capaldi. It's garbage. I think it's mass murder of art and culture."
With studio time booked in with producer Ross Orton (Arctic Monkeys, M.I.A, The Fall) ahead of the new year, Syd is armed with a bunch of tracks that he's hoping to break the standstill with. "I'd like it to be weird as fuck," he says of his vision for the group's debut album. "I'd prefer people to think 'what the fuck is that?' I want it to be different," he pauses to take another swig of Guinness. "Otherwise I'd feel like I've been chatting shit throughout the whole of this interview."
Later that night, the band take the stage to a packed-out Moth Club, their short set unleashing a handful of tracks destined for said debut. 'White Rooms And People' cascades into a blissful psych-tinted chorus via a funk-laced verse, whereas 'John Cooper Clarke' is a much fiercer beast that takes on death and mortality with an appreciative nod to the punk-poet.
Whether or not Working Men's Club's speedy ascent continues into 2020, Syd's not really bothered. He's in it for more than just attention. "I don't care whether I've got hype or not," he asserts. "I don't care if there's 10 people at a gig or 2000 people at a gig. I don't make music to sell it to people. I'd still be making music if I had nothing."
Read More