Deftones: The Untravelled Path
Four years on since 'Koi No Yokan' and more than twenty years into their careers, Deftones are still venturing into unknown territory.
When you've spent most of the past two decades in a band, it's easy to fall into a rhythm. But for Deftones, evolution has always managed to stay top of their agenda. Despite having been together for the best part of the last twenty years, they're a group who still love a challenge. Sometimes – as frontman Chino Moreno claims – you've just got to take the rockier road.
"I think it's important to keep interested," he begins, sitting comfy in an armchair at the band's London label offices, ahead of the release of latest record 'Gore'. "It's important to keep yourself stimulated in a way where you're not just falling into a pattern and a formula that's just familiar and easy. Sometimes the more untraveled path has more chance of having a greater pay-off. It may be a little dangerous, but how are you gonna know if you don't try it?" By now it'd be easy to assume Deftones have everything figured out, but sometimes, it's more about the journey than the destination.
So when they began sessions for 'Gore', they decided to change the process. When something began to feel familiar, they'd take a left turn. They'd try something new, and work to delve into a different side of their music. Sometimes it worked, sometimes it didn't. "I think that us taking that road and at least doing the diligence, means that at the end of the day you can then say 'Oh, you know, we are trying things.'
"It's not like we tried things so differently," he assures, "we weren't trying to reinvent ourselves in a way, but it was just about little things. It'd be like, 'OK, this is my instinct on a song which is great, but why not see what would happen if I approach this in a totally different way?' I think it shouldn't be any sweat off your back to actually experiment - and I think experimentation keeps up motivation and stimulation to expand on what it is that we're trying to do."
"It shouldn't be any sweat off your back to actually experiment."
— Chino Moreno, Deftones
Unsurprisingly, when work began, there were other hurdles to overcome. Despite deciding to record in Los Angeles, the majority of the band no longer live nearby. Their approach instead was to spend short bursts of time in LA before heading back home – whether that be New York, Sacramento or Oregon - to live their lives again. Breaking up the process wasn't just about giving the band some extra perspective, but tackling the challenge of balancing their work and home lives and ultimately, keeping their minds in a creative space.
"The reason we chose to do it that was simply for that balance, and not driving ourselves crazy by being away from home. The only person that lives [in LA] is Stephen [Carpenter], so the rest of us were all going there but living in hotel rooms. It was a lot of being away from home and now, we didn't want to burn ourselves out by being in hotels and being miserable, you know? I love being home and I work hard so I can have the bed that I have and actually sleep in it," he laughs. "I wanna enjoy it!"
With the promise of home never too far away, it gave the band an opportunity to focus on driving themselves in new directions. The results are subtle, woven deep into 'Gore"s fabric. While at times it feels like a darker effort, it's also a more nuanced record. For every unorthodox turn the band decided to take during the writing process, there are moments of surprise tucked inside.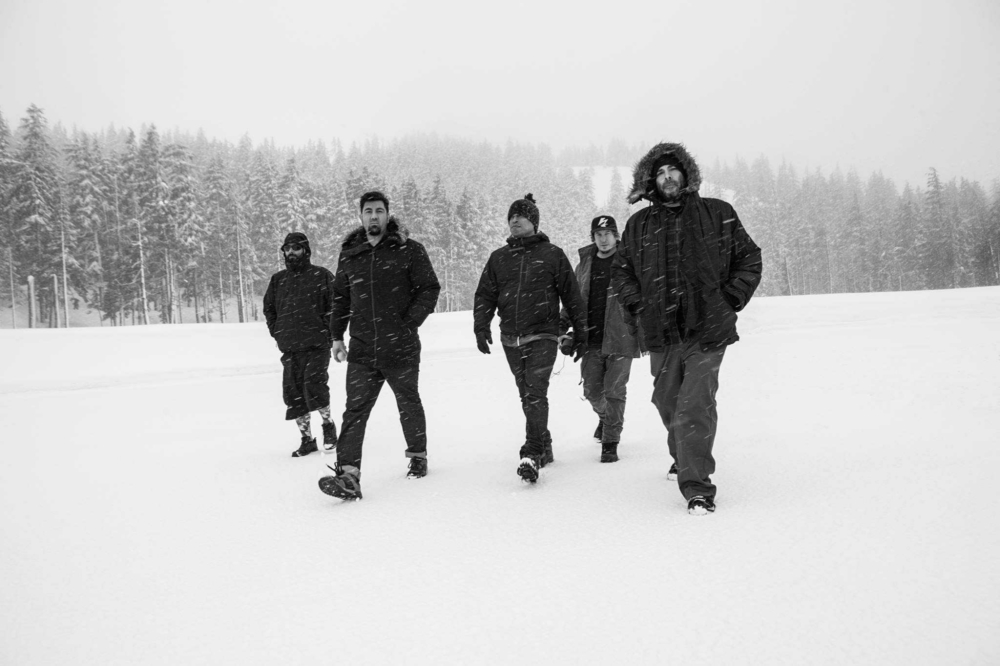 "This record has lasting power."
— Chino Moreno, Deftones
"I think the more you hear it, the more it's going to catch your attention," he claims. While it's true that the band have always been able to strike a fine balance between soaring melodics and roaring heaviness, 'Gore' somehow manages to meld the two together even more effortlessly. While this is undoubtedly a Deftones album, it's also something braver. "I think we're pretty well aware that this is, in no way, our heaviest record, but everyone's definition of heavy is different," he qualifies. "I think this record is one of our heavier records, but in a different way. The nuances are deeper and more prominent the more listens you have."
Regardless of experimentation, 'Gore' is an album that's made to last. That's something Moreno hopes listeners will take away; regardless of their own thoughts on the album, he hopes their fans will simply find something to connect with. "I really think that this record has lasting power. It's one of those things where I think, if people can associate it with anything in their lives and then, years from now, they listen to it and it brings them back to that point, that's what good music should do. Music should create a nostalgia for you in a way, and I think the record has the power to do that."
Deftones' new album 'Gore' is out now via Warner Bros. Records.
Taken from DIY's 50th issue special, out now. Subscribe to DIY below.

Get your copy of the latest issue
Read More