FFS: "We didn't want it to sound like either band, we wanted to sound like something completely new"
Franz Ferdinand and Sparks talk 'taches and their haphazard formation.
FFS, the new so-called supergroup formed by Franz Ferdinand and 70s art-rock aficionados Sparks, has been brewing for over a decade. Since the former released 'Take Me Out,' the two bands knew they wanted to work together. They traded demos over the years, but never committed to anything concrete. It's only now that FFS are releasing their self-titled first album - they're very clear that this is an entirely new entity, and a debut record - and they put it down to a strange combination of circumstances.
"As fate turned out, we bumped into each other on the street," says Alex Kapranos. "Through some spectacular mishap, I'd broken a molar. I can't go into the details, it's too harrowing - all we'll say is the articulated lorry did manage to get its bump-start," he smiles. "Our tour manager said, 'Huey Lewis has this great dentist, he'll sort you out,' and then, lost in San Franscisco, I heard this voice behind me, saying 'Alex, is that you?' And it was Ron and Russ. If I hadn't followed my mother's advice and eaten all those sweets, I wouldn't have broken my teeth."
"It's taken us twelve years of searching to find a moustache that meets the expectations of our namesake," Alex goes on, referencing the well-groomed facial hair of the actual historical figure Franz Ferdinand, along with Ron Mael of Sparks' iconic 'tache. "It eliminated a lot of bands," Russell Mael chips in. "That band Theodore Roosevelt that came to us one time…." adds Ron Mael, tongue firmly in cheek. "It just didn't work out, you know?"
"If it wasn't for teeth and moustaches…" Alex muses, "where would we be?"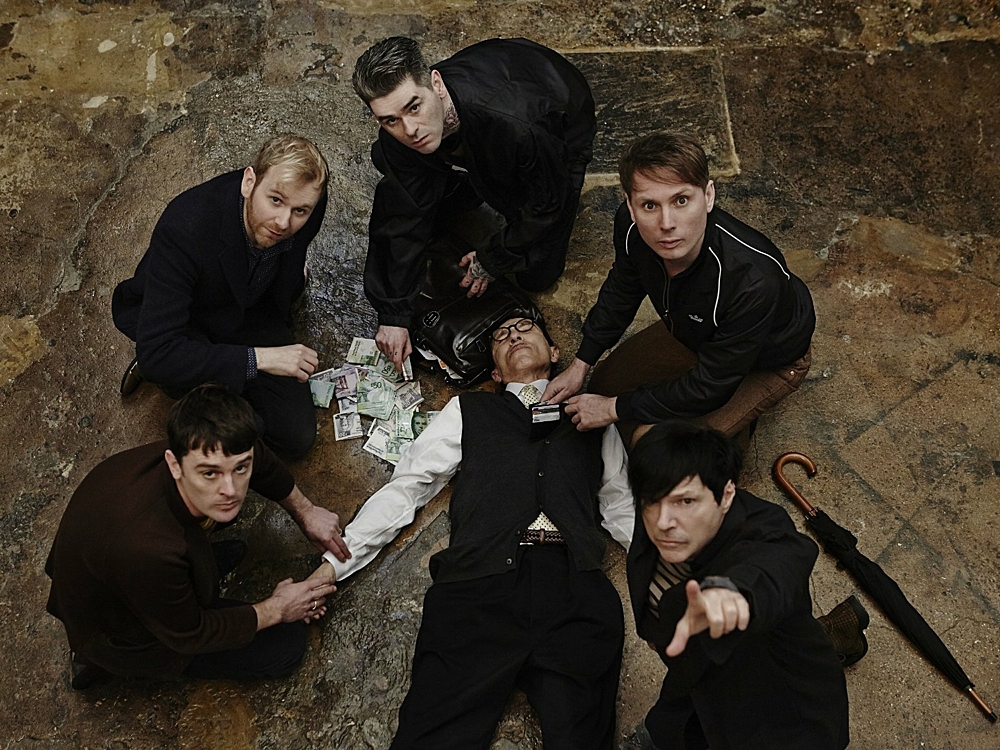 "We see FFS as something distinct."
— Alex Kapranos
FFS is - even setting aside those teeth and moustaches for a moment - the result of chance, largely because Franz and Sparks went into the project with no planned destination. "There was a real purity to the collaboration along the way, because it wasn't that we were doing it for a project," explains Russ. "It was done without any preconception of what it was," agrees his brother and Sparks bandmate Ron. "We didn't know how it was going to sound, either, musically," says Alex. "Particularly, we responded to one another. I guess it is quite an unusual sound, this record."
Unusual is putting it rather mildly. Actually, the whole thing is a totally bonkers mash of melodrama and glam-rock. At times it's a borderline parody of both Franz Ferdinand and Sparks' respective signature sounds. 'FFS' boasts an epic-length rock opera song, ironically titled 'Collaborations Don't Work,' and their debut single together - in a nod to FFS' sweary textspeak connotation - is called 'Piss Off'. "We want everyone to feel inclusive," says Alex, faux-sincerely. "It's nigh on impossible to plot the joining point between the two bands, and really, FFS sounds nothing like its components."
Having completely transformed their sound on 'No.1 In Heaven' in 1979, with the help of Giorgio Moroder, Sparks particularly know all too well the power of a producer. For this collaboration, John Congleton was the ideal match. "He was on the same wavelength in wanting to make something new," says Russ. "He brought a sense of newness to the project," agrees Alex, "and also an intensely crude sense of humour."
"We wanted to create this third voice, and confound the listener's expectation," Alex concludes. "It sums up the whole approach we had to making this record, and to the band as well. We didn't want it to sound like either band, we wanted to sound like something completely new. We see FFS as something distinct."
FFS' self-titled debut album is out now on Domino.

Get your copy of the latest issue
Read More