Interview Frightened Rabbit: "We've built our own place in the world"
A tumultuous eighteen months in Los Angeles led Scott Hutchison to Frightened Rabbit's darkest album yet.
"I think that's why the pub is essential," Scott Hutchison remarks. "I'm not saying drinking is essential…well, for me it is, because it opens me up and I'm a closed-off Scottish bastard."
Frightened Rabbit's frontman found his eighteen months living in Los Angeles - where the band's fifth album 'Painting Of A Panic Attack' was conceived - quite tough. "I found myself quite out of step with the city. It was the sprawl of the place. I could go for a month without seeing anyone but my girlfriend, we were living in our own little bubble. I'm used to Glasgow and Edinburgh, walking down the pub, bumping into ten people on the way to meeting some friends. That's the community that I come from. I know [a community] does exist in Los Angeles, but I think it takes more time than I was willing to give it. This place wasn't giving us anything."
Upping and leaving his native Scotland towards the end of the band's tour for fourth album 'Pedestrian Verse' put Hutchison in an entirely new environment - and drinking culture - he hadn't quite bargained for. "I completely took for granted how social interactions had affected my existence, and only realised how much I needed them when I didn't have them anymore. I needed an outlet to drunkenly talk about what was going on in my life. If there was some bullshit happening, I had no-one to talk to, or if I did, they weren't available until next Wednesday. I missed that 'get out of the house and put the world to rights' feeling. That, in a way, gave me more to write about."
"You're constantly searching for that place that feels good, and a lot of this album is about that feeling."
— Scott Hutchison
When the band headed into a Brooklyn studio with Aaron Dessner of The National in the summer of 2015, there had been a multitude of twists, turns and backtracks, which led them to a new album with a new-found, brooding darkness. A lot of this came from the finality the band felt after finishing work on 'Pedestrian Verse' - by far their most successful album to date.
"That album is, to me, the conclusion of a sound and an aesthetic that we'd been chasing for every album that preceded it," Hutchison remarks. "When you turn around and look back, having not only achieved a sound, but played in venues that we never thought we would - I mean, you never assume that you're going to get to headline Brixton one day - it immediately becomes a cut-off point, which is scary in a way. It leaves you wondering what you have left to achieve." Picking up the tail-end of a trajectory that took Frightened Rabbit to Brixton Academy gave 'Painting Of A Panic Attack' a lot to live up to. It left big internal questions needing to be addressed, too. "I didn't really mind if we did anything else, because we got to do this," Hutchison admits. "Then you end up wondering what the place of the band is. What's the point of another Frightened Rabbit album? Does the world need another album from our band?"
The parallels between Scott's band and Dessner's - an example of a band not thrust into the limelight with a certain album, but masters of the slow-burn - helped Hutchison and his bandmates take stock of their position in the world, and why they, as well as the world, needed another Frightened Rabbit album. "[Dessner] told us: 'you don't need to grab anyone by the collar anymore and say 'listen to me!'. We realised we've already built our own place in the world. He brought slightly less bluster to this album than we've had in the past. He helped us create a world within this album that was open. One of my favourite things about The National is the space that's within the songs. You feel like you can walk into them. I feel like The National make songs that exist in a room, and you can see that place, it's quite visual. That's what he helped us create, and he helped us to be restrained. It's not something that we've been very good at in the past."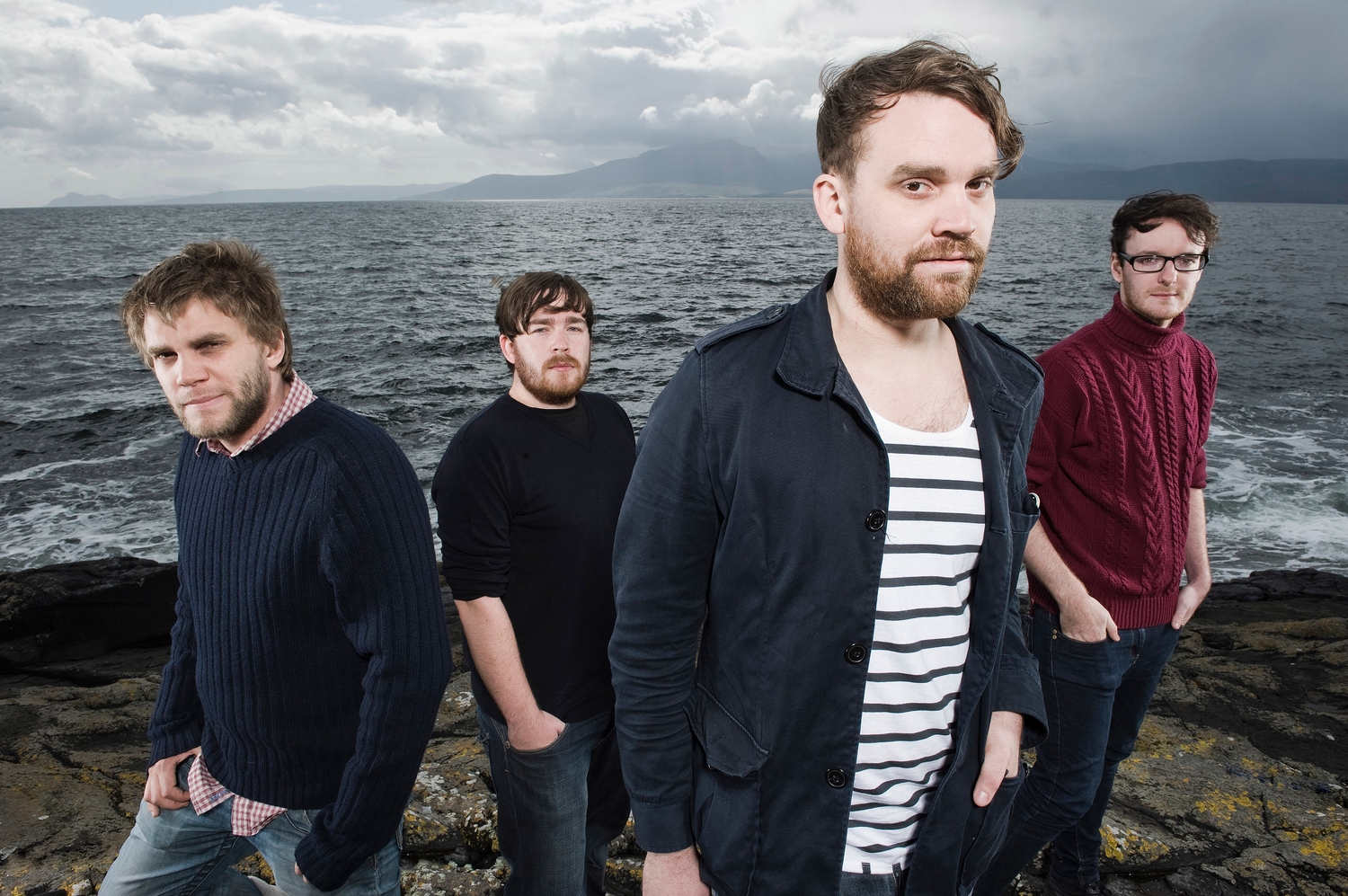 "There are a hundred different ways of expressing how it feels to get wasted and behave regretfully."
— Scott Hutchison
Space is something that dominates 'Painting Of A Panic Attack', with Dessner's influence in the studio helping Hutchison give his songs room to breathe. "I remember my Mum telling me that when I was younger, if I was drawing a picture I would always draw all the way to the edge of the piece of paper. It would never be a face in the middle, the whole thing would always be covered. I feel there's some parallels within the music, where I would always fill out the space and felt scared of leaving any. That fear was allayed by Aaron. There's actually not many people that I, or the band, would allow to become that deeply involved in what we feel is quite a personal thing. He's maybe one of five people that we'd let in, and it just so happened that he came forward."
Frightened Rabbit's four albums to date have been characterised by Hutchison's brutally honest, personal lyrics. A step he took at the very beginning of this album's process - towards writing in a more abstract way about fictitious characters - proved a difficult one to develop, with the frontman now believing it was one which took him in the wrong direction. "Testing yourself as a writer is important, but the best way I find to get the correct level of detail in the lyrics is to - whether or not the lead character is me- to have a basis of the subject within my own life," he comments. "I need to know the story better than anyone else for it to sound genuine, and that believability was missing from the first lyrics I wrote for this album. There wasn't enough detail in the thoughts that I was putting in there, because they were constructed."
Most of the communication of song ideas between Hutchison and his bandmates was conducted over email, often for better and sometimes for worse. "I was sending demos back to the band, and my brother [drummer Grant] got back to me and said 'I don't think this sounds like your best stuff, I just honestly don't think this is what people want to hear, and what I want to hear'. I was editing my own life out of the songs to censor personal issues, and he said 'I see what you're doing, but you shouldn't do that'. I had a couple of days sulking about it, before I realised he was right. If he'd said that to my face, that would have resulted in an argument, whereas I just didn't reply to the email straight away, and got back to him eventually saying 'regretfully, you are correct'. That was quite important to the then-development of the record. From then on, I was intent on not censoring my thoughts. To do what you do best is not failure. It's not resting upon your laurels and thinking 'oh, I know how to write about heartache - I could do that in my sleep.' I realised that the things I choose to write about is a well that doesn't really dry up. There are a hundred different ways of expressing how it feels to get wasted and behave regretfully."
"What's the point of another Frightened Rabbit album? Does the world need another album from our band?"
— Scott Hutchison
Hutchison relocated with his girlfriend to Hudson, New York, after the completion of the album. His new grounding in a neighbourhood in which he immediately felt more comfortable allowed him to reflect on the turbulent two years that birthed 'Painting Of A Panic Attack'. It gave a character that seeps out of the entire record. "I can visualise the spaces that we formed those songs in, and they're not big grand places. They're musky old studios with broken bits, and out of tune pianos, and I think that's what brought the character of the record. It was created all over the place. There isn't one space that comes to mind when I think about the album, and that brings the eclecticism more so than we've ever had before. Instead of it being a big, bright room, it's a stinky, dark, candlelit one."
Looking back, Hutchison doesn't categorise his time in Los Angeles as a regret, but a formative experience that taught him a lot about home, as well as creating an album fraught with frustration and displacement. "You're constantly searching for that place that feels good, and a lot of this album is about that feeling - 'we're gonna escape, but where are we gonna escape to?'"
'Still Want To Be Here' is the song Hutchison points out as the track on the album with the most nods to his time in LA - it leads with the line "the perfect place may never exist / the perfect time might be years and years away". While Hutchison's search may still be continuing, the beauty with which he depicts the struggle, and its continued, punching relevance into the lives of so many, is enough reason on its own. The world needed another Frightened Rabbit album.
Frighted Rabbit's new album 'Painting Of A Panic Attack' is out now.
Read More
Featuring James Blake, Romy, Marika Hackman, yeule and more.