Farming up a special debut: Gengahr's way with the wilderness
Gengahr make music in sharp, determined bursts, with zero distractions. Next up? The O2.
Anyone crossing Gengahr's path live tends to get sapped in, shaken around and spat out in one satisfied ball of muck.
These four have a habit of causing a stir on stage, and their first big test of 2015 will be a Not That Intimate date with Alt-J at London's O2. On record there's a determinist streak to their music, a vicious edge that pierces the surface of a crackling psych mentality. Live, however, is an experience that takes some beating. They've spent the past few months honing their trade (frontman Felix Bushe is still counting the number of shows they've played, nearing the hundreds) and that looks set to continue, despite there being the lowly matter of a debut album on the cards.
The severity and venom of Gengahr's music is a slow-burner. On the outside, early single 'Bathed in Light' / 'Powder' comes off relatively soft, gentle in its easeful approach. But out steps a sudden jolt of energy, a minute-long crashing wave of guitars from John Victor. It has to stem from somewhere, and together they collectively agree that they joined the band in late 2013 with a serious desire to make things happen.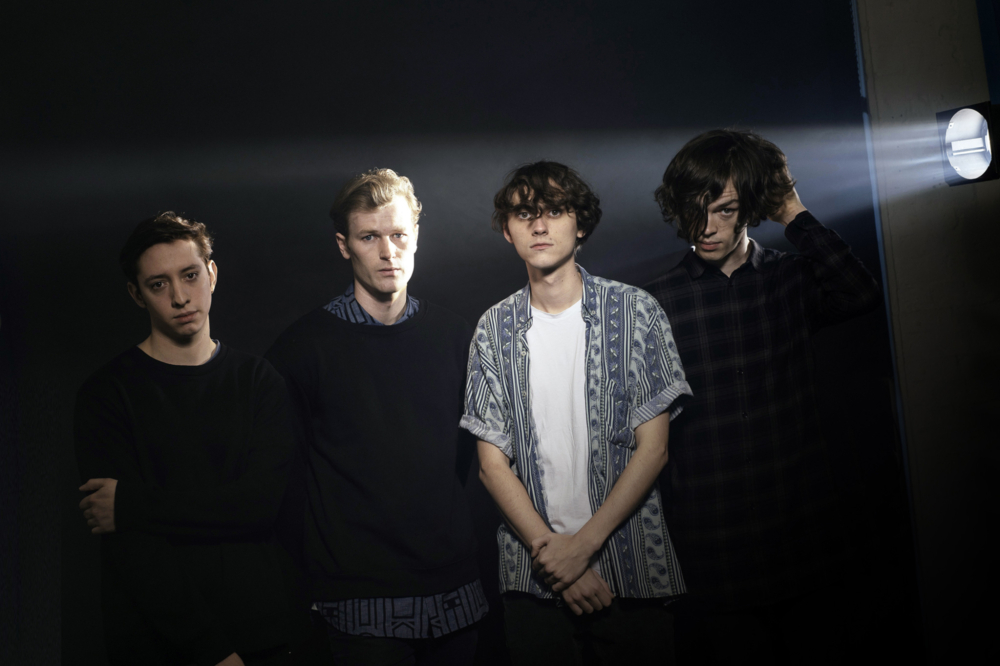 "At some point you realise you can only fuck things up so many times."
— Felix Bushe
"I think we've all been in failed projects," admits Bushe, who played in a band called Zen Arcade alongside bassist Hugh Schulte. "The big one is whether you're ready for it yourself. Personally, I don't think I was ready to be mature enough, in a good enough creative mindset which was worthy of people's credit."
"And you've got to have everyone as focused as each other," backs up Hugh. "Often that never happens, but I think we've found the right dynamic."
This explains the pack mentality that follows the band's every move, on stage and off. For their first recording session, they wound up with five songs in a matter of hours. Nowadays, claims Felix, they'll do three hours "relentlessly" and then they'll "take the rest of the day off." They all "jump in", with the exception of studio local Hugh, who lives round the corner. "It's like the kid that lives across the road from school - always the last to turn up," jokes drummer Danny Ward.
Sessions for their debut record have been taking place in a distant farm in Devon, where phone signal's a no-go and there's barely a bar to check into for a quick break. "We work best without distractions," says Felix. "There's very little to do other than just crack on. When we're on a farm we do sixteen hour days as a minimum. You get up straight away, you're in there, and you stop when your ears go dead." Speeding by at their current rate, they reckon they'll have the album done by Christmas.
Early demos landed Gengahr a deal on Transgressive, a home that'd likely be happy to give the band their own time and space to press - but these four aren't the type to sit still. "We clicked with them straight away," says Hugh, who describes the deal as "a big relief, actually."
"That period of time is so difficult," agrees Felix. "You don't know what's going to happen next. Someone could be like, 'Yeah, we're going to set you up with this producer over here'. These are the bands we want you to sound like. You can create all the worst case scenarios in your head and you can never be sure of the reality ahead. When we met Transgressive it seemed very obvious that they were going to let us do our own thing. And they were happy with what we'd already done. They weren't going to tamper with it."
It'd take some guts - and foolish intentions - to meddle with Gengahr's current route. It's difficult to think of a band that's gone from debut casual demos to the O2 in such a short space of time. But it's this assured, confident pack mentality that's fuelling momentum. "I think it's just a level of maturity as well," says Felix, again referring to previous projects. "At some point, you realise you can only fuck things up so many times, before it escapes you completely. Without being dramatic, it felt like this was the time to buck up a bit and not act like an idiot."
Read More