Gengahr: "The hardest part of starting a band is finding people you work well with"
The Londoners take a break from the studio to let loose at DIY's 50th issue party.
Gengahr may have allegedly started out with small hopes - from getting to play guitar for a living to fooling someone in to releasing their music - but over the past few years, they've become one of the finest new talents in the British music scene. Whether fifteen playing shows with a broken shoulder, opening proceedings for Alt-J at The O2, or just releasing their brilliant debut 'A Dream Outside', there's been plenty going on with the four-piece and, as part of DIY's 50th issue celebrations, we opened the prosecco and got the band's John Victor to spill the beans on all the best and most bonkers moments of the band's life so far.
In 2011, they were: Still collecting Pokémon cards - these four were a completely unknown entity.
Right now, they're: Hard at work on their second album, the follow-up to 'A Dream Outside', aka one of 2015's best debuts.
What's the best thing about being in Gengahr?
Either travelling the world or just getting to play guitar all the time. In fact, put those two together, playing guitar all over the world!
What have been your favourite / most surreal / most silly moments of the past few years?
There's been a few - the most surreal and stupid was when Danny [Ward] broke his shoulder on the third date of the Wolf Alice tour, had to finish the next 15 gigs playing with one arm.
If you could relive any day from the past five years again, what would it be and why?
I'd like to relive playing the O2 arena with Alt-J as I can't remember that day at all. I assume I enjoyed it - but too much fear.
Which forgotten bands of the past would you like to see come back?
Anyone as long as it's not another shoegaze band. I love all of them obviously - My Bloody Valentine and Slowdive - but it seems to be only those kind of bands making a come back at the moment. Having said that, most of the music I used to be into was pretty heavy and I don't want to see a bunch of 40 year olds trying to recreate that energy… Only Converge can get away with that and that's because they never stopped.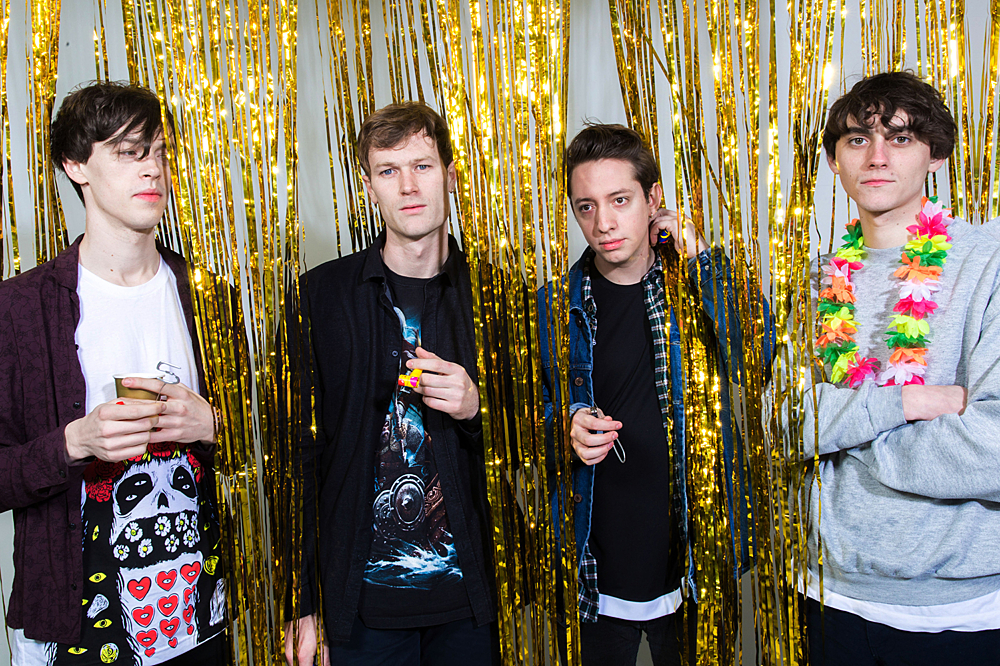 "​I'd like to relive playing the O2 arena with Alt-J as I can't remember that day at all. I assume I enjoyed it - but too much fear."
— John Victor, Gengahr
If you could give yourself one piece of advice when you started out, what would it be?
Play with as many people as possible. The hardest part of starting a band is finding people you work well with. Plus you get to meet lots of weird and sometimes wonderful people… Often not so wonderful people.
What does a new band need in order to 'make it'? Time and space? A stroke of luck?
Depends on how you define 'make it'. I just wanted to fool someone into putting out our music on vinyl, thanks Transgressive!
How do you think the Internet has revolutionised how bands get recognition?
It still seems to be pretty much the same, at least initially. You still have to impress the right people in the right places to start getting attention from further afield. It feels like there's more outlets that can help you as a band or artist but still only a select few can give you the big push you need.
How important do you think it is for bands to support one another?
I used to love it when I was a teenager seeing what bands liked each other. It was less about the politics of bands supporting one another and more just about taste. If the band I like recommend this other band, the least I'm going to do is check them out. I guess that's kind of how 'scenes' start?
How does a new crop of headliners come through? Do bookers need to take more risks?
I don't think you really want a risky headliner, by that time of the night at a festival I'm probably very drunk, haven't ate or slept properly and I just want comfort music. Doesn't even have to a band I like, just something I know.
Which acts will headline festivals in five years' time?
Wolf Alice and Slaves, assuming they both release great second albums. And Grimes - I saw her the other night and it was so much fun.
What's your favourite music venue in the world and why?
Probably King Tuts in Glasgow. It just sounds so good in there, if it's packed it's the best atmosphere as well. That's my favourite size of venue to watch bands.
What can we do to save the current crisis of venues being shut down?
Well, there's the government that could step in and change the legislation and make it harder for venues to be shut down. That's a big part of it. I think lots of venues are being run really well, there just seems to be a bit of a lull in interest in going to watch bands at the moment, at grass roots level. I think we need something like The Libertines to happen again, not in terms of the band's sound but in the way they made it desirable to see live music. They explode and then you have loads of bands coming though, like what happened with Britpop in the 90s. We need a Blur or an Oasis to become huge again so bands like Pulp can push through to the mainstream. To get people who didn't really care about music before going to 'weird' gigs with their uni mates and stuff. Then that will make the whole music industry churn a bit more smoothly and we can pack out smaller venues with more up and coming bands.
Are streaming services the norm, or do you think we'll be listening to music in a very different way in five years?
I can imagine it being pretty radically different in 5 years time. The idea of downloading songs on iTunes almost seems kind of quaint now. I still buy records, even CDs but £8 for some raw data never appealed to me.
Taken from DIY's 50th issue special, out now. Subscribe to DIY below.
Read More