Nature Boys: Gengahr
Massive support tours and a critically-acclaimed first album made Gengahr's first steps seem easy. For second LP 'Where Wildness Grows', however, the quartet had to tread the road less travelled.
I remember distinctly one of the first shows we did when we were supporting Catfish and the Bottlemen. We were heckled from start to finish and I was there thinking, 'Fuck my life, I'm not sure if I'm cut out for this'," recalls Gengahr singer Felix Bushe, sitting with his shivering bandmates on a cold January morning. "Getting the piss ripped out of you by a bunch of 13-year-olds is not my idea of fun…" "I think we got good at it from school, to be honest," chuckles bassist Hugh Schulte - "it" being the ability to weather the particularly icy storm of a disgruntled crowd. "We used to play a lot of our own stuff in assembly. The [rest of the kids] were much more into R&B and rap and we'd come in with really ropey guitar songs. It's fair to say no-one really had time for it." "But yet we put ourselves up for it multiple times," finishes Felix. "It toughens you up and after that we thought, well that's probably about as cold an audience as we're going to get…"
If the rapid rise of Gengahr a few years back was one that went smoother than these tentative first steps, the band playing huge arena shows with Alt-J and Wolf Alice before releasing a universally-lauded debut in 2015's 'A Dream Outside', then the thick skin their early forays had earned them would turn out to be more necessary than anyone might have guessed.
Going back into the studio after two years of touring, the quartet – completed by guitarist John Victor and drummer Danny Ward – began work on Album Two. So far, so normal. Back in October 2016, they spoke to DIY from the studio, an early 2017 release date on the cards. "We're listening back and making tweaks and just kind of finalising everything," said Felix back then. Safe to say it didn't quite work out. "We had a sinking feeling from the final [days]," nods Hugh. "We were in the studio for so long and everyone was getting really unhappy." "The songs weren't the problem, it was our approach to it," agrees Felix. "I think we were just driven to make something impeccable. Everything had to be the best it could be, and so you end up chasing your tail a bit and you're never quite satisfied. We tried to iron all the creases out, but in doing so we ended up strangling a lot of the life out of it."
"The idea is to try and make people feel something; whether it's joy or utter sadness."
— Felix Bushe
After three solid months in the studio, "all day every day, very late", Gengahr had wound up with a record that they didn't really want. From commendable beginnings of trying to test their boundaries and create something broader than the debut that they still love but admit was "a bit samey", they'd lost the looseness and easy rapport that the past years of solid touring had cemented. "We didn't once play a song all together. The studio was small and we weren't afforded the luxury of playing all in one room, and I think that was why it didn't work, because it was so fragmented," shrugs Danny.
And so, after dozens upon dozens of hours of work, they decided to scrap the whole thing. "It was quite exhilarating. Like, just fuck it!" exhales Hugh. "It was an expensive mistake, but a fun one…" With a new mission statement that boiled down to essentially "do the opposite of what we did before," the band went back and turned everything on its head. Recorded in two weeks, with the emphasis on playing live, 'Where Wildness Grows' mk II quickly proved that Gengahr could expand their own horizons without losing sight of themselves along the way. "I think good albums can have a real sonic similarity from start to finish and that's fine, but we always felt like we were capable of doing more than what just worked," pushes Felix. "We went a bit nuts making every song sound like a different genre as much as we could, but the thing that unified it at the end was thinking that if we could do it between four of us then no matter how weird and different it was from what we'd done before then it would still sound like Gengahr."
"No matter how weird and different it was from what we'd done before, it would still be unified and sound like Gengahr."
— Felix Bushe
While, sonically, this broadening of boundaries is obvious from the opening vocals of single 'Carrion' – an unexpected statement that trades Felix's trademark falsetto for a lower range filled with new-found urgency – there's also been a notable lyrical switch up.
Though you'd be loathe to describe any of Gengahr as particularly clownish characters – all come across as fairly considered, quiet types while guitarist John, bundled down into his jacket, remains entirely silent for our whole conversation – Felix in particular comes off as a reasonably serious kinda guy. When we ask if he considers himself to be an open person, he replies "No" immediately, not missing a beat. For a man who doesn't seem to want to give much away, it makes his decision to delve inwards for Album Two all the more commendable. "I'd tried to hide behind the narratives [before] which I think is ok - I don't think everything has to be about yourself. But the idea is to try and make people feel something; whether it's joy or utter sadness, that's got to be the end result," he begins. "It's funny because on the first record it was all based around the idea of escapism and on this album I wanted it to be more personal. But in the process of doing the album my mum got very ill and she ended up passing away, so it became almost more of a distraction than the first one ever was. It's cheap therapy," he notes, wryly.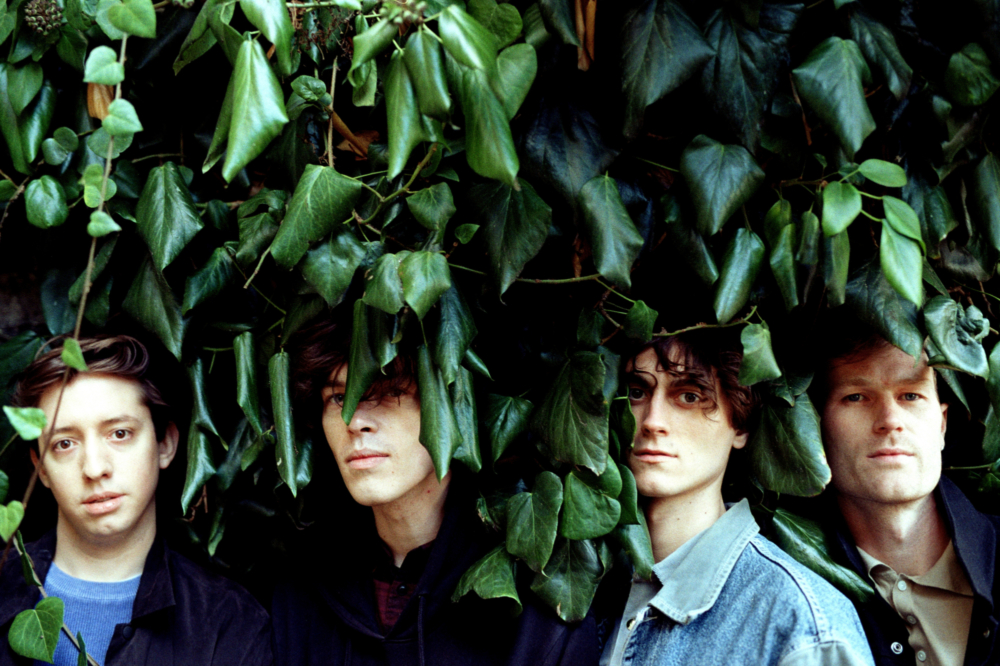 Filled with raw, natural imagery from the leaves that grace its cover to the carrion (aka a decaying corpse) that titles one of the record's most darkly engaging tracks, 'Where Wildness Grows' is an album that takes the dappled beauty of its predecessor and fills it with this glut of humanity. In sticking to their guns and having the balls to know when things just aren't sitting right, Gengahr have come good on their ambition to push things forward. But instead of precision and studio trickery, it's emotion and openness that are leading the way. "The smart thing is to realise when you're not happy and you're not comfortable because you're going to have to live with that for the rest of your lives, so we did take the time and I think we're all very glad of that now," nods Felix. "You've got to carve your own path. If you get too caught up in trying to be like something that's already happened then you'll always be shutting the door on your own identity. What connects with people is if it sounds unique. And if it sounds like nothing else, whether people love it or hate it, then you're doing something right."
Those kids in assembly won't know what's hit them.
'Where Wildness Grows' is out 9th March via Transgressive.
Taken from the March 2018 issue of DIY. Read online or subscribe below.
Photos: Emma Swann / DIY

Get your copy of the latest issue
Read More