Interview
HAIM: "I'm really proud of us not listening to anyone. We really did not give a fuck"
Coming in at Number Four on DIY's Albums of 2020 list, the HAIM sisters reflect on 'Women in Music Pt. III' and a year of masks, madness and crowing in your garden like a rooster.
It's another Tuesday on Zoom, and Este Haim is showing DIY her favourite lockdown purchase – a face mask. But we're not talking the kind that most of us have been wearing over our mouths and noses for the majority of 2020. We're talking a full LED Tron-style light mask, designed to restore the wearer to the dewy complexion of somebody who has never known stress in their lives.
"I put it on and it is like instant me-time," she enthuses. "This is gonna sound so LA, but I stick that bad boy on, and I ruminate about my day, and then I wake up the next morning and I write everything down. When Alana gets on this call, she will alley-oop me on this. I'm a real influencer!"
True to form, when Alana emerges, still in bed, she too has a mask to hand, albeit one that looks more like a golfing visor gone wrong ("The things I'm sucked into buying on Cyber Monday…"). The pros and cons of expensive facial care are weighed up at length, while eldest sister Danielle looks on with the fondly-detached amusement of someone who has observed this banter daily her entire life. Even virtually, the HAIM sisterly dynamic is as clear as their complexions.
However, it's no wonder that Este might require some me-time. In a year where chaos and uncertainty have reigned, the trio have found themselves impressively busy from home, entertaining the nation through virtual dance classes, Taylor Swift collaborations and - of course - the release of their third album, 'Women In Music Pt. III'. Coming in at Number Four on DIY's albums of the year list (cue jubilant cheers over the screen), HAIM were on the second date of its initial promotional run across America's deli's when the pandemic hit, forcing them to separate for the first time in their lives.
"It was super subtle at first, people kind of not standing next to each other on the train, the odd person wearing a mask," recalls Alana. "And then that night is when Tom Hanks announced that he had it, and everything became like, OK, it's time to go home," chips in Danielle.
"I think if anything, it's really the process that I keep remembering, the spirit of us as sisters just going for it and not really caring."
— Danielle Haim
Like Tom Hanks, Este has diabetes, putting her in the high-risk shielding category. Confined to their separate apartments, each sister found different ways to pass the time. For Alana, it was attempting to manage the fluctuating stock market of retail therapy ("I remember watching a puzzle go from 20 bucks to ONE HUNDRED AND FIFTY DOLLARS! For a chaotic yard sale puzzle!"), while Este threw herself into painting. Despite their LA residency, none of them succumbed to Netflix sensation 'Selling Sunset', citing it as a million miles away from their own experiences of growing up in The Valley – "a super-suburban upbringing where everyone was just starting a band in their garage".
Perhaps it's fortunate then, that 'Women in Music Pt. III' focused on the side of LA that HAIM know best. Opening with a toot of La La Land-worthy saxophone, it's a record that speaks strongly of the highs and lows of home, not least because of its tumultuous headspace. Times had been tough in HAIM camp long before coronavirus; the ongoing management of Este's health, the passing of one of Alana's closest friends in a car accident, and the diagnosis (and thankful recovery) of Danielle's partner Ariel Rechtshaid's testicular cancer had all left the sisters feeling somewhat rugby-tackled by the world, and ready to lay it out on paper. Drawing on the pop, R&B and classic rock of their youth, they threw themselves into making a record that felt true to exactly where they were in the moment – dissociative episodes and all.
"I think if anything, it's really the process that I keep remembering, the spirit of us as sisters just going for it and not really caring," reflects Danielle. "There were a lot of people around us that didn't really understand the album when we finished it, and there was a moment of 'Uh oh, did we fuck something up?'. But I'm just really proud of us not listening to anyone. We never really do, but on this album, I can still hear that yeah, we really did not give a fuck on that one. I feel like maybe that shows?"
"We set such high expectations for ourselves as songwriters, but we all know that all good things come in threes – am I right?!" quips Este. "There was a lot to talk about this time, and we all just kind of cracked open our journals. I think all three of us almost had a pissing match of like, 'No, dude, you aren't going through the deepest depression of your life, I am!' When you're not just sisters or bandmates but best friends too, there's a lot of entanglement and I think we all collectively wear the feelings of each other, for better or for worse. But that's what life is, right? It's hills and valleys. To quote Dolly Parton, 'You've got to go through the rain to get to the rainbow'."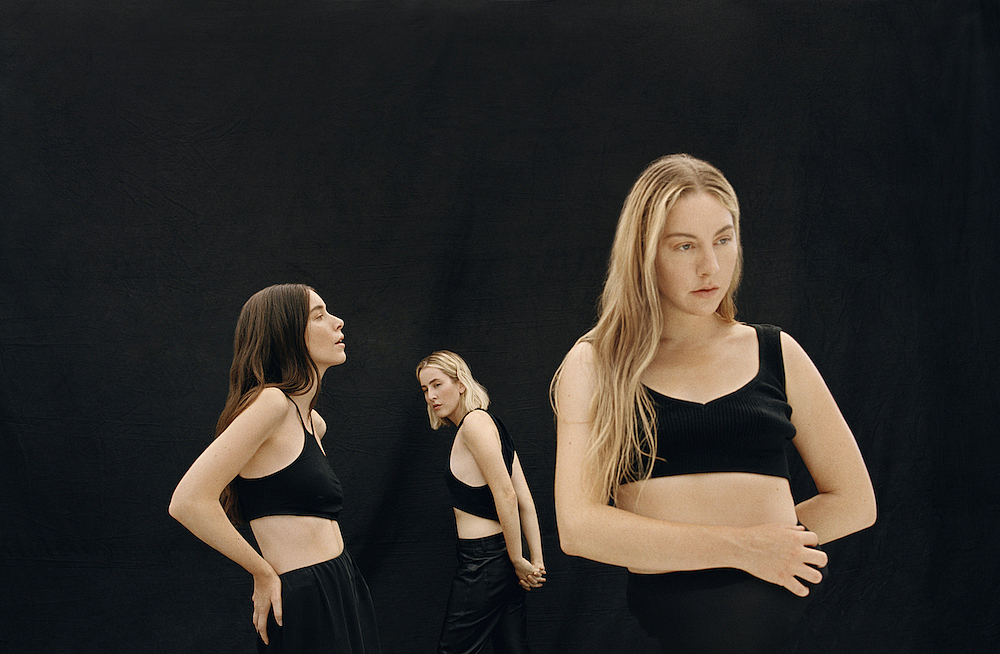 "I literally went outside and screamed 'I'm nominated for a Grammy!'"
— Este Haim
The rainbow then, is making it through enough rain to see the work of your career get nominated for two of the most covetable of Grammys: Album of the Year, and Best Rock Performance for 'The Steps' - a category that is occupied solely by women for the first time in history.
"I literally went outside and screamed 'I'm nominated for a Grammy!' because there was no-one else there to say it to," laughs Este. "I just let it out on my lawn at like, 9:45 am on a Tuesday, like a morning rooster."
"We are honestly so stoked about it," beams Alana. "We went to sleep, didn't expect a thing, and then woke up to all these text messages. For the whole rock performance category to be women is fucking great, and then to play back the nominations and see 'Women In Music Pt. III' read out as a potential album of the year… I mean, our album title made us laugh before, but having someone else announce it for a Grammy? I was like, 'Oh my god, you guys, what did we do?!'."
Of course, their moment of patriarchy-busting vindication doesn't mean that there aren't still many battles left to fight. Misogyny in music is still very much alive and well; Este recalls an experience from as little as six months ago of a "literal man from the magazine" who directly asked her who played the "great bass" on the record, and seemed surprised to hear that it was indeed her - the band's credited bassist. "It's like, c'mon my dude, what else do I need to prove to you?" she sighs. Vocal supporters of both the presidential voting effort and the BLM movement, the sisters also lent their marching efforts to several protests in LA, offering proceeds from their merchandise sales to the BTFA, a local organisation that works to support Black Trans Femmes working in the arts. Pandemic or no, says Alana, staying at home simply wasn't an option – "Everyone was safe and helping each other to use their voice; there are no regrets from me for doing that."
With a vaccine in sight, 2021 should see Haim putting their collective sisterly effort into having as few regrets as possible. Work is already underway on new material, albeit in the "seedlings" phase, while Alana is already limbering up for gigging life. "I feel like everyone is just gonna tour and I'm gonna be going to a concert every fucking day, and I'm going to be the happiest person on the planet," she affirms.
Este meanwhile, is still hung up on the idea of a quarantine hobby side-hustle, and wants to put her pun-making abilities to good use. "Honestly, a HAIM coffee table book of dad jokes is all I'm good for. Maybe in time for next Christmas?" she jokes. "But in all seriousness, I don't think 'no' is a word that I'm really going to be able to say once it's safer out there. It's funny, because before Danielle suggested 'Women In Music' and before any of this year happened, a friend of mine was like, 'You should call the record 'HAIMsight is 2020'. And I feel like it has been; there are so many things about touring and pre-pandemic life that we took for granted. But no more! If I have to keep my mask on to play a show, I'll do whatever it takes."
Let's hope she means the LED version. Having danced their way through the darkness, HAIM's future is looking brighter than ever.
'Women in Music Pt. III' is out now via Polydor.

Get your copy of the latest issue
Read More