Neu INHEAVEN: "We'll hit the ground running in the new year"
Fresh from the Neu Tour, INHEAVEN have a "taste for blood" and they're ready to take over.
For every band playing 2015's Neu Tour, it was a leap of faith. Groups who'd barely headlined tiny venues were suddenly going arm-in-arm across the country. But for London four-piece INHEAVEN especially, this was their first experience of cramming into a van, seeing new cities and playing to strangers.
It's a strange situation for a band who, at the start of the year, had a plan to bung a song up online every week and wait for the fans to flock. They hadn't planned a record deal with Sony, they hadn't worked out how to tour, and they had no idea they'd be recording their debut album that December.
Things look to have progressed at a batshit speed for INHEAVEN, but they've been sitting on these sky-reaching songs for two years. "We were literally going to put one song up a week, releasing it ourselves," remembers floppy-haired frontman James Taylor. "But it was a chain reaction. We got thrown into this stuff. We had enough songs to release one a week for a whole year. You've gotta gulp and go with it. There's no room to overthink stuff."
It started with 'Regeneration', a blistering work of escapism that threatened to lift off out of Planet Earth. Since then, nothing's been able to stop their newfound momentum. "We weren't expecting this," admits James.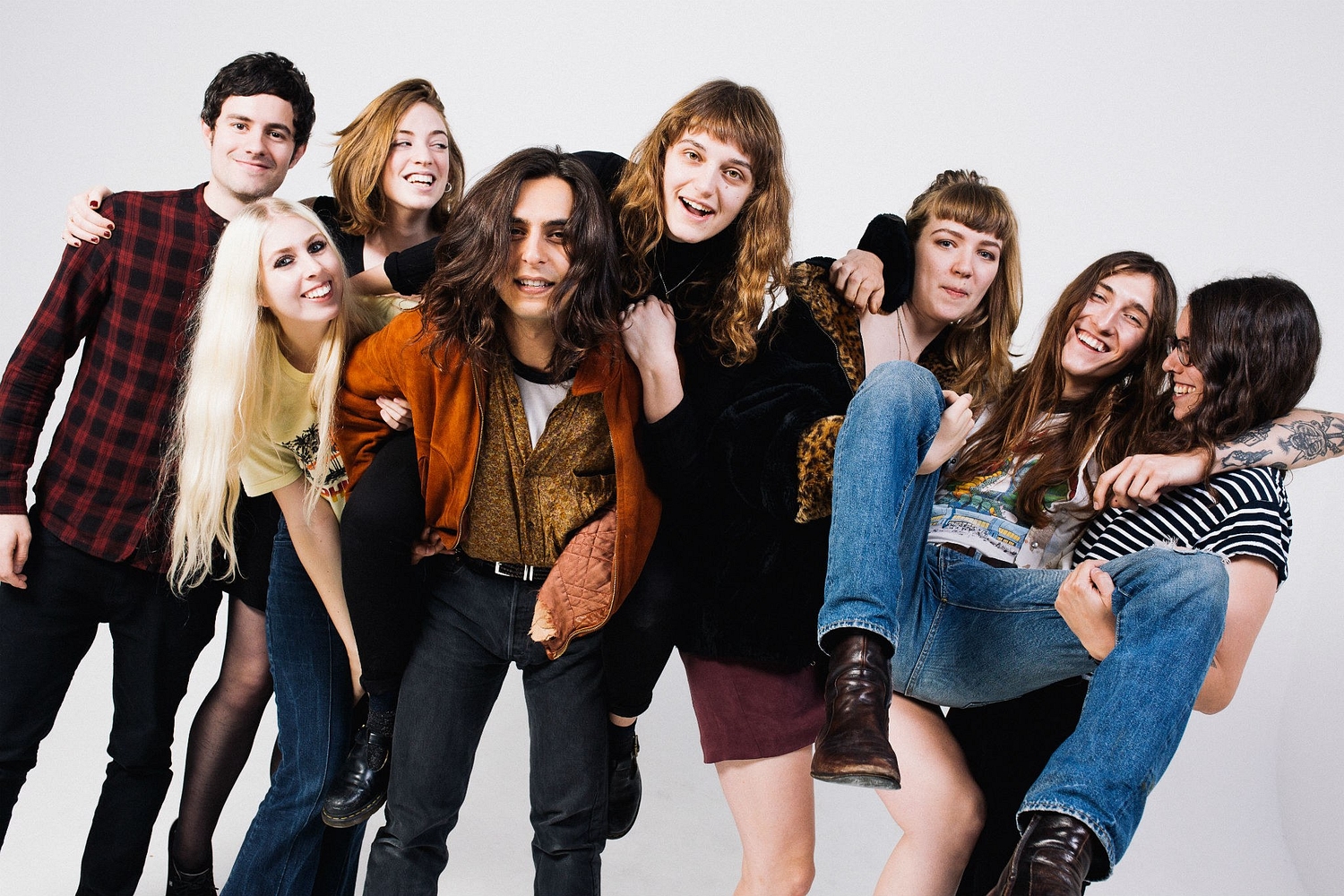 "Watching The Big Moon and VANT every night - you learn something."
— James Taylor
Beyond anything else, the Neu Tour established INHEAVEN's hunger to tour 'til they drop. "It's getting a taste for blood, isn't it? It was fucking amazing. I've always wanted to do that," beams James. But with The Big Moon and VANT by their side, it was also an chance for the group to work out how to improve. "It's the first time we'd ever played with other bands. Going in and playing with them, you realise how good you need to be," says Chloe Little.
"There was a gang mentality," agrees James. "We're all trying to do the same thing. Everyone was so supportive. Watching The Big Moon and VANT every night - you learn something from watching them. The Big Moon and the way they interact on stage, that inspired us to take our performance to another level. And VANT are a powerhouse. They're so fucking tight. It made us want to be better musicians. Every band was being inspired by one another… We came off wanting to be ten times better. We just started rehearsing as soon as we came off tour. We needed to step it up another gear. When you play that many shows, you're taking notes on tour."
INHEAVEN learnt plenty from their tour-buddies, but what did they teach in return? "I mean, Jules [Jackson, The Big Moon] was asking which shampoo we used," replies James. "They couldn't believe how silky our hair was!"
Sessions for INHEAVEN's debut start this month, in rural Wales. They're working with Tom Dalgety on songs that've existed in the back of their heads for what feels like a lifetime. "We've had it ready for ages, and we've just been sitting on it. It's been frustrating. I listen to it every day, just to think about what we can add," explains James. "'Nevermind' was recorded in two weeks! So we can do it. We'll hit the ground running in the new year."
Read More
Featuring King Gizzard & The Lizard Wizard, IDLES, Tkay Maidza, Sleater-Kinney and more.