Interview Katy B: "I see this album as a multi-genre rave"
Pulling together producers from the UK underground to global chart-toppers for new album 'Honey', Katy B is giving back to the scene that gave her life.
Katy B was singing in London clubs before she even met the age requirement to be inside them. In her teens, she'd head out to the FWD>> night at Shoreditch's now-closed Plastic People before departing early to get the bus home to her Saturday job. It was an experience that left its mark. 


"Plastic People changed my life," she remembers. "It was always an incredible experience. I loved the feeling of going somewhere just to listen to the music. Even though, for a lot of the other club nights I would go to, I'd love getting dressed up with my friends and everything, that was the first place that I felt I could go to and wear anything and do anything and be whoever I wanted."


After scoring five Top Ten singles across her first two albums - 2010 debut 'On A Mission' and 2014 follow-up 'Little Red' - the Peckham-born singer arrives at 'Honey', a third full-length with which she wants to give back to the scene that spawned her, and highlight some of its brightest stars. Not to mention giant name Major Lazer and a re-re-wind back in time with Craig David. 

Plans came together for 'Honey', a record which features no less than twenty-one artists and producers, after the creation of Katy's heavily collaborative EP 'Danger' proved a revelatory experience. "I started making this EP and because I enjoyed it so much, I put the feelers out there to a lot of different producers, and after a couple of months I had over an album's worth of new material. Because I was so proud of it, I realised that I didn't just want it to be a mixtape, and wanted to be able to showcase all the artists and producers that I love on the biggest stage, and it became something very different."

When it comes to working with such a mix of producers, Katy approached them each in a rather specific manner: leave them alone. "I like to give producers their 100% freedom, and always want to let them have space to work without restrictions from me or anyone else." In some instances, that freedom might've even meant not meeting the producer at all until the song was complete. "I don't think you have to meet the person. I feel quite awkward sometimes going into a studio with someone I've never met before. I've grown up writing music with people that I know quite well, and have strong relationships with. I'm quite shy as well, and I like the mystery of saying, 'Send me whatever you like, and I'll do my thing over it.'"


Collaborating with Four Tet - a regular at Plastic People - through a connection at Katy's label and much-heralded London radio station Rinse, the two pieced together album stand-out 'Calm Down', with Floating Points adding strings later on. Yet, they all only met when Kieran insisted Katy came to his house for a cup of tea, breaking their chain of emails. 


While 'Honey''s conception may seem like a fragmented process, Katy considers it a single, flowing album, and one which represents an ever-changing scene in the UK underground. "I see the album as a multi-genre rave. If you were going to go to Fabric, you might have grime in one room, drum and bass in another, some house somewhere, and I want people to feel like that - like they're wandering around Warehouse Project and see whatever genre they stumble upon."


Katy has only praise for the current climate of British dance, and the various styles that sit on 'Honey' reflect the acceptance of a lack of genre boundaries, a continuing progression. "There's so much mixing of styles now, whereas a couple of years ago everything was quite throwback, sticking to strict genre guidelines. At the moment there's more of a melting pot feeling coming back."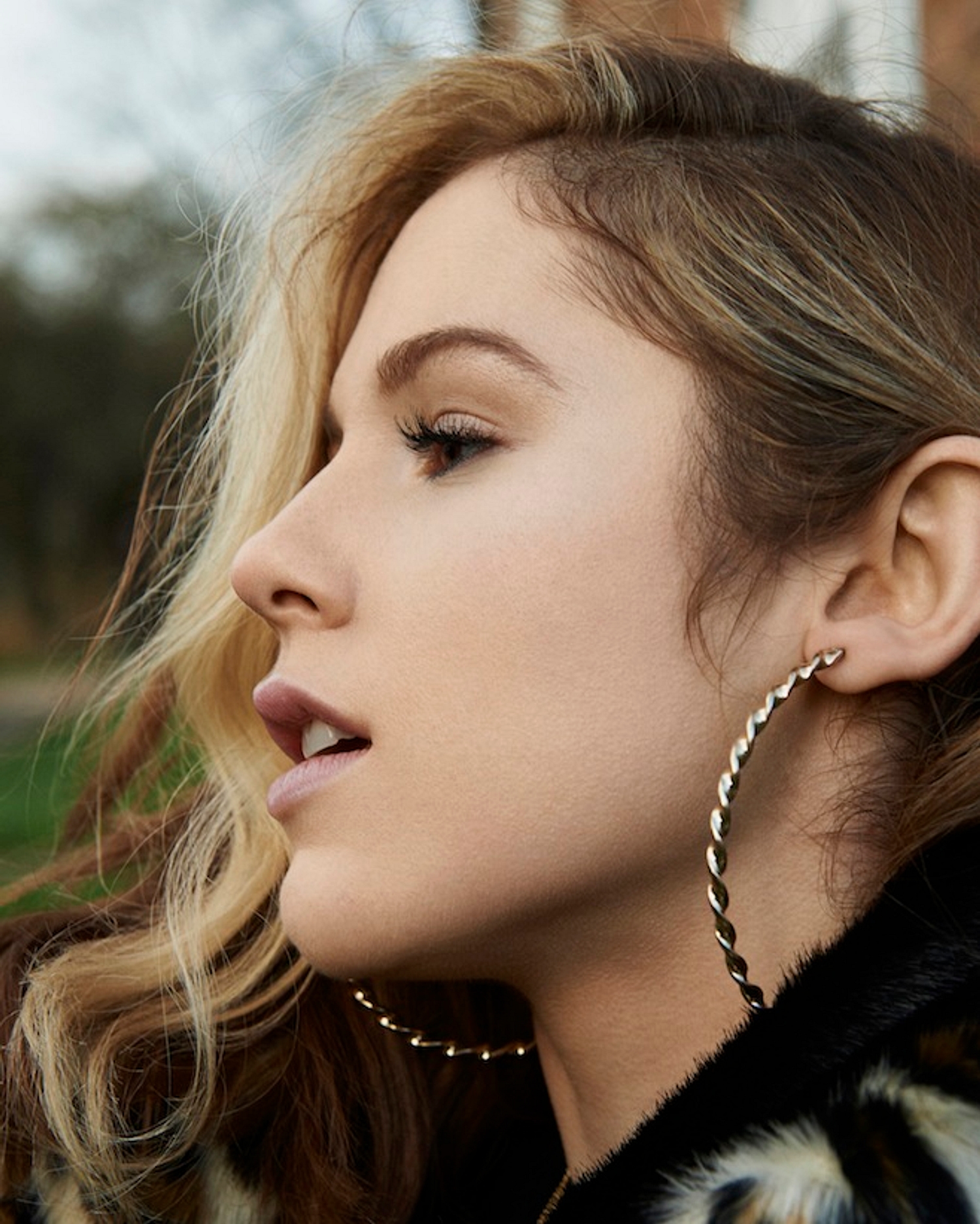 "Plastic People changed my life."
— Katy B
There's been confusion as to what 'Honey' actually is, but Katy puts it firmly in the category of a solo album, believing it's the natural progression her career needed to take, and not a sideward step. "I think it confirms my style. It solidifies my place in where I see myself in the music industry. At the beginning of my career, I was so shocked to have my music embraced on a bigger platform. My second album continued that, and now I feel really comfortable and excited about all the ideas that I'm able to develop and be allowed to create, and being able to showcase so many of my favourite producers."

While 'Honey' has allowed Katy B to showcase a whole number of producers she loves, it's also shown her as an artist with such an identity that she can make a mark by simply laying her voice over tracks. Having the clout to reel in Four Tet, Hannah Wants, Novelist, a newly-resurgent Craig David, Major Lazer and more, her new album shows Katy B as one of the UK dance scene's most exciting, forward-thinking acts.
"I've had instances of producers who would be writing a track for me and wanting to replicate something they've heard before - a dubstep track from 2011 or something," she concludes. "No, I want you, I want your sound, what you're playing in the clubs now. I don't want you to try and make something of mine that you've heard already. I want to move forward." Moving forward is exactly what she's doing.
Lights On: Three clubs instrumental to Katy B's rise
FWD>>, London
Rinse FM's legendary club night, originally run at Plastic People, but which has now relocated to the Dance Tunnel in Dalston. Spending many a Friday night there, Katy would "only have one beer" - partly due to financial restrictions - because "I actually wanted to listen to listen to the music, not just get pissed."
Fridge, London
"I was singing in clubs before I was even allowed to be in them," remembers Katy, and cites the now-closed Fridge bar as one of her first haunts, along with Scala in Kings Cross. Fridge opened in the 1980s and was shut in 2010. The building became Electric Brixton in 2011.
Warehouse Project, Manchester
WHP's enormous nights attracted Katy through their mixing of multiple styles across a club, something she wanted to replicate the feeling of on 'Honey'. She last played the club back in September 2015 with Sigma, Sub Focus and more.
Katy B's 'Honey' is released 29th April via Rinse / Virgin EMI. Taken from the April 2016 issue of DIY, out now. Subscribe below.
Read More
Featuring James Blake, Romy, Marika Hackman, yeule and more.