Interview Lovejoy: "We always like to be constantly pushing ourselves"
We speak to the Brighton quartet about their recent US tour, their career so far, and what it was like being involved in Spotify's recent Our Generation pop-up.
Nowadays, it can feel like an increasingly rare sight to see an independent guitar band rise rapidly through the album charts; so when Lovejoy's EP 'Pebble Brain' reached Number 12 in late 2021, it certainly caused a few ripples.
The Brighton quartet - who recently released their new EP 'Wake Up & It's Over' - have had the luxury of an in-built fanbase from day one, thanks to the sizeable audience that frontman William Gold had been able to build through his own Twitch and YouTube channels, but as their music so far indicates, Lovejoy are more than worth their early success.
Charged by their Top 40 single 'Call Me What You Like', there's an infectious, ebullient energy to their music, spearheaded by the soaring riffs of lead guitarist Joe Goldsmith and the rock-solid rhythm of Ash Kabosu's bass and Mark Boardman's drums.
As if to cement the hype, last month, the band released a Spotify Singles project that included a stripped back version of 'Call Me What You Like', alongside a cover of beabadoobee's 'The Perfect Pair', and they also played a rare, intimate acoustic show as part of Spotify's Our Generation pop-up event in London.
We caught up with the band halfway through a string of US dates that are the biggest shows of their career to date, to discuss their recent shifts in sound, making sense of their early success and the joys of playing such small shows.
You're in the middle of a US tour, playing the biggest shows of your careers so far out there. How's it been going?
Will Gold: It's been really cool, and very different. It's really nice to be going to different states that we've never seen before. I never thought I'd ever see Tennessee, and yet here I am, sat in Tennessee!
Ash Kabosu: In Dallas last night, we had, I think, the loudest crowd we've ever had. On the decibel counter on the sound-desk, it hit over 120. The previous record was Glasgow. It was crazy.
Will: 120 is what you get when you're stood next to a jet engine.
Ash: It's fine, when we go back to Glasgow, they're just going to have to scream louder.
What is life on the road like with Lovejoy, what's a normal day in the life?
Mark Boarman: It's really fun, we're having a fucking blast. Nashville was awesome, we went out on Broadway and we watched a bunch of country bands, they were all really fucking talented. And just the vibes were great, everyone was just singing and dancing and having a fun time. Nashville just loves music and it was really cool to see that, but then also to play there. It really felt like a bit of a proving ground for us. To be able to put on a show there and actually impress people, that's amazing. The calibre of stuff that they're used to is very high, so that felt like a crowning moment, for me at least.
Can you sense the difference in crowds between the UK and US?
Will: I feel like I'm performing more in front of American crowds, which isn't a better or worse feeling, but it's very different. In Europe, especially when we were in France, it felt like a big party that I was invited to, whilst here I definitely feel a bit more of a 'being on stage' kind of vibe.
As we speak, your EP is about to be released, and it's the first one you've released in 18 months. Do you think listeners will be surprised by what they hear from the new stuff – do you feel the band has moved on sonically since 2021?
Ash: Yes, very much so. This is an entirely new era of music for us. I think we're pulling from some slightly different influences; overall, it's a bit heavier and a bit dirtier and grungier than what came before. And it feels like we're kind of back on track. It's a lot closer to our first EP in tone and style. It feels like 'Pebble Brain' was perhaps a bit of an experiment into a more summery, playful sound, whereas this is a lot more, not serious, but cooler. We're cool now!
You mentioned new influences – who did you have in mind?
Ash: I'd say we've always been inspired by the likes of Arctic Monkeys, but I feel like we're really wearing that inspiration on our sleeve for at least a few of these new songs. And also bands like The Strokes. Especially with Joe's guitar riffs, we're very heavily inspired by those bands.
If you think back to when you guys first formed this band, is this what you imagined it was going to be like?
Ash: I had no expectation at all! It's far beyond anything that I thought would be possible.
Will: Exactly the same, we've been blown away by all the support. It feels humbling and it feels like we can't owe it back to them enough for the support they've given us. At the same time, it's validating for how much work we've put into our previous two records, to have this kind of support for the next one and to have all these people showing up. It's really touching, all of our hard work is coming to fruition.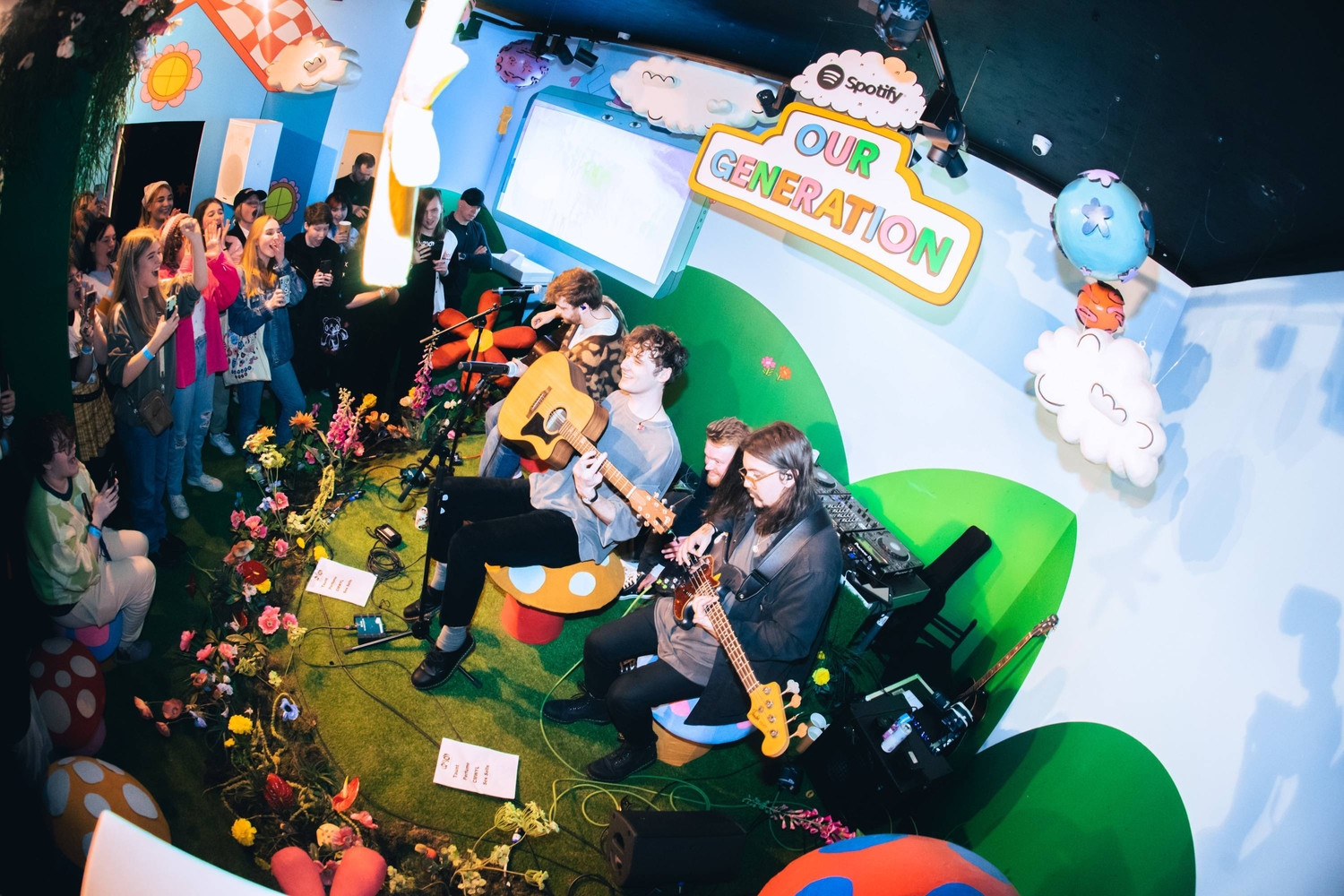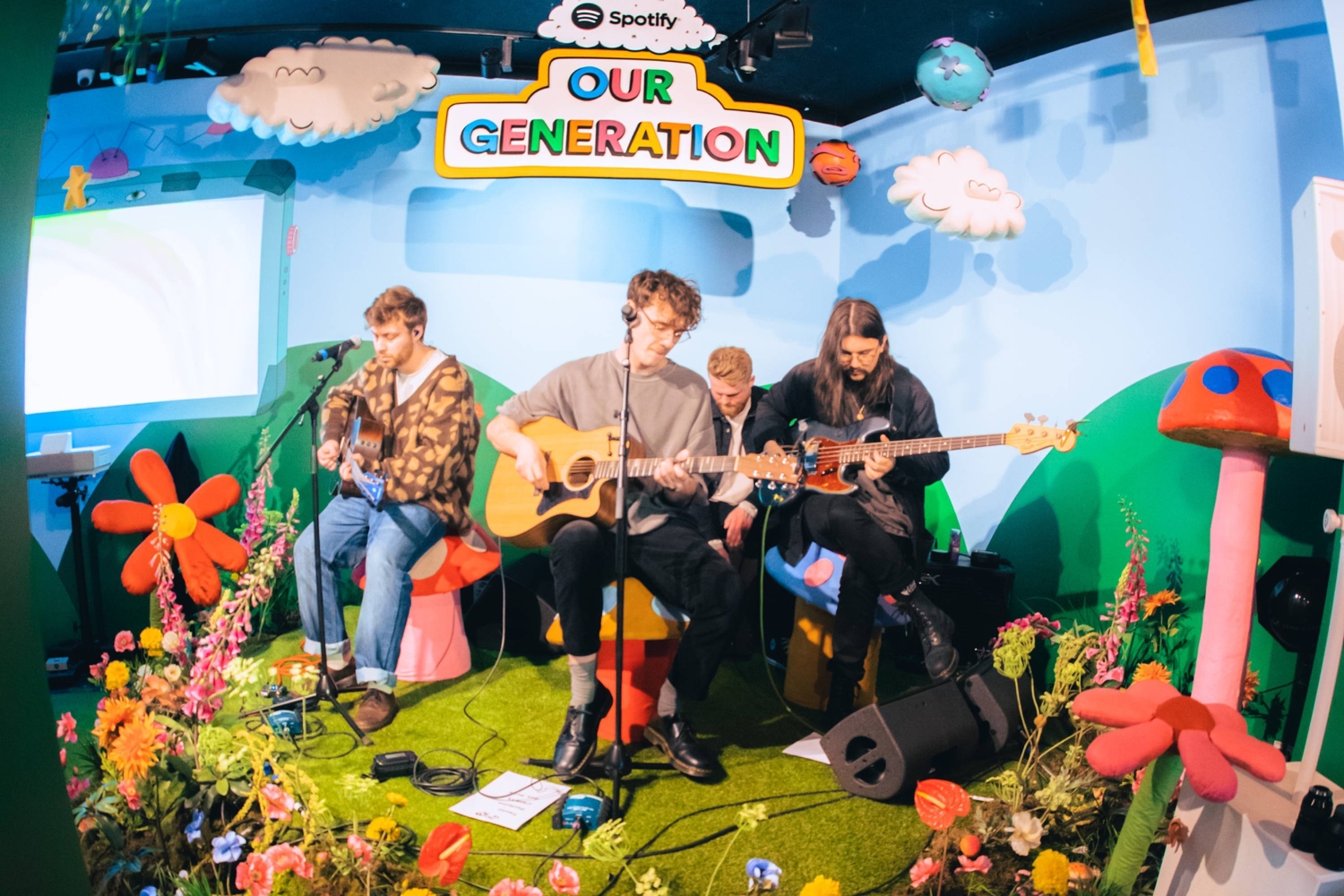 "The [Spotify Our Generation] gig opened our eyes a little bit to hopefully doing some more intimate shows in the future."
— Ash Kabosu
One of the things that is particularly distinctive about Lovejoy is that you do have this huge and dedicated fanbase for the stage of career that you're at. I guess that must also come with a certain level of pressure?
Ash: I guess that's one of the reasons that it's taken so long to get this next record out, we want it to be the best thing we can do.
Joe Goldsmith: We thrive on that kind of pressure. The desire to want to write songs for people that are fun and exciting is something that we like and enjoy. It pushes us, and hopefully we can make better songs as a result of that.
You've just released the Spotify Singles recently, and played a very intimate show for the Spotify Our Generation pop-up event. That's a very artist-focused project, was that an enjoyable experience?
Ash: It was really cool to be given that opportunity. That gig was really nice. It opened our eyes a little bit to hopefully doing some more intimate shows in the future, maybe with acoustic setups. We're obviously on this trajectory now of live shows where we're slowly ramping up the size of the venues, but to play for maybe 70 or 100 people, it was really cool. We really, really enjoyed it. There will be more of those in the future.
What do you get from a crowd that size that you don't get from a bigger one?
Ash: I think there's a connection there. When you're playing to a thousand people, there's a certain level of detachment, it's too many people for stupid monkey brain to process, and so it can be a bit overwhelming at times. But when there are fewer people in the room, you can actually make eye contact with them and engage with them on a much more personal level. You're all singing the songs together and it's just a lot tighter knit.
Are you constantly surprising yourselves? You've spoken about the shifts in sound over time and the growing live shows, do you feel like you're still developing quite rapidly?
Will: I think art without experimentation is just formula. You've got to constantly experimenting and trying new things, or you start going a bit mad, or bland. We always like to be constantly pushing ourselves. Coming into the space with the audience almost already established – we dropped our first single and a lot of my previous audience moved across, and it was lovely of them to do so – I feel like we've almost done it backwards. Most bands have to write the good songs first, and then get the audience. We started with the audience first, and now we have to write good songs to prove ourselves.
Ash: It definitely is strange to be doing festival headline sets and playing on main stages when we've got twelve songs! We play our entire discography at every show.
Lovejoy's EP 'Wake Up & It's Over' is out now.
Brought to you as part of our paid media partnership with Spotify's Our Generation playlist.
Check out the playlist below.

Read More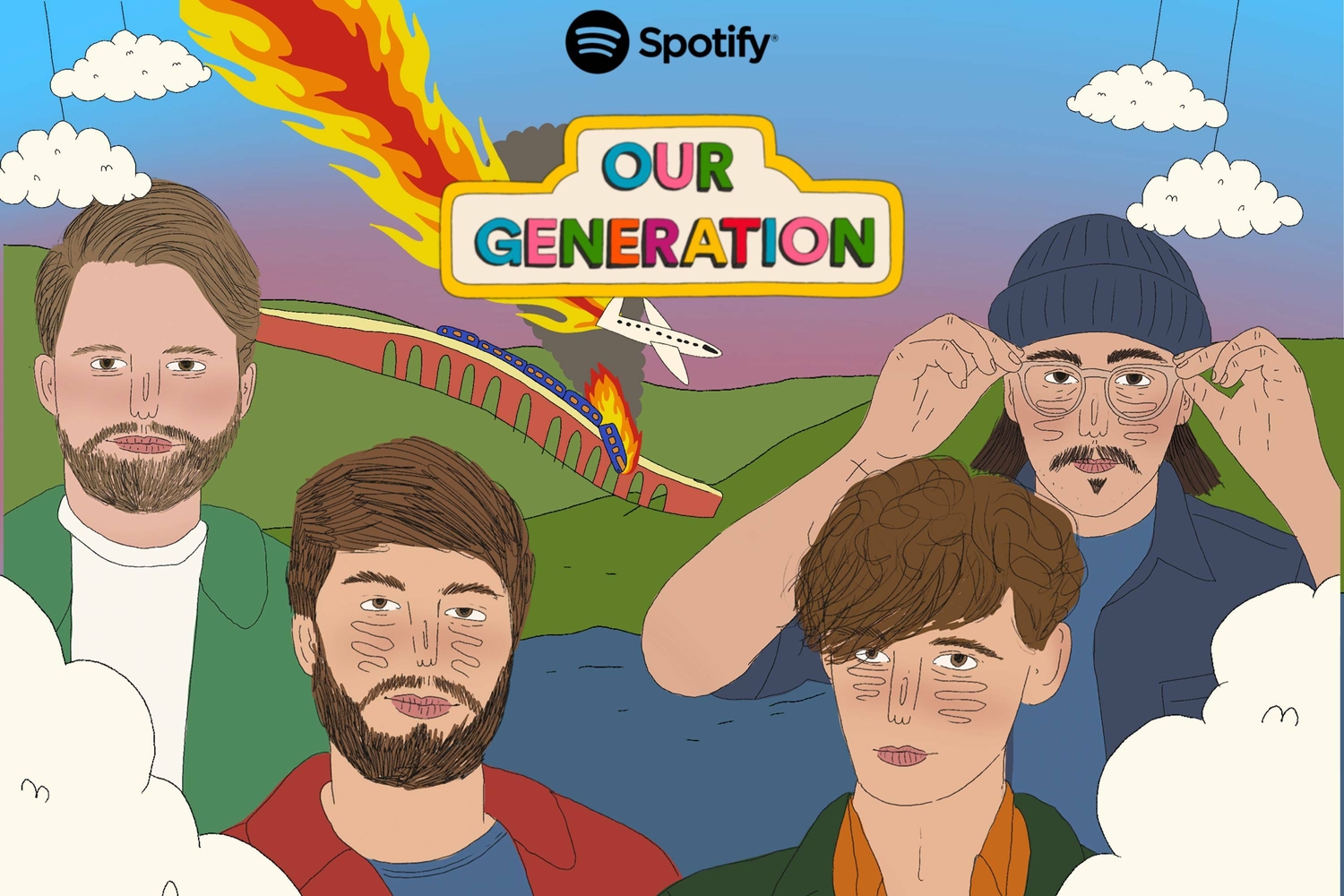 It also includes a stripped-back version of their recent single 'Call Me What You Like'.
5th May 2023, 5:30pm
Popular right now
Featuring James Blake, Romy, Marika Hackman, yeule and more.