Maxïmo Park: The Natural World
With their seventh album 'Nature Always Wins', the Newcastle band explore the debate of nature versus nurture in a whole new way.
The well-worn debate around nature versus nurture isn't exactly new territory. Yet, for Maxïmo Park's seventh record 'Nature Always Wins', it would become a central theme. Inspired by the real life experience of the band's frontman, in the wake of him becoming a parent, the record finds the band moving on from the overtly-politicised slant of 'Risk To Exist' into a more existential, exploratory landscape, dealing more with our personal relationships with one another, and the imprints we'll eventually each leave behind.
This new album also saw the Newcastle trio facing a set of challenges they couldn't have comprehended before beginning work. Having appointed producer Ben Allen as their producer back in February 2020, the pandemic soon led to an entire change of plan that saw the album take a different path entirely.
Ahead of the record's release we caught up with the band's Paul Smith to discuss the album further. "It's a strange time to put a record out!" he remarks, during our call. "But on the other hand, I feel so strongly about the record and if people listen to it in this dark time, they may have a little bit of enjoyment. I've always hoped the music that we make can change people's days, or their mood. I want people to love the songs, so at this point, you could do worse things with your time."
"I don't wanna be one of those artists who is on a permanent decline and just puts out rubbish records eventually; I have a real desire to keep making relevant music."
— Paul Smith
The process of making 'Nature Always Wins' began last year when the pandemic really began to take hold; was it beneficial for you to have the record to focus on throughout such a period of uncertainty?
I like to read as much as I can in my spare time and hopefully that feeds into the way that I write. For the first months of lockdown, I couldn't read - I just kept picking my book up and looking at a paragraph or two and thinking, "Nah, I'll just put the news on or vegetate". I think having the record, then, became helpful. We actually had Ben [Allen], our producer, over and we met because we wanted to make the record with him. We wanted to play in a room with him and that was what we were going to do in Atlanta; play a lot more together. That was in February, and we said, "Okay, we'll see you in April!". In the back of my mind it was very "if we can", because we could see what was on the horizon, but obviously the government were playing it down as much as they possibly could. The week we were due to book the tickets to Atlanta, it became apparent that travel bans were starting and it was a serious situation, so we asked if he'd be into making it remotely.

So, how did you make the recording work in those parameters?
In some ways it felt kinda ludicrous to use this famous producer - who's worked with Christina Aguilera and Deerhunter, and Animal Collective - and not use his brilliant studio in Atlanta but instead, record stuff in our bedrooms. In my case, my vocals were done in my attic on GarageBand. Dunc's got a great home recording set-up, and the blueprints for the album were his demos in the end. Obviously we were hoping to be in a room collaborating with each other, in a different city across the world, so it was a bit of a downer really, knowing that was just about to happen. But the other side of it was about enjoying the work and getting down to it. It was very functional because it had to be. That kind of process was odd, but it was longer than we would've spent over there [in Atlanta]; the fact we could expand into the summer, it felt like a positive time for us, and that we were using that time well. I can't imagine being able to make a record like this ten or fifteen years ago, even if our band's lifetime.
How do you think having to adapt and change plans affected the final album as a whole?
For me, I feel very positively about what we were able to do. To my ears, it sounds seamless, it doesn't sound bitty or that it was made in this way. That, to me, is also a real plus. Obviously I love it, but it could've had more fragmented qualities, especially as the songs are fairly eclectic. There's dreamy, synthy songs - like 'Meeting Up' or 'Feelings I'm supposed to Feel' - but then there's 'Child of the Flatlands' which, for us, is quite psychedelic, and the structure is quite different. There's punkier songs, and then you've got big, epic songs like 'Versions of You' and 'All Of Me', and to me, that could've been a recipe for disaster in terms of how it sounded, but I think working with Ben, we just had the confidence that he could pull it all together. We had all those songs and felt like it could've gone in a few different directions - it could have gone in a different direction sonically if we'd been out there - but all things considered, I feel like it's a little miracle in the way that it sounds and the way that I feel about it.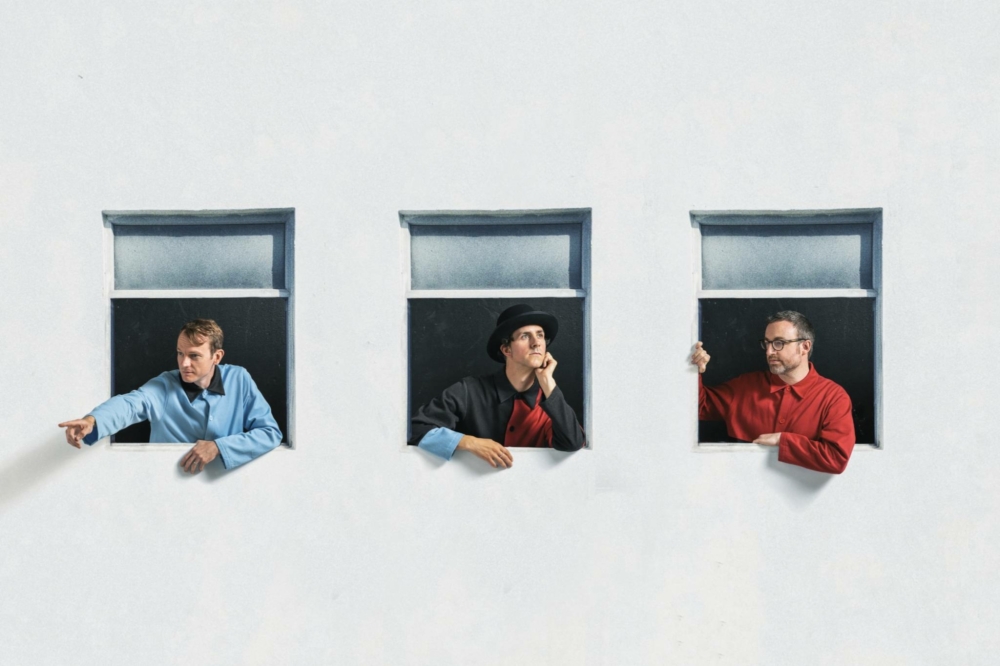 "It's about how we live; that's what I want to get down to the brass tacks of."
— Paul Smith
Lyrically with this record, you find yourself tackling the debate of nature vs nurture. What was it that drew you to explore that subject here?
Just my daughter really. The more that I thought about the lyrics I'd been writing, and the fact that parenthood was such a central part of it, I started to wonder if it was going to be interesting to anyone else. I don't wanna be one of those artists who is on a permanent decline and just puts out rubbish records eventually; I have a real desire to keep making relevant music. What "relevant" means is open to question, but I think it's about expressing who you are at that point in time, analysing yourself and not just from a serious perspective, but taking a step back and having a sense of humour about what you're doing. So, when I was looking at the lyrics I'd written, I realised a lot of other people will be thinking, "Oh I'm confused about my life" whatever stage of life they're at. So, to find myself, on our seventh record, still finding subject matter that makes me feel really passionate was important to me. The highs and lows of writing about parenthood are the kind of highs and lows you would want in a pop song. The songs that make you feel something and drive you to want to express yourself in some way; to dance around while singing about something that's difficult, and feeling that kind of solidarity you feel when those kinds of songs come into your life.
The idea that I might've passed on my quick temper to my daughter is sad to me, but it is what it is. As I say with the album title, I wonder whether I've passed it on through DNA, or whether it's my behaviour, which would be even worse as I have some control over her environment, and how I can make things better for her. It made me think, in essence, it's what we all need to think about: what our true nature is. 'Nature Always Wins' isn't just talking about the natural world; for me, it's the idea that my behaviour will impact other people and what do I pass on when I'm alive. Anybody who listens to it, I'm sure will have those kind of questions in the mix, and [the album] does relate to a lot of our other songs about empathy and hope in [the midst of] struggles. It's about how we live; that's what I want to get down to the brass tacks of, and so all of the songs relate back to that title loosely. Now that I reflect on it, the idea of nature and nurture is interesting in the ways we behave and treat each other, and also how we treat the earth. We're ruining the environment for future generations and in a hundred years' time the heat on the Earth is going to make life very difficult for our grandchildren. Why are we unable to gather the empathy for people in the future? That's all related to the idea of passing something on to my daughter and trying my best.
It's also a record which, unsurprisingly, possesses political undertones. One of the lines that stood out in this respect is from 'Child of the Flatlands': "The libraries are closing down now / Where will the random folks go / When they feel all alone?" Why was it important to highlight these more political issues - of austerity, Grenfell, Brexit - but in a more subtle way?
A lot of people might think, "Why's he on about libraries?!" But to me, it's a line about us: this is our society and how we choose to run it is important. Once something's gone, it's very hard to bring it back, and we'll find that out with things like the Freedom of Movement, and the ramifications that will have for all different kinds of people. But I didn't want it to be explicit, I wanted it to be personal, and [that] was very personal to me. I love books and libraries, and to some people, that's not the worst that could be happening in this age of austerity, but it's about what kind of society we want to live. [It's about] do we value culture? Once culture is eroded, we'll find that society suffers in many subtle ways that aren't easy to quantify. Our songs are built from personal experiences, personal worries, personal jokes and [that's the case here].
The library that I used to go to in Billingham has been shut down and the books have been moved to a civic building with offices for the council. It was a total solace for me, and there needs to be spaces for people to go. Our society is riven with these examples of poverty and the gap between rich and poor, and to me, it manifests itself in those situations. Putting it in a song is a political act. But it's a subtle act because the last album was so in-your-face politically, and I didn't want to do that again because we had done it. I felt like making that record cast an interesting shadow on what we do subsequently, so we don't have to do that again, and be so explicit. I feel like now, if there's even just a line in a song, maybe before 'Risk To Exist' people would've passed it over, but now they might think, 'Oh, we know what these guys are like! Maybe this is what it means.' For this record, and those going forward, I won't ignore the world around me - and I don't want to - but I do feel as though this album wears everything lightly, even the difficult subjects.

'Nature Always Wins' is out now via Prolifica.

Get your copy of the latest issue
Read More