Interview Micachu and The Shapes: Making new shapes
After razzmatazz, red carpets, and recitals, Micachu and the Shapes take it back to the bare bones.
"I don't know if Pikachu would agree," starts a tactful Mica Levi, "but I was named Micachu by [the London MCs] Brother May and Baker Trouble. Pikachu is a little electronic thing…" she tails off, taking a swig of tea. "At the time I was producing beats, so somebody else giving me a nickname felt like a rite of passage. I just got named Micachu, to be honest, but the more I find out about Pikachu," she concludes, "the more I realise we're aligned."
Since their debut album days, Micachu and The Shapes have had a surreal few years. 'Chopped & Screwed' - the band's collaboration with the London Sinfonietta orchestra - was originally cobbled together in the band's van by hurriedly screen-grabbing from a demo version of a notation program. It was performed - at the Southbank centre, no less - using bizarre new instruments made with the help of Mica's then-housemate Dave the plumber. Two years later Mica Levi snazzed it up alone down red carpets across the entire film awards circuit, totting up a sizeable stack of nominations and shiny trophies for her Under the Skin film soundtrack. She became the youngest ever Artist-in-Residence invited to Southbank, a studio resident at the Barbicans' recent Station To Station installation, and a prolific name on the contemporary arts scene. After all that fancy galavanting, it was time for Micachu and The Shapes to revert back to the bare bones.
"I went to some pretty flashy dos," chuckles a relatively undazzled Mica, cuppa in hand, sat outside the band's East London studio. "It was a circus," she smiles. "It was weird. It was a trip. This," she goes on, referring to Micachu and The Shapes' new record 'Good Sad Happy Bad,' "was well needed after doing that. I needed to -" she suddenly lets loose with a startling noise akin to somebody unloosing a stream of vomit - "get physical," she laughs. "Do a bit of retching."
"She was doing this for about an hour," interjects bandmate Raisa Khan, as Mica continues to recreate her abrasive, hurling vocal loop from album track 'Unity'. "She got into the rehearsal room and did that while jumping around." she pauses, giving a withered look, "for an hour."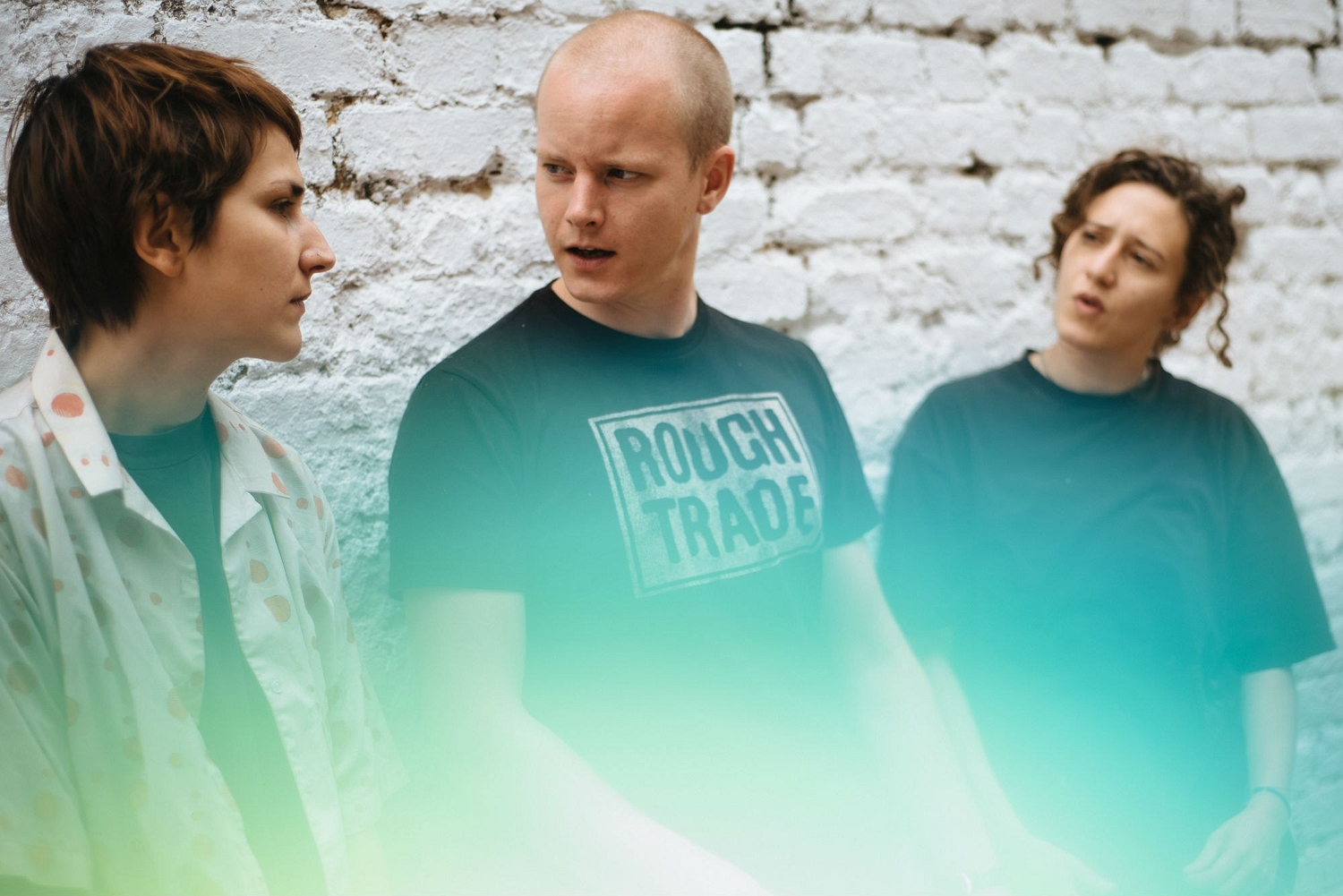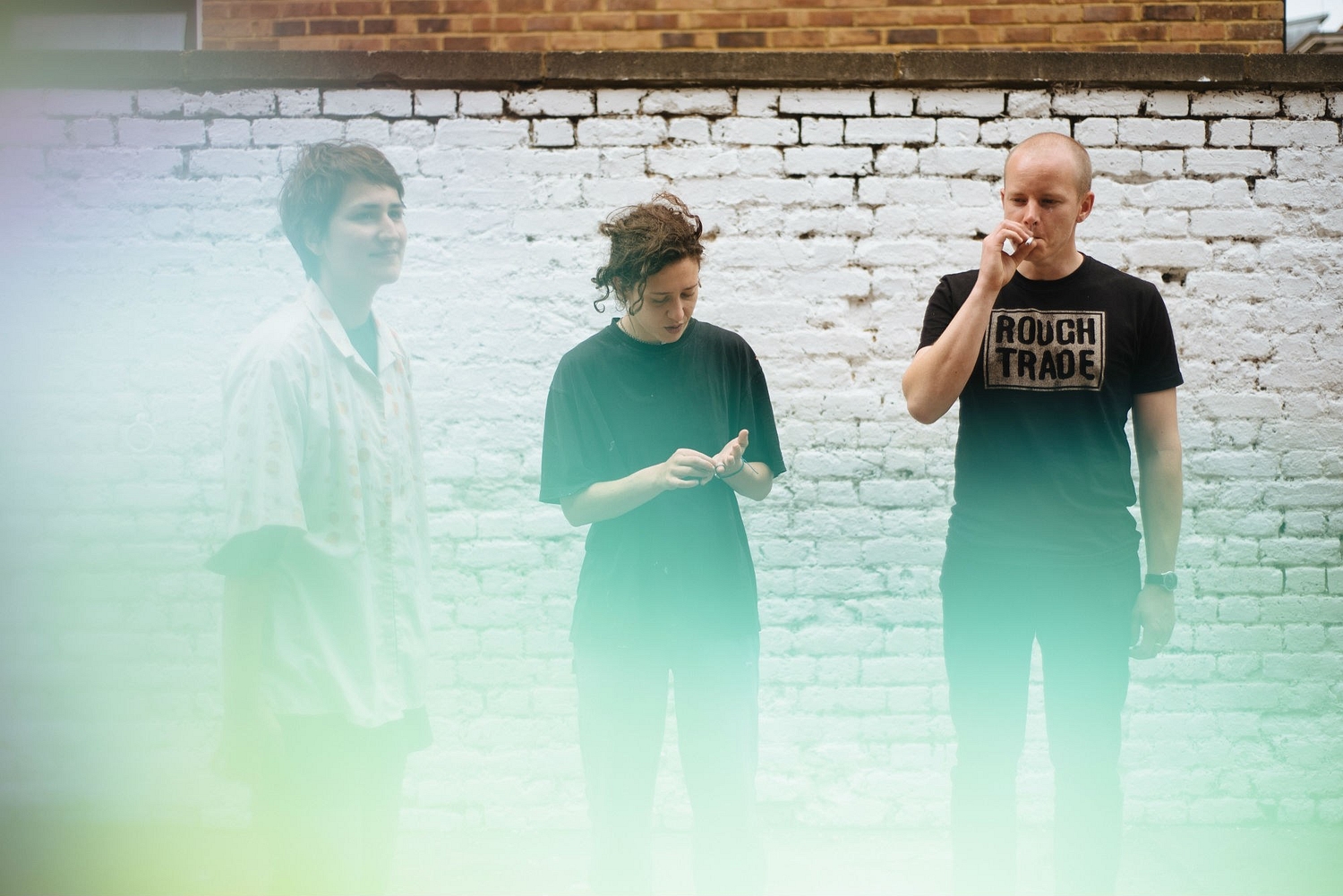 'Good Sad Happy Bad' is about as physical as it gets. A spew of field recordings, incidental sounds, and spontaneous shouted tirades - harvested from an hour and a half long recording on drummer Marc Pell's tape recorder - this is not just a departure from Micachu and The Shapes' meticulous classical forays. This is a one-way, long-haul, red eye flight back into the heart of where Mica first earned her nickname, and where The Shapes won their cast-iron association with the vacuum cleaner.
"I've got a stereo recorder, and I record stuff, because I like listening back to it on the bus," Marc puts it, simply. "You're both used to it being there," he adds in an aside to bandmates Mica and Raisa, "it didn't feel like there was a big red light saying 'record'." Mica nods. These particular sessions, the band agree, captured something different and unusual, though, that made them take notice. "When Marc said [he'd recorded the band] me and Raisa sort of rolled our eyes, but he sent them anyway. There's a lot of crap on there, like," Mica says, "but then I thought, ahh, that's so good."
Micachu and The Shapes collectively reckon that 'Good Sad Happy Bad' is their most free sounding release yet, and it's also the record that comes closest to capturing the band's live energy. It also reverts back to their beat-making roots, where Mica first got her Pokemon namesake "This process was akin to getting a load of beats and instrumentals and trying to turn them into the songs," Mica explains. "It's kind of how we all make music individually, in a sense, we all record vocals over instrumentals that we've made. It's a process we were familiar with, but we hadn't thought to do it with the band. I think we felt like we'd never managed to achieve getting things that feel good when we play live down on record very well, either," she admits. "This" she says, referring to the raw recordings that they shaped into an entire album, "was a way of doing that, getting that live aspect."
"We couldn't fuck with it too much, because it is what it is. The more you try to make it better than what it is, the more you're trying to polish a turd," grins Mica, "it's very blatant. It can be intimidating, going into a recording studio with a bazillion options, for sure. In this day and age of how everyone uses things - footage, recordings, you know, seeing something happen for real - even on the news people show mobile phone footage of people within the action of tragic situations around the world or whatever. These devices," she goes on, "it's now the way we record and capture things, and do things. It seems to make sense to also make them do music. You can attach a Go Pro to an eagle and film stuff from there," she points out, "you can tell if something's a lie."
It turns out there's another upside to sticking to a lo-fi template, too. "This was a very, very, cheap way of making a record, man," Mica finalises. "we saved those pennies. Every little helps."
'Good Sad Happy Bad' - by hyper-focused title, and super-raw nature - is a singular album. That focused intensity is largely a product of how Micachu and The Shapes made it, sifting carefully through tape recordings, and honing in on the smallest incidental noise, or accidental click. While the album's content was essentially written in an hour and a half, the assembly of every single element into something tangible took months.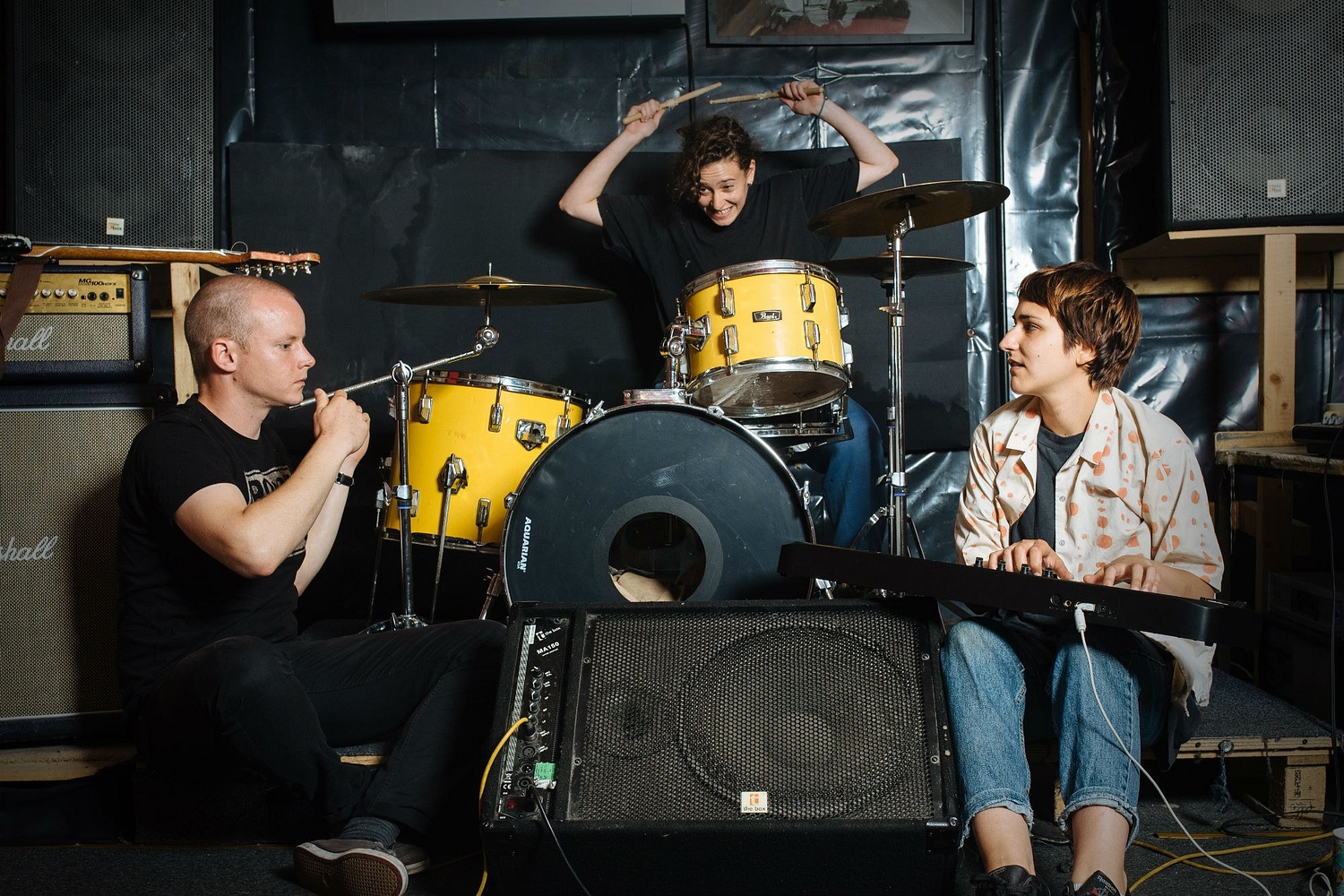 "This was a very, very, cheap way of making a record, man. We saved those pennies. Every little helps."
— Mica Levi
Each of the band love different moments on the record. Marc's especially attached to a "dolphin" click at the start of 'Peach' - 'it's not a beat, it's a texture," he says, "It just does its thing." One of Mica's favourite tracks, on the other hand, is the does-what-it-says-on-the-tin 'Thinking It,' which samples Raisa talking aimlessly about going for a jog.
"Mica thought it would be nice if it was a stream of consciousness over that instrumental," explains Raisa, "so I did a diary entry." It's just one example of Micachu and The Shapes approach of talking a relatively simple idea, and running with it until it's totally spent.
Though they still run nifty musical rings on 'Good Sad Happy Bad,' the band aren't into actual wholesome exercise, apparently. "Mica, you used to do a load of sit-ups and press-ups before," Raisa says. "It's heavy, the guitar, you know?" protests Mica. "We all used to be fit, back in the day. There was a little phase" 'Thinking It,' she adds with a cackle, is the only evidence left of their health-kick.
"On the Animal Collective tour, we were running every day," remembers Raisa. "I slept for 11 hours a night on that bus, like a baby," says Mica; marking herself out as one of the first musicians in history who is able to snooze on a tour bus. "Decent sleep, nice evenings, and going for a jog. That was a life," she continues, lavishly. "It was like, whoa. This fridge is full of coconut water!"
Micachu and The Shapes' reminiscing soon takes a darker turn. "That jog Marc took me on round the lake," glares Mica, suddenly. "I wanted to kill you," she says, giving him a pointed look. "That's one of the few moments we've driven each other mad. I would've had to run after you to kill you. If I wanted to kill you now," she goes on, ominously, "I'd probably have a lot of energy to put into pushing you off the chair. But running after you, after all that time? Nah."
"I remember just thinking, your little heart!" laughs Marc. "Going duh-duh-duh. I was like, is she going to die?"
"It's so rank!" exclaims Marc, "when we were in the van, we'd have a football with us, but we'd also be smoking, so we'd grab loads of sweets from the shop, and be smoking and kicking."
"All the footballers back in the day, they used be smoking a bitch!" points out Mica. "George Best used to score a goal with bog roll all over the pitch, and cakes of mud - it looks like any old park. He scores a goal, and runs up to the post," she says, before jumping out of her chair and bolting towards a parked up burger van, huffing and puffing theatrically. "Not even in a cool, arrogant way, more like, I fucking hate my job. It's amazing."
Photos: Mike Massaro. Micachu and The Shapes' new album 'Good Sad Happy Bad' is out now via Rough Trade. Taken from the September 2015 issue of DIY, out now.
Read More
Featuring King Gizzard & The Lizard Wizard, IDLES, Tkay Maidza, Sleater-Kinney and more.