Noughties But Nice: Mura Masa
Simultaneously packed with nostalgia and a modern dream cast of collaborators, 'demon time' finds Mura Masa concocting a time-spanning party for the ages.
When Alex Crossan released his noughties-indebted, nostalgia-drenched album 'R.Y.C.' in January 2020, no one could have foreseen that it would make an apt bedfellow for quarantine. The London-dwelling, Guernsey-raised multi-instrumentalist and producer otherwise known as Mura Masa was already in the habit of spending his free time "playing old video games, watching cartoons and eating cereal, Arrested Development-style," he joked to Zane Lowe at the time. These kinds of sluggish pastimes would end up occupying many people's lives for the following endless months.
Revisiting the reference points of his formative years clearly informed the sonics of Alex's divisive second album, stuffed as it was with emo and pop-punk alongside French house influences and other sounds of his early youth. It saw him take lead vocals for the first time, as well as mash up his electronic pop and dance credentials with guitar-driven music. Throughout, the then-23-year-old explored nostalgia for both its beauty and flaws, particularly the idea that we tend to rosily misremember the past.
Such an excursion came as Gen Z's obsession with Y2K culture continued apace. 'R.Y.C.' preceded many of the noughties pop-punk-influenced and emo revival albums of the new decade, even if emo-rap acts such as the late Lil Peep had sowed the seeds a few years prior. Somehow, Alex had made a 'backwards' u-turn of an album written before the pandemic that he says he "still stands by," whose sounds eerily complemented the kind of collective attic-digging-for-ephemera taken up during isolation.
That soothsayer ability isn't lost on him. "I think ['R.Y.C.'] was definitely a forecast for the pop-punk revival that's kind of still going on at the moment, where guitar music seems like it's healthier than ever," Alex says between drags of a cigarette in his Peckham garden.
"Maybe I was a bit early to the party," he adds, laughing. "But, yeah, I really love that record and I love it as a statement of intent as a second record because now it feels like I can do anything I want rather than being pigeonholed into what I was doing on the first album [2017's 'Mura Masa']. It's good to annoy people because then at least you're pushing the envelope a little bit."
"Most people don't like thinking about the future because it's Mark Zuckerberg talking about how you can go to Walmart in the Metaverse."
Fast-forward two years and the GRAMMY-winning, Ivor Novello-nominated pop polymath is back with the happy and hedonistic 'demon time'. For it, Alex's prescience set in again, with an album concocted ahead of what now feels like a shift from a darker, more introspective trend to the post-pandemic, back-to-the-club party energy exercised by superstars including Beyoncé.
"Part of the motivation for this record is that I found myself sitting at home like everybody else, being lonely and depressed and trying to do yoga and whatever else," he says. "I think there was a lot of music that came out of that time that was very kind of solipsistic. I tried a little bit of that but it just didn't feel particularly true to this project.
"The revelatory moment was realising that it would be really fun to imagine music for when that time is a bit looser, where we can be together again. The whole premise of 'demon time' is like, 'Oh, thank god we can go out and snog each other again and go clubbing.' I want it to be the soundtrack to those moments that we were robbed of. I think it also has moments of futuristic, hopefully forward-thinking music."
'demon time' excels in combining the retro and futuristic. It's the connective tissue between the globetrotting electronica of Alex's early 2010s EPs and mixtapes, the trap, EDM and tropical house leanings of his 2017 debut, and that album's nostalgic 2020 follow-up.
Spearheaded by 'bbycakes' (feat. Lil Uzi Vert, PinkPantheress and Shygirl) - a cover of 3 Of A Kind's 2004 UK garage hit 'Baby Cakes' - 'demon time' retools such familiars with a fresh outlook. Throughout the record there's nods to the past with samples of dial-up internet bleeps and old school ringtones, with a general plugging in to the more modern zeitgeist scattered throughout. 'E-motions' (feat. Erika de Casier) and 'bbycakes' play on the UK garage renaissance a la PinkPantheress; 'Slomo' (feat. Tohji, and Midas The Jagaban) is spliced-up hyperpop; 'Blessing Me' (feat. Pa Salieu & Skillibeng) is an Afro-rap and dancehall-influenced gem, and 'Blush' (feat. Leyla) is bathed in tropical house sheen. Elsewhere however, the maximalist electro-rap of slowthai-featuring 'Up All Week', the monotonous vocal deliveries of Shygirl on 'Hollaback Bitch', and the album's magpie-like, feature-heavy eclecticism appeal to the post-genre climate.
This eclecticism thankfully doesn't feel forced. "Naturally, there's sounds in pop culture and pop music in general that really resonate well," says Alex, "and I guess it's just about using [those sounds] as a starting point and then trying to twist it or make sure that it's forward-thinking and not just a pastiche of something."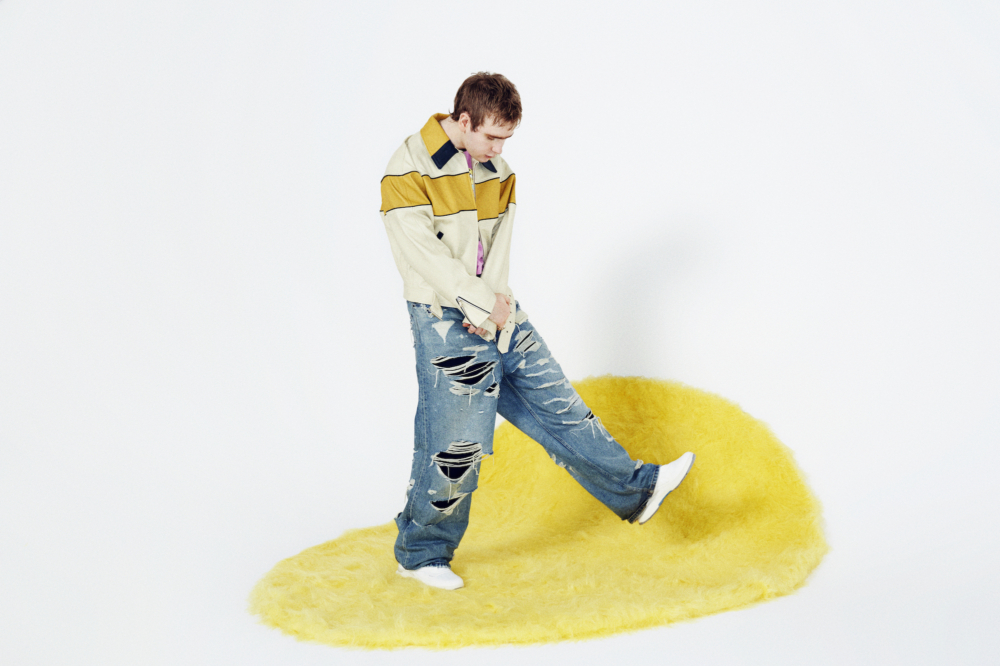 "I'm trying to create a fun playground for an artist to express themselves honestly."
Though 'demon time''s guestlist reads like a who's-who of musical trendsetters, Alex stresses that his album's collaborators are a mix of established and new names that he's simply most buzzed about. "It's just people that I think are really exciting or are doing something that matches the aesthetic of the album. There's no real brief: it emerges naturally."
The 26-year-old musician takes a similarly organic approach when it comes to creating his records. He's a self-producing songwriter and an award-winning producer for other acts (bagging, among other prestigious nods, a GRAMMY for his remix of Haim's 'Walking Away' in 2019) who has embraced the more contemporary trend of collaboration. It positions him as something of a master curator. Does he ever worry that this waters down his solo artistic identity?
"No, I don't think so," he says. "I think that most of it is allowing room for the person or people you're curating to do their thing, and really trusting that what they do is what you wanted in the first place. I think as far as sounding like a Mura Masa record, there's definitely sessions where we do a few ideas and it becomes very obvious which song is more tuned for my record and which ones are for [collaborators] to use. It's something that emerges naturally out of the session."
Writing hooks is "kind of my territory," he adds, revealing that he wrote the melody and structure for moreish deep house track 'Hollaback Bitch' but that Shygirl was alone in penning her verse. "It's really all on an individual basis. I'm trying to create a fun playground for an artist to express themselves honestly," he notes.
Tracks such as 'Up All Night' and 'Prada' touch on themes of materialism, self-indulgence and the daily grind, while 'E-motions' and 'Blessing Me' are wrapped up in knotty love and lust stories. Elsewhere, there's pre-technology cynicism that again brings conversation back to the Y2K nostalgia wave.
Alex posits a theory about the attention on Y2K (a term he really dislikes) and goes on to explain why it's fed into 'demon time'. "Back then when people thought about the future there were kind of limitless possibilities in terms of technology at the turn of the millennium. There was a lot of possibility and excitement around the future. It's sort of opposite to now, where most people really don't like thinking about the future because it's Mark Zuckerberg talking about how you can go to Walmart in the Metaverse or there's climate change, and politics swinging right. So I think there's a desire to return to a more optimistic view of the future.
"I was really interested in that when I was figuring out what to do on this album," he continues. "Also, that was such a good time for music. That's peak Pharrell; some of my production heroes were operating on all cylinders at that time. I think that's where the desire comes from."
Deeper topics aside, for his third LP Alex has ultimately been focused on creating an album that just FEELS good. "I never really think too hard about what type of music I'm gonna make; it's more about just the vibe around it. The whole idea of 'demon time' is sort of mischievous. It's that 1am to 6am 'little bit too drunk, might be doing something I regret' feeling, but [when you] don't really regret it. I think it's interesting how reflected that attitude of renewed fun is in the new Beyoncé record or in Drake's. There's a real emphasis on vibe and that ability to have fun being restored. So hopefully 'demon time' makes people feel like they can have that."
He grins: "I'm really feeling the demonic vibe."

'Demon Time' is out 16th September via Polydor.
Read More