Blaze Of Glory: Mykki Blanco
Mykki Blanco has spent a career creating their own path and leading by innovative example. On indie-leaning new LP 'Stay Close to Music', they're offering up yet more surprises.
Every few months, Mykki Blanco will scroll through their Twitter notifications and see a tweet that reads "Mykki Blanco is so underrated," or "The world never gave Mykki Blanco their flowers". For the boundary-blurring star, it's a bittersweet sentiment.
"Maybe I should talk to a therapist about this," they laugh. "What happens when, for your whole career, you search your name on Twitter and someone's like, 'Mykki Blanco doesn't get enough recognition'? When this has happened for a decade, you're like, 'Wait, did you not see that thing I just did? That thing has half a million views. Did you not catch that?!'"
First bursting onto the scene in 2012 with the fiery opening declaration of viral hit 'Wavvy' ("I'm the motherfuckin' rookie of the year"), Mykki has spent the past decade establishing themselves as a trail-blazing figure. Hailed for their genre-splicing take on hip hop, Mykki has collaborated with a host of huge names, from Kanye West to Kathleen Hanna, all while asserting themselves as an out and proud queer artist in a historically closed-off industry.
Yet despite their success and influence, Mykki is still constantly written into the underdog narrative. "I know in the beginning of my career, I had songs that, if the world hadn't been such a homophobic and transphobic place, probably would have been even bigger singles for me," they note today, speaking to DIY as they make their way through customs at a US airport. They describe themselves as in a "perpetual state of being discovered", but a wish to change this clearly isn't the driving force. "I've consistently continued to give out quality and really good work. Would I love to have another 'Wavvy' moment? Sure. But I'm not in a studio risking it all to have a hit."
"I'm happy about my trajectory," Mykki shrugs, before bringing up a tweet from friend and fellow rapper Cakes Da Killa which sums it up perfectly: "Imagine doing something that wasn't considered cool for years to then have it become cool years later and people tell you NOW you have to play by the rules set by people who didn't even pioneer the shit in the first place."
"People have archived me before my time," Mykki says. "People talk about me like I've existed for 25 years! I understand because what I was doing and how I did it, and everything that was happening at this certain cultural acceleration point, it was all very serendipitous. I understand why people consider me a pioneer."
"It's been fun to continue to surprise people because they really thought I was a one trick pony."
New album 'Stay Close To Music' finds Mykki defying expectations once more. Formed from the jam sessions that also resulted in last year's mini-album 'Broken Hearts & Beauty Sleep', they set out to create a "shoegazey, dream-pop, rap record," naming artists such as Connan Mockasin, The Beach Boys and My Bloody Valentine as their main inspirations. Purposefully shifting their mindset from making "club bangers", they found themselves listening to Lou Reed, Modern Lovers' Jonathan Richman and Tom Petty while creating the LP.
"People would be so surprised to know that Mykki Blanco is one of the biggest Tom Petty fans," they joke. "But in trying to expand my own sound, Tom Petty has been a huge inspiration. They helped me get out of the hip hop box, and they've really helped my mind expand about what's possible for my songwriting."
For the new record, Mykki opted to stop sampling, only using the samples that they created themselves in order to forge a new sound - or their self-described "new alchemy". "I know that I had made singles and projects that people liked, but for myself, just Mykki, had I made a release where I felt I could listen to it front to back and be like, wow this is a full sonic journey? I don't think I had done that yet. It was important for me to do that."
Teaming up with a host of collaborators on the record, from Devendra Banhart and R.E.M.'s Michael Stipe, to newer names like LA singer and cellist Kelsey Lu, Mykki notes their love of collaborating as what keeps them connected to audiences. "I have a talent for combining people that would never normally be on records together," they smile. "Bringing together ANOHNI and Kelsey Lu, bringing together MNEK and Saul Williams, me collaborating with Jónsi from Sigúr Ros?! I would never have expected to be on a record with Jónsi!"
It's Jónsi-featuring album closer 'Carry On' that provides one of the most striking moments on the record. Allowing themselves to dive deeper into more honest songwriting, they rap on the track, "Black and gay / I wonder if they'll ever claim us /HIV, I've got HIV, can I still be famous?". A bold and unshakable statement, they continue: "I got to win, I got to fight / For every little queer, for every kid alone with fear, every kid that's dressing up and dressing out just being them."
"One thing that I always have to talk about, which is just the truth, is that me and Cakes Da Killa and Big Freedia, we were artists that from the beginning were extremely open," they note. "Our openness is what caused all the taboo and all the discussions, and it may have opened doors but it also closed a lot of doors. You know, someone like Frank Ocean and Lil Nas X weren't open when they had their first hit moment. I can't culturally talk about how that is not significant. It made a difference that these people were closeted when they first came out and had their first big hits."
Mykki goes on to add: "Sometimes I wonder, 'Wow I should have been way more strategic', but there's no way if I wasn't true to myself in the beginning that I would be a pioneer. It was never part of the cards for me, I was going to be myself no matter what."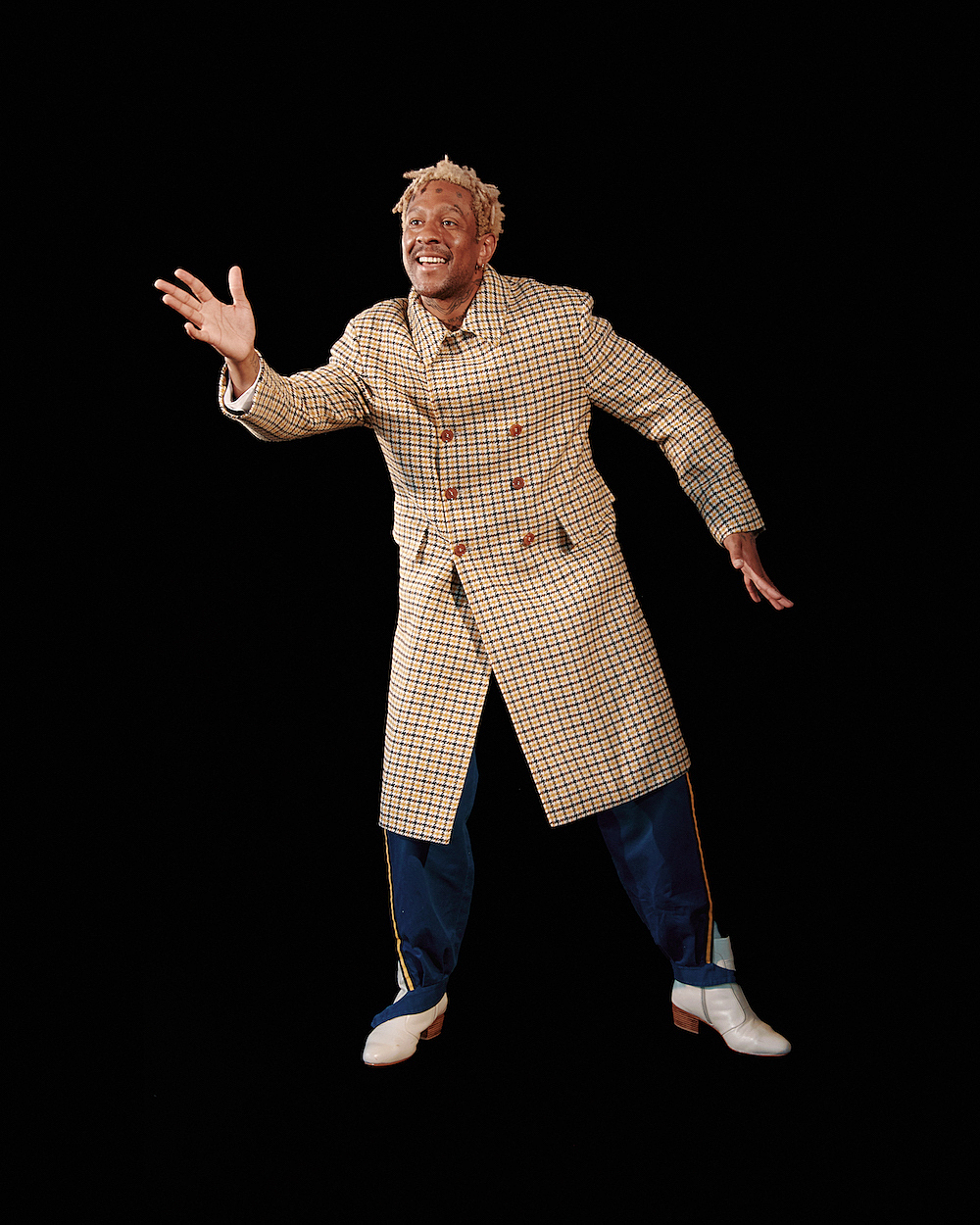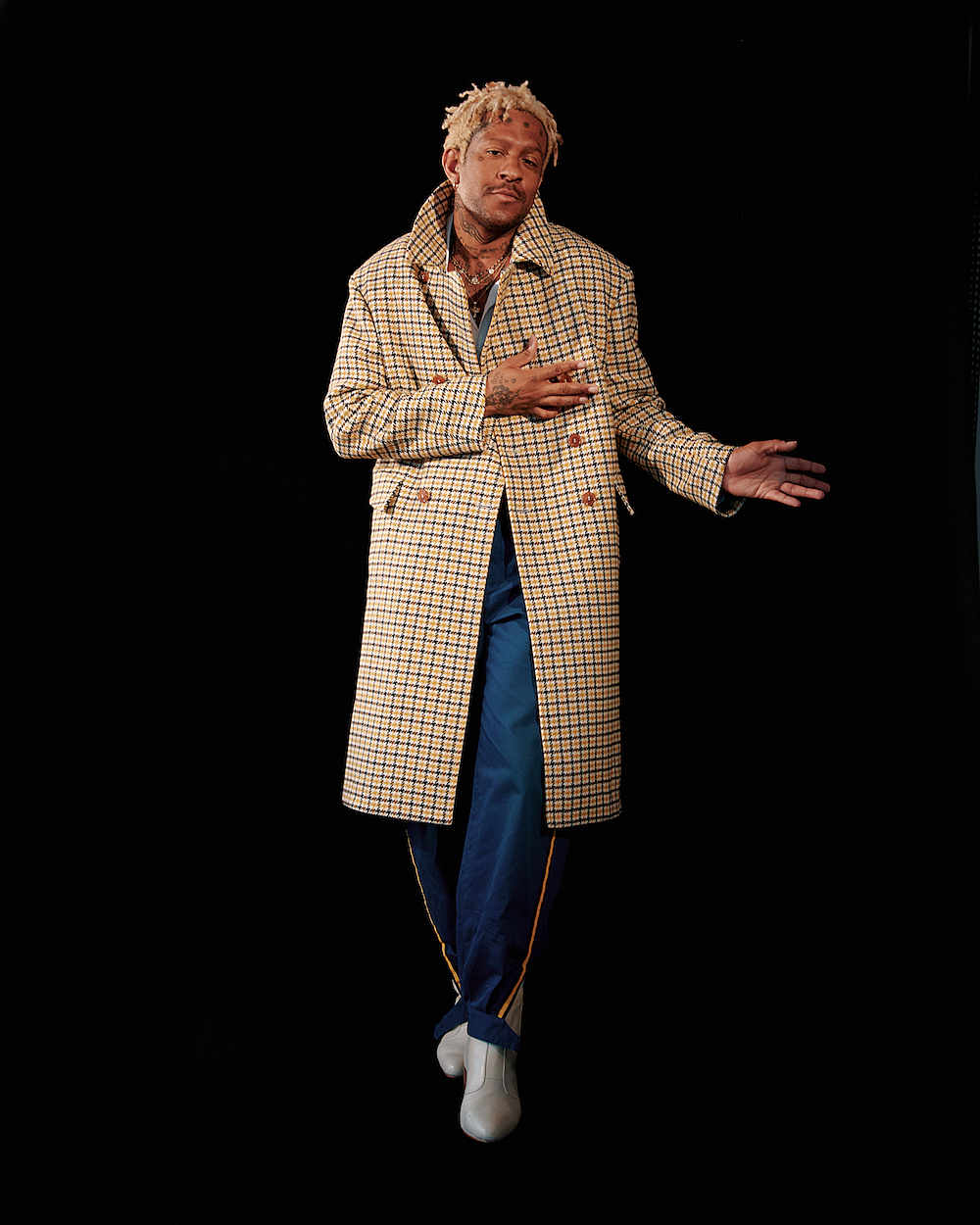 "I understand why people consider me a pioneer."
'Stay Close To Music' also offers a spectrum of other poignant moments, with Mykki citing 'Your Love Was A Gift', featuring Beyoncé collaborator Dianna Gordon, as one of their favourite pieces of work to date. "Those lyrics are so honest and they're so true to real things I've experienced," Mykki shares, noting the line "I'm not a secret, don't keep me locked away". "That goes out to my ex-boyfriend. When I say the lyrics, I get a funny feeling in my chest."
Elsewhere, the powerful 'Your Feminism Is Not My Feminism' with Ah-Mer-Ah-Su finds Mykki singing, "How I look make you think you can talk to me / Ain't the same show but shit I'll let you walk with me / Judge a book by the cover now you half stepp'n / Use me as a damn weapon". "That song talks about so many multi-facets of being in a Black queer body, and of being used and politicised when it's convenient by the left," Mykki explains.
A shapeshifting and surprising record, 'Stay Close To Music' once again finds Mykki doing the unexpected and excelling within it: the true sign of a trailblazer. "When you know you've created a really strong body of work, but it's unlike anything you've ever put out, that makes you scared and uncomfortable," they admit. "All I know is that I believe in this record. It has been a journey with me with these singles. The reception has been good, the streaming has been good, but that initial gut reaction from people has been missing at times. What I've had to learn to understand is that that doesn't mean they don't enjoy the music, it's just they weren't expecting it, you know?
"It's funny because you don't have control over how other people perceive you, which is a consequence of being human," they smile. "It's been so fun for me these last few years to continue to surprise people because they really thought I was a one trick pony. No, babe!"

'Stay Close to Music' is out now via Transgressive.
Read More