Palma Violets: "There's no producer in the world who could ever make us sound professional"
Spiritual encounters, murderous dreams - Palma Violets were never going to get an easy ride, but new album 'Danger in the Club' has taken a strange course.
Picture the scene: In the isolated rural hills of Wales, where no cars go and barely any noise can be heard, a dastardly figure going by the name of Pete Mayhew emerges through the trees wielding an axe (and a couple of guns, for back-up). He then begins the most bloodthirsty rampage known to man, one spanning several continents and taking no prisoners. That's Pete for you. Or at least, that's the Pete who defines 'Peter and the Gun', a gruesome tale arriving towards the end of Palma Violets' 'Danger in the Club', which isn't short on outlandish influence.
The inspiration came from a brutal dream Sam Fryer had of his keyboardist bandmate. A "terrible" experience, he recalls the story of Pete "running round the hills and murdering the local choir boy," before "escaping to America on a boat, going on a spree and killing loads of people… The chorus of the song is the last scene in the dream," he continues. "Pete's wearing rollerblades, and he's outside the Brooklyn Vegan bar, singing 'Peter! Peter! Peter And The Gun!' Pinky and the Brain style. I woke up and then the hit single 'Peter and the Gun' came out," he smirks, behind great big sunglasses. "You're famous, Pete."
Something had to stir in the Palma Violets camp. By mid-2014, they still didn't have a bloody clue how to write songs. Any ability had firmly flown the nest. It wasn't that they didn't have any fully-fledged ideas - they didn't have a single half-idea. The way these four recall the tale, it sounds as if the next step involved them being sent to Wales (perhaps against their will) by a tour manager, just after they closed out Reading Festival. Something had to give. So they re-located to the isolated, spiritually-struck Preseli Hills, the original source of Stonehenge's bluestone. "So if you ask who wrote the songs, it's none of us," jokes Sam. "It's the spirit of Wales. It's something bigger than we can comprehend."
"To be honest with you, we didn't write any songs."
— Chilli Jesson
With only a knackered telephone for outside communication, they began to settle into their new surroundings. A couple of "free folk", as Pete describes them, owned the area. "They do their own tai chi classes, naked," claims drummer Will Doyle. The only musical inspiration they had was the couple's 'Sounds of the Desert' cassette, which Sam describes as "really therapeutic… You can hear a parched camel, dying."
In between writing and recording, the band were ordered to sleep facing West, so as not to awaken the spirits. "We all suffered from really intense dreams, didn't we?" remembers Sam. "And we were told we were going to be suffering. That's the kind of place it is - a spiritual bluestone."
In an ideal world, the next part of this story would see the group emerging with a miraculously polished, enlightened record. Palma Violets don't suit that kind of tale. 'Danger in the Club' is a shambolic album, its running thread being a sense of perfect chaos. It really does sound like a group of guys losing their minds while racking their brains about how to actually write songs. Sweet gold steps out eventually, but producer John Leckie didn't have a lot to work with when he first stepped into the Welsh retreat.
"I think I've got some of the early recordings of us trying to write songs again," remembers Sam. "And it would be extremely embarrassing, but it'd be great inspiration for any up-and-coming acts to know that no matter if you're a professional band, you can still be fucking shit. The early stages of the first album are far better than the early stages of the second album. It's fucking abysmal."
"To be honest with you, we didn't write any songs," chimes in Chilli Jesson. "We didn't even try. We played the first album to death. Made sure that people had heard it. That everybody had heard it." Once that process was wrapped up, these initially hyped-to-the-heavens Rough Trade darlings went back to square one.
Leckie was the first person to hear the songs in rough form. "He thought we might have something, but we still had to work harder," says Sam. "It didn't sound like a record. We were just writing songs, not thinking about how the album was going to be. And that's the only way you can go, really."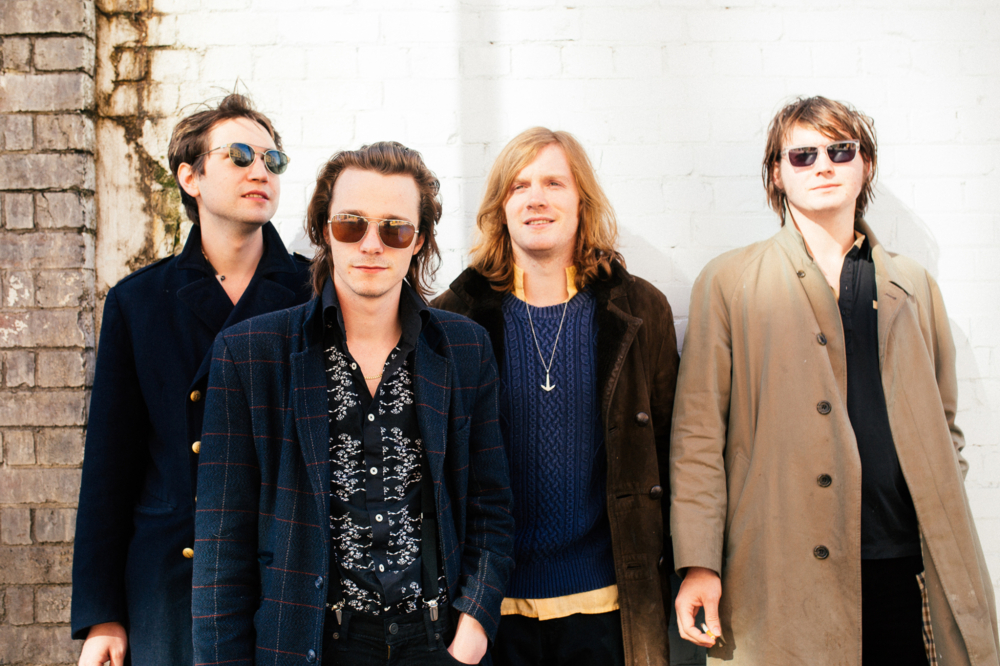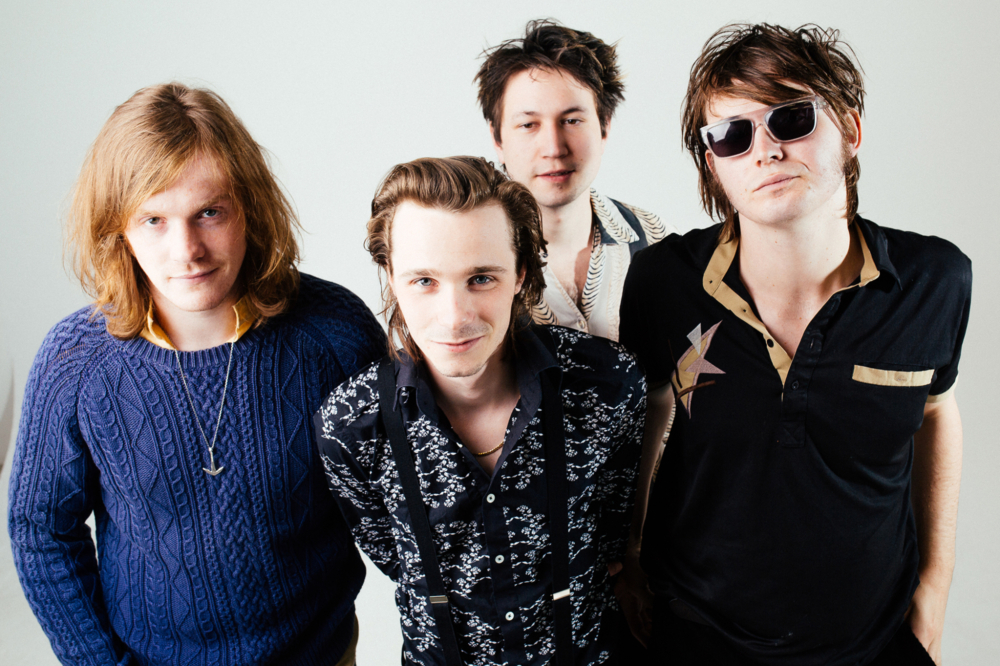 "A lot of bands in the past have grown up too quickly."
— Sam Fryer
All things in place, 'Danger in the Club' does somehow arrive with some sense of cohesion. Sam jokes that "there's no producer in the world who could ever make us sound professional," but that's the appeal of this LP. It's an often bizarre, almost stream-of-consciousness blast of punk, informed by beloved bands of the past, all while retaining a sense of youthfulness unhinged. "Literally, that was the only thing that we spoke about before," beams Chilli. "Wanting to keep it young. When you know all the chords, and you get better at your instruments, it's easy to write ten-minute fucking dark songs. But I think it's important to be honest."
"A lot of bands in the past have grown up too quickly," states Sam. And if there's anything Palma Violets are actively shunning on this record, it's a sense of maturity. 'Hollywood (I Got It)' is a berserk collision of chants, while opener 'Sweet Violets' even gets those aforementioned "free folk" to sing an unnerving chant. Drawing links between the title-track's pub rock homage and 'English Tongue''s triumphant ending point is fairly pointless - this is a scattered-to-the-bone record, albeit one delivered with curious charm.
It's this closing track that brings about the most interest. Palma Violets are already fielding plenty of questions about national identity and patriotism. But they're not about to get all Nigel Farage in this joint. "It's damning of [the UK], as opposed to unifying it," says Chilli, of 'English Tongue'. "But I guess when we're away on tour in America, you just need to put on the Kinks albums and then you're back home. You miss the English countryside. We're writing the English perception of America," claims Sam. When Palmas go Stateside, they do so with tongues firmly in cheek. "If you're in primary school and you learn about America, you hear about Hollywood, the stuff dreams are made of. And you dig into the secrets of America, conspiracy theories. They're very basic ideas," says Sam. "I think it's more us having a laugh than having an actual dig."
Unbelievably, Palma Violets did actually work out how to have ideas again. Pin it on the unruly spirits, the deathly dreams or the 'Sounds of the Desert' tape. The fact is, this is a group sounding more inspired - and more on the brink of mutual self-destruction - than they did on head-turning debut '180'. 'English Tongue' was the last of the songs to be recorded, and it's the sound of a group pacing towards the next step. Despite the chaos of these last two years, maybe Palma Violets are closer to their next move than anyone expects.
Taken from the May issue of DIY, out now. Palma Violets' new album 'Danger In The Club' will be released on 4th May via Rough Trade.
Palma Violets will play Live at Leeds (1st - 4th May), where DIY is an official media partner. Tickets are on sale now. Visit diymag.com/presents for more information.

Get your copy of the latest issue
Read More