Against all odds, Sports Team have gone from a word-of-mouth novelty to genuine contenders. Now, with debut 'Deep Down Happy', they're aiming for the gold medal.
Given their impractical personnel numbers, Google-averse band name, Cambridge University background and a frontman who finds being in the studio "painfully boring," Sports Team have never been the obvious choice for guitar music's next great hopes. But on the eve of their debut album, the band aren't just surviving, they're thriving. Against all expectations, these six pals are leading an indie scene revival. And they know it, too.
"I think we're pretty much the most successful band in the world at the moment," ruminates Alex Rice, apparently oblivious to the irony that he and his bandmates are dining out on a spread of off-brand crisps for lunch. The singer has made a name for himself in recent months for his outspoken comments in the press, yet while he is once again in quotable form at the pub today, his words have at least a grounding in humility. "It's been gruelling, a lot of it. It felt like pretty hard graft for us to get here," he continues. "We can't willingly give the impression that it's all just been a saunter up the pole, as much as we like to make out that it has."
It's a fitting time for reflection. Sat in McGlynn's Free House, Sports Team are just a couple of streets away from London's Scala, where they had their self-professed "Robbie Williams at Knebworth" moment 18 months ago, having headlined the venue off the back of a single EP. Next month, they release debut album 'Deep Down Happy', which they've been working on ever since that 2018 show. As the band's primary songwriter Rob Knaggs points out, it's been an arduous journey.
"Scala was really the start of us all living in the same room, and being in a band nearly every single day," he says, nursing a pint of lager. "Every spare second since then has been spent writing songs, doing artwork, getting 14-hour ferries back from Holland… Even when SXSW was cancelled this year we ended up booking in rehearsals instead of taking a week off. We don't just want to sit back - in fact, I feel very panicked if we do."
Hard work aside, the band can't hide their relief that a series of increasing gambles have paid off as well as they have. If Scala had been a bold move, then their show at Camden's even larger Electric Ballroom a year ago was audacious. They completed a hat-trick of unlikely London triumphs in December 2019, meanwhile, when, against the odds, they managed to pack out Kentish Town's 2,300-capacity Forum for an end-of-year show. It was a defining moment in the band's career so far, and one where they definitely felt they had bitten off more they could chew.
"I mean, come on, who buys a ticket six months in advance for a band like us?!" says Alex of the fearful anticipation ahead of that climactic show. "It's come down to the last week every time [to sell the majority of tickets] - by which point we've already gone through a list of which parts of the venue we can shut off to make the main room look busy. Every single time we panic about it. But a gig or the amount of tickets you've sold is not an objective assessment of how successful you are as a band. To us, it's more about making a great night out for everyone involved."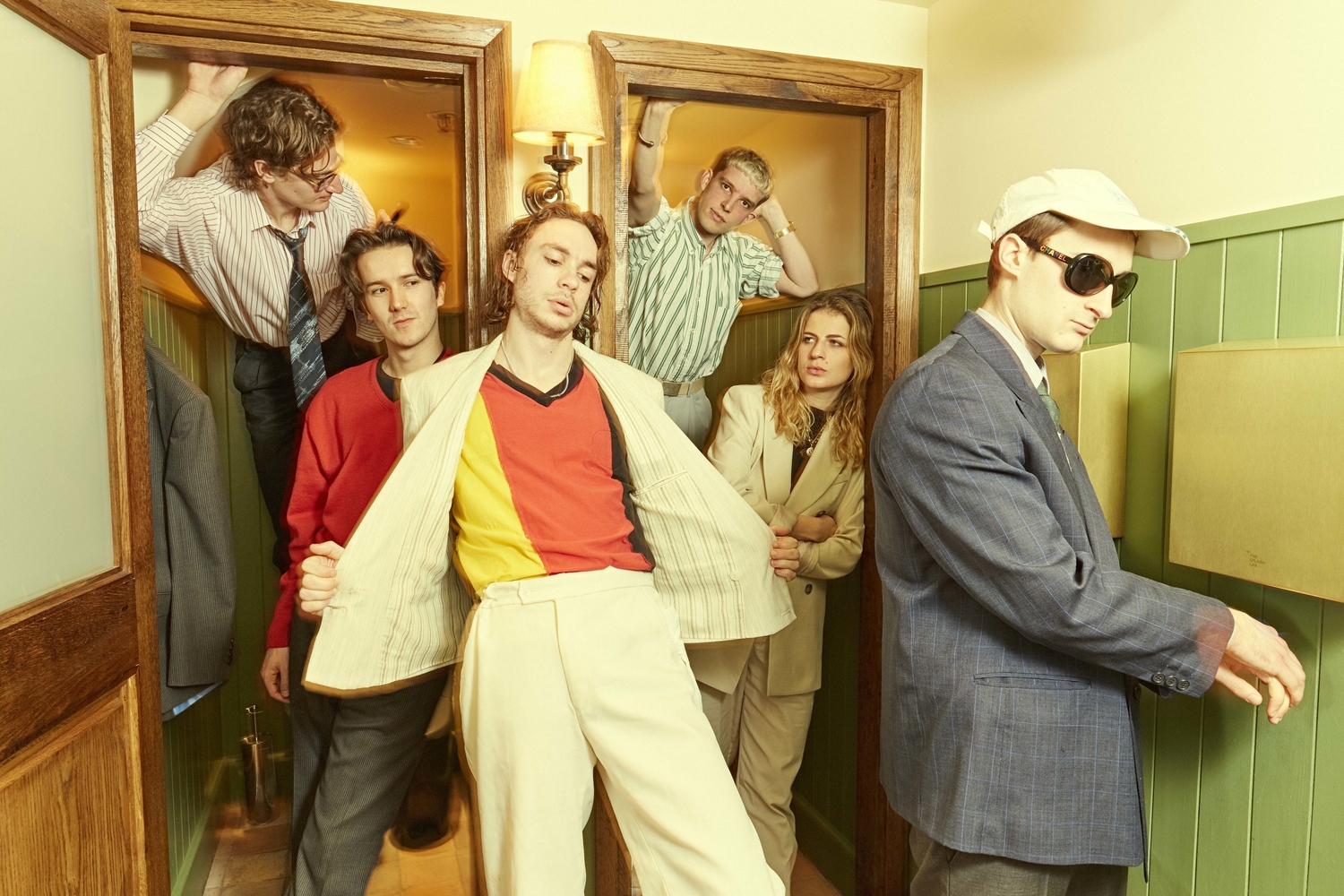 "No-one's gonna be sitting around waiting for a second Sports Team album, let's be real."
— Alex Rice
The flamboyant singer is doing himself a disservice; if there's one thing the band have nailed, it's their live show. But for all Alex's outrageous dance moves and audience engagement, the culture Sports Team have generated among their fanbase is something that goes a lot deeper than the hour or so they spend up on stage. In the group's eyes, it's something that's absolutely necessary in order to succeed as a guitar band.
"It feels amazing to announce a show 12 hours before you play and have 500 people turn up to the pub the next day," says the singer, referring to the band's surprise performance earlier this year at The Nag's Head in Camberwell. It was a show that harked back to the heady days of The Libertines, who would famously invite fans from internet forums into their homes for secret living room shows, or bring whole venues to the pub with them in what was a warmly inclusive scene. Sports Team have done well to imitate this culture themselves in 2020. Annual bus trips to Margate, where fans, bands and booze collide for unscripted antics, have helped cultivate a dedicated fanbase who all interact through the band's infamous WhatsApp group, which features hundreds of fans as well as every member of the group themselves.
"It's really important, especially for guitar music, because you really want it to mean something to people," says drummer Al Greenwood. "It should be about more than just music. Thinking back to when I grew up, your week revolved around the next gig you've got a ticket for, and you're all talking about it on Myspace and it becomes a big event. That's where you see your mates and have a night out. How else do you recapture that?"
"It feels like it's just as much about them as it is about us," says Alex, likening the band's social media output to the fanzines and music weeklies of the early '90s. "The tropes are exactly the same, all the gags and the humour, the in-jokes and weird, edited photos of people. It's basically the same as the meme culture we have nowadays. A lot of it is just people ripping the shit out of us. It all feels like traditional fandom, still alive today.
"It feels satisfying to know that we've got that immediate sense of connection with people," he continues. "We're not just trying to sell a one-hour gig of Sports Team playing their back catalogue. I wouldn't buy a ticket for that. It's everything else around it, and that's what I want people to think about when they think of us."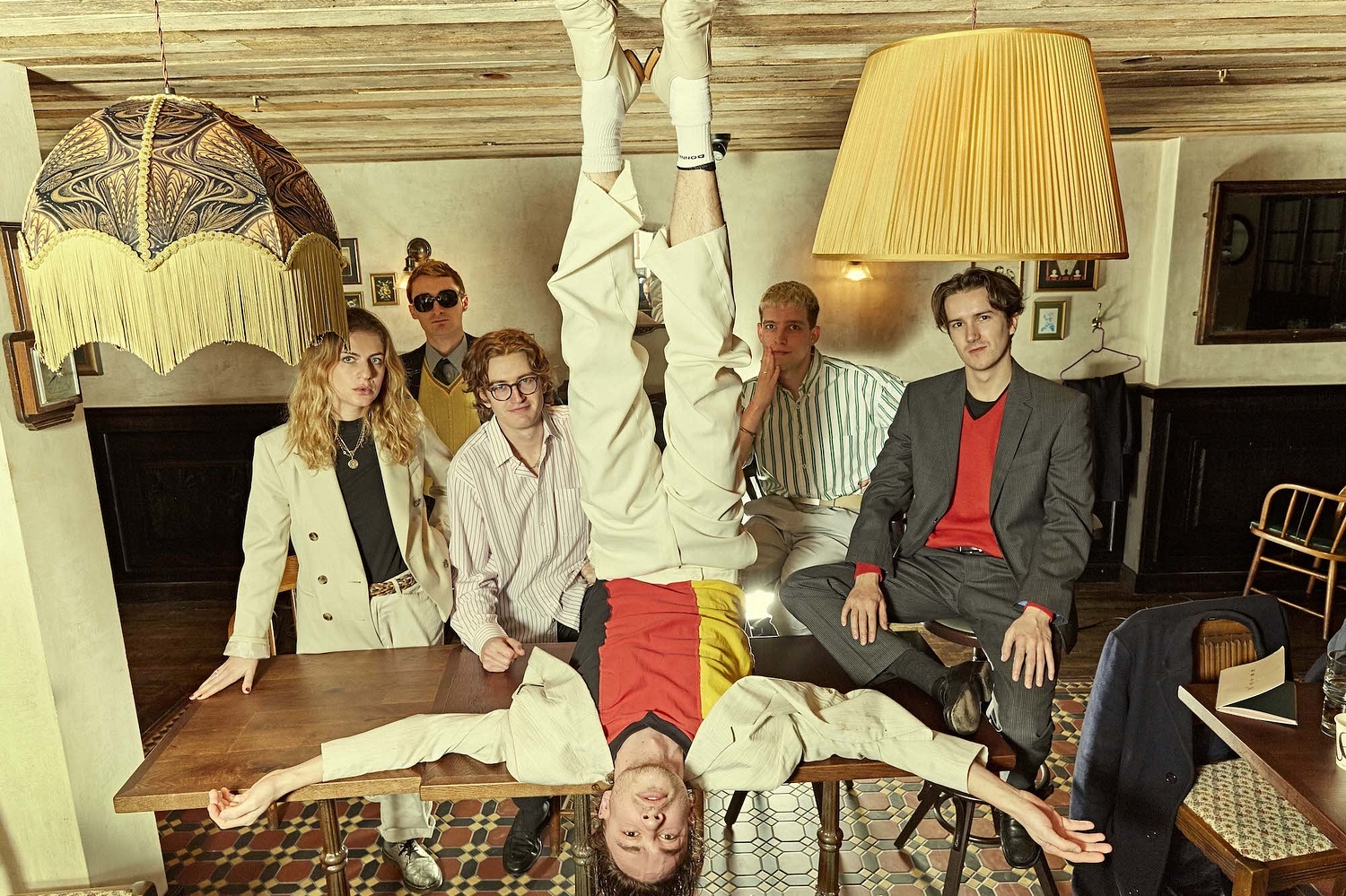 "You want it to mean something to people; it should be about more than just music."
— Al Greenwood
So do the band still have something to prove with their debut album? They certainly think so. "It's not necessarily fashionable to be in an indie band in 2020," says Rob. Alex offers his own take: "No-one's gonna be sitting around waiting for a second Sports Team album, let's be real. The novelty of us has a massive appeal, we know it already. But that's where our ambition is and that's why we want to keep the drive going. You've got to be constantly entertaining."
"When we started about two years ago, our biggest dream was to play at the Old Blue Last to 20 people," continues Rob. "But then these bands like Shame, IDLES and Fontaines DC came through and proved that guitar music can be cool. At the end of the day, you've got to have the view that your work is a part of something important. We're trying to make a great piece of music for the people who want to hear it. We're not trying to sell snake oil here."
"We did do that though, actually," interrupts Alex. "I was reading about this thing called pheromone dating, which is where you smell someone's sweat and agree on meeting them based on the smell. So we made a pheromone spray when we lived in Westbourne Park. We bought a pot of eugenical snake oil from a local shop, and I was sweating into a load of T-shirts and mixing it in with that. We tried to sell it as merch, but then eBay pulled it."
Creative merchandising opportunities aside, Sports Team, like any band, are likely to be judged in time on the quality of their debut. And 'Deep Down Happy' is a fitting title in their eyes, one that sums up their journey of "moving to London, sleeping on a rehearsal room floor for a year, and questioning whether we're all still mates through all the ups and downs," in Alex's words. He sums it up better on 'Stations of the Cross', a song the band are all particularly excited to share with the world: "It's not that you're unhappy, you're just happy on and off," he yelps on the album's closing track.
In spite of Alex's claim that he "hated every minute of being in the studio" ("I just watched The Ashes and Saturday Kitchen instead. I'd rather be in the pub with the producer than behind the sound desk"), he, along with the rest of Sports Team, are quite certain that 'Deep Down Happy' is the best album of the year. And for all their ruminations on the benchmarks set by bands like Pavement and Franz Ferdinand before them (the latter's first album, they agree, set the bar for indie debuts), they've got a chance at making a real impact.
On their first LP, Sports Team prove they've got the goods to back up their talk - and with a dedicated fanbase behind them, they're hoping to storm the charts, too.
"I'm pretty confident it will do alright," concludes Alex. "Even if it doesn't end up being a Number One, it still feels like one."
'Deep Down Happy' is released 5th June via Island.
Read More
Featuring King Gizzard & The Lizard Wizard, IDLES, Tkay Maidza, Sleater-Kinney and more.