Despite being dealt their fair share of bad luck in the last two years, turns out a little distance was just what Hookworms needed. "It's important to remember the positives," they tell Joe Goggins.
Hookworms have taken a left turn. After releasing two albums that were heavily influenced by krautrock and psychedelia - frontman MJ rather self-deprecatingly suggested recently that he felt as if the Leeds five-piece had "made the same record twice" with 'Pearl Mystic' and 'The Hum' – their latest offering, 'Microshift', fizzes with a new energy that almost borders on – whisper it - poppy. It's certainly danceable, thanks to a greater focus on synths and less on guitars, and even the band themselves have recognised that it's their most uptempo material that really ignited the crowds at their live shows.
Really, though, the most remarkable thing about 'Microshift' is that it even exists at all. A spectacular run of bad luck after 'The Hum' was released saw their 2015 North American tour falling through at the eleventh hour because of visa issues, before the Boxing Day floods that swept across Yorkshire hit MJ's north-west Leeds studio, Suburban Home, with catastrophic effect.
"When the flood happened, the idea of a new Hookworms record was way down the list of priorities," says MB, the band's bassist. "We were all more concerned about the fact that it's Matt's day job; being a producer is what he does from day to day, so the studio really is his livelihood. The things we were worrying about in the immediate aftermath were about how Matt was going to be able to make money, and whether or not he'd be able to pay his rent; the band was just something we put on the back burner for a while, and it helped that we weren't being expected to play shows or anything like that, because it was about eighteen months after 'The Hum' came out. We all helped to clear the studio out and gut it, but there was a lot of waiting around that Matt had to do, on things like insurance payments and help from his landlord, before he could even think about starting to rebuild."
That's exactly what he eventually did, though; by June 2016, Suburban Home had reopened its doors, and the queue of up-and-coming bands waiting to work with MJ was, if anything, even longer than before. It was around that same time that ideas for Hookworms began to circulate again; an EP that they'd been working on before all the upheaval was scrapped, but they resolved to make a third record as a gesture of defiance more than anything else - as concrete proof that they'd overcome the adversity they'd faced.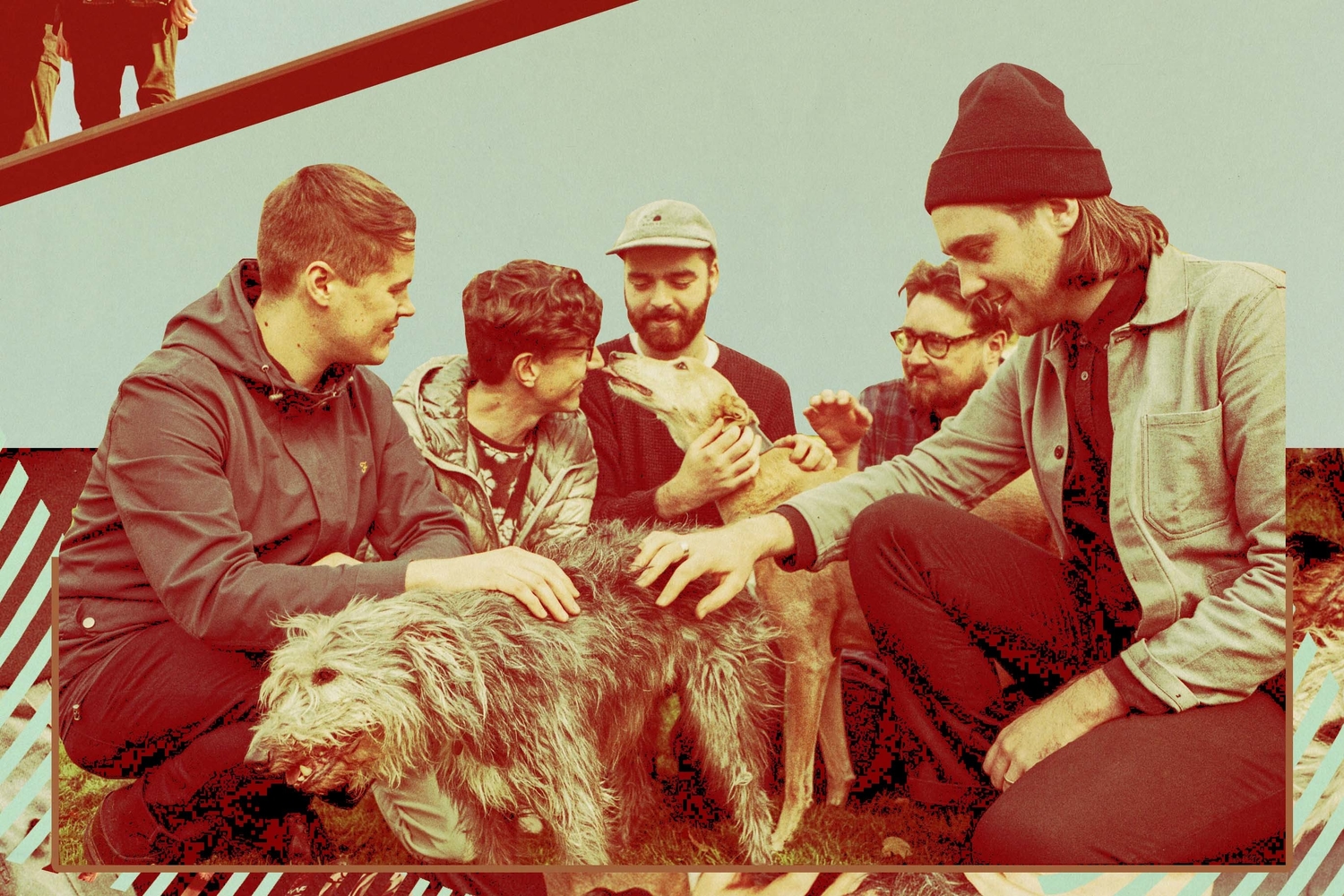 "We'd really missed the band."
— MJ
"We knew we wanted to start work on it straight away, as soon as we reopened the studio," explains MJ. "It was a priority for us, because we'd really missed the band. We practice every Thursday, and we don't all live in Leeds any more, so it's nice to just get everybody in the same room once a week, if nothing else. When we didn't have the studio, we basically didn't practice for six months, so we barely saw each other."
Despite considerable tumult in both the life of the band and its members, MJ can see the positives in Hookworms' enforced lay-off, which would double as the first proper break they'd taken in five years. "Everything that happened with the band leading up to the flood - the first record, the second record, signing to Domino - it all felt very much as if it happened in a row for me - I don't really see any gaps in those first five years. Once we ended up with that enforced time off, things started to happen in our personal lives, and we started to think about why it was that we started the band in the first place. Our sound engineer died, and my dad has Alzheimer's, and then he developed cancer whilst I was rebuilding the studio. Things like that really focus what it is you want to do. When the flood happened we'd been doing everything constantly for so long that we'd almost come to take it for granted. It was nice to have the space to realise that we wanted to carry on and throw ourselves back into the band for no reason other than that we enjoyed it."
Whilst MJ was in the process of rebuilding Suburban Home, the rest of the band kept themselves busy with other projects; MB, for instance, began to seriously indulge his new-found affinity for synthesizers with his XAM Duo project, which sees him collaborate with Christopher Duffin of dream-pop outfit Deadwall. Those stylings fed back into the more pointedly electronic sound of 'Microshift', as did the sensibilities that drummer JN brought with him from his own synth-driven side gig, Game Program. For MJ, though, the influence of his own musical work outside of Hookworms on 'Microshift' came more in thematic terms.
"I was going to have to work really hard on the lyrics, which I maybe hadn't in the past."
— MJ
"I've worked recently with bands like Martha and The Spook School, and what I found really inspiring about them was the way that they put together really personal, political lyrics about mental health or gender politics and were able to pair them up with pop songs. I wanted to move towards that more. My vocals are much more at the front of things on this record, and that also meant that I was going to have to work really hard on the lyrics, which I maybe hadn't in the past."
With the release of 'Microshift', it seems as if Hookworms are finally putting a string of difficulties firmly behind them; if nothing else, the flood and its aftermath have clearly galvanised the group in a way that seems sure to secure their long-term future together. "I feel super hopeful," says MJ. "I always thought of of our records as being one album of ten, and I'm excited about the things we're going to do in the future. I think you can become quite normalised to the things that happen in your life, because they come unfold so gradually. It's important to remember the positives - I get to make records for a living, and my band's signed to Domino. Regardless of all the bullshit, I can't complain about any of that."
'Microshift' is out now via Domino.
Taken from the February 2018 issue of DIY. Read online or subscribe below.
Photos: Hollie Fernando
Read More
Popular right now
Featuring James Blake, Romy, Marika Hackman, yeule and more.